Renewed violence in rebel-held northwestern Syria has killed dozens of civilians and forced 150,000 people into flight in one week alone, leading to fears of a government offensive that humanitarians have long warned could lead to catastrophe.
As many as three million people live in and around the rebel-controlled province of Idlib, which since last October has been relatively calm, divided by a demilitarised buffer zone that stands between armed opposition groups and President Bashar al-Assad's forces.
But since the end of April, the uneasy ceasefire may be collapsing: southern parts of the buffer zone have seen an uptick in shelling and airstrikes by Syria and its Russian ally, who say they are reacting to rebel breaches of a ceasefire. Pro-government forces have also reportedly made ground incursions into the buffer zone.
The resulting displacement has been swift, and many of those on the move had been living in the buffer zone.
The UN's emergency aid coordination body, OCHA, said in a 7 May update that airstrikes and shelling had killed at least 80 civilians and injured 300 more between 28 April and 6 May. Of the 150,000 people who have taken flight between 29 April and 5 May, it said that "developments in areas believed to be in or near the demilitarised [buffer] zone [have] resulted in a new wave of displacement, as civilians flee towards areas they consider safer and away from the violence."
While aid groups are trying to help those on the ground, hospitals and clinics have been hit, and some non-governmental organisations have had to close because it is no longer safe for them to operate.
Newly displaced 'have no place to go'
The buffer zone plan was negotiated by Turkey and Russia last September in the Russian city of Sochi, in an effort to hold off a looming government assault.
It said that the 15 to 20 kilometre zone would be demilitarised in stages – with rebel groups removing heavy weaponry first, then hardliners from the Islamist extremist group Tahrir al-Sham (HTS) leaving altogether.
In their place, joint Russian-Turkish military patrols and observation posts would make sure the agreement stuck. Unknown numbers, reportedly thousands, headed back to their homes in the buffer zone following the Sochi agreement.
Deadlines for the agreement have repeatedly gone unmet or have simply been ignored by groups on all sides of the war. In January, Tahrir al-Sham took new territory from rival Turkish-backed rebels in Idlib, and Syria's state news agency says its forces are responding to "frequent breaches and attacks" by "terrorists" on "safe areas".
The UN says most of those forced into flight by the uptick in violence have gone northwards to quieter towns and cities, with about 10,000 moving northeast to Aleppo province.
"For those who stayed behind, there are no forms of ordinary life – no food, no bread, and no fuel."
But an estimated 1.5 million people in Idlib and its surroundings have already been displaced once, and not everyone has been able to move again. Abu Ibrahim, a teacher and relief worker who recently arrived at a camp in Sarmada, northern Idlib, said some of his relatives were still far away in northern Hama, apparently unable to find a sufficient gap in the bombing to get out.
"They are stranded [there]…living bitter days," he says. "For those who stayed behind, there are no forms of ordinary life – no food, no bread, and no fuel."
Abu Ibrahim, whose name has been changed because he fears for his safety, described the conditions that caused him to flee his Hama home: "We would run between the house and a shelter… back and forth between there and the house… After a few days of this, we decided to go."
According to the Syrian Civil Defence, the group of first responders known as the White Helmets, others are still in the buffer zone. "Some villages in southern Idlib and northern Hama are still inhabited by some civilians – either because they have no place to go, or they cannot afford the expenses involved in displacement," a spokesperson said.
Local relief
Some NGOs and local groups working in the area say they were already buckling under the burden of trying to assist the millions of Idlib residents and other Syrians who need aid.
OCHA said that while "humanitarian response is ongoing in areas affected by conflict", 16 groups it works with have suspended operations as a result of the violence.
Earlier this week, the Union of Medical Care and Relief Organisations (UOSSM), a coalition of organisations that provide medical care in Syria, warned of an "apocalyptic scenario" should violence continue to escalate. UOSSM has said that 13 medical facilities were hit in the last two weeks, including hospitals in al-Latamneh, Kafr Zita, and Kafr Nabl.
At least two of the medical sites hit by airstrikes since 28 April were on a UN-managed no-strike list, according to OCHA spokesperson David Swanson. OCHA's "deconfliction" process shares the exact coordinates of hospitals, clinics, and other civilian sites with Syria and Russia to reduce the likelihood of accidental bombings.
OCHA said at least 10 schools had also been destroyed.
Huda Khayti runs a women's centre funded by the Germany-based charity Medico International in the provincial capital of Idlib city, and was herself forced to evacuate the Damascus suburb of Eastern Ghouta after it was taken by the government in April 2018.
"There are some organisations and centres providing food and other items to the displaced," Khayti said, but some people have been forced to rely on the kindness of strangers. "A lot of these people can't afford to pay for rented housing [once they leave their homes]. In some cases, residents are taking in the displaced into their homes... as a kind of personal assistance."
Other NGOs have simply shuttered operations altogether. Women Now for Development, a Syrian NGO operating inside Syria as well as neighbouring countries, announced earlier this week that it was closing all its community centres in Idlib province to "ensure the safety of [its] team and participants."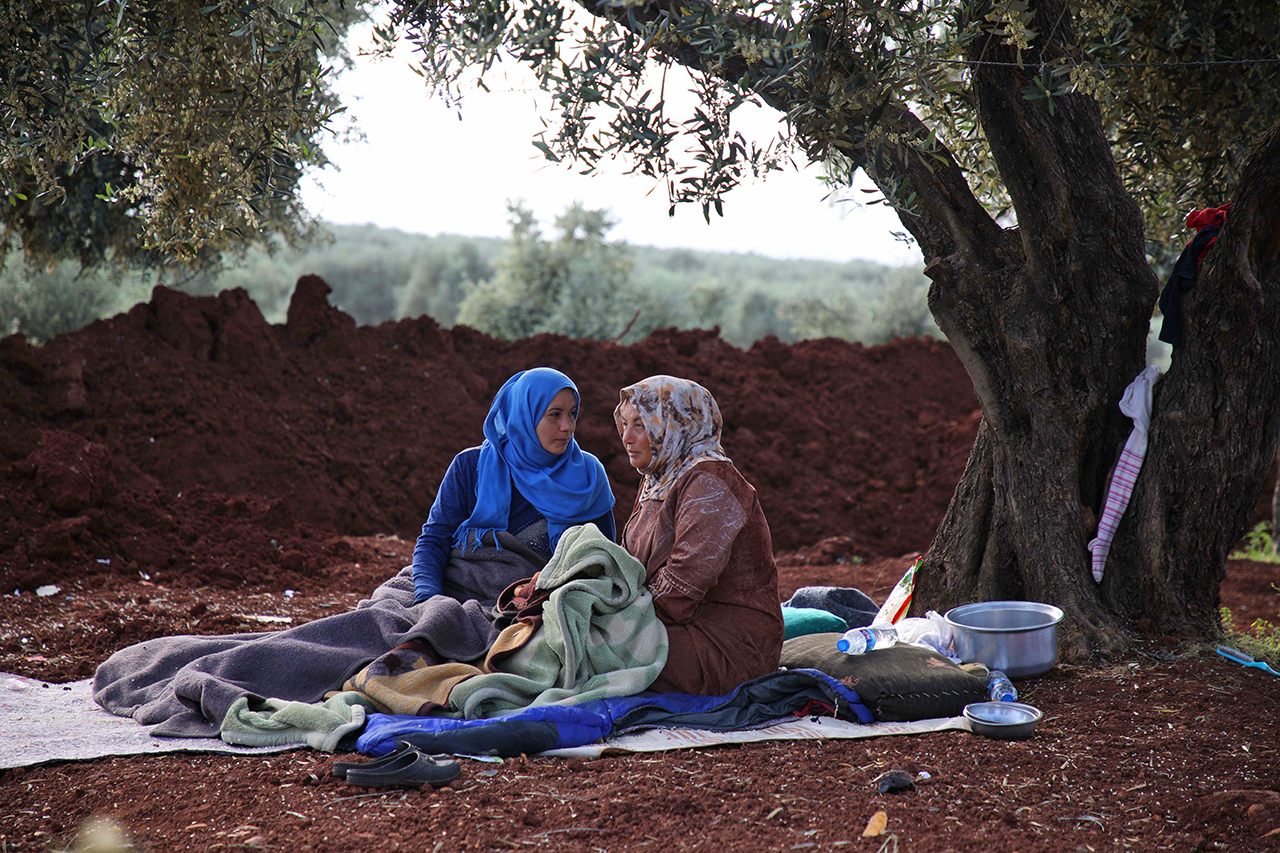 Calls for calm
Alarm about the military escalation has come from the international community, as well as from France, the United States, and the European Union. An international Syria "ceasefire task force" met in Geneva on 8 May, but no statement was issued.
On 6 May, UN Secretary-General António Guterres called on the "Astana guarantors" to help de-escalate the situation, referring to Russia, Turkey, and Iran, who all have direct influence and military clout in Syria and meet regularly to discuss the country in the Kazakh capital.
In a joint statement on 27 April, just before the latest spike in violence, the three reiterated their commitment to the agreements regarding the ceasefire and buffer zone in Idlib.
But the fighting has not yet abated, and a 6 May statement from the office of the UN High Commissioner of Human Rights reported that Syrian government forces started a ground advance and captured villages from what they called "non-state armed groups" in northern Hama. The statement also reported counter-attacks from these groups, presumably rebels, in the government-held coastal province of Latakia.
It is not yet clear if the Syrian government and its allies are planning an all-out assault in the northwest. But among the rapidly rising numbers of people on the move, many, including Abu Ibrahim, fear the violence will reach them yet again. "If this shelter becomes unsafe," he said, "we'll just go live among the trees."
(TOP PHOTO: A Syrian boy stands on the rubble of a building in the village of Rabaa Jour in Idlib province, following reported shelling and air strikes on 6 May 2019.)
tr/as/ag