Bibi Mariam was milking her cow when it suddenly let out a wild howl and collapsed in a pool of blood.
The so-called Islamic State and the Taliban were fighting near her village in Afghanistan's Nangarhar Province. The stray bullet that killed her cow finally convinced Mariam to flee – joining a record number of Afghans displaced by conflict.
"It could have hit me or any of my children," Mariam said at her family's new makeshift home, a small tent in a displacement camp near the provincial capital of Jalalabad.
Mariam is one of more than 623,345 internally displaced persons who fled conflict in Afghanistan in 2016 – an unprecedented amount, according to the UN's emergency aid coordination body, OCHA.
"The staggering numbers also confirm a worrying trend: Afghanistan is experiencing significant, year-on-year increases in the number of families driven from their homes," said Danielle Moylan, a spokeswoman from OCHA. "The numbers of IDPs in 2016 are three-fold that recorded in 2014, and six times more than recorded in 2012." 
Based on current trends, the UN predicts that in 2017 at least 450,000 more people will join those already internally displaced. On top of that, Afghanistan struggles to support many of the 616,620 people pushed back from neighbouring Iran and Pakistan last year. Pakistan has warned that it will begin forcibly deporting Afghans who have not left voluntarily by March, and the UN expects about a million more, many of whom have no homes to return to.
"The constant stream of displaced families means that a state of continual emergency has become the norm in Afghanistan," said Moylan.
'No future'
Many of those displaced are leaving their homes for the first time, and they are forced to live in temporary camps where they struggle for survival.
Mariam had never left her remote valley in Pachir Aw Agam District, where she also raised five children with the help of her husband, until he was killed after being caught in crossfire between police and IS fighters. Over the past six months it had become increasingly dangerous as IS made inroads into the area. The militants began raiding homes as well as fighting with the Taliban over territory.
Mariam and her children left behind the family farm and livestock; now they survive on the meagre  earnings her sons make selling the cookies she bakes in a wood oven. The family is hungry most of the time and conditions are poor. They sleep on the ground on tarpaulins, and there is no health clinic or school in the camp.
"In Jalalabad, I don't see any future for my daughters or sons," said Mariam, sobbing as she assessed the family's predicament. "Their childhood is destroyed."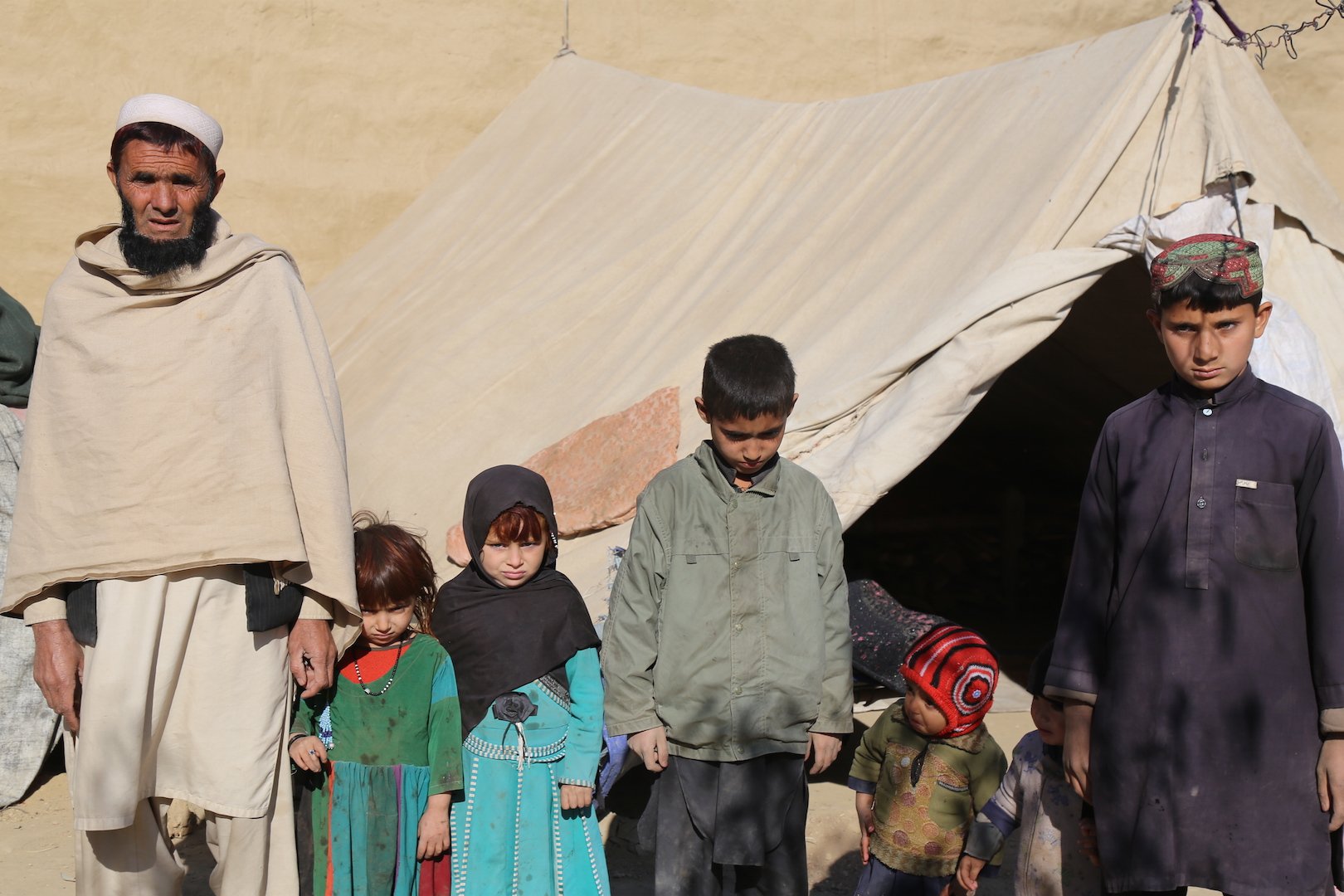 Rise of IS
The US nation-building exercise in Afghanistan is now a shambles, 16 years after it led the invasion that overthrew the Taliban. The US withdrew almost all of its troops at the end of 2014, and the Afghan National Army was meant to take over security. But government forces have struggled, and lost control of many districts.
*
The government controlled only 63 percent of its districts by August 2016, compared to 72 percent just nine months earlier, the office of the
Special Investigator General for Afghanistan Reconstruction
said in a report Wednesday. 
Most territory lost to the government is under Taliban control. But by early 2015, IS had moved into eastern Afghanistan and announced its intention to carve out an area of control called "Khorasan", in reference to a historical region that once covered much of modern day Afghanistan as well as parts of Iran and Central Asia.
The group, which is known as Daesh in Afghanistan, has concentrated its activities in eastern Afghanistan, especially Nangarhar, on the frontier with Pakistan. In some areas, local militias have sprung up to fight IS, while others have joined the Taliban or government forces. But IS has also extended its deadly reach throughout the country.
In July, two suicide bombers struck a peaceful protest of ethnic Hazara Shia Muslims in the capital, Kabul, killing 80 people. The IS claimed responsibility for that attack as well as the November bombing of a Shia mosque in Kabul, which killed at least 40 people.
The fight against IS takes place primarily in three districts in Nangarhar Province, according to Attaullah Khogyani, spokesman for the provincial governor. He said IS started fighting in Achin in 2015 and entered Pachir Aw Agam and Chaprihar districts in 2016.
"We carry out air attacks and ground operations against them. We also support local resistance against them and [we support the] ALP," he said, referring to the Afghan Local Police, a government-backed force recruited from local communities to fight against insurgents.
Amir Jan, an elder from Achin, said his son joined a local uprising against IS and was killed in battle. Members of IS then made it clear to the community that if they did not back the group, they were not welcome to stay.
"One morning, Daesh fighters arrived on my doorstep and told me to leave, and when I tried to bring some stuff, they beat me up," he said in an interview outside his family's tent in Samar Khel camp, outside Jalalabad. "I left with nothing."
bs/jf/ag
*(This story has been updated with information from a report by the Special Investigator General for Afghanistan Reconstruction.)
(TOP PHOTO: Samar Khel camp, near Jalalabad, where Afghans displaced by war have taken shelter CREDIT: Bilal Sarwary/IRIN)