Amid growing concerns about a reported excavation at a mass grave site in northern Afghanistan, a senior UN official has said the organisation is committed to help Afghan authorities preserve such sites in order to protect evidence of crimes committed over the past three decades of war in the country.
"The United Nations remains ready to assist all Afghan stakeholders, including victim groups, to take immediate and concerted action to preserve grave sites," Norah Niland, representative of the UN High Commissioner for Human Rights in Kabul, told IRIN.
"At a minimum, victims have a right to the truth, and the preservation of evidence is a critical element in understanding and addressing the legacy of past atrocities," said Niland, who also works as head of the human rights unit at the UN Assistance Mission in Afghanistan (UNAMA).
The UN has confirmed that at least one grave site in the northern city of Sheberghan, where thousands of men allegedly associated with the Taliban were dumped in late 2001, has recently been disturbed.
It is unclear who took away human remains from the Dasht-e-Leili gravesite but many accuse
Abdul Rashid Dostum
, a powerful Uzbek warlord, because of his alleged involvement in the
massacre of Taliban prisoners
in 2001-2002. Dostum has denied the charges.
Physicians for Human Rights (PHR) – a Washington-based NGO investigating human rights violations – has called for an immediate investigation into the reported disturbance.
"Removing evidence of an alleged mass atrocity is itself a war crime and must be investigated… this destruction is a devastating blow to the effort to learn the truth of Dasht-e-Leili," Frank Donaghue, chief executive officer of PHR, was quoted as saying in
a press release
on 12 December.
Powerful individuals block investigations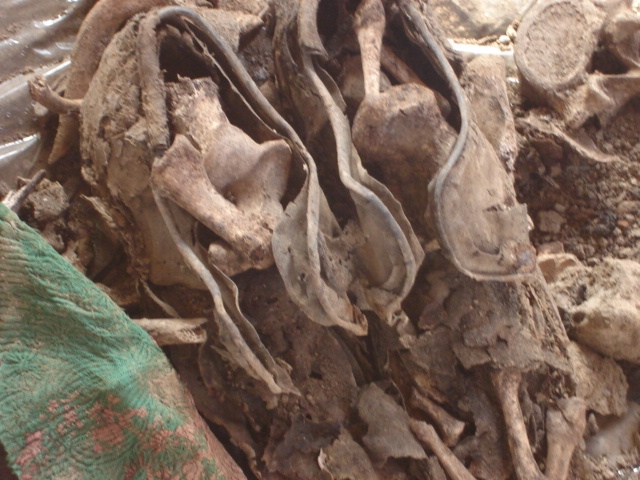 200812142
Photo: Zhulia Yaftaly/ IRIN
The UN says mass grave sites must be protected against any disturbance and/or destruction
Over the past five years, more than 80 mass graves have been identified across the war-ravaged country, the Afghanistan Independent Human Rights Commission (AIHRC) has said.
Hundreds of thousands of people were allegedly killed and thrown into collective graves by various armed factions over the years of conflict.
However, little or no effort has been made so far to shed light on the identities of victims and those responsible for the crimes.
Zia Langari, a commissioner at the AIHRC, told IRIN: "Some powerful people block investigations into mass graves because they fear this would jeopardise their positions."
Langari's concern was echoed by Niland of UNAMA: "There are powerful elements that do not want investigations into mass graves."
Rights watchdogs have accused some former mujahideen leaders, ex-communist government officials, the Taliban and local militia commanders – who were allies with the US in late 2001 to ouster the Taliban and have maintained power ever since – of war crimes and crimes against humanity, including the killing of prisoners of war and civilians.
Another hindrance to investigations into mass killings is that they require technical resources, which are mostly unavailable in the country.
The majority of the over 4,000
Afghans interviewed by the AIHRC
in 2005 on how to deal with past atrocities said that war criminals and human rights violators must be punished. More than 76 percent of the interviewees said bringing criminals to justice would help stabilise the country and ensure lasting peace.
As large parts of the country reel under a worsening conflict more than seven years after the fall of the Taliban, some experts say the failure to deal effectively with past crimes and ensure justice has contributed to the re-emergence of violence.
ad/at/ed
---
This article was produced by IRIN News while it was part of the United Nations Office for the Coordination of Humanitarian Affairs. Please send queries on copyright or liability to the UN. For more information: https://shop.un.org/rights-permissions