After a series of deadly and destructive storms, farmers and rural communities in the Philippines are struggling to recover without promised aid, while the government is under fire for failing to find climate adaptation policies that might reduce future damage. 
Tropical Storm Nalgae made landfall on 29 October, killing 156 people and displacing over a million – with more than 4.6 million people affected overall. The storm came barely a month after Typhoon Noru, which killed at least six people and caused significant agricultural damage.
President Ferdinand Marcos Jr. placed Calabarzon, Bicol, Western Visayas, and the Bangsamoro Autonomous Region of Muslim Mindanao (BARMM) under a state of calamity for six months, pledging extra recovery assistance to BARMM, the region with the most casualties and greatest damage.
Read more: Inside the defector programmes battling to keep peace in the Philippines
But with poor, rural communities bearing the brunt of the devastation, his government is being urged to do far more to help them prepare and adapt their farming practices to reduce the impact of future storms – which are likely to be even more numerous and extreme due to climate change.
Nalgae was the 16th typhoon or severe tropical storm to hit the archipelago nation this year. At their most intense, such storms have resulted in extreme loss of life: Typhoon Haiyan in 2013 killed 6,300 people. But even when large death tolls have been avoided, the economic impact is often catastrophic. Last year, Typhoon Odette caused nearly $1 billion of damage, while back-to-back typhoons in 2020, Goni and Vamco, cost hundreds of millions of dollars.
Over the past decade, the Philippines has lost more than $10 billion due to climate-related hazards, according to Rafael Mariano, who headed up the Department of Agrarian Reform (DAR) under Marcos' predecessor Rodrigo Duterte.
"Typhoons and calamities are indiscriminate," Mariano told The New Humanitarian. "Even if crops are insured, if a storm washes them away, farmers are instantly in debt. They need all the support they can get."
After circling Nalgae-hit areas by helicopter and noticing many deforested areas, President Marcos recommended tree-planting as a long-term solution.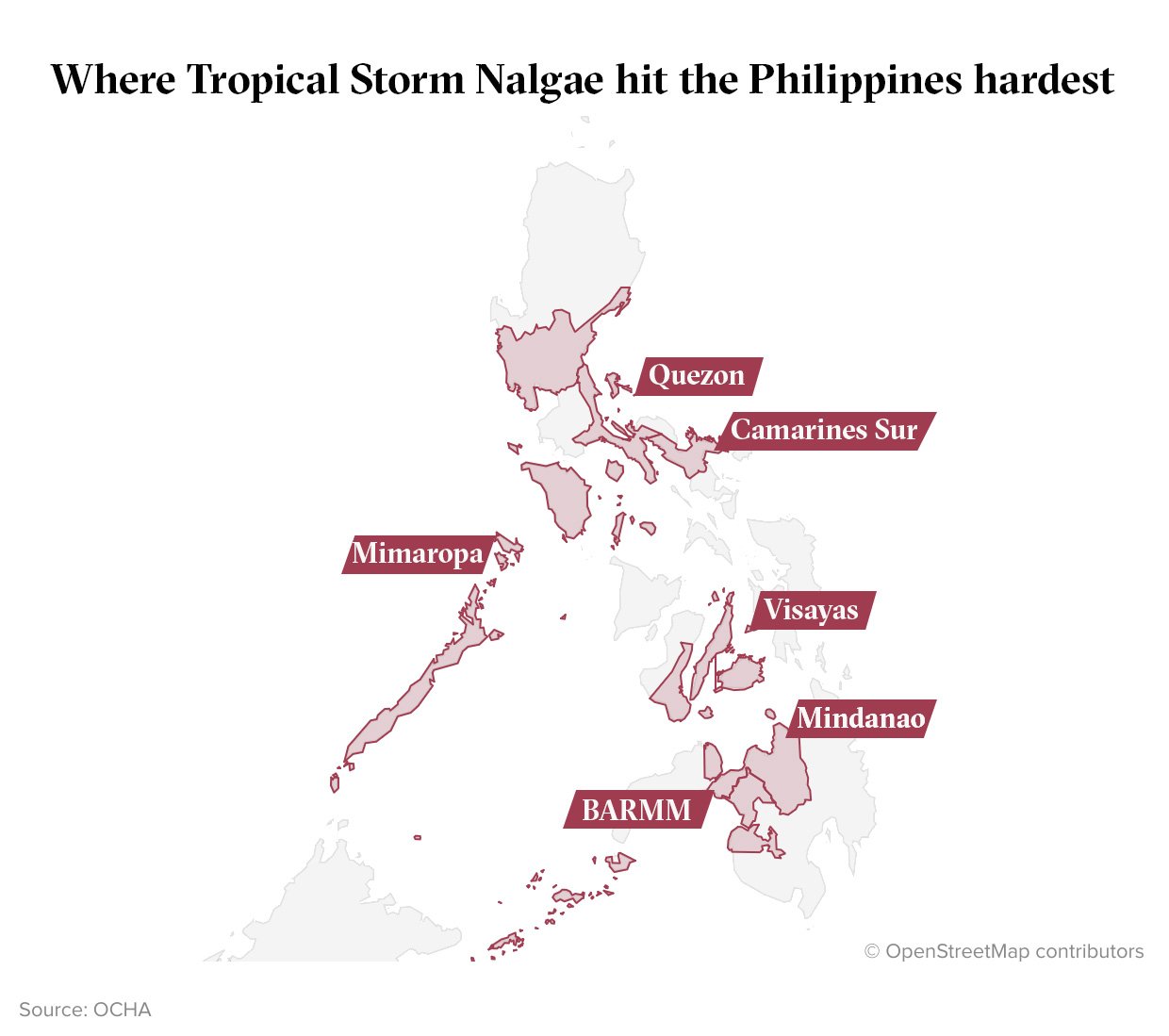 But while deforestation has doubtless contributed to deadly landslides, environmental activists say the government has shown little understanding of the overall scale of the problems posed by the climate crisis and is yet to develop a rigorous response.
"It's as if the effects of climate change are something new to the president," said Jon Bonifacio of the Kalikasan People's Network for the Environment. "He has yet to exhibit an adequate grasp of the situation, and that will unfortunately reflect the policy approach of the administration."
Bonifacio called on the authorities to invest in a string of agroecological advances to make the food systems in the Philippines more sustainable, including "research into developing more resilient crops against flooding, ones with varieties that are adaptable.
"Our food producers and Indigenous communities also need to be supported with proper irrigation, because we need to mitigate the effects of droughts as well, and not just typhoons," he added.
Agham, a science advocacy organisation in the Philippines, noted how the new Marcos government had slashed the country's weather forecasting budget by 22%. "If we are asking where the government's response fell short, it is rooted in the declining budget allocation," the group said.
'How can we feed ourselves?'
The National Disaster Risk Reduction and Management Council (NDRRMC) – a working group of government, NGO, and civil society organisations that coordinates emergency response in the Philippines – estimated that $52.8 million worth of crops were damaged by Nalgae, jeopardising the livelihoods of 81,866 farmers and fisherfolk.
Noru wrought similar levels of destruction to the agricultural sector the month before, with an estimated cost of agricultural damage at $52.7 million.
While the government has a "Quick Response Fund" that's supposed to provide urgent assistance to affected communities, farmers say they've yet to see support for the losses sustained in Noru – let alone the more recent disaster.
Danilo Ramos, chairperson of the Kilusang Magbubukid ng Pilipinas (Peasant Movement of the Philippines), or KMP, urged the government to "act faster and use its available resources for immediate relief for those most affected by the disasters".
Marcos received $251 million worth of calamity funds from his predecessor, but as of August his government had only disbursed $17 million from it. 
Abby Bucad, who leads a local farming association in Tarlac province, said no farmer in her area, Concepcion, had received any assistance from local or national authorities since the recent storms.
Recounting the flash floods caused by Noru, she said: "We 94 farmers were aiming to harvest around 150 to 200 sacks of rice, but what was left was able to fill only 66 sacks. Winds carry grains away from our fields and flooding drowns our crops."
"Farmers need relief and subsidies immediately. We provide food for the nation and we also need to feed ourselves." 
In the weeks after Noru, the farmers began preparing for another harvest – planting mung beans and vegetables this time instead of rice. However, when they heard news of Nalgae and began seeing stormy clouds, they had to abandon their plans. "We don't want to risk our harvest again," said Bucad. Days after Nalgae, came tropical storm Banyan, on 1 November, delaying any planting yet again. 
The net result of being unable to harvest – coupled with inadequate support – means farmers are struggling under a growing debt burden. 
"Our life as farmers usually involves taking a loan to pay for seeds, fertilisers, among others so we can plant and maintain the harvest cycle," Bucad explained. "When typhoons disrupt our farming, we are unable to pay our debts and get buried under it."
Bonifacio expects the situation to get progressively worse. He noted that all of the strongest typhoons in the country's history have taken place in the last 15 years.
According to a World Bank report released last month, the Philippines is set for huge economic losses if it doesn't do more to address climate change. 
It's not just Marcos' government to blame.
Pointing to Duterte lifting the ban on open-pit mining last December, Bonifacio said past administrations have been guilty of ignoring the repercussions some of their policies have had on the environment. "Actions like that contribute to the landslides we saw during the recent storm," he said.
For Bucad, assistance can't wait: "How can we feed ourselves and continue farming knowing the next misfortune for our harvest can happen any time? Farmers need relief and subsidies immediately. We provide food for the nation and we also need to feed ourselves." 
Edited by Abby Seiff.