After decades of conflict across Mindanao in the southern Philippines, the creation of a new autonomous region consisting of five Muslim-majority provinces in 2019 was a major step towards peace. Various levels of government and civil society then rolled out a slew of programmes to disband armed groups and create new roles for former guerrilla fighters. 
But three years after the creation of the Bangsamoro Autonomous Region in Muslim Mindanao (BARMM) – which now has a population of some five million people – the results are mixed.
Efforts to decommission some 40,000 Moro Islamic Liberation Front (MILF) combatants, along with their weapons and camps, have fallen far short of the original goals. Meanwhile, the persistence of armed extremist groups, including those aligned with ISIS, threatens a fragile peace and has deterred others from giving up their arms. 
To learn more, The New Humanitarian travelled from the Maguindanao floodplains to jungle camps in the mountains of Lanao del Norte and Marawi City on the banks of Lake Lanao to speak to Bangsamoro ministers, ex-fighters, guerrilla and military commanders, and local returnee facilitators.
At a glance: A fragile peace effort

A new autonomous region was created in 2019 after a decades-long insurgency
The BARMM consists of five Muslim-majority provinces in Mindanao
Fewer than half the targeted number of ex-fighters have been decommissioned
Experts say other groups beyond the MILF must decommission if "normalisation" is to work
Defector programmes have become a key part of the peace effort
Some surrendees say the government is not living up to promises on money, training
Ex-fighters in other areas of Mindanao outside the BARMM are ineligible for support
One thing became clear: Any chance of a durable peace in the Bangsamoro rests heavily on successful defection programmes.
"The success of this peace effort will depend, in a big way, on whether we can convince enough rebels to defect and leave a life of violence," said Professor Acram Latiph, a peace advocate and life-long resident of Marawi City who witnessed its devastation by ISIS militants in 2017.
Defection successes, Latiph explained, "are not just directly important [for peace]... it is kind of like a measure or indicator of whether the case for Bangsamoro peace is convincing the general population too." 
The politics of dashed expectations  
After years of peace negotiations, the 2019 formation of the BARMM and the appointment of an interim government – the Bangsamoro Transition Authority (BTA) – was a watershed moment in the Philippines.
Decades of long-running conflicts had killed tens of thousands, led to severe disinvestment in infrastructure and basic services, and left the scars of generational trauma across communities. So the most promising opportunity for peace in living memory understandably raised hopes across the BARMM's five provinces: Lanao del Sur, Maguindanao, Basilan, Sulu, and Tawi‑Tawi.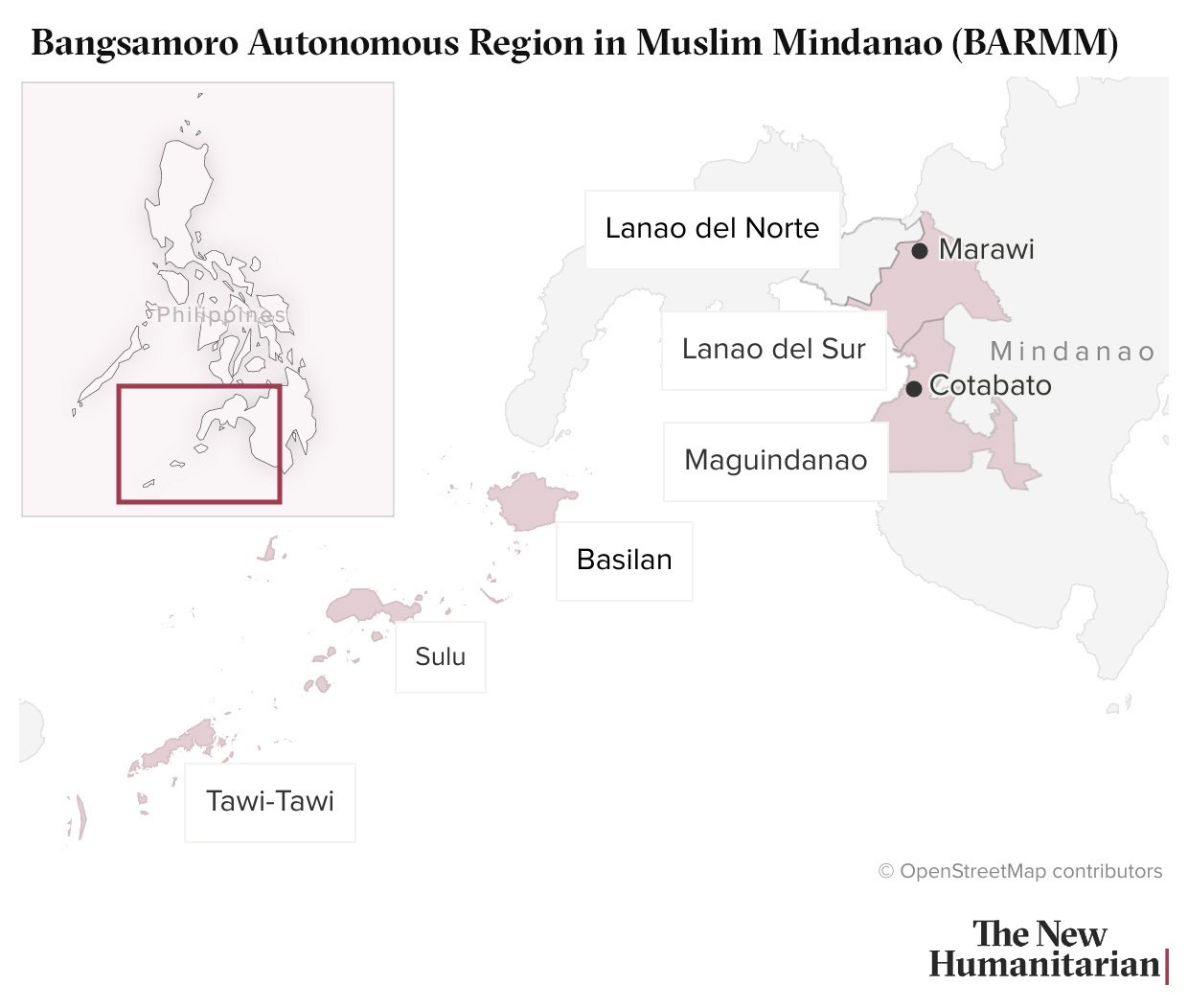 Aliah Adam, a prominent civil society leader originally from Lanao del Sur, remembers the outpouring of joy in impoverished communities exhausted by war. "They believed that 'peace dividend' benefits would come," she told The New Humanitarian.
"Hopes were high. Probably unrealistically high."
Many assumed the new government would bring access to basic services, education, infrastructure development, and of course the end of conflict. "Hopes were high," Adam recalled. "Probably unrealistically high." 
The Bangsamoro peace process has two tracks.
First is to establish the institutions, bureaucracy, laws, and policies of the new government. Second is "normalisation" – or the effort to decommission some 40,000 combatants from the Moro Islamic Liberation Front–Bangsamoro Islamic Armed Forces (MILF-BIAF) by disarming the former combatants and supporting their reintegration into the new Bangsamoro through financial aid, vocational training, and social support. Part of the project involves transforming six military camps into economic zones to expand job access for the community.
The normalisation track also includes amnesty efforts and transitional justice programmes that are yet to be implemented, according to the BTA's Minister of Social Services and Development Raissa Jajurie. 
Building a government from scratch and rolling out a normalisation process would be difficult in the best of times. But the BTA has had to endure the added challenge of the pandemic. It now faces the uncertainties of a new Philippines president, Ferdinand Marcos Jr., and growing pressures to realise "peace dividend" promises. 
Though all eligible former MILF combatants were supposed to be decommissioned within three years, only 19,345 ex-combatants have been reached, according to the Ministry of Public Order and Safety. Plagued by funding deficits, delivery problems, and tensions with the national government, the slow pace of normalisation has become symbolic of concerns about the broader peace process. 
For many MILF commanders and combatants, their day-to-day struggles to survive amid continuing violence have made many reluctant to hand over their weapons. Each month, rido, or clan feuds, continue to displace thousands across Mindanao. Then there are the private armies, seasonal electoral bloodshed, and the violent crimes born of desperation and poverty.
Violent extremist groups remain the public's greatest security concern. These include the Bangsamoro Islamic Freedom Fighters (BIFF), Abu Sayyaf, and ISIS-affiliated groups active from Lanao del Sur in the Bangsamoro's north to the Sulu archipelago in its deep south. The reasons for the slow progress of normalisation cannot be appreciated outside of this context. 
Experts say that convincing former MILF combatants to decommission will increasingly depend on parallel efforts to disarm a variety of armed groups that, although significantly smaller in force capacity, are keen to violently exploit any perceived weaknesses in their adversaries. 
"There has been too much focus on MILF decommissioning as part of normalisation, But the issue is that there are other groups, a lot of other groups, that also need to disarm."
'Hollow rebel ranks' 
In an empty restaurant on the outskirts of Cotabato City, BD – who has not been named because of regular threats to his life – reflected on how his experiences of violence had motivated him to become a combatant as a young man. "My family was massacred in a land dispute 10 years ago," he told The New Humanitarian. "I joined the BIFF to get protection [because] I had no one left."
Rising to become a field commander, BD eventually left the group in 2016, during an amnesty window, "for a better life… and to get married". 
Now in his mid-thirties, BD works with 10 other local volunteer negotiators who coordinate with the army and police to facilitate surrenders by BIFF and ISIS fighters in Maguindanao. Though the effort appears ad hoc, it has borne fruit. Since 2019, BD claims to have aided about 150 defections.
Polite and soft-spoken, his two heavily armed guards are testimony to those successes, and to his aspirations to do more to help the strife-torn communities of the SPMS box – a reference to the towns of Shariff Aguak, Pagatin (Datu Saudi Ampatuan town), Mamasapano, and Shariff Saydona where the BIFF are active.   
In these communities, whether fighter or civilian, locals tell BD that fear drives their decisions. "Everybody is scared," he said.
For BD, it has become a high-stakes persuasion contest between two opposing actors. "Both [the government and armed groups] offer different opportunities for how to deal with that fear," he said. "The people must choose." 
It is in delivering on their promises that defector programmes have too-often fallen short. For example, BD noted that Bangsamoro authorities set up a programme known as Project Tugon to support defectors – but some defectors claimed to have not received the full 100,000 philippine peso ($1,885) package that includes cash, access to vocational training, and other livelihood support. This lack of follow-through can erode trust – making continued defections difficult.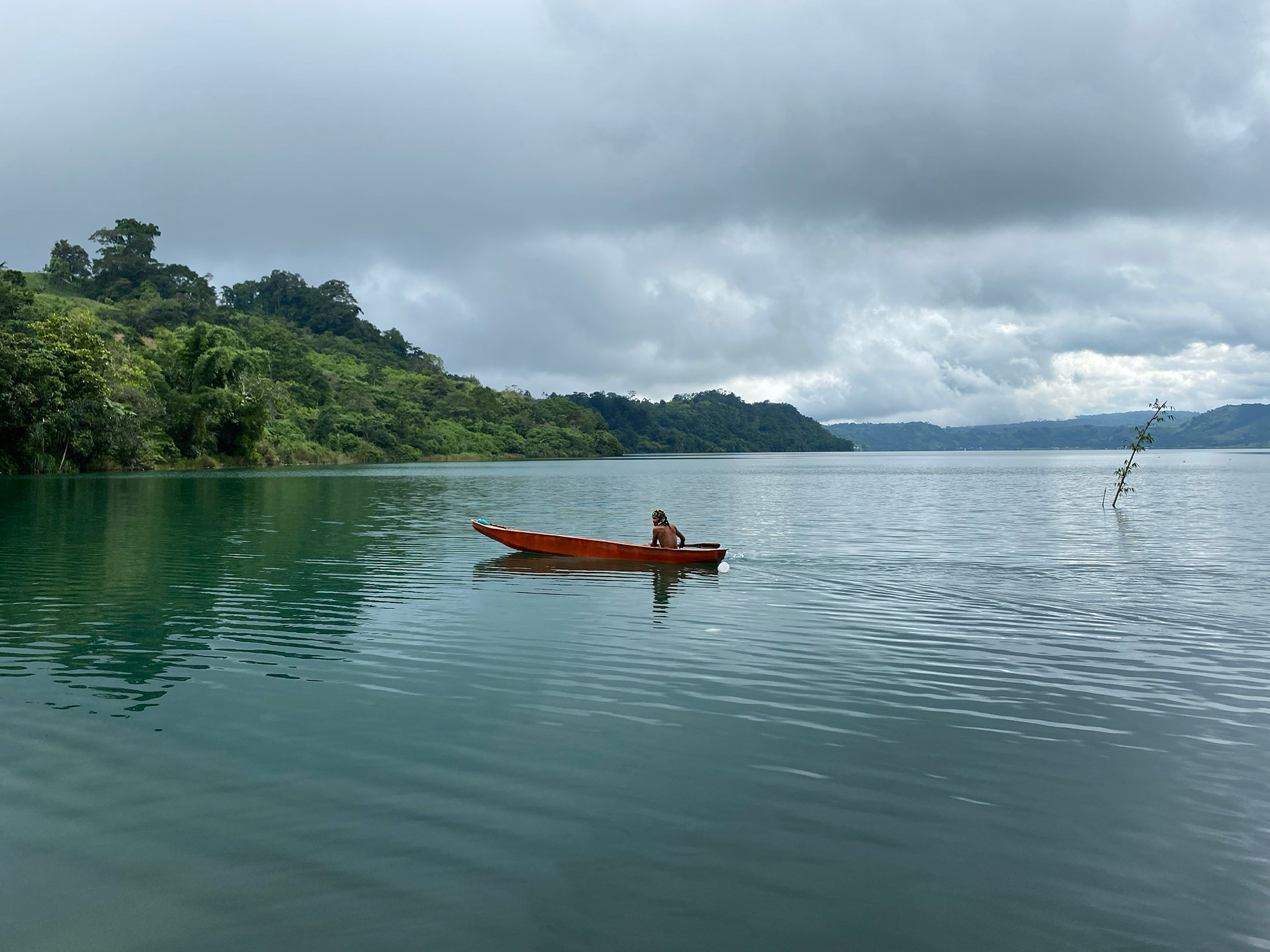 Working closely with the friends and families of BIFF and ISIS fighters is key to establishing the trust needed for decommissioning, explained BD, who visits their communities regularly: "It is then that the communities, their family and friends, encourage their loved ones to return to a peaceful life."
BD knows from experience that every new returnee increases the chances that others will see the light and defect. "We focus on surrenderees to hollow rebel ranks," he explained.
His efforts are designed to do more than weaken violent extremists, by helping to enable normalisation too. "We need to create the situation where the MILF are not afraid to disengage," BD said. "That means other violent groups must disengage." 
'The new jihad is peace'
The fragility of the Bangsamoro's peace is starkest in the jungle mountains of Lanao del Norte. It is in these borderlands of the BARMM where the politics of dashed expectations risks boiling over. 
While majorities in MILF-supporting towns in Lanao del Norte voted 'yes' in the 2019 plebiscite, the overall majority of towns voted 'no', meaning the province wasn't included in the BARMM.
Many in communities loyal to the MILF but situated outside the BARMM now feel as though they live in a no man's land – unable to access the benefits many had spent their lives fighting for. 
The MP here, Abdullah Macapaar, is a legendary figure in the Moro resistance. Sitting at his desk, framed by large firearms hanging on the wall behind him, the charismatic Macapaar spoke passionately to The New Humanitarian about the predicament that confronts many of his constituents. 
Soon after becoming a BTA minister, Macapaar had declared that "the new jihad is peace". But three years later, local communities and those under his command are growing impatient.
"We're thankful that people benefitted from [the BARMM]. But as for us in Lanao del Norte and those outside the BARMM, we didn't feel the benefit," said Macapaar, who is better known locally as Commander Bravo.
"Why did they even invite our forces to come out if they don't have available support to provide for us?"
Macapaar led the MILF's northwestern Mindanao front, which had bases across Lanao del Norte and Lanao del Sur. Yet many among his ranks in Lanao del Norte are ineligible for basic government support, and this, in turn, has made former combatants wary of participating in normalisation.
"Why did they even invite our forces to come out if they don't have available support to provide for us?" Macapaar asked. "This is one of the reasons why many will return to the jungle." 
Never another Marawi siege
The jungles and townships surrounding Lake Lanao are home to Lanao del Sur's ISIS affiliate, often referred to as the Maute-ISIS Group, as well as to a variety of government and civil society initiatives seeking to weaken them. On a visit to Camp Ranao in Marawi City, senior officers highlighted the role of the army's Community Support Programs (CSPs).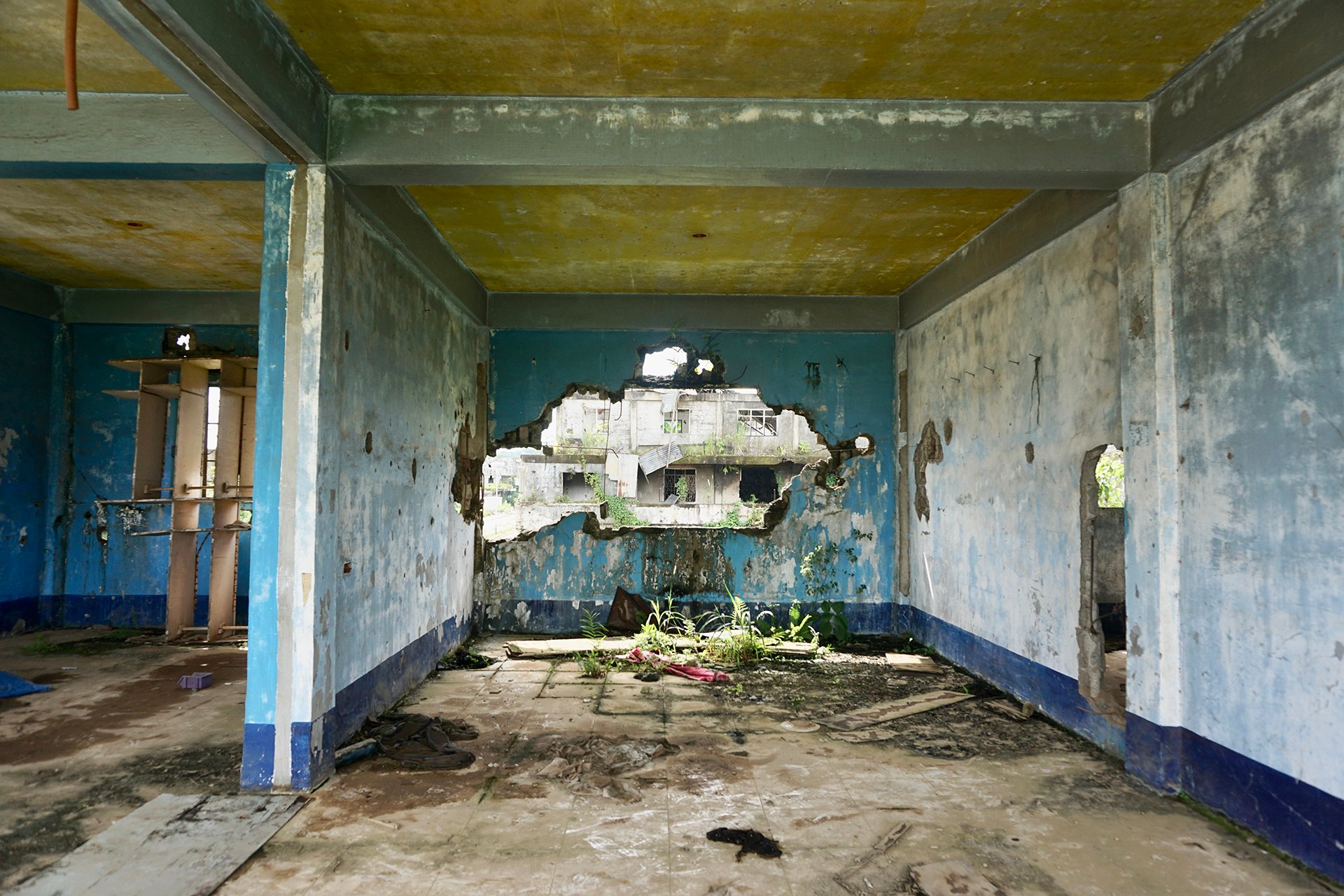 Originally designed to encourage defection and disarmament among communist insurgencies, CSPs are now used here to attract surrenderees and erode support for ISIS. From military to civil society, a common refrain in the Bangsamoro is that "there must never be another Marawi siege", a reference to the 2017 siege of Marawi City by the ISIS-linked Maute group that killed hundreds and displaced thousands. 
Despite constant counterterrorism pressures from the military and police, as well as a variety of multi-sector defector programmes, ISIS-aligned groups persist across the Bangsamoro, exploiting clan feuds, criminal networks, and disgruntled local communities in their quest to turn the tide back in their favour. 
"I'm concerned that violent extremists are evolving faster than these preventative programmes," Latiph, who is also director of the Institute for Peace & Development in Mindanao (IPDM) in Mindanao State University's Marawi campus, told The New Humanitarian. "In fact, it's hard to know how well we're doing because transparency is also a problem. What's offered to defectors [cash, livelihood, and training support] is very attractive, so you have all types claiming to be combatants. The number of actual combatants could be as low as 20 percent, maybe less."
Through dozens of interviews, it became clear that this is a sentiment shared by many across the Bangsamoro, where the concern is that only a fraction of ISIS and BIFF defections represent "hardcore" combatants. Some experts even suggested that supporters of these groups may be participating in defection programmes and giving a portion of the funds back to the militants.
"Women need to be supported as much as men, maybe even more so, to leave that life behind."
There is a gender disparity too. Having worked with local women since the Marawi siege and spoken to family and friends of those who joined ISIS factions, Adam, the civil society leader from Lanao del Sur, fears that women are too often forgotten in defection programme design and implementation.
"Women need to be supported as much as men, maybe even more so, to leave that life behind," she said. "These myths and stereotypes about women – that they're weak, only join to marry, are less of a threat than men – it's rarely true. This can be a tough and scary place to be a woman.
"What I hear during outreach in local communities is that women support these groups to feel connected and empowered," Adam said. "It is really sad because it means that, in the minds of some, the promises of extremists are more persuasive, more attractive, and more trustworthy than our side." 
Competing visions
Rather than a weakness, the hodge-podge of defector programmes across the Bangsamoro, is a necessity. The sheer variety of threats, ethnic and political fault lines, and the geographic span to be traversed, demands a range of programmes led by multi-sector actors.
It is slow progress, but the 2021 extension of the Bangsamoro transition period has provided the autonomous region another three years to fully implement the peace process.
"All would have been lost, I fear, without the three-year extension," said Alonto, the communications official, looking out over the government district in Cotabato City. "We made a lot of progress despite obstacles like COVID. These three years are our final chance and we cannot fail. Too much is at stake." 
The Bangsamoro's defector challenge is a microcosm of the broader challenge of achieving a sustainable peace. Fundamentally, it is a competition for the population's support between advocates of peace in the region and advocates of violence. It's a peace that will have to be won the same way it could be lost: house by house, street by street, and block by block. As BD put it: "War is hard. But peace isn't easy either."
Edited by Irwin Loy and Abby Seiff.