In late September, as Albina Iliushchenko drove down the familiar streets of her childhood in Izium in eastern Ukraine, she choked back tears looking at the cracked, blackened facades of apartment blocks, and at the restaurants and shops reduced to rubble. At the elementary school where her mother used to teach, the roof had caved in and all the windows were blown out. A family was picking through the debris trying to salvage anything useful.
After Izium fell under Russian control in mid-March, Albina's parents, along with tens of thousands of other residents, lived under Russian occupation until the city was liberated by Ukrainian forces on 10 September, amid a swift series of territorial gains in the south and east of the country. Less than two weeks later, The New Humanitarian accompanied 32-year-old Albina on her return trip to the city, which was only about 15 kilometres from the front lines. 
The situation in Izium, and other liberated settlements nearby, was stark: The areas were littered with half-destroyed buildings that appeared uninhabitable, while electricity, running water, and gas for cooking and heating were scarce. Still, dozens of residents trickled out from the broken structures when volunteers or soldiers came to deliver aid.
A World Food Programme (WFP) assessment last month found that some 2.2 million people in need of assistance – including the elderly, poor, and disabled – live within 30 kilometres of the front lines. And with winter fast approaching, there are serious concerns about how people will survive in sub-zero temperatures without heat.
"We need electricity, or wood, or gas – something for heating," Vitaly, a 33-year-old father with a four-year-old child, told The New Humanitarian, standing in a small crowd gathered for a humanitarian aid delivery outside a shuttered grocery store in Izium. With no mobile network, he didn't know when the aid would arrive, or who was providing it. "We don't have any water at all," he said. "Everyone that you see here, they collected rainwater [to drink]." 
Across Ukraine, an estimated 18 million people – or 40 percent of the population – are in need of humanitarian aid, according to the UN. A recent statement from Ukraine's energy ministry said that more than 702,000 people remain without power and at least 621,000 lack gas, primarily in the east of the country.  
Russia's widespread bombardment of cities and civilian infrastructure across Ukraine on 10 and 11 October – the largest strikes since the beginning of the invasion in February – disrupted the ability of international aid workers to deliver supplies in the hard-hit east, according to the UN. The International Committee of the Red Cross (ICRC) and the Norwegian Refugee Council (NRC) temporarily paused on-the-ground aid distributions. 
Amid the ongoing shelling and fighting, Ukrainian authorities are struggling to restore basic utilities and other essential services to hundreds of recently liberated settlements. The government is working to hand out food and humanitarian aid, and to restart the distribution of pensions – an important lifeline for the elderly population.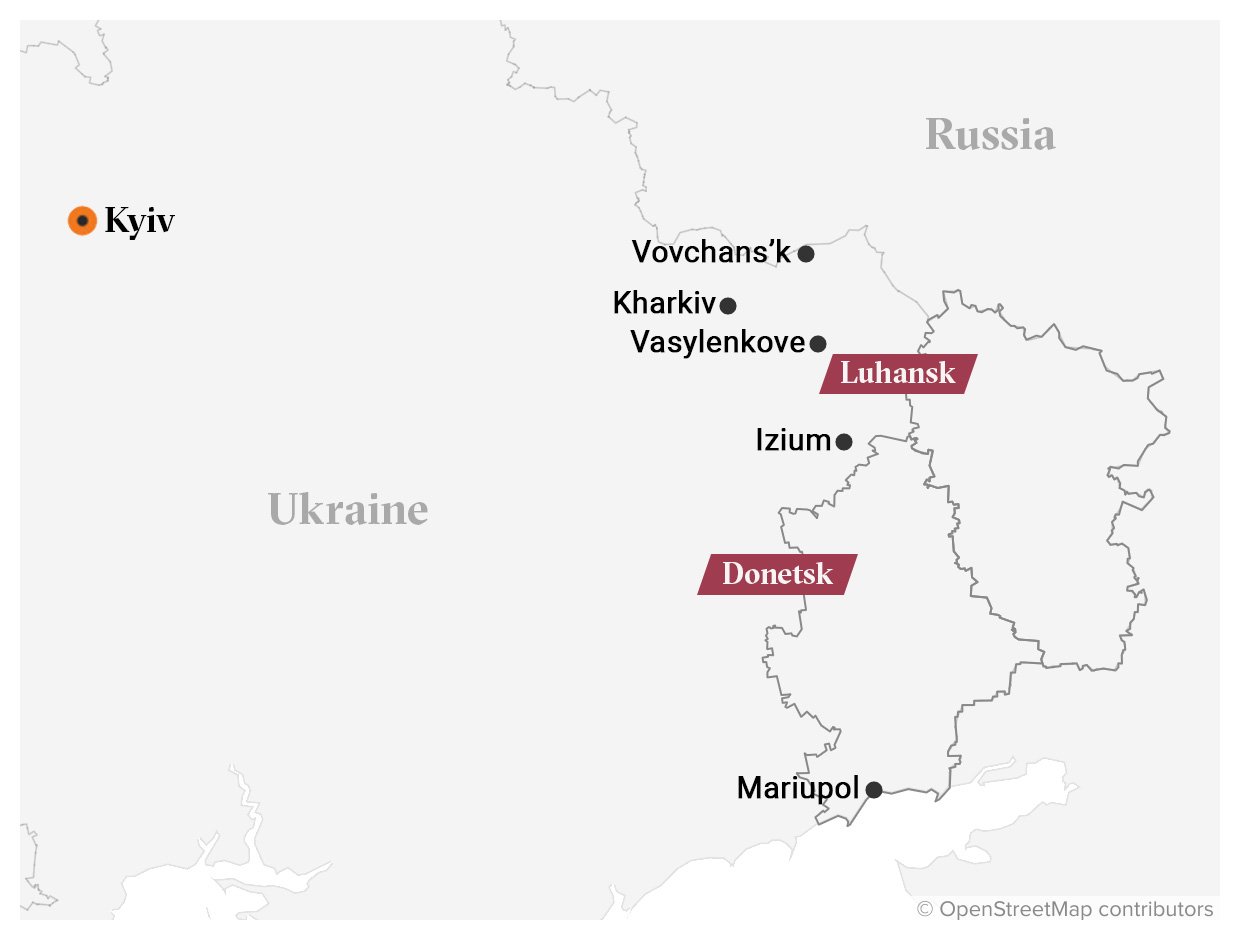 But the scale of need is vast, and authorities are encouraging civilians near the front lines to evacuate to avoid a "humanitarian catastrophe", according to a recent government press release. 
"The front line is still near, and the heat supply will be difficult to repair for the coming winter," said Tetiana Turyina, a spokesperson for the Ukrainian civil-military administration in the eastern region of Donetsk, partially occupied by Russian-backed separatists since 2014.
Reunion amid destruction, mass graves 
When The New Humanitarian visited, access to Izium was still restricted as Ukrainian authorities cleared debris, bodies, and unexploded ordnance from the streets. Civilians were barred from leaving so the government could identify locals who had collaborated with the occupying forces – not uncommon in a region where pro-Russian views were prevalent before the war.
On the outskirts of town, investigators had uncovered a mass burial site containing the bodies of more than 440 people, mostly civililans, with some showing clear signs of torture. 
When the invasion began, Albina lost her job as a sales manager for a logistics company. To fill her time and take care of her mental health, she began meditating and threw herself into volunteering to support the war effort.
Residents who haven't fled are "completely dependent" on humanitarian aid.
"I knew that… I must help our forces, our guys. I knew that all that I did would contribute to the day Izium would be liberated, and that the war would stop, and the day that I would meet and hug my parents would come," Albina said.
After Izium was liberated, she jumped at the opportunity to bring her parents medicine, winter clothes, and other provisions – and to see them again. 
When they met, the family couldn't stop embracing. Even with limited supplies, Albina's mother, Svetlana, 55, had managed to prepare a home-cooked meal, and her father, Nikolai, also 55, filled shot glasses with celebratory whisky. 
Fortunately, Albina's parents had their own well for drinking water and a generator, although fuel and food were hard to come by.
READ MORE: Life under occupation
In mid-March, as Izium was taken by Russian forces, the mobile network in the city went down, and Albina didn't hear from her parents for almost two weeks. Finally, Svetlana, a school teacher, rode a bicycle an hour outside the city until she found spotty reception.
"Those 10 days were the most terrible days of my life," Albina said. "I was so scared about my parents."
Svetlana continued to periodically brave dangerous bicycle and car journeys through Russian occupied territory to call Albina. But the connection was always poor, and the calls were short. Albina's father never made the trips.
When the invasion began, Nikolia, a shopkeeper, joined the Ukrainian Territorial Defence Forces, the volunteer military units formed to help protect towns and cities. After Izium fell, fearing retribution, Nikolai went into hiding in the family's home. Even when his 83-year-old mother died and was buried at a local cemetery, he didn't leave the house. The family says Nikolai's mother fell ill and was denied medical care by the Russian authorities running the local hospital because of her age.
Other local residents told the New Humanitarian that the Russian authorities provided paltry medical care and that medicines quickly ran out. The rations the Russians provided were also meagre. Some residents said they received only two cans of meat and some rice to last a whole month. After Ukrainian forces retook the town, residents could finally "start breathing", Svetlana said.
Valery Marchenko, the town's deputy mayor, told local media that up to 600 residents had died in shelling, and that 80 percent of its housing had been destroyed in the fighting. Locals were forced to work in factories for rations and no pay, and those who refused were beaten or tortured, he said.
"Everything was scary: when you were driving, walking, or talking, the fear lived inside you," Svetlana said, her voice breaking. "But now it's a lot easier… We always believed in the Ukrainian Armed Forces."
"I knew that my parents were strong, that they were together, and that they would be ok," Albina said.
But the reality overall in Izium is grim. Only around a quarter of the pre-war population of around 45,000 remains. Power, running water, and gas in the town have been cut since the beginning of March. Jens Laerke, a spokesperson for the UN's emergency aid coordination body, OCHA, said residents who haven't fled are "completely dependent" on humanitarian aid, resorting to bartering personal possessions and goods to survive. 
Distributing aid
Much of the aid being provided to people who remain in recently liberated areas is distributed by a decentralised network of volunteers and ad hoc aid groups, such as Volonter68 – started by husband and wife Serhiy and Galina Kharlamova, aged 52 and 50 respectively.
Based out of the northeastern city of Kharkiv, the organisation has about 40 volunteers and runs a hotline that people in need of aid or evacuation can reach out to. But its resources are limited, relying on financial and in-kind donations from individual donors online and foreign foundations. Volunteers use their own vehicles to deliver donated items one to two van loads at a time. There is no way Volonter68 – and other similar groups – can keep up with the vast scale of needs across the Kharkiv region as winter sets in.
The New Humanitarian accompanied Serhiy on an aid delivery to the town of Vovchans'k, about six kilometres from the Russian border to the northeast of Kharkiv. Vovchans'k, which had a pre-war population of about 17,000, was relatively unscathed by fighting. But only a fraction of inhabitants remained, emerging cautiously from their homes when they heard an aid delivery had arrived.
Families with children and the elderly stood in line waiting to receive packages of bread, vitamin bottles, and rations from WFP that Volonter68 was given by a larger, more established Ukrainian NGO: As a start-up, volunteer organisation it doesn't meet the WFP's criteria to be a direct partner. As the distribution wound down, it became clear that the level of need in Vovchans'k exceeded what Volonter68 had on hand – dozens of people waiting in line were left disappointed.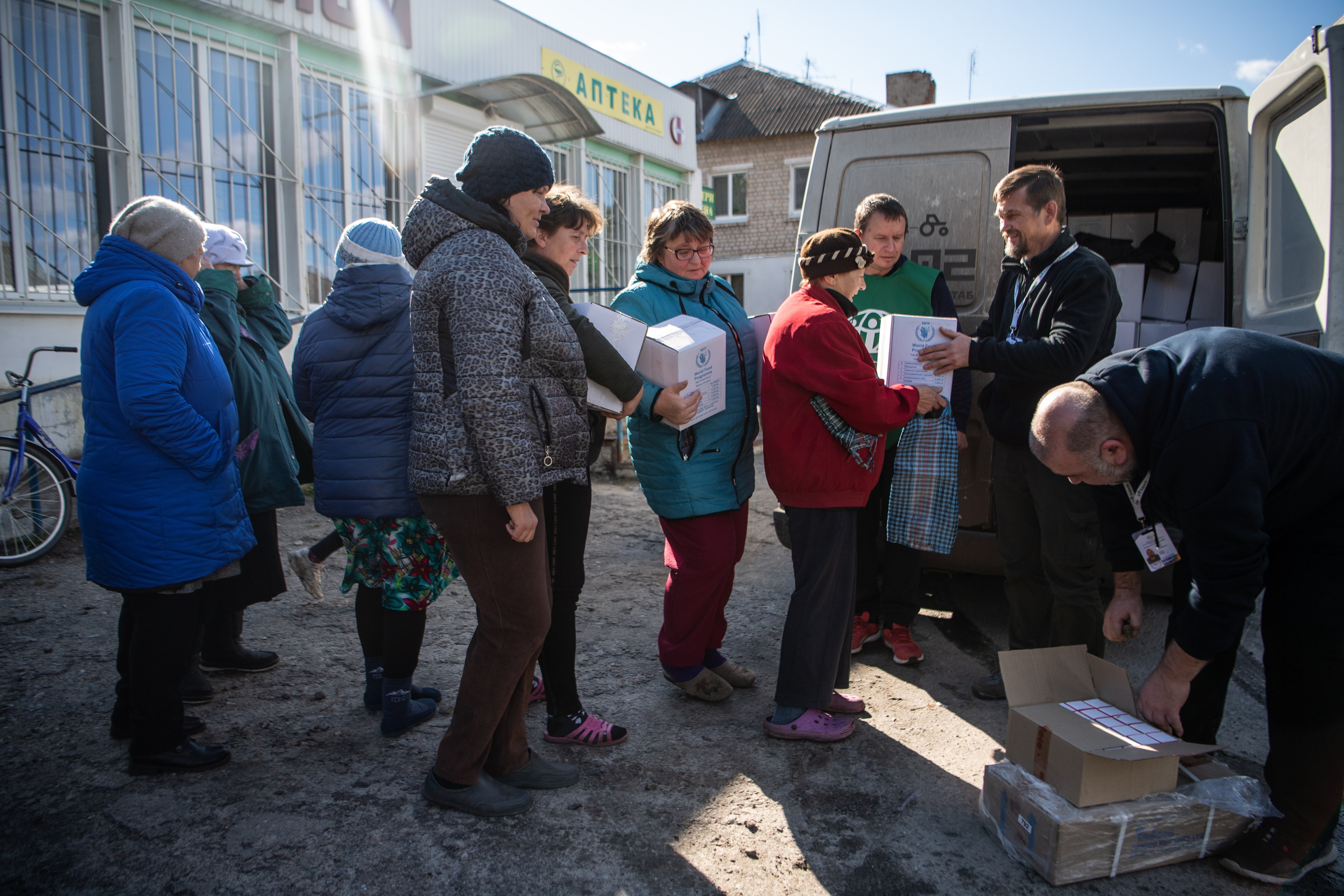 In another recently liberated village where the group distributed aid, Serhiy said Russian soldiers took the residents' food, including their livestock, during the occupation. "People had to hide their chickens inside their homes," he said. 
Many people who live in the countryside have their own vegetable plots, fruit trees, and wells for drinking water. And Ukrainians – even in cities – frequently pickle and preserve fresh produce during the summer to save it for the winter. These traditions have proved to be life-saving for many people who lost their sources of income and access to supplies. 
In the tiny village of Hodoryava, The New Humanitarian met an 84-year-old woman who gave her name as Baba Shura, or "Granny Shura". The village was home to about 60 people before the war, but only around 15 remain. Her children live in a nearby small town and had urged her to leave for Kharkiv city. But like many Ukrainians who live in rural areas, especially the elderly, she refused. After all, she said, she had worked three decades in a railway station to buy her home and land, so she wasn't about to leave it all behind. 
When Ukrainian soldiers liberated the village, soldiers stopped by her house and asked to buy eggs and potatoes. She gave it to them for free. "It was like having your children come home," she said. 
But homegrown vegetables can only go so far, and supplies will likely run low this winter, with planting, harvesting, and pickling interrupted by the war. Recently, when Volonter68 distributed aid to residents in liberated villages, "they trembled [with excitement] when they saw the bread we were giving them," Serhiy said. 
The winter ahead
Perhaps the single biggest concern in recently liberated areas – and across Ukraine – is how people will keep warm when winter begins to set in starting next month.
"The upcoming winter will be one of the harshest Ukrainians are ever going to face," European Commissioner for Crisis Management Janez Lenarčič warned last month. "In addition to Russia's ruthless attacks, Ukrainians will be threatened by freezing temperatures due to damaged housing and heating systems."
In normal times, people in rural areas burn firewood in stoves and furnaces for heating. But even the entrepreneurs who cut wood from forests and sell it by truckload aren't able to work this year: The forests are mined and likely littered with other dangerous unexploded ordnance. 
To the east of Kharkiv, in the liberated village of Vasylenkove, Svitlana Vasilaynia, 59, and Serhiy Vladimirovich, 67, sat on a bench outside the walls of their home petting their cats, not far from the school where the Russian soldiers had set up their base in the town.
"We can't buy any wood because we don't have money, and no one is selling any because it's too dangerous. We are hoping for God's plan." 
Before the war, the village had about 300 residents. Only around 100 remain, living without power. Surprisingly, the gas was still on. Svitlana and Serhiy said the Russian authorities had reconnected the gas lines after an outage early in the occupation. But they didn't know how long the supply would last. 
"Our biggest problem is wood, because winter is coming," Svitlana said. "We can't buy any wood because we don't have money, and no one is selling any because it's too dangerous. We are hoping for God's plan."
In an attempt to help, international organisations are distributing winterisation kits containing blankets and other items. Volonter68, meanwhile, has partnered with a metal shop in Kharkiv making small, indoor wood stoves at cost. But the volunteer group has only been able to purchase five so far, and there's still no solution to the wood supply problem. 
Even though authorities are urging them to leave, some villagers in liberated areas are determined to stay. "We survived under occupation, and we will survive now," said Vasily Pisarenko, a 74-year-old Izium native who remained in the town throughout the occupation. "This is my land. Where would I go? No one is waiting for me anywhere [else]." 
With reporting support from Andrii Kalashnikov. Edited by Eric Reidy.