The departure of the long-running UN peacekeeping mission in Darfur has created a security vacuum as hundreds of thousands flee fresh outbreaks of violence in a conflict that civil society groups and displaced Darfuris told The New Humanitarian is far from resolved.
The joint UN-African Union mission, known by its acronym UNAMID, had been gradually drawing down since 2018, but its mandate was terminated in December – after 13 years on the ground – amid pressure from Sudan's civilian-military transitional government.
Many Darfuris believe the pullout has worsened the security situation, particularly in the conflict-hit town of El Geneina, where outbreaks of violence since January have cost hundreds of lives and exposed the weakness of Sudan's security forces – now responsible for protecting civilians.
In interviews with The New Humanitarian, recently displaced people from other parts of Darfur also cited the pullout as a factor motivating their decision to leave home following attacks, while several women at displacement camps said they have stopped leaving the sites altogether since UNAMID patrols ended. 
"The circumstances that put us here have not changed," said Yaqoub Mohamed Abdallah, the leader of Kalma camp, one of the largest displacement sites in Darfur. "The withdrawal of UNAMID is going to have serious consequences."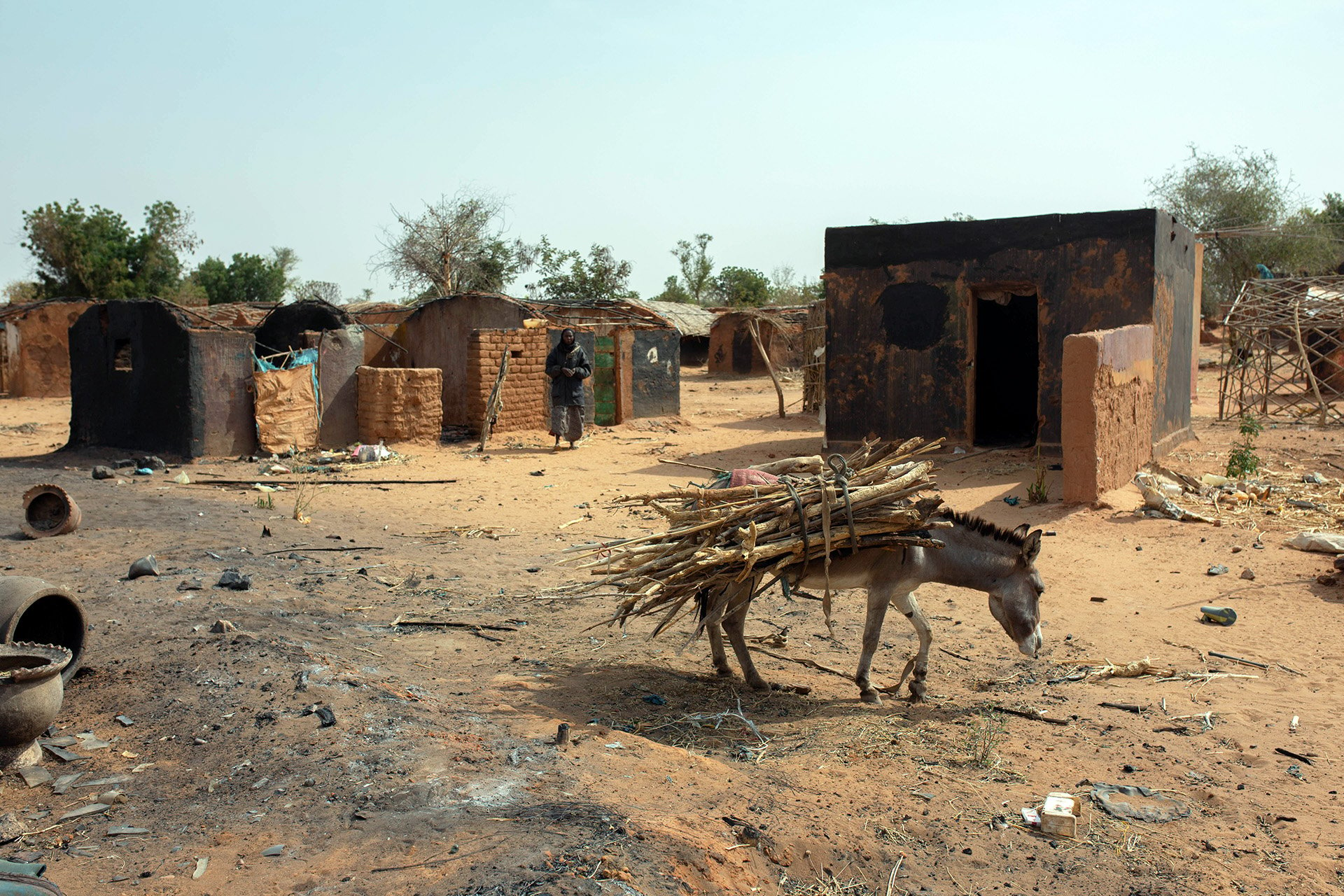 UNAMID began deploying to Darfur in 2007, around four years after rebel groups in the region revolted against the government of former leader Omar al-Bashir, who they accused of neglecting the western area. 
Hundreds of thousands died as Khartoum-armed Arab militias known as the Janjaweed fought the largely non-Arab rebels in a campaign that triggered one of the world's worst humanitarian crises, and earned al-Bashir an International Criminal Court indictment for genocide.
Darfuris often criticised UNAMID for failing to protect them over the years, though many felt it still deterred attacks and were grateful it bore witness – albeit imperfectly – to a conflict that al-Bashir's regime wanted hidden.
While peacekeeping patrols have now ended, UN officials remain on the ground in Darfur to liquidate the operation, which was one of largest and costliest missions ever deployed.
The exit process has proved challenging. UNAMID bases and equipment handed over to authorities have been looted by militias, while Sudan's government has been seeking control over mission assets intended for other peacekeeping forces.
"We have had difficulties at every step of the road," Michael Tarallo, a senior UNAMID official involved in the drawdown process, told The New Humanitarian in March from a peacekeeping base in El Fasher, one of the largest towns in Darfur.
The end of the operation doesn't mark the end of the UN's engagement in Sudan, officials stress. A new political mission focused on assisting the country's transition to democratic rule began work in January, and is currently setting up offices in Darfur.
However, the Khartoum-based mission, known as UNITAMS, has no mandate to physically protect civilians, and has been given less money and fewer staff than its predecessor, which once had an operating budget of more than $1 billion.
"It is a small mission with a broad mandate," Volker Perthes, the head of UNITAMS, told The New Humanitarian in March in one of his first sit-down media interviews. "People shouldn't compare us to UNAMID."
'Violence could have happened if UNAMID was here. But not on this scale.'
UNAMID's ability to protect civilians was often hamstrung by al-Bashir's regime, which intimidated and obstructed peacekeepers seeking access to sensitive spots, denied flight clearances for mission aircraft, and refused countless visas to staff members.
Former officials criticised the mission's reluctance to call out the Sudanese government for frequent attacks against civilians, and against its own peacekeepers. Bureaucracies linked to its hybrid UN-African Union status also proved a hindrance.
Amid waning international support for the mission – and US pressure to cut the peacekeeping budget – UNAMID began drawing down its peacekeepers with a view to exiting in June 2020.
Though the mission was prolonged from June to December 2020, further extensions were ruled out by the transitional government, which includes military leaders who have long seen UNAMID as a threat to Sudan's sovereignty.
Luke Mhlaba, UNAMID's chief of staff and most senior remaining official, told The New Humanitarian the mission's closure was necessary: "I don't see UNAMID staying for another 20 years," he told The New Humanitarian in El Fasher. "Ultimately, only the Sudanese can solve their problems."
But the December decision was met with protests in displacement camps that are still dotted across Darfur, and was criticised by Sudanese rights groups and civil society organisations who say the root causes of conflict have not been addressed.
While large-scale conflict has receded, clashes between communities persist, rebel groups and Janjaweed-linked militias are still active, and at least 1.5 million people remain in camps.
Read more → In Darfur's rebel-held mountains, the war is far from over
Many believe the mission should have been extended to help implement a landmark peace agreement last year between the government and rebel groups – from Darfur and elsewhere – and to help provide a semblance of security through Sudan's rocky transitional process.
"Nobody wants UNAMID to stay forever, but the timing is problematic," said Abdalla Adam Khalid, the chancellor of Zalingei University in Darfur. "People in Darfur feel that the conflict is not yet settled."
In UNAMID's absence, the new peace agreement calls for the establishment of a national protection unit involving up to 20,000 troops. But timelines for creating it have slipped and many question how it will be afforded by Sudan's cash-strapped government. 
The idea for the force is also facing resistance from displaced communities because it includes members of the Rapid Support Forces (RSF) – a group formed from the remnants of the Janjaweed militias that caused so much devastation here.
RSF members have been implicated in the series of attacks in El Geneina that began in December 2019 – a few months after UNAMID closed its main base in the area – but have intensified since January 2021.
"[Violence] could have happened if UNAMID was here," said Daud Ibrahim, a leader of displaced people in El Geneina, the capital of West Darfur state. "But not on this scale."
Residents of displacement camps in other parts of Darfur also said the situation had deteriorated since December. In Kalma – a sprawling site in South Darfur state – community leaders said local militias have stepped up threats against them since UNAMID's withdrawal.
Read more → What's behind the rising violence in Sudan's Darfur?
Women who previously travelled outside Kalma for work said they have stopped doing so for fear of attack – a decision that has left some jobless. "UNAMID left so the militias can do bad things against us," said Kaltuma Mohammed, a 30-year-old camp resident.
For residents of Kalma and other camps, UNAMID's withdrawal means they have also lost more than just security: Many say the blue helmets symbolised that their plight still mattered, long after the world's attention moved on.
"UNAMID was the way we could send a message to the international community," said Musa Adam Musa, a community leader from Kalma. "[Now] there is nobody to complain to."
'They want all that we've got'
Though UNAMID has been reducing its troop numbers for the past few years – from almost 20,000 at its peak to 7,000 by December 2020 – liquidating the mission has proved challenging.
Sudan's government expected a total withdrawal after the December decision, according to Tarallo, but uniformed and civilian staff still need repatriating and bases need closing – a job that will stretch into 2022.
Complicating matters is the issue of who gets UNAMID's asset inventory – from computers to vehicles, generators to air conditioners. UN officials want some handed over to missions abroad; Sudan's government has other ideas. 
"They want all that we've got," said Tarallo. "They have confiscated stuff from us. They want a list of all property being shipped."
Meanwhile, some UNAMID bases handed over to Sudan's government on the agreement they would be repurposed as courts, schools, and medical clinics have been taken over by members of the RSF.
Other bases given to the government – some worth millions of dollars – have also been looted, with video footage pointing to the involvement of security forces and the RSF, UNAMID officials told The New Humanitarian.
One of the worst incidents involved two weeks of looting in late 2019 at UNAMID's South Darfur base. Among assets stripped were a hospital with operating theatres; a building earmarked for a local university; and a firing range the UN hoped would be used for Sudanese troops to train as future peacekeepers.
On a visit to the site in March, the vast compound lay abandoned, with the exception of a few camels grazing on overgrown grass and a group of Sudanese soldiers who soon turned The New Humanitarian's reporting team away.
'The question is whether it was worth it'
As well as peacekeeping activities, UNAMID spent tens of millions of dollars on peacebuilding projects ahead of its exit – from training civilians in human rights and conflict resolution, to rehabilitating rural courts and police stations.
Much of the recent work was done in partnership with other UN aid agencies, which UNAMID officials hope will continue to operate in Darfur long after they leave – though most expect a sharp drop-off in peacebuilding support is inevitable.
In a series of interviews with The New Humanitarian in El Fasher and Khartoum – conducted as liquidation efforts continued – UNAMID officials offered contrasting views of what the mission had achieved over the years.
Tarallo, the official involved in the drawdown, said obstacles put in place by the government under al-Bashir had badly compromised its mandate. "A lot of efforts were made. A lot of [peacekeepers] died," he said. "The question is whether it was worth it."
Mhlaba, the chief of staff, said the mission had had "a major impact" in protecting civilians since arriving. "Our mere presence had a deterrent effect," he said. "I can't quantify how many attacks we prevented, but the situation improved."
In Kalma, where insecurity is rising, displaced people agreed that the mission had helped stabilise Darfur – particularly in camps like theirs – but not enough to justify the peacekeepers leaving.
"A doctor cannot just go before the patient recovers," said Musa, the Kalma community leader. "We demand this mission stays until a comprehensive peace is achieved."
The video shows the central market in Kalma, a sprawling displacement camp where UNAMID peacekeepers patrolled daily before withdrawing in December. 
This article was reported with support from Ahmed Gouja, a freelance journalist based in Nyala town, and Ibrahim Omar, a translator and resident of Kalma camp.
The New Humanitarian used air transportation provided by UNAMID to travel from El Fasher to Khartoum.
pk-ma/ag