Little has changed in the six months since a deal that was intended to bring stability and reconstruction to Sinjar – the long-disputed northern Iraq homeland of the Yazidis – was signed, residents say. 
"This deal has had no real effect," said Dilyar, a member of Sinjar's police force, who asked that his surname not be published. He gestured up and down a street lined with collapsed buildings,  the sun fading. "[One armed group] are in this direction, and the PKK [another armed group] in the other. At night there are no people here, and it's pitch dark."
The agreement, finalised in October 2020, was supposed to address some of the issues preventing people from resuming their lives, more than five years after the so-called Islamic State was ousted from Sinjar. It has been over six years since the extremist group displaced, captured, or killed most of its 400,000 residents, marking the start of mass killings and sexual violence that the UN has called a genocide against the Yazidi ethno-religious minority.
Signed by the Kurdish Regional Government (KRG) and the central Iraqi government in Baghdad, who both lay claim to Sinjar – "Shingal" in Kurdish — the agreement pledged to bolster rebuilding and security and to remove armed groups. That includes the PKK – the Kurdistan Workers' Party – a Kurdish separatist group blacklisted by Ankara and Washington. 
But residents, authorities, and activists told The New Humanitarian that part of the agreement's inefficacy lies in the fact that Sinjaris were not widely consulted in drawing up the deal. 
To add to that, it includes no clear timelines, no guaranteed funding, and nobody seems quite sure who is empowered to do what. And thus life for hundreds of thousands of Sinjaris, at home or still sheltering elsewhere, is much the same as it was before authorities signed the deal on their behalf. 
The disputed territory has untapped oil, gas, and mineral reserves nearby; agricultural land; and a strategic location near the Syrian and Turkish borders. This has turned the town and wider district into the centre of an often-violent tug of war between various armed groups and their backers.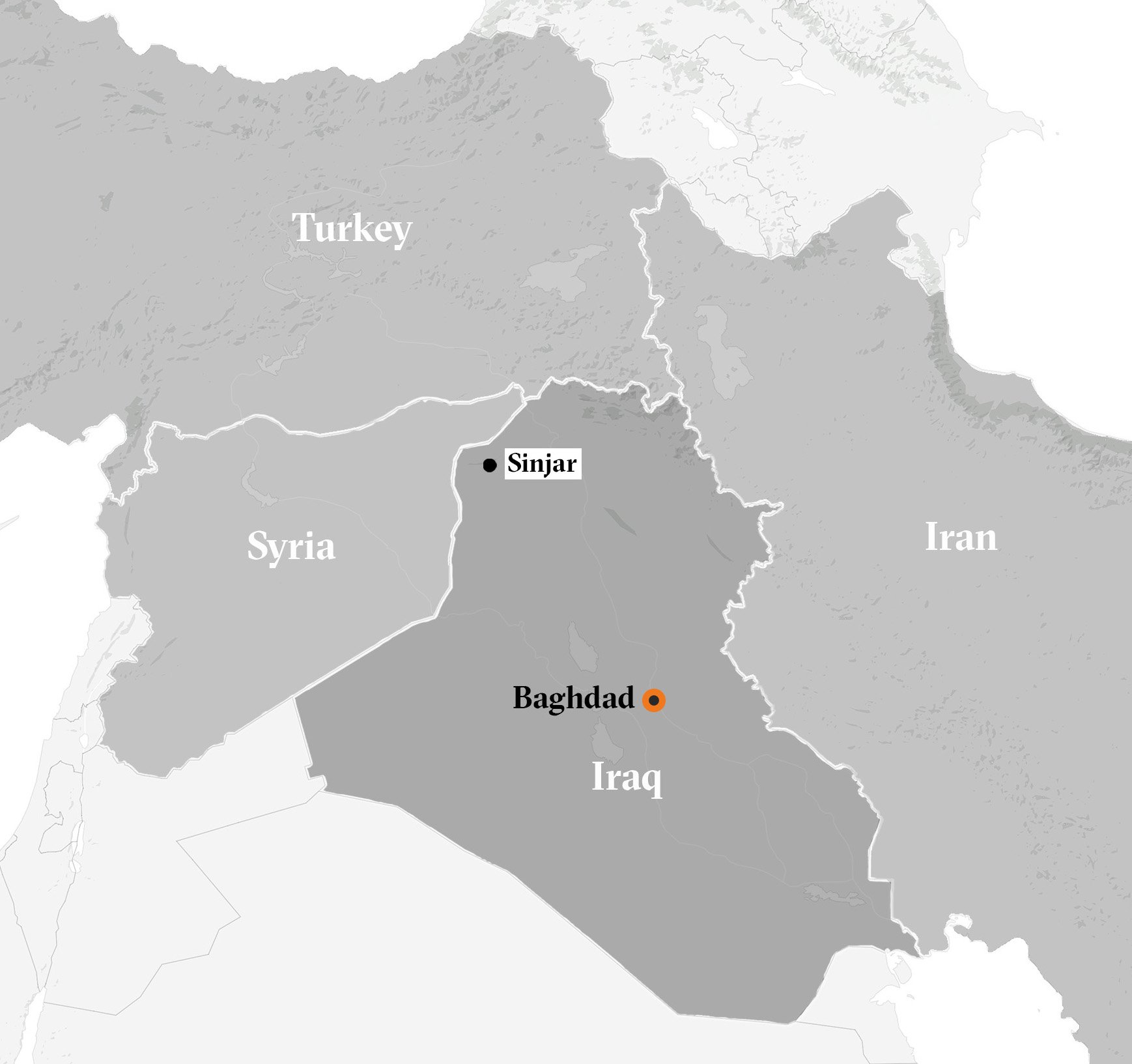 This violence is one factor — along with a lack of basic services, infrastructure, and aid — that has prevented most original residents from returning home from the camps where they have resided for years. 
Despite the deal, even the Yazidis' brief return to the international spotlight earlier this year has not made much of a difference for Sinjar, locals told a reporter for The New Humanitarian during a visit in early February. That month, the remains of 103 Yazidis were returned and buried in Kocho, the Sinjar village where they were killed by IS in 2014, their bodies exhumed from mass graves years ago for identification. Then in March, Iraq's parliament passed a law recognising the mass killings of Yazidis and other minority groups by IS as acts of genocide, promising them financial compensation and other forms of support. 
People in Sinjar are well aware that much like the signing of the October deal, the passing of a law does not guarantee action. 
Government officials admit that the going has been slow, which they blame at least in part on lack of funds.
Read more → Iraq's Yazidi survivors struggle to start over
"The agreement is good, but truthfully, we must admit that the implementation on the ground is slow," Najim al-Jibouri, the governor of Nineveh province, where Sinjar is located, told TNH.
Al-Jibouri said he had asked Iraq's prime minister, Mustafa al-Khadimi, "several times to allocate a special budget for Sinjar district," because the province does not have the funds to "restore the infrastructure of … this destroyed district [of Sinjar]."
Still, some believe that despite a lack of participation by those whose lives would be impacted by the deal, it's better than nothing. 
Khalef Dakhel Saido, a Yazidi sheikh from Sinjar who is currently displaced in the KRG-controlled Dohuk province, told The New Humanitarian: "They didn't tell us, or take our views." Nevertheless, he said "this deal is excellent, but it hasn't been applied on the ground."
Few services or hospitals
The majority of Sinjar district's original residents remain displaced —  nearly 210,000 according to the UN's migration agency — most in camps across northern Iraq. Tens of thousands returned last year, and encouraging more to go home was one goal of the October deal. 
Rebuilding Sinjar town and the wider district, which were hit hard by airstrikes and ground fighting in the battle against IS, was an explicit part of the agreement. Both parties agreed to  form a "joint committee from the federal government and Kurdistan region to rebuild [Sinjar] district in coordination with the local… [governorate] administration."
But little has come to pass on that front: The town's orchards have been reduced to tree stumps, never regrown since they were burnt in the fight with IS, and government services that were once run by the KRG are shuttered. 
In the former hospital, beds covered in dust stand like bizarre statues frozen in time. A pockmarked sign under a half-collapsed roof reads: "Sinjar public hospital: Women's and obstetrics department."
No babies have been born here for a long time. While some aid groups provide health services in the area and there is a town medical centre, specialised services, including obstetrics, are not readily available. Women usually have to travel at least 50 kilometres from Sinjar to give birth at a hospital.
"Services here are dilapidated; people just cope," Captain Hanoon Farhan, deputy police commander in Sinjar town, told The New Humanitarian. "Electricity runs for only two to four hours a day, and then the police station runs on a generator, which we as policemen pay for from our own pockets."
Who's in charge of security?
Even if buildings are fixed and some residents return,  others are unlikely to come back if they do not feel safe. But the question of who is — and who should be — responsible for securing and running Sinjar is still hotly contested. 
From  2003 to 2014, Sinjar was under KRG control and home to Yazidis, Christians, and Muslims. But when IS attacked in August 2014, the KRG's Peshmerga troops withdrew, provoking a widespread sense of anger and ill feeling that persists to this day. 
The area was retaken in late 2015 by US-backed Kurdish forces as well as units from the Popular Mobilization Forces (PMF), an umbrella group of Iraqi state-sponsored armed brigades, some aligned with Iran.
Since then, even after forces aligned with Iraq's central government officially took Sinjar in 2017, the district has been controlled by a patchwork of armed groups, some connected with the PMF and some with the PKK. 
The signatories to the October deal hoped to address this confusion, ordering the departure of all "armed formations" except "local police, and Iraqi national security and intelligence service." The agreement specifically mentioned the removal of the PKK. Its presence in parts of northern Iraq has prompted Turkish airstrikes and cross-border raids in the past year, as well as recent fears of further escalation. 
In their place, 2,500 people from Sinjar, including some from displaced persons camps, would be hired as part of  a new local security force, the agreement mandated. 
But the definition of "armed formations" — the groups to leave Sinjar — is open to much interpretation, as is who should be part of a local security force. That means that members of the armed groups disagree on who should stay and who should go, and for the most part, things stay the same. 
Mayan Naser, a Yazidi woman from Sinjar town, says she and others want locals to be in charge of security, but it's hard to agree on what that means given the combination of groups and ideologies in the area.  "We want a combined Yazidi force here – not Peshmerga or PKK, but one force that can protect us," she told The New Humanitarian. "If they are not from the area, we will not trust them."
READ MORE: Sinjar's armed groups
When it comes to the armed groups in Sinjar, there's little agreement on who they are loyal to and what that means for their status under the October agreement.
Fighters from the YBŞ – the Sinjar Resistance Units, a PKK-aligned armed group – were officially integrated into the PMF (now part of the Iraqi armed forces) in December 2020, according to two members of the Sinjar autonomous administration, a PKK-affiliated political organisation.
An autonomous administration member, Qahtan al-Qairani, told The New Humanitarian that the group does not have to leave the district because it is now part of the PMF, which is in turn now part of Iraq's armed forces.
"The YBŞ has withdrawn, but that doesn't mean that the YBŞ will leave Sinjar completely, because the YBŞ are Iraqi and are integrated into the PMF Regiment 80," he said.
In late 2016, the PMF was officially incorporated into Iraq's armed forces and its fighters receive salaries from the central government. But the loyalty of many of their units lies with Iran, and the Sinjar agreement does not specify whether they should stay or leave the district.
As of early February, PMF fighters guarded the checkpoint at Sinjar town entrance, and regiments made up of local residents guarded abandoned houses and farms in the surrounding countryside.
Haydar Shesho, commander of the Ezidkhan Protection Force, an armed group in Sinjar that is tied to the KRG's Peshmerga, said he hadn't seen any progress on the creation of a local force.  "We honestly have not yet heard about the formation of a Yazidi force, unless there is work behind the scenes [that we don't know about]."
Two other officials with knowledge of the situation, who requested anonymity because of the sensitivity of the topic, also said there had been little movement on the local force, and the main groups that had always competed for power in Sinjar remain. 
'They all just talk'
Some local officials and residents have been critical of what they describe as a top down process between Baghdad and Erbil (the KRG's capital). There was also some UN involvement — although the extent is not clear — according to two diplomatic sources who spoke on the condition of anonymity. 
Spokespeople for UNAMI, the UN mission in Iraq, did not respond to requests for comment. 
"Some of us were in touch with the Iraqi government and advisors to the prime minister and we talked to them before, about what was possible for Sinjar," said Murad Ismael, a Yazidi activist and former executive director of Yazda, an NGO that advocates for and aids Yazidis. "But when it came to the Sinjar agreement… the people [of Sinjar] were not properly consulted," he told The New Humanitarian. "This is reflected in the implementation."
Haso Ibrahim, deputy co-chair of the Sinjar autonomous administration, said that its representatives had discussed the area's future in general with officials in Baghdad, but "the government didn't say they were doing a deal like this about Sinjar; it came out all of a sudden." 
According to a humanitarian official familiar with the process, who requested anonymity because they were not authorised to speak to the media, local politicians and members of the Sinjar community were actually brought in to discuss the agreement. But they weren't happy with the direction things were going, so pulled out of meetings before the final version was signed. 
A KRG spokesperson told TNH that representatives from the KRG's Ministry of Interior, Ministry of Peshmerga Affairs, and "others from different governmental departments" were involved in negotiating the deal, but said its implementation is now "the responsibility of the federal government [in Baghdad]." 
A senior federal government official did not respond to a request for comment. 
Almost everyone agrees that waiting is dangerous. The risks of Sinjar becoming the battlefield in yet another conflict, pulling in Turkey – fiercely opposed to any group perceived to have a PKK alliance – as well as Iran-backed PMF units and local brigades, is not lost on Sinjaris, who are still burying their dead from the IS genocide. 
In January, Turkish President Recep Tayyip Erdoğan threatened an invasion of Sinjar "overnight," in response to what Turkish officials see as an expansion of the PKK's activities in the district. "We may come there overnight, all of a sudden," he said.
Although there has been no invasion, there isn't really peace in Sinjar either. With the agreement so far failing to bring the stability the district has lacked for so long, residents have minimal faith in authorities. Much as they had hopes for the Sinjar agreement, they hope that the new survivors' law will help bring closure and much-needed assistance to the region. But they'll believe it when they see it. 
"If there is humanity, they will give Yazidis their rights, provide them with services, exhume the mass graves, and give rights to the martyrs," said Naser, the Yazidi woman from Sinjar. "They all just talk but don't do anything. That's why we don't trust them, until we see them actually acting."
With additional reporting from Ghazala Jango
lz/as/js