More than half of the thousands of Yazidis kidnapped by so-called Islamic State have now returned to northern Iraq, often from years in forced sexual slavery. But going home often means confronting social stigma and trying to rebuild their broken lives with little assistance.
Iraq has struggled to recover from years fighting IS, but the Yazidis – 500,000 of whom fled after IS seized their historical homeland in 2014 – have had an especially difficult time going home after mass killings, rapes, and enslavement deemed a genocide by a UN commission.
Read more → Briefing: For many Iraqis, post-war life remains a struggle
After captivity, those challenges – destroyed homes, safety fears, financial woes – are often compounded by trauma and lingering physical problems. And as aid groups increasingly struggle to muster sustained funding, many returning Yazidis also say government help has been insufficient.
Tarko, rescued in 2017 after three years of sexual servitude, told The New Humanitarian that she and others like her have not had the assistance they need, or expected, from the Iraqi authorities. "We have no rights," said Tarko, who asked that her full name not be published. "Imagine if there were no NGOs helping; would they leave us here with absolutely nothing?"
A total of 3,476 survivors have returned from IS imprisonment, according to Hussein al-Qadi, director of the Office of Kidnapped Yazidis – funded by the Kurdish Regional Government, or KRG, which runs the semi-autonomous Kurdish part of northern Iraq.
Some Yazidis escaped, often as territories controlled by IS in Iraq and Syria were liberated.
But many returnees were "bought" by Yazidi negotiators who paid IS fighters or people smugglers for their release, said al-Qadi. This usually requires family members to raise the fee needed to pay smugglers or militants themselves – often around $10,000 per person.
Once the captives are back in Iraq, families can apply for reimbursement from the Office of Kidnapped Yazidis, but the process can be time-consuming and some claimants complained to TNH that they hadn't yet received their money.
Al-Qadi said almost 3,000 Yazidis are still missing and unaccounted for.
Housing and protection
When they first come back from captivity, many people are taken to a camp 53 kilometres from the city of Dohuk, in KRG-administered territory. The camp is officially called Rwanga, but is still referred to by most people here by its previous name, Kadia.
Even though camps like Kadia are technically secure – usually watched over by a security guard – they are not always a safe haven. The experience of Karima, a young survivor whose story was recounted to TNH by negotiator Mahmoud Shingal, is a case in point.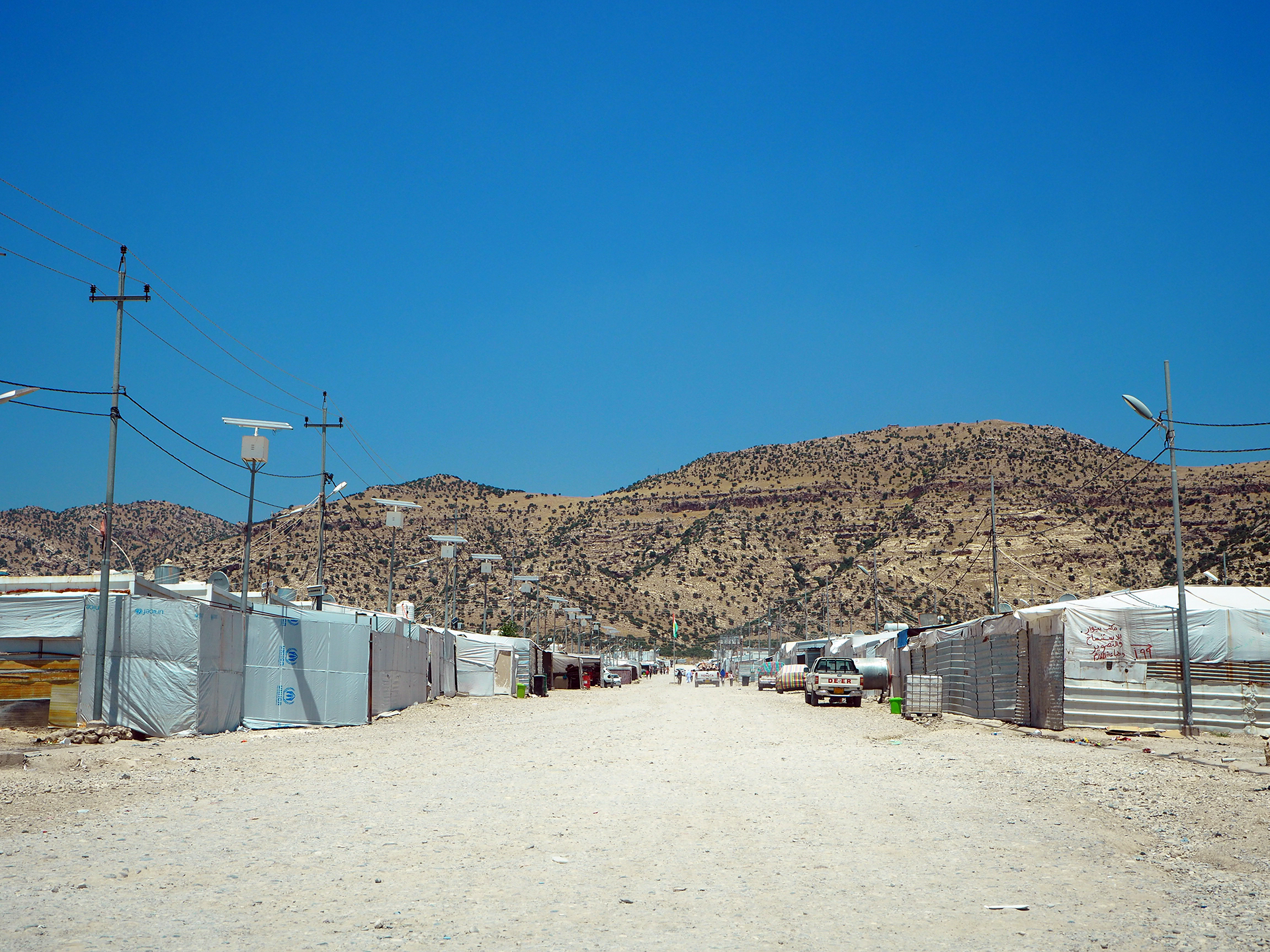 "Karima's brother called me three months after we brought her back, saying she'd vanished [from the camp where the family was living in northern Iraq]," Shingal said. "I tried to contact her former IS husband, and eventually he called and said: 'I stole the girl back and now she's with me in Turkey'."
Shingal said Karima's husband had been arrested by anti-IS forces in Syria and was later released, leaving him free to return to Iraq to look for Karima. "She was brainwashed, and no organisation helped to de-brainwash or de-radicalise her, so she went back," he said. "She's still in Turkey with him now."
The handful of Yazidi negotiators, who often also work regular jobs, are rarely in a position to help survivors after they are rescued. "We can only do so much for the girls, and that's to get them out. After that, they're on their own," said Shingal. "And too often there isn't enough support, as with Karima."
In Kadia, where 3,000 prefabricated shelters accommodate around 15,000 people, there are some services on offer, like a "reintegration centre" opened in 2017 by the French NGO Together in One.
Its aim is to provide a safe space where survivors and children can learn and play, and the centre's psychotherapist, Naif Jirdo, said that 191 survivors had benefited from the project. With little else to occupy their time in Kadia, as many as 150 people visit each day, taking advantage of group activities and language courses.
Much-needed psychotherapy is also offered at the centre, but many people leave Kadia soon after they arrive to live with extended family members; the majority of the more than 220,000 still-displaced Yazidis do not live in camps, but rather in cities and towns around northern Iraq.
Read more → Uptick in suicides signals deepening mental health crisis for Iraq's Yazidis
Some have gone back to Sinjar, the district most associated with the Yazidis, but much of the area was destroyed by fighting and there is a shortage of public services.
Social stigma
Another barrier to return is that the Yazidi community, which is traditionally closed to outsiders and forbids conversion or interfaith marriage, does not accept children born to Muslim fathers, including members of IS.
In late April, the Yazidi Supreme Spiritual Council, the group's highest religious body, said children fathered by IS members would be accepted by the community despite their mixed parentage, but the decision was quickly reversed.
This policy is deterring some women from rejoining their families, some observers said.
According to Professor Jan Ilham Kizilhan, the dean of Dohuk's Institute of Psychotherapy and Psychotraumatology, "there are between 200 and 260 women in Syrian camps [including al-Hol and others], living in a very terrible situation because they don't want to leave their children behind."
This problem was compounded, Kizilhan said, by Iraqi law, in which a child with one Muslim parent and one Yazidi parent is automatically registered as a Muslim: "These women have often lost all family, and now the state, which should protect people, does not [protect them]."
This may change. According to Ali Albayati, a member of Iraq's High Commission for Human Rights, parliament is considering a draft law about IS survivors that, if passed, is expected to let the leaders of Iraq's religious minorities determine how these children are registered.
After years of rape and forced labour, even survivors without children sometimes struggle to fit back in after they come home.
Kamal Mourad Saleh, the deputy head of nursing at the hospital in Sinouni, a Yazidi town in Sinjar, said one young patient had confided in him that she felt rejected by the Yazidi community after she was sold to 12 different IS fighters as a "wife".
"In general, she found people didn't accept or respect her because she'd been with IS, especially at home, where she complained of mistreatment by her parents and fellow siblings," he said, adding that hers was not a singular case.
Dr. Nezar Ismet Taib, a psychiatrist and the Dohuk Department of Health's director-general, said that while previous statements from the Yazidi Supreme Spiritual Council and former KRG President Masoud Barzani welcoming IS survivors back into the community had been helpful, "a few families still talk about 'foreign blood', 'foreign influence', and women being 'unclean'."
'Sustained, and sustainable, help'
A local nonprofit that Saleh heads up, Jilan, is trying to address some of the issues returning survivors face by building the first of three planned safe houses in Sinouni.
Funded by a German NGO, these houses will offer protected accommodation to women and children who have returned from captivity, including IS-fathered children. The aim, Saleh said, is to keep children of mixed parentage, who "are usually rejected by the woman's family", within the community.
A range of local and international NGOs also work with Yazidis, both in Sinjar and in the Kurdish region, but their projects require funding and Iraq's long-term needs have led to donor fatigue.
Anne Norona, who runs a UK-based NGO called Yazidi Emergency Support (Y.E.S.), said funding from the UK government had enabled the launch of a "sustainable living" project in Sinjar's Dohola village earlier this year, featuring vocational knitting and sewing courses for women.
But the project ended when the money was spent, Norona said. "With deep regret, we're unable to continue funding such projects for long periods of time without financial backing."
Public goodwill is waning, too, she said. Two years ago, she could use social media to swiftly fundraise $1,000 for projects to help Yazidis, but now she struggles to generate $100.
Aid groups and the Yazidis themselves say projects that bring jobs or job training are sorely needed, as they help to bring income and dignity to survivors.
"What really helps successful recoveries is jobs and work opportunities – occupations to stop survivors thinking about what happened," said Khairi Aezdeen, a 30-year-old displaced Yazidi who volunteers with Y.E.S. in the Dohuk area.
Jirdo, the psychotherapist at the centre in Kadia, is also hoping to find funding for vocational training there.
"Survivors do need financial support, but the most important thing is vocational support and job opportunities," he said. "What we need is sustained, and sustainable, help."
Financial support
While aid groups speak of training courses, most returnees have been reduced to abject poverty, and say they simply need money – in addition to training, shelter, and basic healthcare.
Survivors living in the Kurdish region are entitled to a monthly stipend of around 100,000 Iraqi dinars ($84) from the KRG, but they must pick it up from an office in Dohuk, which can be costly just to reach.
Mazin Salim, 14, who was taken captive and forced to fight with IS, said he has to pay 15,000 Iraqi dinars ($13) for a taxi just to reach the office, which is some 160 kilometres from the village where he lives. But he makes the journey each month, because his family relies heavily on the stipend.
Financial support from Iraq's central government also appears minimal. Albayati, of the High Commission for Human Rights, said that 600 Yazidi survivors were registered to receive financial support from the Ministry of Labour and Social Affairs – an amount, he said, that would not exceed $330 per month. To his knowledge, no other compensation is available.
Financial support is a key component of the draft law before parliament, he said.
Despite the obstacles, some survivors have managed to move forward with their lives.
Bevereen Ali, 21, escaped from IS in 2016 and fell in love with a cousin, Nuri Faisal, after a year of telephone romance. When Canada granted her family asylum, she chose to stay and marry Faisal, moving to his small farm in a village near Sinjar.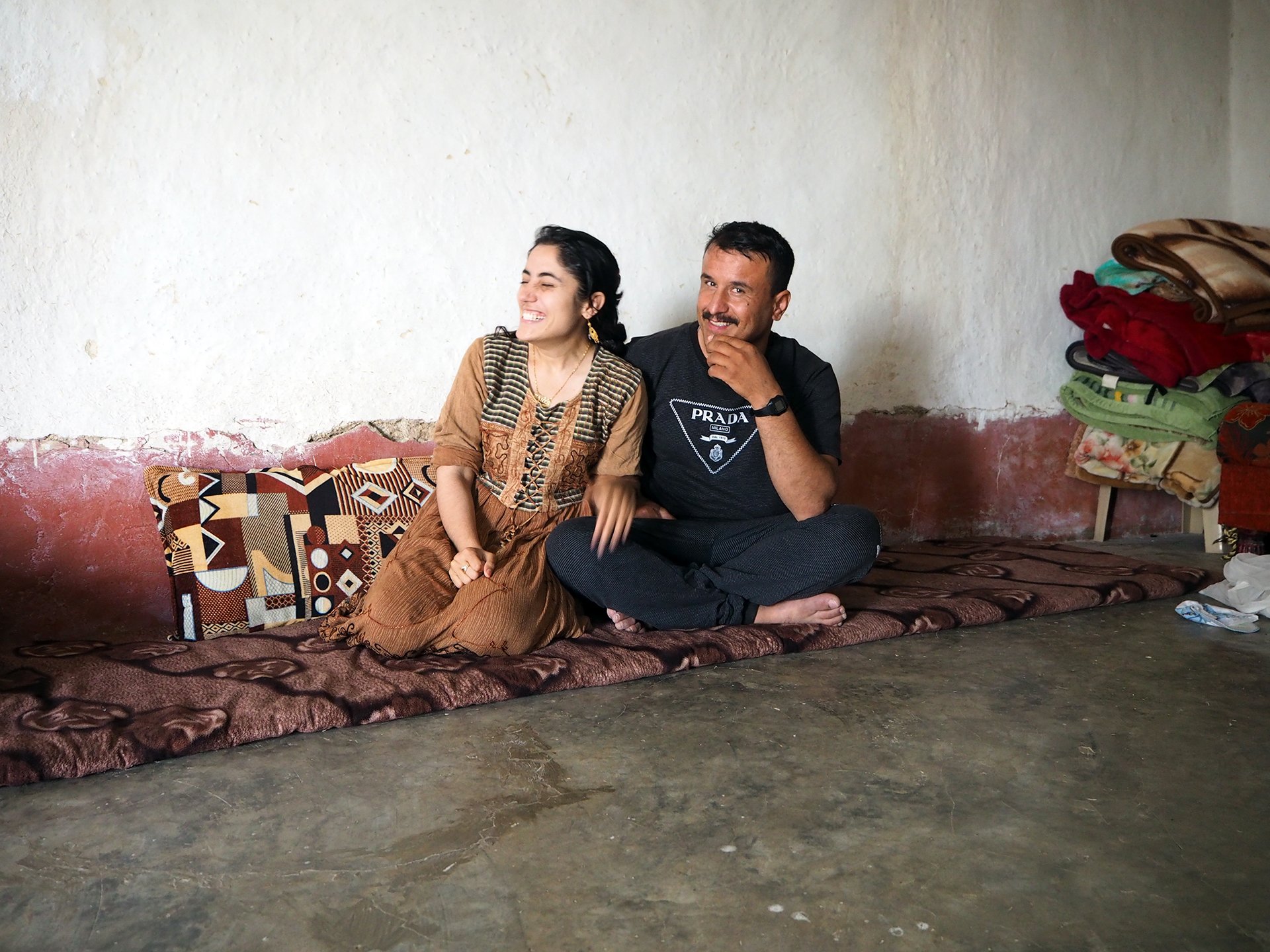 Intermittent water was recently restored, but Ali said there is little support to help meet basic needs and no schools for the handful of children who came back. The couple lost their summer crops to the fires that recently swept through the region.
Faisal described their relationship as a challenge to IS, living proof that the Yazidi community and its spirit had not been destroyed.
"Three of my brothers were killed by IS, but we can't always be sad," Ali said, grasping Faisal's hand. "When I laugh, it doesn't mean I'm not sad about what happened. But we must challenge sorrow."
She continued: "In the [Dohuk] camp, I had psychological support every month, but here, there are no medical services, nothing. But now I'm in love and happy, life is very different. Normal life has become my psychologist."
(TOP PHOTO: A young Yazidi woman grieves by a mass grave in Sinjar, northern Iraq.)
tw/as/ag