While the exodus of millions of Venezuelans has garnered much media and humanitarian attention over recent years, a large migration in Central America has been taking place under most people's radar: from authoritarian Nicaragua to comparatively booming Costa Rica.
However, the economic fallout of the coronavirus pandemic has seen work opportunities in Costa Rica dry up, and thousands of Nicaraguans are now trying to return home as they are going hungry and facing increasing xenophobia fuelled by fears over the spread of COVID-19.
With the border now closed unless you have a negative test result, would-be returnees often have to choose between taking dangerous, illegal routes back home or resigning themselves to remaining in Costa Rica with little support. More Nicaraguans, meanwhile, are still trying to flee the other way – whether for economic, political, or health reasons – but Costa Rican officials are now only accepting asylum claims at a very limited number of crossing points.
"The situation at the [Nicaragua-Costa Rica] border is one of the most difficult in the Americas," Francesco Rocca, president of the International Federation of Red Cross and Red Crescent Societies (IFRC), told The New Humanitarian, calling for more "dialogue" with the Nicaraguan government to try to resolve the crisis.
Protests against the government of Nicaraguan President Daniel Ortega – initially against social security reforms – erupted in April 2018 and led to a crackdown on political opponents and the deaths of more than 300 people during several months of unrest.
Read more → Nicaragua picks a bad time to sideline humanitarian groups
By March 2020, more than 100,000 Nicaraguans had fled abroad, with at least two thirds of them joining hundreds of thousands of their compatriots who had already settled in Costa Rica, which shares a long border and close economic and social ties with Nicaragua. 
From 2018 to early 2020, Costa Rica's asylum processing system became overwhelmed by the scale of the influx. Since March, appointments have been suspended due to social distancing measures, and applicants have been told to await further updates on the government website, with no sign yet that they will resume.
Since the frontier has become largely closed, monthly asylum requests at the Nicaraguan border have dropped from 4,200 in February to an average of 12 per month since June.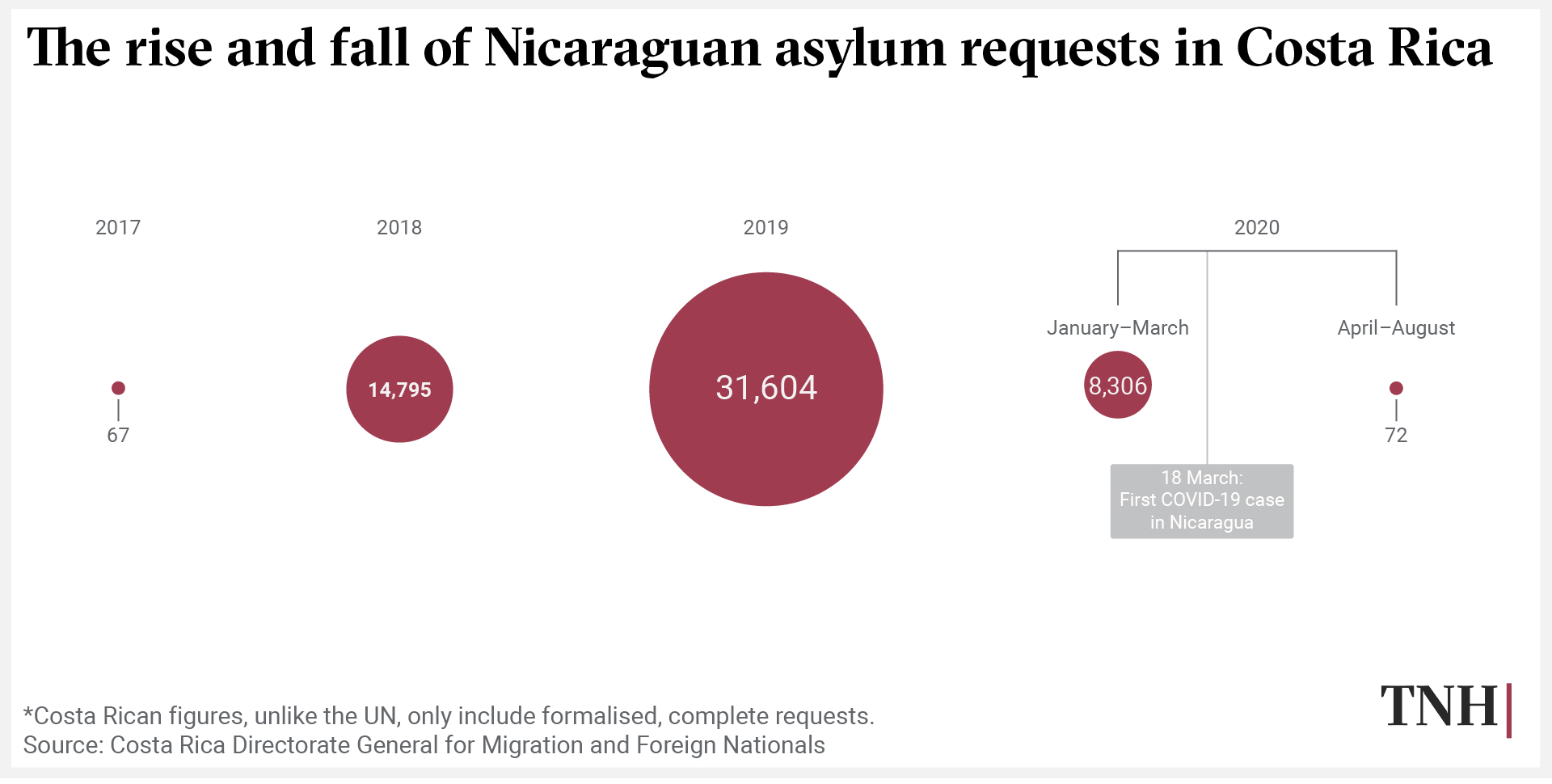 Milton Moreno, country representative for the UN's refugee agency, UNHCR, in Costa Rica, said those seeking to cross informally are now turned back by a heavier presence of Costan Rican security forces patrolling the border, but thousands of people still reportedly use clandestine routes, paying smugglers and risking extortion, robbery, or worse.
"If we hadn't had this [COVID-19] crisis, we would have seen a rise in the arrival rate," Moreno told TNH. "We know from other entities that the situation in Nicaragua is producing people who need to leave for reasons of [political] persecution."
Less work, more hunger
Agustín Ruiz, a community leader from Ometepe Island in Nicaragua's vast Cocibolca Lake, and his brother – the head of a local farmers' movement – began organising rallies in 2018 in protest at government plans to requisition land for a Chinese-backed canal megaproject. 
After government sympathisers burnt his house down, Ruiz fled with others into the island's mountains before paying a smuggler to get him over the border in November 2018 to Costa Rica, where he requested asylum.
Unable to find work, and without any support as he awaits the processing of his request, his situation has gone from bad to worse with the pandemic. 
"It has been 18 months that I have been struggling with lack of basic necessities and poverty," Ruiz told TNH from the Costa Rican capital, San José. "I don't have anything. I have no resources to pay for lodging or food. The food is most important. At times, someone may give me a piece of bread."
Like many Nicaraguan asylum seekers, Ruiz briefly worked in the informal sector, picking coffee. With the harvest about to start, he hopes to find employment again, but due to COVID-19 restricting workers from bunking together in dormitories, any earnings are set to be reduced as labourers now have to pay for their own accommodation.
After conducting a July-August survey, UNHCR reported that more than three quarters of Nicaraguan refugees and asylum seekers are going hungry in Costa Rica, and that 14 percent – more than four times the pre-pandemic figure – are eating once only a day, or less.
In a country that has prided itself on being a haven of economic and social development in the region – often referred to as the Switzerland of Central America – only 59 percent of refugees now have a steady income and one in five don't know where they'll be living next month.
UNHCR says 81,000 Nicaraguans are seeking refugee status in Costa Rica. In 2019, Costa Rica received nearly 60,000 new claims, making it one of the top 10 countries in the world for asylum claims. Only 8,500 Nicaraguans have been accepted as refugees and are currently living in Costa Rica.
COVID-19 border tensions
Cross-border movement has been a growing source of international tension since the start of the pandemic, especially given concerns in Costa Rica over the handling of the virus by Ortega, and doubts over Nicaragua's official data.
As of 28 September, the Nicaraguan government said it had recorded 5,073 cases and 149 deaths – a fraction of the 10,396 suspected cases and 2,735 fatalities reported by the Citizen's COVID-19 Observatory, a group of health workers compiling independent figures.
Read more: Nicaragua's unclear COVID-19 situation
The Costa Rican government's concerns over the virus spreading from across the border are driven at least in part by opaque official reporting in Nicaragua, as well as allegations that the authorities there have been actively suppressing the diagnosis of COVID-19 by health staff. 
Doctors working in the public health system who have criticised the government policies and lack of measures to combat the disease have been fired, while relatives of deceased COVID-19 victims said they were informed at the last minute of night-time burials under armed protection.
A group of health workers and activists known as the Citizen's COVID-19 Observatory, which compiles COVID-19 data on the basis of diagnostically observed suspected cases and confirmed tests, has alleged official under-counting. Its claims were supported by a hack of the health ministry's COVID-19 database by a group known as Anonymous: It showed that cases were being knowingly under-reported to the public by a margin of about one to three. 
Leonel Argüello, a renowned virologist in Nicaragua, expressed concern over how the lack of official epidemiological data – including on the geographical spread of the virus – may affect the growth of the outbreak as the coffee harvest gets underway, given spikes reported by the Observatory in rural regions of the country.
"By not providing data, the population cannot evaluate the risks and change their behaviours," Argüello told TNH. "It is appalling that instead of having information to promote action, disinformation is being generated, dissuading action."
"The situation is extremely serious, as the government refuses to declare a state of emergency, and is not accepting any international cooperation for technical or logistical assistance," the doctor added.
Earlier this month, an update at the UN's Human Rights Council on the situation in Nicaragua condemned the government for silencing medical personnel who have criticised its pandemic response and called for greater transparency of health information. Nicaragua's general prosecutor, Wendy Morales, rejected the "politicised" report, which she said relied "exclusively on sources from the opposition and NGOs associated with the 2018 coup d'état".
Authorities at the Nicaraguan health ministry and at the UN in Geneva did not respond to several interview requests sent by TNH via email and phone.
After its first cases were detected in early March, Costa Rica acted swiftly and managed to maintain a low rate of transmission. But it feared an influx of seasonal workers employed in domestic service, construction, and agriculture – including its key coffee industry – could undermine its early success. 
Costa Rica started testing truck drivers entering from Nicaragua in May: The country's health minister, Daniel Salas, said he considered the high transmission rate in Nicaragua to be "the biggest risk" the country faced. Nicaragua, which has always maintained it has a relatively small outbreak that is under control, responded by ordering the border shut. 
Despite the shuttering of the border, confirmed cases in Costa Rica have risen sharply since July – with just under 20 percent of them attributed to foreigners – reaching 72,049 by 28 September, albeit with a relatively low number of fatalities: 828.
Costa Rica has long been critical of its neighbour's government, regularly condemning Ortega's human rights records at UN gatherings, but it has stepped up its criticism since the onset of the pandemic.
Costa Rican lawmakers have repeatedly urged the Pan American Health Organization – the UN's regional health arm – to evaluate the COVID-19 situation in Nicaragua, but PAHO says Ortega's government is still to grant its team permission to visit.
In his speech to the UN General Assembly on 22 September, Costa Rican President Carlos Alvarado Quesada demanded that the Nicaraguan government address "structural tensions and problems" related to its disrespect for human rights and civil liberties.
The pressure to return
Nicaraguan migrants in Costa Rica have also had to deal with growing xenophobia, as many Costa Ricans fear social services – in particular the healthcare system – could become overwhelmed given the extra needs due to the pandemic. A rise in confirmed COVID-19 cases along the country's northern border with Nicaragua, a popular destination for seasonal workers, has only encouraged such sentiments.
In June, a local medical authority in Los Chiles, a northern border town, issued an order for medical staff to refuse care to undocumented Nicaraguans in the region before declaring them to migration authorities.
In response, a group of NGOs – including the Jesuit Service for Migrants and the Centre for Social Rights for Migrants, or CENDEROS – issued a joint statement calling for all migrants to be guaranteed their basic human rights, including access to healthcare.
Many Nicaraguans have decided enough is enough and have headed home, even if for some who oppose Ortega this risks imprisonment: some 58,000 have returned since March, according to the Nicaraguan government. This number includes, according to UN data, some 3,000 Nicaraguans who have abandoned their asylum requests in Costa Rica.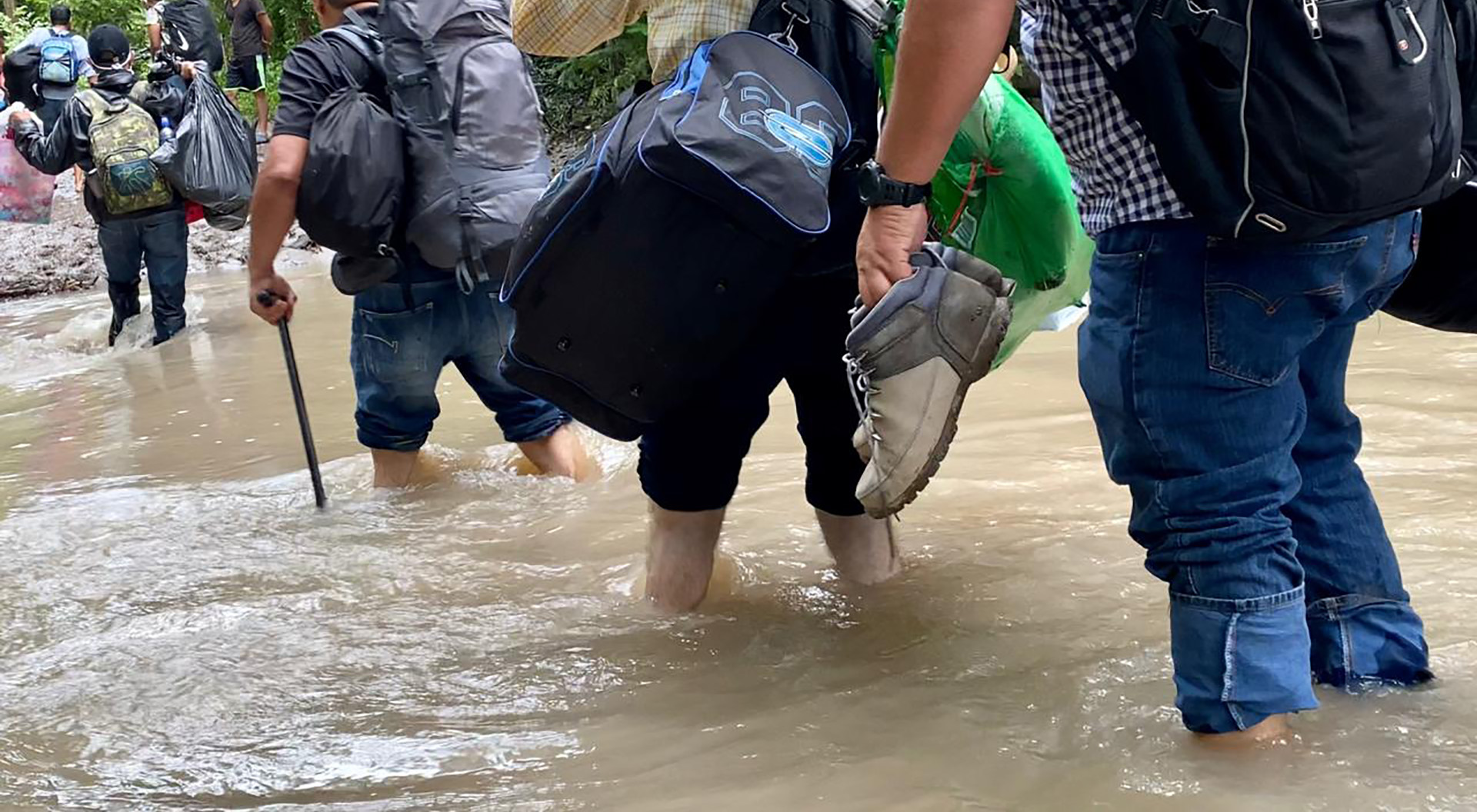 But setting foot back in Nicaragua isn't straightforward. The Nicaraguan government is demanding that returnees present negative COVID-19 test results, even though many can't afford the cost of a test, which can range from between $60 to $100.
Approximately 200 mostly jobless Nicaraguans, were refused entry for this reason in July and left stranded for two weeks. A group of Costa Rica-based NGOs, including Fundación Arias, eventually resolved the deadlock by offering free tests to the returnees, who weren't provided with any food or water by the government and had to sleep rough outdoors.
Ruiz told TNH he had considered returning, but was quickly dissuaded as violent clashes on Ometepe Island continue. Others who escaped with him do plan to go back. 
"It will mean going straight to prison," warned Carlos Felipe Huezo, president of SOS Nicaragua, an expat group that assists asylum seekers like Ruiz by providing them with food and helping with their asylum claims. Huezo facilitated the interview with TNH by allowing Ruiz to use his mobile phone, as the former protest organiser can't afford one.
More help needed
While he is grateful to Costa Rica for having welcomed the asylum seekers, Huezo feels there's more the government could be doing for Nicaraguans.
"They have not established mechanisms with the health ministry and labour ministries to support people who not only lost their jobs but who now are getting infected and even dying from COVID-19," he said. "This is a population that has been living from day to day since 2018."
The government's COVID-19 social assistance package – including monthly cash payments of $220 to those who lose their jobs due the virus – is only available to Costa Rican citizens, while an agreement with UNHCR grants medical insurance only to 6,000 asylum seekers, most of whom are Nicaraguan.
Huezo said Costa Rica should have done more to attract aid: "The government here did not play a strong enough role to lobby the international community to ask for assistance."
He compared humanitarian support for Nicaraguan migrants in Costa Rica to that for Venezuelans who recently fled to Colombia: The 80,000 to 100,000 Nicaraguans migrating since 2018 make up around two percent of Costa Rica's population of five million, while Venezuelan arrivals since 2015 account for around three percent of Colombia's population.
"Global attention right now is much more on Venezuela than on Nicaragua, for humanitarian reasons as well as political issues," Huezo said. "Mobilisation is taking place there, but not here."
There are no large encampments on the Costa Rica-Nicaragua border – unlike on Colombia's frontier with Venezuela – but Huezo said this is only because many people are still crossing informally, despite the risk of robberies and other "abuses".
Read more → How COVID-19 has created a crisis on the Colombia-Venezuela border
SOS Nicaragua is speaking to the Costa Rican and Nicaraguan authorities and international aid groups to try to establish "humanitarian corridors" that would allow women, children, and the elderly – some of whom may require medical assistance – to return to Nicaragua unimpeded. Huezo said he was seeking assistance to cover the cost of the COVID-19 tests plus the transport to the border, so they are able to return in a "dignified manner".
Ruiz, meanwhile, hopes his asylum request will be processed soon. "I haven't had anyone to help me here," he said. "It's really tough. Some people who have returned have been taken hostage [by the Nicaraguan authorities]. In my case, I cannot move from here."
pdd/ag
Read more about...