The coronavirus pandemic is aggravating tensions between Rohingya refugees and local communities in Bangladesh, underscoring long-held grievances on the margins of the massive aid response.
Bangladesh's COVID-19 outbreak has escalated steadily since March, and nationwide lockdowns have shattered the economy in Cox's Bazar, already one of the country's poorest districts.
Increasingly, distrust and stigmatisation have been aimed at Rohingya refugees accused of carrying the virus. Aid groups report a rise in anti-Rohingya hate speech and racism, as well as "rapidly deteriorating security dynamics" between the two communities.
"There is a huge panic. The number of infected people is higher among the Rohingya," said Mustafa Kamal Chowdhury, the head teacher at a high school in Cox's Bazar, repeating one common claim. "The refugees and NGOs are hiding the information about infections."
Distrust is also aimed at aid groups perceived to be favouring the Rohingya at the expense of local communities.
"They have established hospitals targeting the Rohingya," said Safiul Islam Azad, a reporter at the Bangladeshi newspaper Jugantor who is based in Ukhiya, a sub-district home to the largest refugee camps. "They don't care about local people."
Some local aid staff working on the refugee response echo similar beliefs.
"Everything that has been done is targeting the refugees," said Tipu Barua, an NGO worker from a nearby community.
There's little evidence to suggest Rohingya refugees have spread the virus outside the camps. The first reported cases in Cox's Bazar came from a Bangladeshi person who returned to the country from abroad in March; there were no confirmed cases in the refugee camps until May. As of last week, there were some 3,100 cases in the wider community compared with 62 in the camps, though numbers are believed to be an undercount due to limited testing. 
Aid groups say some 1,900 coronavirus isolation and treatment beds, already built or in the pipeline, are open to both the local population and the Rohingya, who survive mainly on humanitarian rations in fragile tent camps.
"The humanitarian community is working hand in hand with the government of Bangladesh to ensure a medical response capacity for members of both communities who test positive for COVID-19," said Louise Donovan, spokesperson for the UN's refugee agency, UNHCR.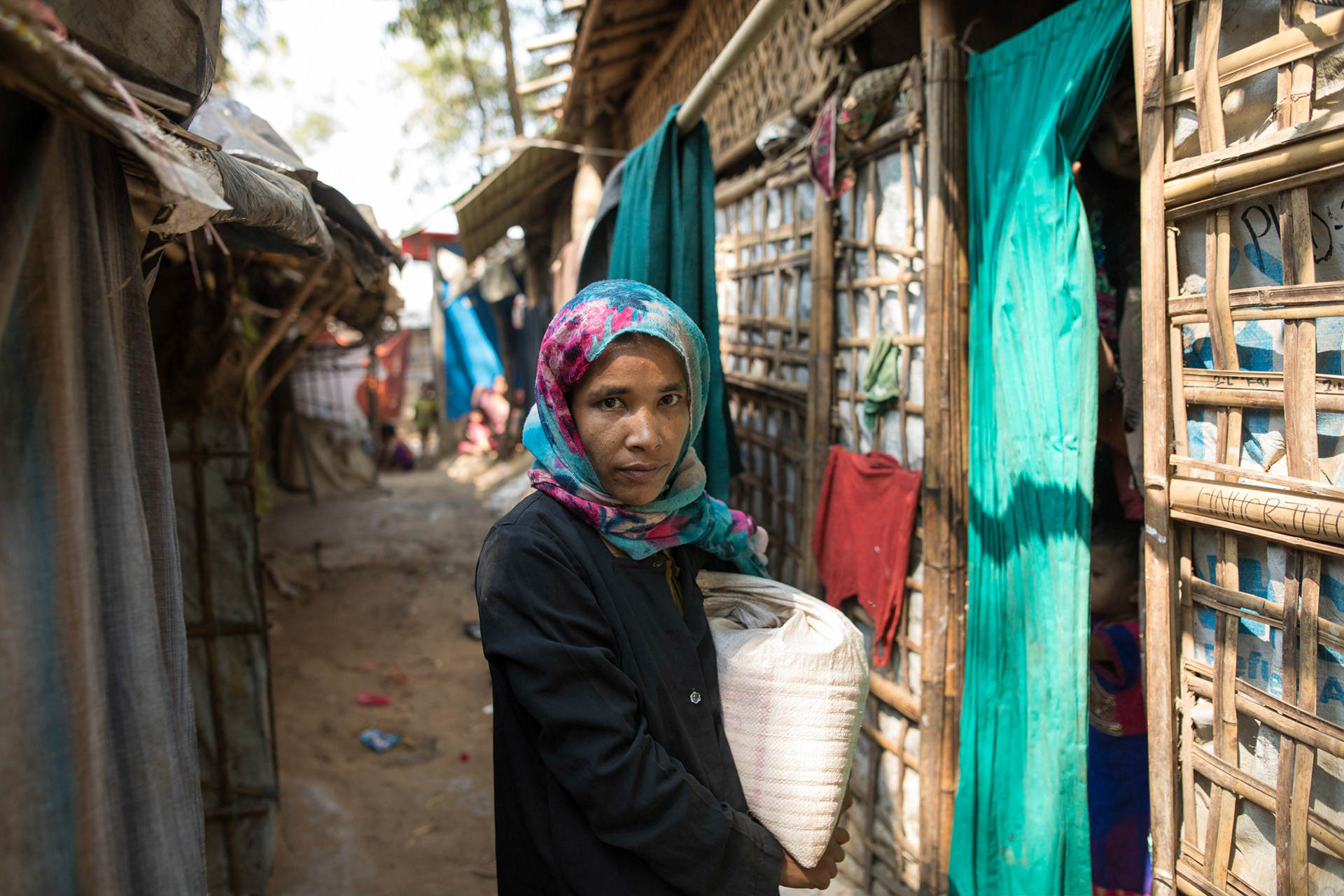 But analysts say the tensions reflect growing resentment among the local communities, who have lived in the shadows of the refugee response for years. In August 2017, a military purge in Myanmar's Rakhine State pushed more than 700,000 into Bangladesh, rapidly expanding the existing refugee population.
The influx of refugees and the enormous aid infrastructure has raised prices and sent wages plummeting, while locals say they haven't benefited enough from hundreds of millions of dollars earmarked for the Rohingya response each year.
"They feel like their lands and opportunities have now been permanently lost due to refugees," said MA Razzaque, who directs research at the Policy Research Institute of Bangladesh (PRI), a Dhaka-based think tank, and has studied host community tensions for UN organisations.
Local NGOs have long called for the response to better include host communities, and development experts have pushed for longer-term investments in the surrounding areas. While yearly response plans for the Rohingya have included projects targeting local communities, critics say it has been minimal compared to the rising burden on many families. 
Failing to address host community grievances, analysts warn, could heighten tensions, create more opposition to aid projects, and worsen public sentiment against the Rohingya themselves.
Food aid for local communities
The coronavirus has forced a growing sense of urgency around the issue among international aid responders. Since the pandemic began in March, household purchasing power has shrunk: daily wage earners can only afford to buy about four kilograms of rice – a quarter of what most households could afford in February, according to UN agencies.
A revised response blueprint for the coronavirus targets 500,000 more people from the host community, on top of some 444,000 already included in the year's planning. The plan now includes more people from the host community – nearly a million – than the roughly 860,000 refugees slated to receive aid.
The World Food Programme is extending food rations and cash aid to local communities for the first time – essentially doubling its beneficiaries. The one-off scheme is also aimed at ensuring "peaceful coexistence" and to "defuse misinformation or anxieties around food scarcity", according to the WFP.
"If we can eat a meal, we can't have another. The Rohingya families get gas, but we struggle to find firewood."
But many Bangladeshis in Cox's Bazar say they were struggling long before the pandemic hit.
A study published by the UN Development Programme last year estimated prices for essential goods had skyrocketed by 50 percent, while daily wages dropped by at least 15 percent. Some 2,500 homes had fallen into poverty, in a district where poverty rates were already higher than the national average.
"House rent has grown five times after the arrival of refugees in 2017," said Bipro Barua, the head teacher at an elementary school in Palong Khali, an area that includes several refugee camps. 
Also driving animosity is the perception that aid is plentiful for refugees, but scant for local communities.
Zohora Khatun, who invited two dozen Rohingya families to stay on her plot of land in Ukhiya when the refugee crisis erupted in 2017, said aid workers have interviewed her about her needs, but help never arrives.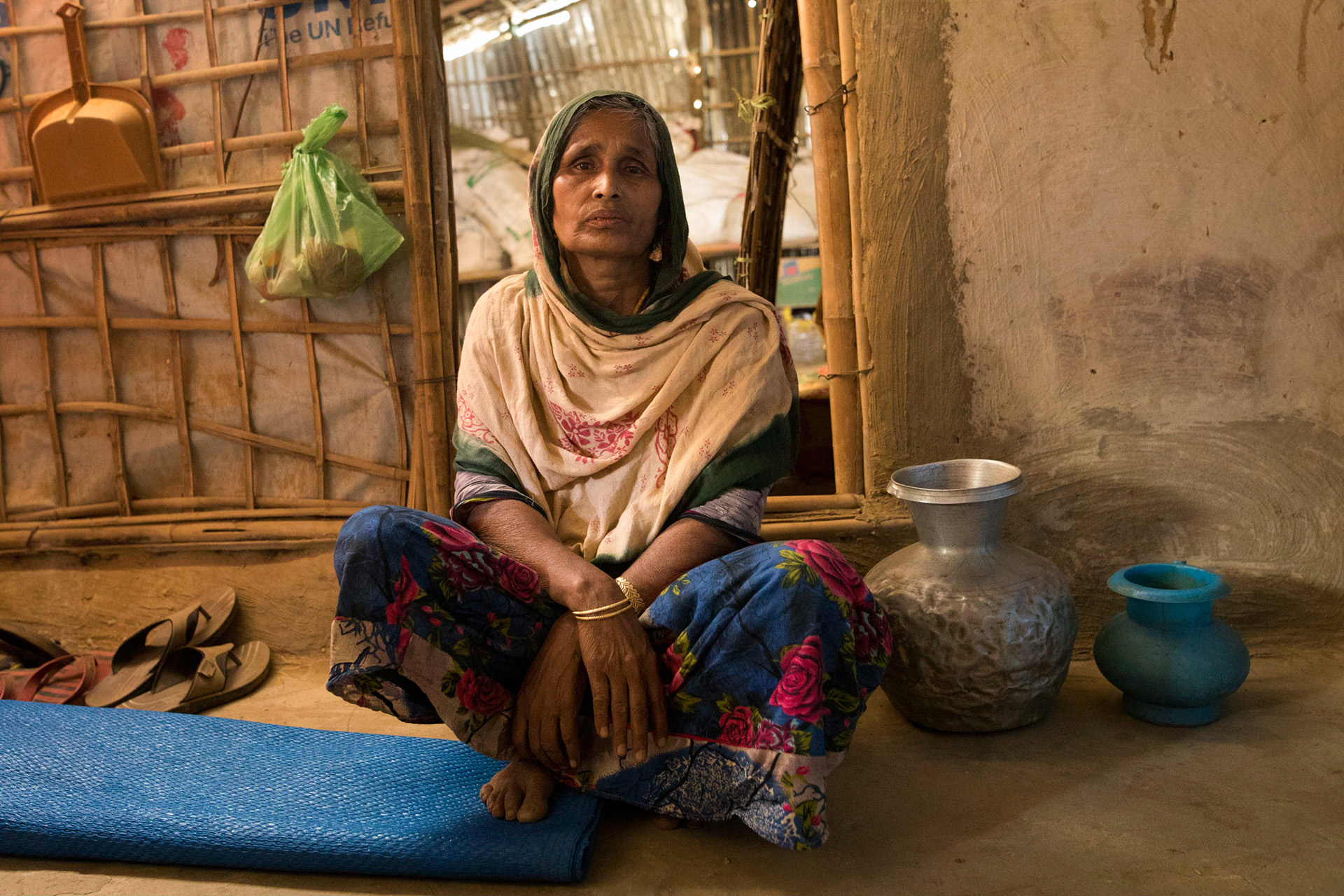 "If we can eat a meal, we can't have another," she said. "The Rohingya families get gas, but we struggle to find firewood."
Representatives of major aid groups point to the scale of need among Rohingya who were forced to flee their homes: While most refugees are fully dependent on aid, host communities generally are not.
"We work on limited humanitarian funding and significant needs. The refugees have, as such, received a significant percentage of assistance," said Manuel Marques Pereira, the deputy chief of mission for the UN's migration agency, IOM, in Cox's Bazar, speaking of the response planning before the pandemic.
Local populations also have differing needs, such as livelihoods and education, compared with the emergency assistance that refugees depend on. This requires longer-term investment, said Nicole Epting, senior coordinator for the Inter Sector Coordination Group (ISCG), which acts as an umbrella body for UN agencies and NGOs working on the response.
Epting said assistance to local communities has been growing, including programmes to boost livelihoods, rehabilitate schools, and improve water access. The ISCG estimates that the cost of development projects for host communities has totalled at least $415 million since August 2017, on top of commitments from lenders like the World Bank and the Asian Development Bank. Total humanitarian funding for the Rohingya response has been about $1.63 billion since 2017.
"We committed ourselves to a long-term investment working with the government to create sustainable, dignified living arrangements for all," she said.
However, the growing emphasis on local communities in yearly aid response plans has been relatively recent. Projects to improve education and access to water in 2018, for example, were limited by a "severe funding gap", according to the ISCG.
There was only one UNHCR-run livelihoods project for host communities in 2018, said Subrata Kumar Chakrabarty, who works on the programme. This grew to four last year.
Building trust
Aid groups have also started "social cohesion" projects to build trust between local communities and Rohingya refugees.
Chakrabarty said one project began last March to counter perceptions that refugees were better off. The programme encouraged refugees and Bangladeshis to meet face to face, and included visits to the camps so that people from the surrounding communities could see what life is like.
"They used to complain they were getting nothing," Chakrabarty said. "The visits helped them realise how bad the situation in camps could be."
Rezaul Karim Chowdhury, who heads the local NGO COAST Trust, which also works on social cohesion projects, said building relations between the two communities is crucial. Refugees outnumber locals in areas near the camps. 
"Any face-off with local people is not desired," he said.
Chowdhury said tensions could be reduced if the aid response was seen to help the local economy – sourcing food, medicine, and other essentials locally rather than importing them.
Along with many projects not seen as essential services, the social cohesion programme has now been suspended due to the coronavirus.
Abdur Rahman Hashemi, a Bangladeshi member of a committee formed under the COAST project, said cohesion efforts are important – but direct support to struggling local workers is crucial.
He suggested spending aid money on providing alternative employment for some 8,000 fishermen, who have been out of work since the government in 2017 imposed a fishing ban on the Naf River, which separates parts of Rakhine State from Bangladesh. Authorities imposed the ban to curb drug smuggling and to cut off a transportation route used by Rohingya entering Bangladesh.
"Now, some fishermen are switching over to other occupations. Others are unemployed and hesitant about what to do," he said. "This change risks breaking down the social structure."
Analysts say aid groups must do more to help the host community, or risk feeding opposition to the overall humanitarian response.
"Social cohesion is already weak and this could contribute to heightened tensions," said Razzaque, the PRI researcher. "Local people are also poor and ensuring their rights to health, education, and sanitation is important."
Overlooking these grievances could worsen tensions, he warned, leading to more roadblocks to the response – and louder calls for the Rohingya to be sent home to Myanmar.
Already, the government has opposed expanding cash aid projects for refugees, and tightened restrictions and project approval processes on aid agencies. Authorities have also restricted mobile internet for the Rohingya and announced plans to fence the camps.
In the 1970s and 1990s, Bangladeshi authorities forced earlier generations of Rohingya refugees to return home. The current government has tried to start repatriations at least three times since 2017, but refugees have refused to go. Rights groups, UN agencies, and refugees themselves say it is unsafe to return to Rakhine State, where apartheid-like conditions remain and conflict continues to trap civilians.
Rising frustrations
Most Rohingya refugees in the camps say they appreciate Bangladeshis for taking them in. Local communities were the first to provide food, water, and shelter during the 2017 influx.
"The international community arrived three months later," said Mohib Ullah, who leads the Arakan Rohingya Society for Peace and Human Rights, a Rohingya group.
Relations with Bangladeshis are "like the storms of Bhadro: sometimes good; sometimes bad", he said, describing the month on the Bengali calendar in which the monsoon season is in full tilt, and clear weather is frequently followed by powerful storms.
Many Bangladeshis around the camps, however, say their frustrations are growing.
Zohora Khatun, who welcomed Rohingya families on her land three years ago, now worries the refugees are here to stay. 
"My heart ached at the crying Rohingya," said Khatun, whose own family relocated here eight years ago after they lost their home to riverbank erosion. "Now, we're afraid. They are so many."
Her neighbour, Saleha Begum, agreed: "The sooner the Rohingya go back," she said, "the better."
aa/il/ag