Every year in Bangladesh, thousands of hectares of land crumble into the rivers that wind through this South Asian nation, swallowing homes and pushing families away from their rural villages.
This land erosion peaks during the June-to-October monsoon season, which brings torrential rains and swells the country's rivers. This year, erosion destroyed the homes of at least 8,000 people in Bangladesh's northern districts during heavy July floods that swept through the region and displaced at least 300,000 people across the country. Hundreds more households have been stranded in recent days.
Rita Begum understands the dangers. Last year, she was one of some 44,000 people in Shariatpur, an impoverished district south of the capital, Dhaka, who lost their homes in what people here say was the worst erosion in seven years. Over four months, the Padma River gobbled up two square kilometres of silt land in Naria, a sub-district.
Rita, a 51-year-old widow, saw her home and garden destroyed. Now, she lives on rented land in a makeshift shed pieced together with iron sheeting from the remnants of her old house.
"I have no soil beneath my feet," she said. "My relatives' homes are now under water too."
Erosion has long been a part of life in Bangladesh, which sits on a massive river delta. The Padma's rushing waters constantly shift and transform the shape of the river, eating away at its sandy banks. Deforestation, weather extremes, strong currents, and the accumulation of silt all contribute to erosion. But researchers say a warming climate is accelerating today's risks by intensifying rains and floods – sinking communities deeper into poverty.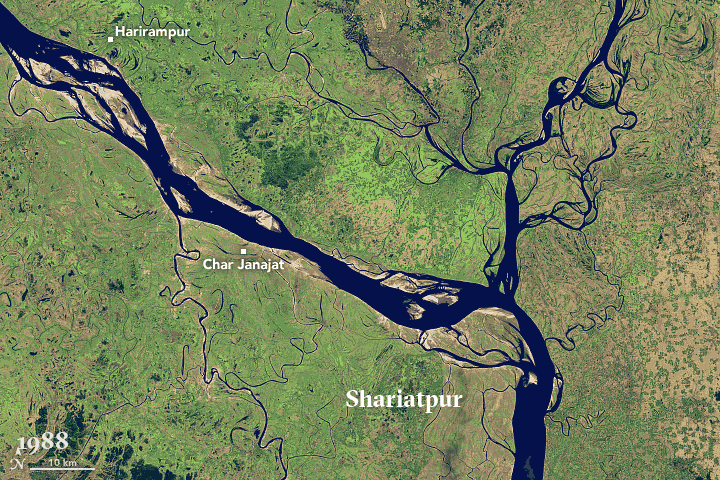 The UN says Bangladesh is one of the world's most vulnerable to climate change – and one of the least prepared for the rising sea levels, weather extremes, and food security threats that could follow.
And the World Bank estimates there could be 13 million climate migrants here halfway through this century.
Now, she lives on rented land in a makeshift shed pieced together with iron sheeting from the remnants of her old house.
Bangladesh already faces frequent disasters, yet the yearly crises ignited by erosion see little of the spotlight compared to monsoon floods, landslides, and cyclones.
"Even our policymakers don't care about it, let alone the international community," said Abu Syed, a scientist and a contributing author of a report by the UN body assessing climate research.
But erosion is quietly and permanently altering Bangladesh's landscape. From 1973 through 2017, Bangladesh's three major rivers – the Padma, the Meghna, and the Jamuna – have engulfed more than 160,000 hectares of land, according to statistics provided by the UN. That's roughly five times the land mass of the country's capital.
And the Centre for Environmental and Geographic Information Services, a government think-tank, forecasts that erosion could eat up another 4,500 hectares by the end of 2020, potentially displacing another 45,000 people.
Experts who study Bangladesh's rivers say the government response to erosion, while improving, has largely been ad hoc and temporary – sandbags thrown against already crumbling land, for example, rather than forward-looking planning to better adapt to the waterways.
And many who have already lost their homes to erosion, like Rita, have struggled to rebuild their lives without land, or have been forced to join the 300,000 to 400,000 people each year estimated to migrate to teeming Dhaka driven in part by environmental pressures.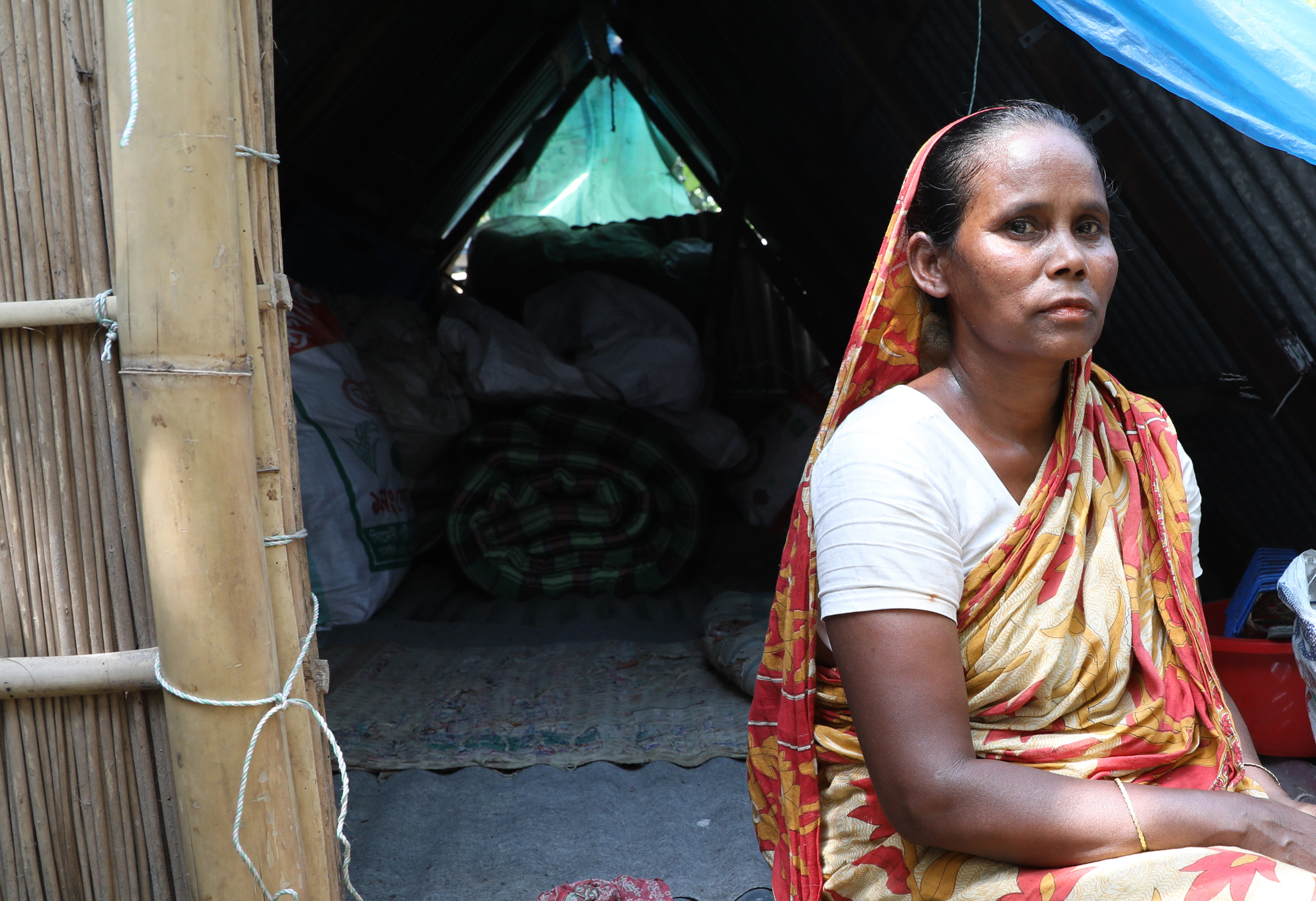 Disaster deepens poverty, fuels migration
Today Rita shares her shed with her three sons; she's just scraping by, earning the equivalent of less than $4 a month as a maid. There is no running water or sanitation: Rita treks down a steep slope to fetch water from the same river that devoured her home.
In nearby Kedarpur village, Aklima Begum, 57, lost not only her home, but her rickshaw-puller husband, who died when a chunk of earth crumpled from beneath a riverside market last August. The sudden collapse washed away 29 people, though some were later rescued.
"We didn't find his body," Aklima said.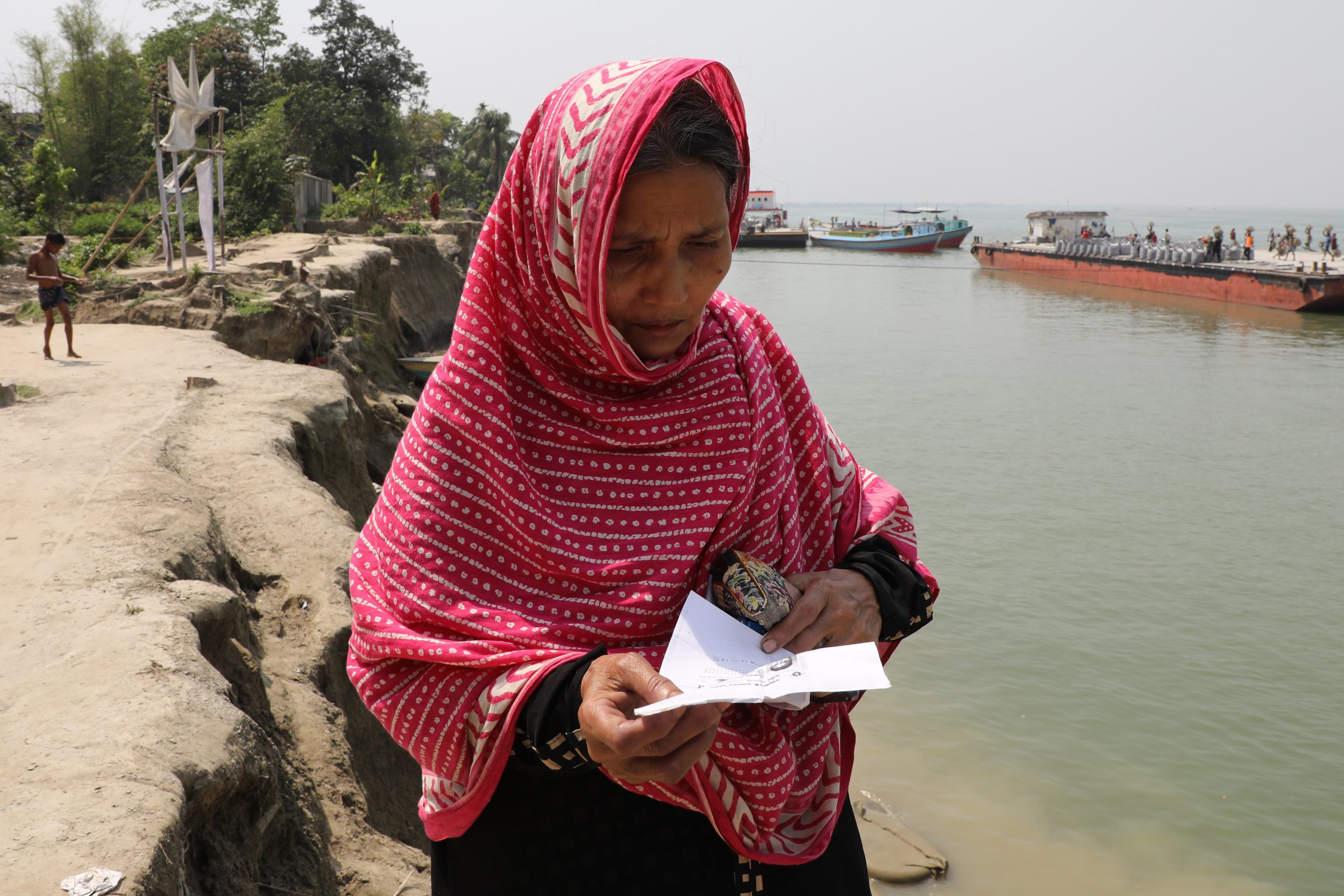 Last year's disaster has had a lasting impact on both rich and poor here. Year Baksh Laskar, a local businessman, saw most of his house vanish into the river, but he invited 70 neighbouring families to set up makeshift homes on his remaining land.
"They are helpless," he said. "Where will these people go?"
With homes and farmland disappeared, many in the area have left for good, according to Hafez Mohammad Sanaullah, a local government representative.
"This erosion is severe. People got scattered," he said.
Humanitarian aid helped to prevent hunger in the disaster's aftermath last year, but emergency support doesn't fix longer-term problems faced by a landless community. Sanaullah singled out housing and jobs as the two biggest problems: "People who used to do farming can't do it any longer," he said.
Babur Ali, the municipality's mayor, estimated at least 10 percent of the people displaced by last year's erosion have moved to Dhaka or other urban areas in Bangladesh.
The government's Ministry of Disaster Management and Relief, which oversees response and recovery programmes, is building three projects in the area to house some 5,000 erosion survivors, an official told The New Humanitarian.
The Bangladesh Red Crescent Society said it has asked district officials for land to set up a "cluster village" – barrack-like housing where people share common facilities. But the land has not yet been granted, said Nazmul Azam Khan, the organisation's director.
Preparing for future threats
The Bangladesh Water Development Board – the government agency that oversees the management of rivers – in December started a $130-million project intended to shield a nine-kilometre stretch of Naria from further erosion.
This includes the dredging of waterways to remove excess sediment – which can divert a river's flow and contribute to erosion – and installing sandbags and concrete blocks to buttress the steep riverbanks.
There are also plans to erect structures in the river that would redirect water away from the fragile banks, said project head Prakash Krishna Sarker.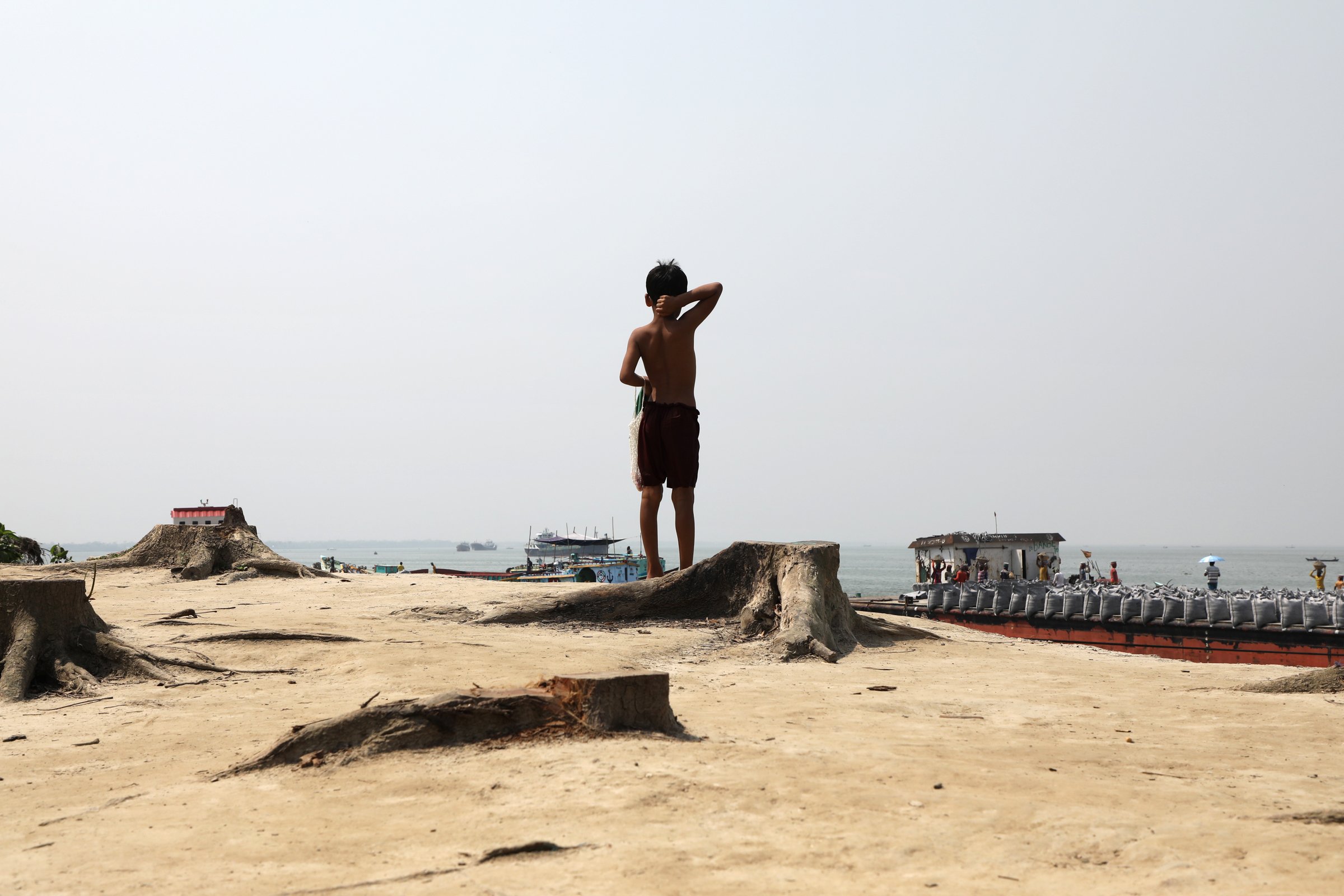 But these changes are part of a three-year project; the bulk of the work wasn't ready in time for this year's monsoon season in Naria, and it won't be finished by next year's either.
"People are concerned. If the river starts eroding again, this area will be wiped off," said Sanaullah.
Read more: Quick fixes for a long-term problem
Some say Bangladeshi authorities have focused on quick fixes, instead of more permanent solutions, when it comes to river management.
Ainun Nishat, a professor in water resource management at the Centre for Climate Change and Environmental Research at BRAC University in Dhaka, said the response has generally relied on measures like throwing up sandbags – useful, but often installed on an emergency basis after a disaster and poorly maintained.
Missing is a larger-scale rollout of "river training" – hydrological engineering that strengthens both riverbanks and inner slopes with reinforced concrete, allowing water to flow more predictably and reducing the risks of both floods and erosion.
"River training is expensive, but it can be a sustainable solution to tackling erosion," he said. "It must be done with the proper design following scientific methods. There should be regular maintenance too."
Bangladesh's government last year approved a multi-billion-dollar infrastructure plan to better manage the country's rivers, including tackling erosion. AKM Enamul Hoque Shameem, the deputy minister for water resources, said the plans include dredging, river training, and bank protection. He told The New Humanitarian that erosion-vulnerable areas like Shariatpur are a "top priority".
Climate pressures
But this work would be carried out over decades – the current deadline is the year 2100.
By then, researchers say, the impacts of climate change will be in full force. A 2013 study published in the International Journal of Sciences forecasts that the amount of land lost annually due to erosion along Bangladesh's three main rivers could jump by 18 percent by the end of the century.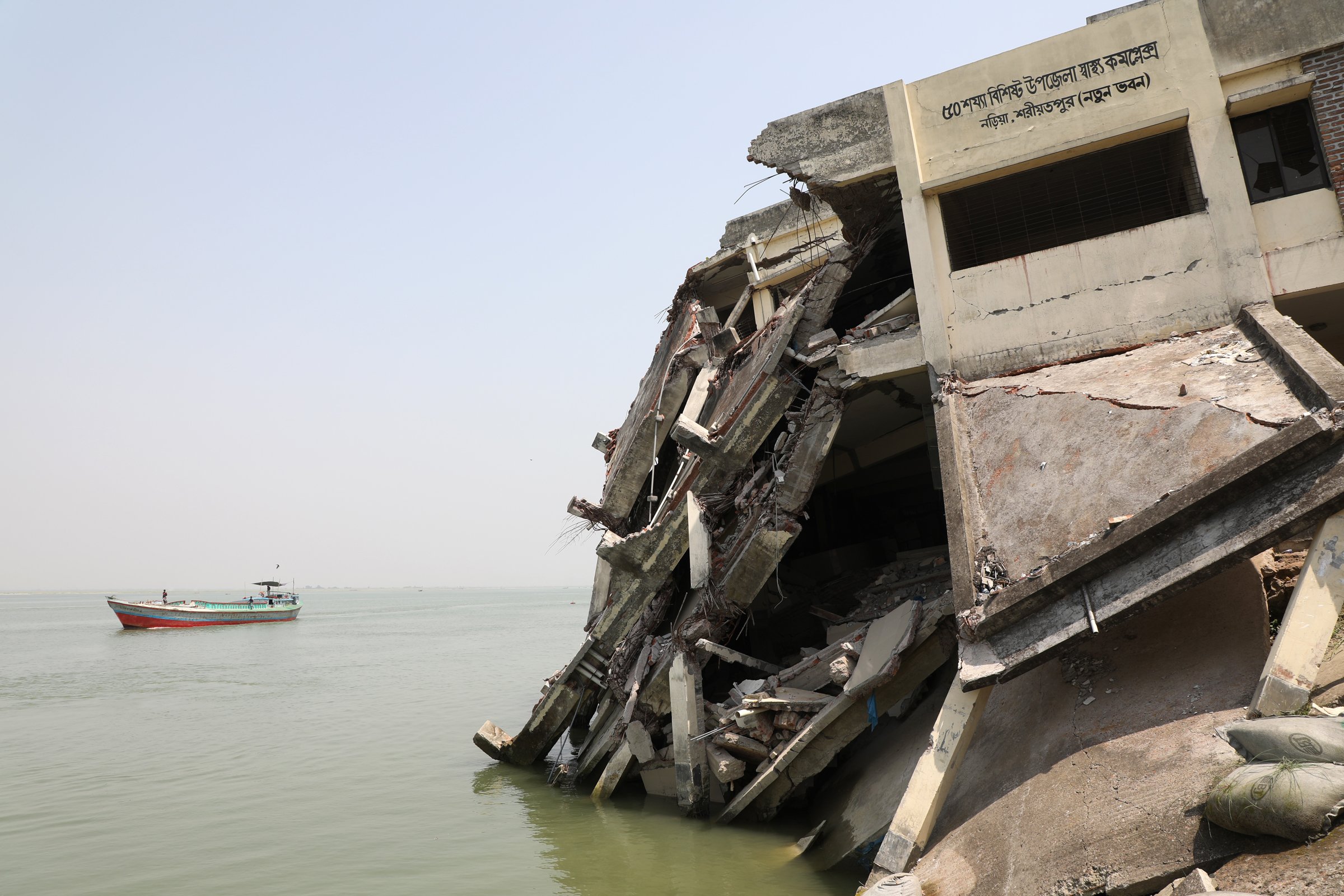 As with floods, drought, storms, and other disasters that strike each year, erosion is already pushing displaced Bangladeshis to migrate.
Rabeya Begum, 55, was a resident of Naria until last August. After her home washed away, she packed up and fled to a Dhaka slum – the destination for most migrants pushed out by disasters or other environmental pressures.
"I don't feel good staying at my son-in-law's house," said Rabeya, who lost her husband to a stroke months after the erosion uprooted her.
Life without her own land, she said, is like being "afloat in the water".
(TOP PHOTO: Local authorities have placed sandbags to reinforce riverbanks near Kedarpur village. Some river management experts say Bangladeshi authorities need to better prepare for erosion, rather than reacting to disasters as they happen.)
aa/il/js