From a small bamboo and tarpaulin hut inside Bangladesh's sprawling Rohingya camps, Mohammad Balyin is trying to give refugee children what aid groups here have struggled to provide: an education.
Balyin, 55, was once a headmaster of a government school teaching 1,000 students in Myanmar's Rakhine State. Now, he's a refugee and a frustrated teacher.
"I worry a lot these days," he said. "If our children do not get schooling and we end up languishing in these camps for years, an entire generation will be wasted."
In August 2017, Balyin joined more than 700,000 Rohingya who fled across the border to southern Bangladesh, driven out by a Myanmar military purge that UN investigators call a genocide.
Two academic years have gone by since the refugee exodus began, but most Rohingya children have no access to proper schooling. Bangladesh's government restricts formal education in the camps, citing fears that refugees will integrate rather than return home. And neither Bangladesh nor Myanmar have allowed their national curricula to be taught. 
"I worry a lot these days. If our children do not get schooling and we end up languishing in these camps for years, an entire generation will be wasted."
Aid groups have set up more than 2,000 "learning centres" for children 14 and younger, but instruction in these classrooms has mostly been limited to playtime, or basic reading and numeracy. And even these classes haven't reached a third of the roughly 416,000 school-age Rohingya, according to UNICEF, which leads the camps' education sector. 
Fed up with a lack of formal schools in the camps, Balyin decided to start his own after parents repeatedly ask him to tutor their children.
Today, his makeshift classroom – run out of his family's tent – is part of several networks of unofficial refugee-run schools set up by veteran teachers like Balyin and other educated Rohingya. The networks now include at least 373 teachers instructing nearly 10,000 children across the camps, according to a study mapping these informal schools, published in July by the Peace Research Institute Oslo, or PRIO.
The refugee teachers say they're filling a crucial education gap by trying to teach the Myanmar curriculum – maintaining a vital link to home should refugees ever return. But they're doing it with little official help or acknowledgement from aid groups, even though there's a shortage of qualified teachers in NGO-run classrooms.
"The crisis is in its third year, and there are still limited formal educational opportunities for Rohingya children," said Jessica Olney, an independent researcher who co-authored the study on refugee-run schools.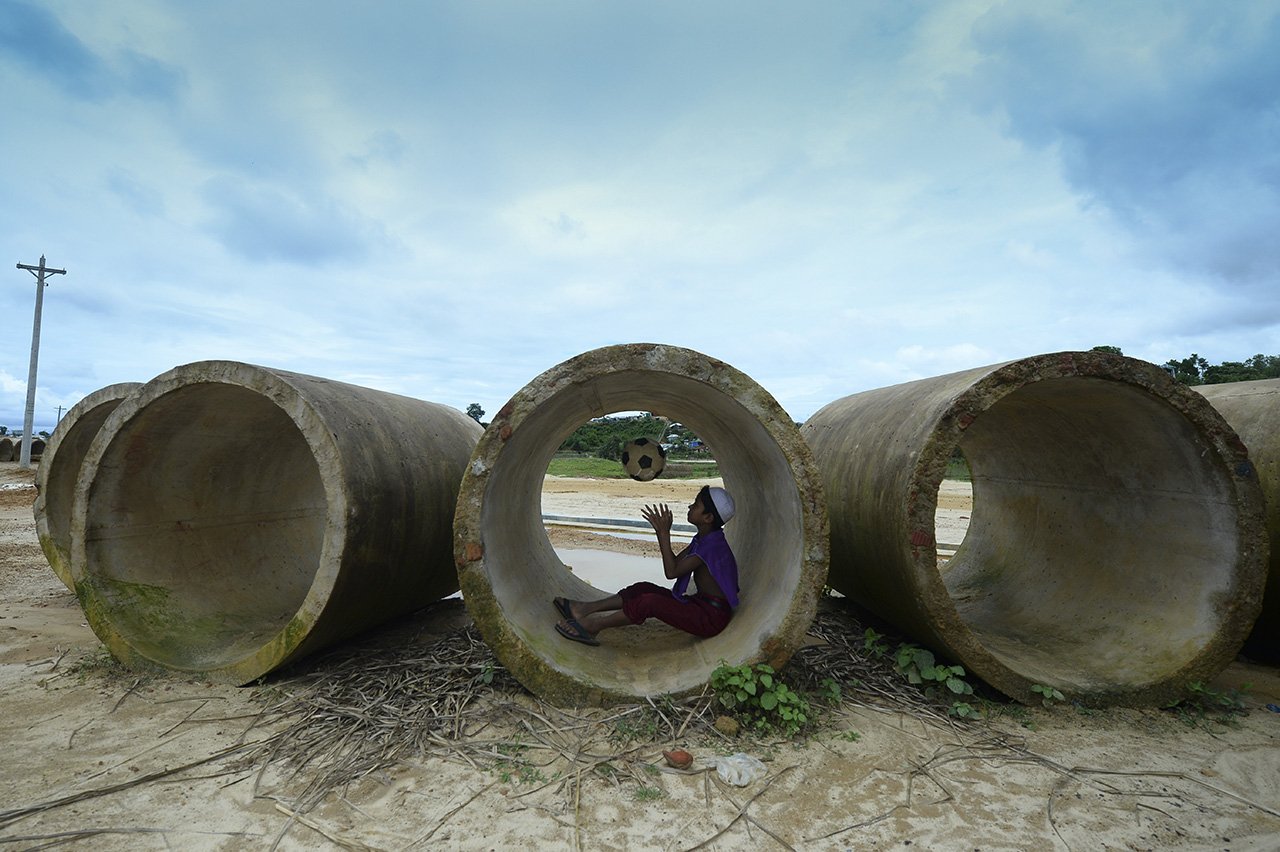 UNICEF says it is rolling out a more structured curriculum that mirrors what's taught in a formal education system. But Olney says aid groups have done little to consult with the Rohingya teachers, who should be an important resource as experienced educators within their own communities.
"The community educators really want to play a significant role in providing education in the camps, but they have hardly any resources with which to do so and agencies have not helped to change this," she said.
Volunteer teachers
Most refugee-run schools operate under the radar on threadbare budgets. They can be in one-room tents like Balyin's home, in open bamboo-walled structures built with help from private donors, or in existing madrassas, which have high attendance rates in the camps. 
Resources are scarce: only a few schools have supplies or blackboards; and what textbooks exist have often been downloaded and printed with unofficial help from NGO workers.
The teachers include seven Rohingya elders who have Bachelor of Education degrees and were high-school headmasters back in Myanmar. Many of the informal schools offer classes for free; in others, parents pay between $0.60 and $2.50 a month.
The schools teach subjects like English, Burmese, maths, and history. Some teach geometry, chemistry, physics, history, social science, and economics to older students. Crucially, the teachers say, they're trying to follow the Myanmar curriculum, which they hope will help students keep up with schooling back home and eventually reintegrate.
"Our children have to be taught law, human rights, history – our history in particular," Balyin said. "We cannot bring them up like animals. This is not normal." 
READ MORE: Girls in refugee-run schools
Fewer girls than boys attend the refugee-run schools, especially beyond the age of 12, according to the PRIO study.
The school networks reported about a third of their students are girls, but only a "very small number" study past grade two. Of the 373 teachers, 37 were women.
There were mixed views on girls' education: many teachers supported schooling for girls, but weren't sure how to break conservative social norms. The report's researchers say the refugee teachers need to prioritise access for girls, and that aid groups can help to guide them on how to do this. 
A separate camp-wide survey found that about 34 percent of girls between 12 and 14 attended an NGO-run learning centre at least four days a week (compared to 54 percent of boys). A similar percentage of girls, 33 percent, reported attending madrassa education.
Some Rohingya parents who spoke with The New Humanitarian described a contrast between the education in the NGO learning centres and the refugee-run classrooms.
Hamida Noor, a mother of three, said she used to send her children to the NGO centres, but the programmes were more like "play schools", teaching songs and rhymes rather than structured learning.
"Because of the repetitive nature of singing the same four things over and over again, my children simply stopped going to school," she said.
Now, she sends her children to one of the refugee-run schools.
"There are so many aid agencies in the camp that routinely see us struggling to educate our children," she said. "Yet, they offer us no support. Why?"
In a written response to questions, UNICEF said aid groups are making "substantial progress" on improving education. The agency said education NGOs began introducing a newly designed curriculum in learning centres in January, and an estimated 89 percent of Rohingya children under 14 now "have access to learning based on" this.
"It is a structured curriculum to provide systematic education to Rohingya children in the camps, and in that respect no different from 'formal' education," said Alastair Lawson-Tancred, UNICEF's spokesperson.
But printing and distribution of teaching material for the new curriculum were still underway in July and August, and teacher trainings continued into September, according to minutes of education sector meetings. 
READ MORE: Waiting for a new curriculum
UNICEF knew its new curriculum would face months of delay, but it didn't have a backup plan to boost education quality in NGO-run classrooms in the meantime, according to an evaluation of the agency's response.
"Considering the limited quality and scope of the learning package taught in temporary learning centres, the absence of such alternatives represents a major gap in the strategy," stated the report, which was published earlier this year.
But UNICEF said "much has been achieved" in NGO learning centres before the new curriculum was ready. "Strong foundations have been built in the teaching of Burmese and English languages while therapeutic sessions have been provided to children who were traumatised during the escape from Myanmar," Lawson-Tancred said in response to TNH questions.
Bangladesh's government has also only approved the first two of five grade levels in the new curriculum. "This has hindered access to meaningful education," aid groups cautioned in an October update outlining the overall Rohingya response.
UNICEF said it is advocating with Myanmar to allow the use of its curriculum, including training and grading material, particularly for higher grade levels.
The agency did not address questions on the Rohingya-run schools. Staff from Save the Children, which co-leads the education sector, also declined to discuss the informal schools. Officials with the Bangladesh government body that oversees the camps did not respond to interview requests.
Preparing for returns
Many of the teachers behind the Rohingya-run schools are critical of the new curriculum even as it continues to be rolled out in NGO learning centres, according to the PRIO study.
"The new curriculum is not developed according to the same style as the Myanmar curriculum," one teacher told researchers. "We do believe that one day we will [go] back to Myanmar. Then, what should our students do?"
The report warns that failing to consult with Rohingya teachers could become another "flashpoint" between refugees and aid groups, similar to how civil society groups opposed new biometric identity cards last year before authorities and aid officials finally agreed to meet with Rohingya organisers.
Olney said the Rohingya teachers are still waiting to be heard. Instead, some refugee-run schools have shut down in recent weeks because they don't have the resources to stay open.
"The teachers are forced to take NGO volunteer jobs in other sectors, where they are often not using their teaching skills," she said.
vk/il/ag