During the week-long unrest and the ensuing crackdown that gripped Iraq's capital and parts of the south earlier this month, at least 110 people were killed and 6,000 injured. But not everyone who needed treatment could get to a hospital.
As Iraqis took to the streets, demanding better education, healthcare, housing, work opportunities, and basic services, security forces fired back with live ammunition, stun grenades, water cannons, and tear gas.
In the midst of it all, a volunteer paramedic named Khaldun Musfafa Abbas, 27, entered the fray on his lime-green motorcycle accompanied by a small team, zipping around the capital to help, toting large backpacks bursting with emergency medical supplies.
"They needed us on the street," said Abbas, who had a job at an American security firm but now works full-time raising money, mostly from friends, for his group's work. "At the hospitals there were maybe enough [staff and supplies] to treat people, but on the street… they don't have the capacity to treat people the right way."
Large numbers of people needed medical help, and fast, but many of the protesters and several paramedics told The New Humanitarian that Baghdad ambulances were often not equipped to deal with the aftermath of the violence – and they were sometimes unable or unwilling to enter centres of protest. These claims were denied by Iraqi officials.
Occasionally, demonstrators took to throwing stones at ambulances, signalling not only the same kind of frustration with the government they were expressing in the streets but also a lack of trust in the state – including public hospitals – that appeared to deepen as events unfolded. Claims of armed forces attacking ambulances were also denied by officials.
Rumours spread about the presence of security forces inside ambulances and hospitals, keeping some who feared arrest away from much-needed treatment and leaving more people reliant on the kind of ad hoc service Abbas and his team could provide.
"I'm used to treating normal injuries, not ones like these."
Volunteer paramedics
Abbas founded the Emergency Relief Group, a band of eight volunteer paramedics, a year and a half ago, after he noticed that Baghdad's emergency services did not always have the resources to respond to car accidents around the city. He listens to police radio for incidents and his number is on social media for the public to call. He and his team – volunteers trained in emergency aid – step in when the government cannot.
While protests against the government in Baghdad and other parts of the country have become a yearly occurrence, this year's were bigger. They were also met with a more severe reaction than anyone, including Abbas, expected.
Read more → In Iraq, water woes and corruption gripes signal trouble in key city
"I'm used to treating normal injuries, not ones like these," he said. "One of the injured people [I treated], his stomach was gone… There are big bullet shots with big holes. But we managed to save a lot of people, using tourniquets and our first aid kits."
There were other volunteer first aiders out on the streets, as well as ambulances taking people to hospitals. But Abbas and two other paramedics — one of whom works in a hospital and asked to remain anonymous to protect his safety – said the state's vehicles often arrived without supplies like oxygen, or with drivers instead of trained first responders.
Abbas said he did not see oxygen or trained staff inside many of the ambulances. "I open [the ambulance], and it's empty," he said. "Imagine the situation; there are no paramedics."
Rafal Mohamed, 23, who volunteers with Abbas as a paramedic and helped treat injured protesters in ambulances on the way to hospitals, also recounted the shortage of supplies. "The hospital… was full, and they were not able to take more [patients], because there wasn't any oxygen, not even inside the ambulances themselves," she said of one of her trips to Sheikh Zayed, a large public hospital in Baghdad.
All three of the paramedics said the Red Crescent ambulances were better equipped than the public ones, but added that these vehicles generally did not get to the front lines.  
The Iraqi Red Crescent did not respond to multiple requests for comment, but Saif al-Badr, spokesperson for Iraq's Ministry of Health, said that Red Crescent ambulances and their crews joined vehicles from public hospitals in rescuing wounded from the protests, and denied there were any shortages, either in medical supplies or personnel.
"We are prepared for such cases," he said. "For years we fought [so-called Islamic State], so we have a large number of ambulances, although, frankly, we need more. But, in most cases, we didn't have a shortage of oxygen. Every ambulance is equipped with at least two oxygen canisters."
Lack of trust
On the night of 5 October, one of the most intense days of the demonstrations, TNH received a call from protesters in Sadr City, a protest hotspot. People said they were being shot at, could not get out of the neighbourhood, and desperately needed medical help.
One protester, named Wissam, who asked that his full name not be published out of fear for his safety, said one of his neighbours in Sadr City had been shot and required immediate treatment.
Abbas attempted to reach Sadr City that Saturday night on his motorcycle, but found the roads blocked. He said he then tried to enter on board an ambulance from a nearby public hospital, but protesters threw rocks at the vehicle, so he couldn't get in that way either.
Many people told TNH they refused to enter ambulances or public hospitals, believing they would be arrested or killed by the security forces if they did so.
One of those was Akram Hamid Maksusa, whose 17-year-old son Mustafa suffered severe burns to his face during the protests. Maksusa carried his son out of a protest in his arms rather than putting him in an ambulance. He and his family are now paying for a doctor to come to their home and treat him at home, rather than risk it at a hospital.
"We did not take him to the hospital because when you let them transport someone to the hospital, [the security forces] come and take the injured [away]," said Maksusa, 44.
Iraq's prime minister has admitted that excessive force was used in Sadr City, pulled the army out of the area, and ordered an inquiry into the deaths of protesters. 
The rumour mill
Journalists were warned away from visiting hospitals during the protests, and the internet service was frequently cut by the government to quell the unrest, making many claims of what happened during the first week in October difficult to verify.
But TNH was able to visit Sheikh Zayed, where many protesters were treated, on the fourth day of unrest: 4 October. Security forces were stationed at the entrance to, and inside, the emergency room.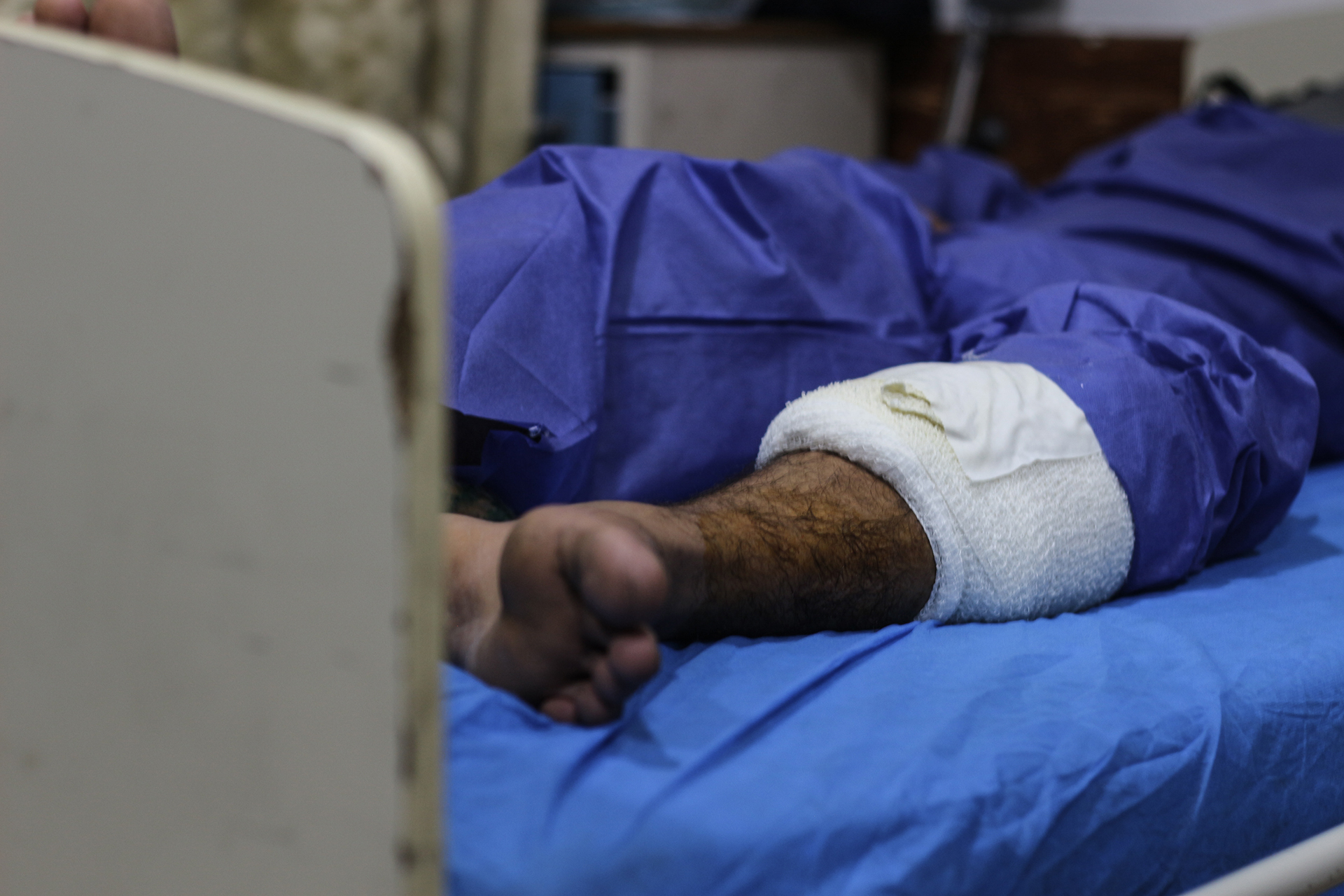 Family members of protesters at Sheikh Zayed and Al Jumla Asabiya, another large Baghdad hospital, said security members checked visitors' clothing to see if it was dirty from the protests, and took their phones to check for evidence of participation.
Four people said they had seen protesters arrested by uniformed men in or outside hospitals, but TNH could not independently confirm these accounts. 
"Anyone injured, if it's easy to take them, then they take them. We don't know where they are." 
Ali Chesab, 29, a protester from Sadr City, said he saw protesters being taken away from Sheikh Zayed, first when he was there to donate blood, and again when he accompanied a friend for treatment.
"On the second and third of October, I was near Sheikh Zayed hospital... With my eyes, I saw people who had choked because of tear gas taken [away by armed forces]," he said. 
"My friend choked on gas and I was there with him, and [he was taken]. The same thing happened in front of me," he said. He added that he witnessed armed forces looking through protesters' phones. "Anyone injured, if it's easy to take them, then they take them," he said, "We don't know where they are." 
Doctors at the hospitals would not be interviewed, but the Ministry of Health's al-Badr said an official investigation had been conducted, and "no such stories were confirmed."
At the Martyr Sadr hospital in Sadr city, director Mostafa Hatam Abbas Al-Mususy denied that security forces were allowed to arrest patients. He said staff had treated around 100 patients without recording their names, in order to protect their anonymity.
Paramedics at risk
While the majority of the injuries and deaths were to protesters, those trying to help them also found themselves in danger.
Abbas said he watched in horror as a young demonstrator was shot while he was in the middle of a conversation with a police officer. He rushed forward to treat him, but then heard the crack of bullets next to him, so he had to stay low to the ground.
"I went back and realised I would not be able to complete [treating him]," said Abbas. "I cried in that moment, because I saw a young person die and I didn't respond to him." 
Speaking to TNH one night after a protest, he said he had changed clothes three times to get the bloodstains out of his clothes, but flecks of blood still blotched his white shirt. 
Human Rights Watch has reported violence against first responders. The watchdog group said a medic told them she had been arrested inside an ambulance while giving treatment to protesters, and a witness at another protest said she saw "security forces fire tear gas directly at a convoy of ambulances, hitting the last one".
Abbas told TNH he was in a public ambulance when it nearly came under fire. "When I was in an ambulance… searching for people who had been shot, one police officer… he shot three bullets above us," he recalled. "We moved forward. He shot again. We understood he was warning us back, so we went back."
Al-Badr said the Ministry of Health had heard rumours of attacks on health personnel, but found no evidence to back them up in an official investigation.  
At first, all of Abbas' team of volunteers jumped to help, despite the dangers. "There were a lot of people there, and they are not being moved [or helped]," Mohamed said. The decision to help "wasn't from the point of view of being with or against the protests," she said. "I saw that there is a person who deserves to live who is injured." 
But as the protests became more dangerous, fewer people ventured out into the crowds to help. "On the first day, we were eight paramedics," Abbas said of his team. "On the second day, we were four, on the third day, we were two."
Even if it ended up being him on his own, Abbas said he was willing to take the risk if the protests start up again. "If they kill me in the next protest…. I will [still] go there," he said. "I think the situation still needs us."
(TOP PHOTO: An ambulance arrives at a demonstration in the Iraqi capital, Baghdad, on 5 October 2019.)
pm/as/ag