Last summer, Iraq's oil-rich southern city of Basra was rocked by violent protests over a number of grievances, including unemployment and the lack of safe drinking water – anger and unrest that came as hospitals treated some 118,000 people for water-borne diseases.
More than a year later, Iraq has a new government, but residents say little has been done to fix chronic problems with the water management system, and some fear a repeat of the 2018 troubles could be on the horizon for the city and wider province's four million residents. Hundreds took to the streets again in June, protesting the lack of basic services.
With the academic year starting this month, more than 250,000 children are returning to hundreds of schools that lack clean running water or fit-for-purpose tanks and pipes, according to the Norwegian Refugee Council (NRC), an aid organisation that works in Basra.
Up to 40 percent of Basra province remains unconnected to the sewage network, and most people are forced to buy water from privately-run trucks, or purchase bottled water. Those bottles end up littering thoroughfares, and many waterways are clogged with rubbish.
Basra's ongoing water woes come against the backdrop of deeper political discontent in post-conflict Iraq.
The government declared victory over the so-called Islamic State group more than a year and a half ago, but the rebuild, particularly in cities like Mosul, has been slow, with basic infrastructure still non-existent in many parts of the country, even in places like Basra that were relatively untouched by the fighting.
It's not that Basra lacks water. The Tigris and Euphrates rivers meet north of the city before forming the Shatt al-Arab, which empties into the Persian Gulf. The province has oil, too: its reserves provide around 90 percent of Iraq's state revenue, but the average person sees little of that wealth – even when it comes to providing basic services such as water.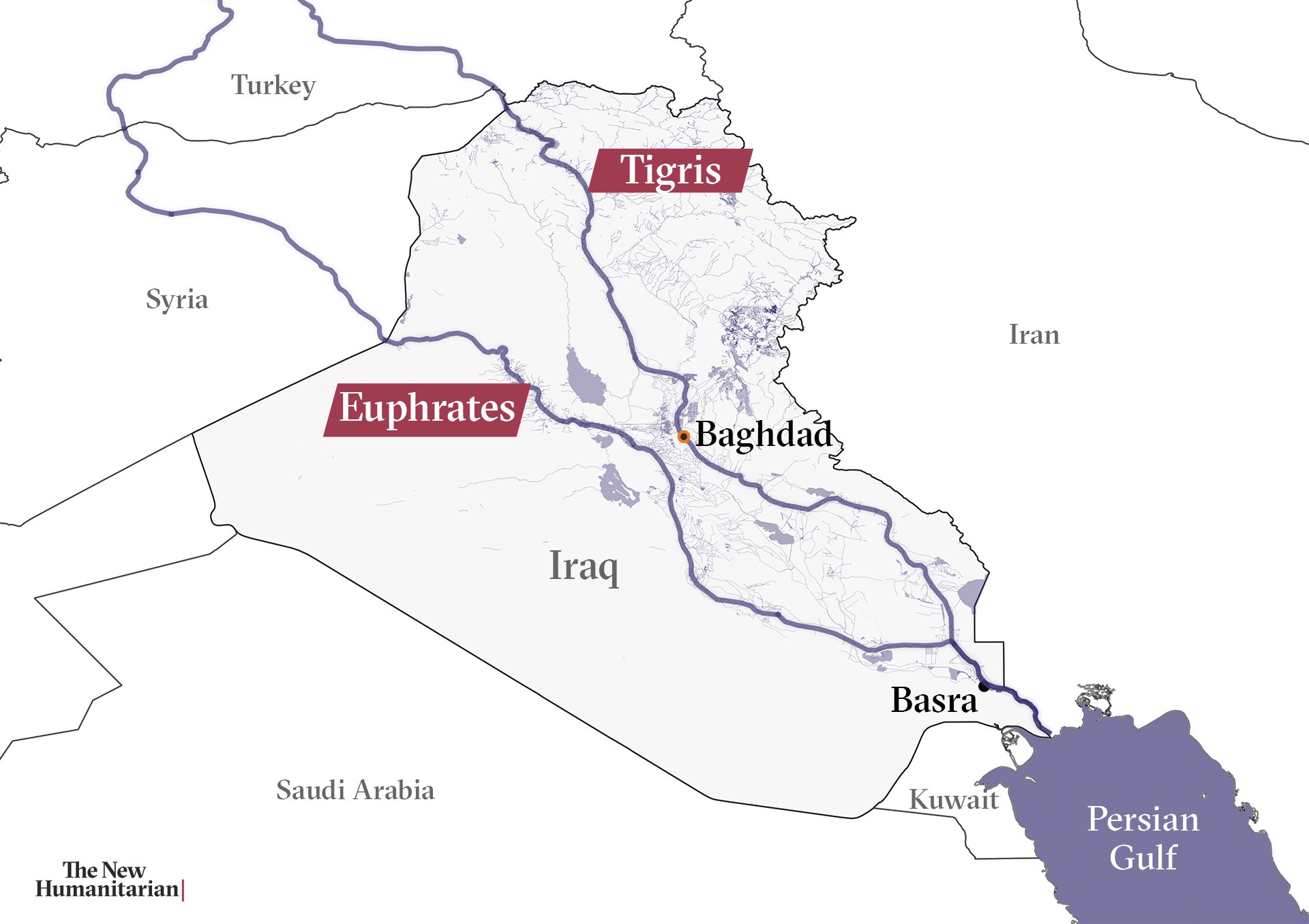 "There is water in Basra; there is water everywhere, but there is not a single drop to drink," said Tom Peyre-Costa, a spokesperson for the NRC.
Many have alleged that government corruption is at least partly to blame for failing to provide the people of Basra with safe water.
"I don't think the local government is really interested in finding serious solutions [to the water issues]," said Kazem al-Sahlani, director of Nissan Institute for Democratic Awareness, a Basra-based civil society organisation. "They are busy divvying up the financial shares from deals between the government and private companies."
But the city has faced additional challenges beyond poor governance and graft: dam and farming projects in Iran, Turkey, and Syria have reduced water flows; about 70 percent of Iraq's water comes from neighbouring countries. In addition to the dams, satellite imagery shows substantial expansion of water-intensive sugar plantations and fish farms in Iran, according to Human Rights Watch.
During periods of low rainfall, such as last summer, reduced water flows contribute to a backflow of saltwater from the Persian Gulf into the Shatt al-Arab. Last summer's salinity levels were 50 times the accepted level for drinking water, according to Ahmed Hanoon, head of the provincial environment office.
"There is water in Basra; there is water everywhere, but there is not a single drop to drink."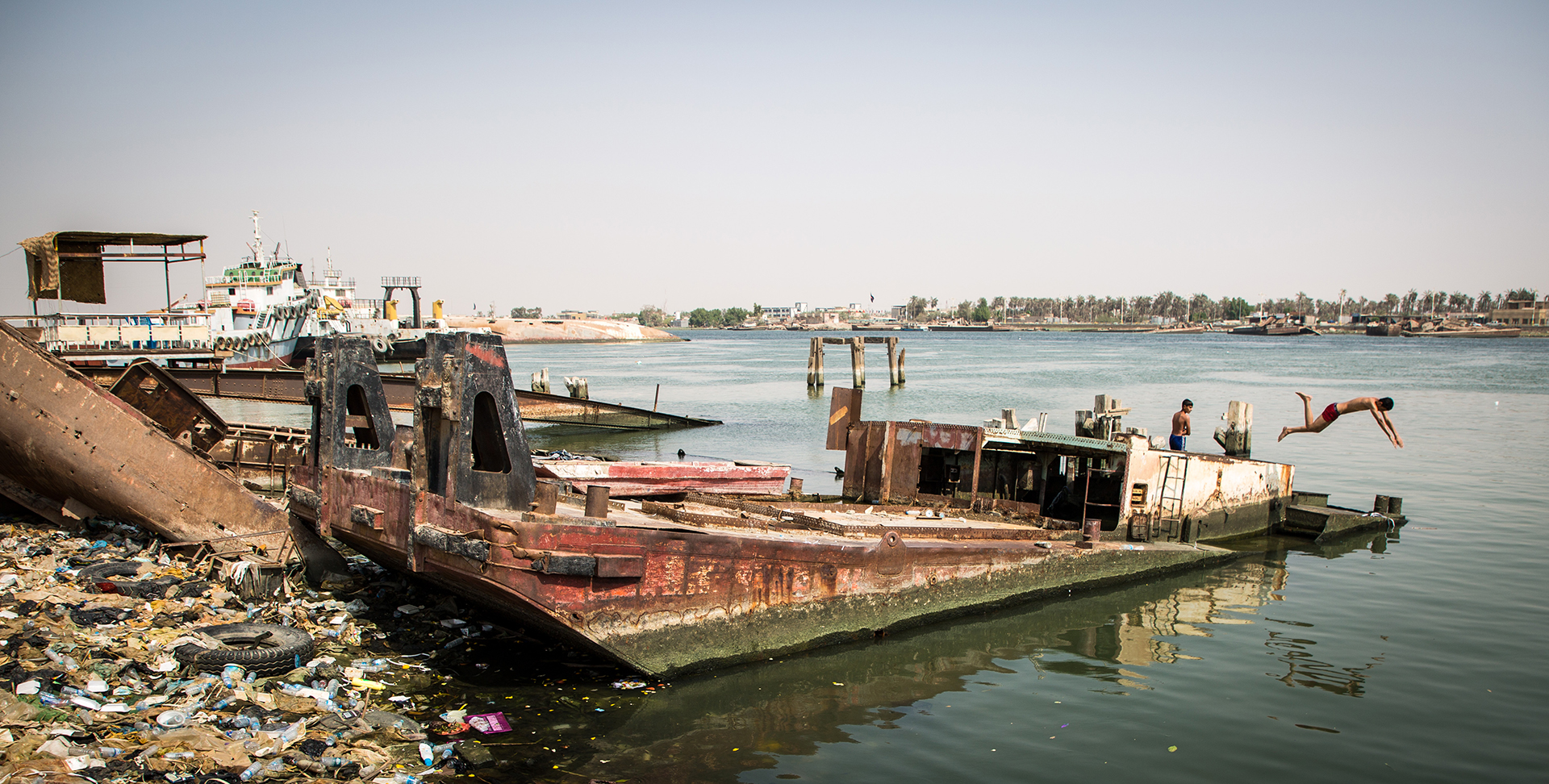 Hospital wards were packed with people complaining of vomiting, diarrhoea, and skin rashes.
"If there are dry seasons in the coming years and [the government] doesn't add new reservoirs and dams, there could be problems," Dhurgham al-Ajwady, Basra's deputy governor, told The New Humanitarian.
Water sickness
Basra had seen previous major outbreaks of water-borne diseases, but nothing like last year's crisis, according to Shukri al-Hassan, a specialist in environmental pollution at Basra University.
"I was really very concerned about the high number of people who fell ill," said al-Hassan, referring to the outbreak of illnesses that began last summer and lasted into November 2018. "What happened was significant politically, socially, and in terms of [public] health."
Heavy rains that began in October and continued through April 2019 reduced the high salinity levels – one factor that some believe reduced the number of water-borne illnesses this year – but the rain also brought major flooding across Iraq. In southern provinces, including Basra, thousands of families were forced to flee their homes.
Yet even when salinity levels returned to normal, pollution from poor sewage and waste management has meant Basra's water is still not safe. Waterways are contaminated with human and animal sewage, garbage, and contaminants from oil and agricultural fertilisers.
In April, water samples at six sites tested positive for parasites and viruses including rotavirus A, which can cause severe diarrhoea and vomiting, according to al-Hassan.
Poor household waste management is also an issue. Only a few of Basra's 13 landfill sites conform to environmental regulations, according to Hanoon, from Basra's provincial environment office.
Basra has 339 plants that treat water before it is trucked or piped to homes and businesses, but pipe and tank corrosion – coupled with often high salinity levels and inadequate supplies of chlorine for sterilisation – mean even treated water can be unsafe.
"Given trends in climate change and damming, and continued upstream water mismanagement, we know that even if there is more rainfall this year and perhaps even next, we are only a few years away from yet another crisis in Basra – absent a significant campaign by the government to prevent pollution in Iraq's waterways," said Human Rights Watch's senior Iraq researcher Belkis Wille, author of the watchdog's July report on water provision in Basra.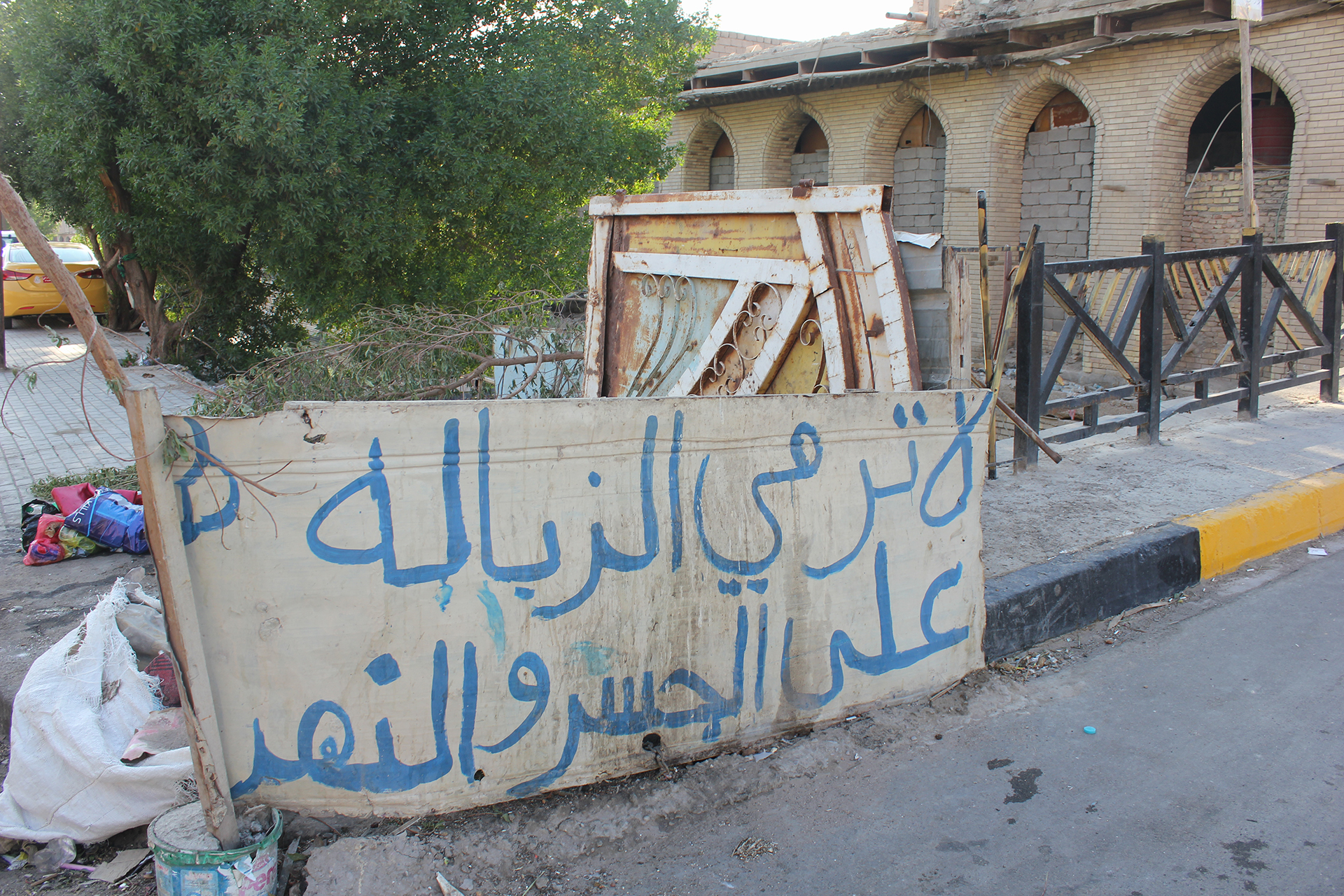 Iraq's prime minister has promised better water services to the city, and al-Ajwady, the deputy governor, said more than 60 projects to improve water quality for Basrawis are currently in the works. But the question remains whether progress will be made in time to avert another crisis.
Murky future
Politics have also muscled in on Basra's water infrastructure. Some observers say the central government's failure to quell last year's protests – or address the city's longstanding issues – essentially sealed the political fate of Iraq's previous prime minister.
Armed groups from the Popular Mobilisation Forces (PMF) say they control flood defences such as berms and ditches on the Majnoon oil field – about 85 kilometres from Basra, the field is one of Iraq's largest oil reserves and was threatened in March by the heavy rains.
The PMF (Hashd al-Shaabi in Arabic) consists of more than 60 mostly-Shia armed groups, many of which formed in 2014 to prop up the Iraqi army in fighting IS, which claimed it was establishing a caliphate for Sunni Muslims, who are the minority in Iraq. The PMF has since become an official part of the security forces, and is also an increasingly powerful force in Iraq's sectarian politics.
In Basra, the PMF has also become more and more involved in public services and construction, heavily publicising its role in water management in the predominantly Shia city. Last September, it released a video showing efforts to remove debris from a waterway, although it was not clear which one.
"Today, there are no battles, so they [the PMF] use some of their equipment to help," said al-Ajwady, the deputy governor, adding that the country's Ministry of Water Resources was unable to deal with last year's flooding on its own.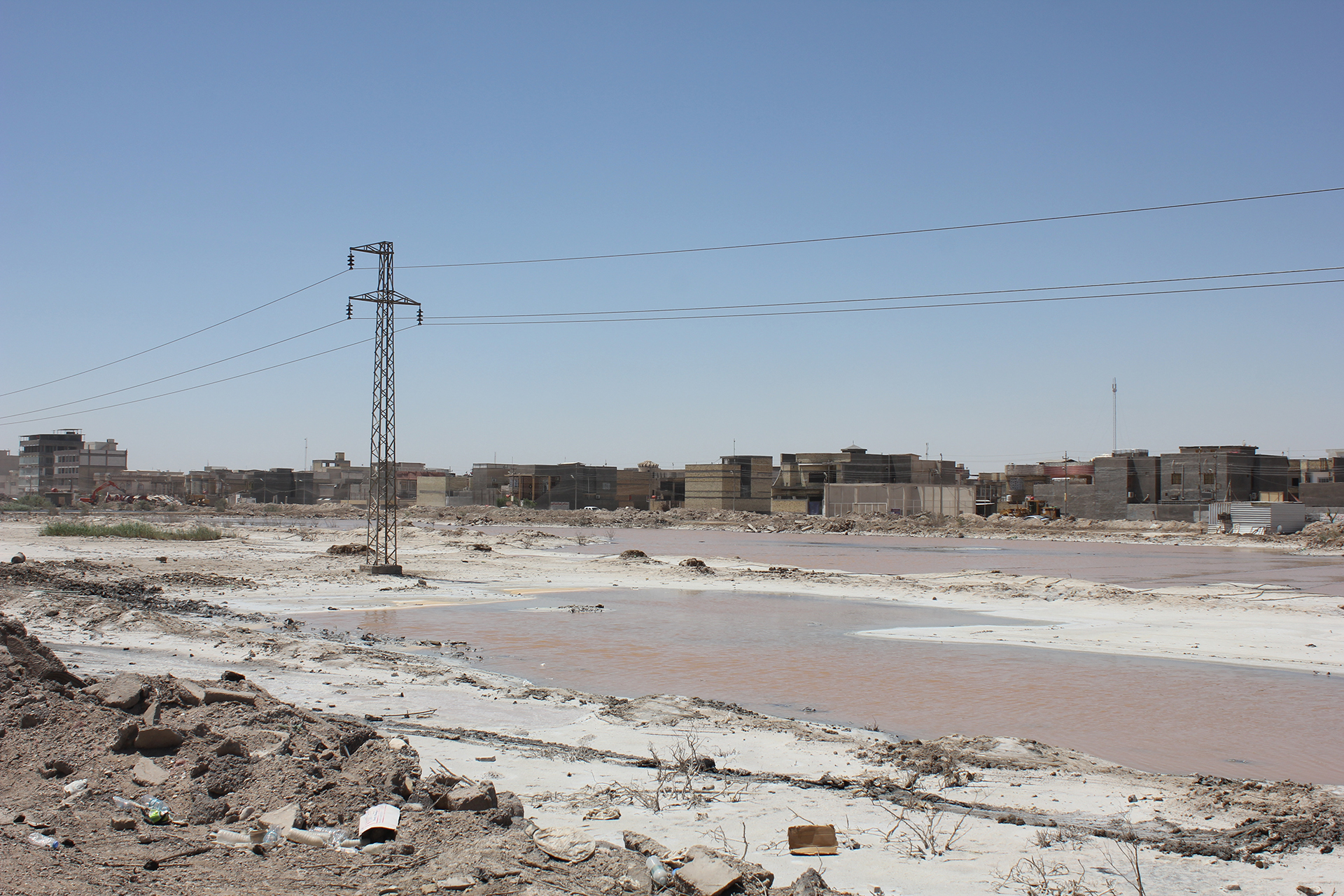 Back to school
With the start of the school year approaching, children remain particularly vulnerable to the ongoing water problems. The NRC's Peyre-Costa said children last year were getting sick within only a few days of returning.
One of only 12 schools the NRC was able to help renovate was the Al-Sabilat Elementary School for Boys in the town of Abul Khasib, about 20 kilometres south of Basra city. Before renovations, the school lacked clean running water and enough bathrooms, according to headteacher Hani Ibrahim Khalil.
During last year's crisis, Basra had, on average, just one toilet for thousands of pupils.
Khalil is now proud of his school's shiny new taps, and pointed at ceramic sinks printed with sky blue flowers.
His pupils, who already benefited from the retrofitting last year, were equally excited about their new facilities. "Can you believe that the students went in even when they did not need to use the toilet, just to look at it and come out again? Can you imagine?" Khalil asked.
Khalil and his school were lucky. But dilapidated tanks and pipes at many other schools tell the wider story of Basra's water woes. Patience, after decades of widespread neglect, is wearing thin, especially as many see no real progress in the past year.
"There have been no real solutions," said Safaa al-Dahee, an activist and director of Basra-based development NGO Injaz. "All that happened was a media bubble by the government claiming to provide solutions. The truth is the opposite."
Translation by Nour Youssef and Ghaith Alhallak; additional reporting by Essam Sudani
(TOP PHOTO: Basra water canal littered with rubbish, plastic and debris in October 2018.)
lp/pd/as/ag