Some 70,000 Syrians are stranded in a demilitarised zone on the Jordan-Syria border, with aid severely limited and subject to tight restrictions. IRIN can reveal that while the UN delivers assistance by crane or by contractor, the US NGO World Vision is taking a different and controversial approach: using a "moderate" Syrian militia to help bring in supplies.
Aid agencies have tried a range of workarounds to deliver help since Jordan sealed off the area – known as the "berm" – following a June attack by so-called Islamic State. The UN's efforts have delivered some food to more than 46,000 people and maintained a minimal water supply. A service centre has also been built in Jordanian territory to provide medical care.
All those trying to help the stranded Syrians are treading a fine line on the humanitarian principles of impartiality and independence. Because it can't enter the berm, the UN has engaged contractors vetted by the Jordanian Armed Forces – themselves unable to enter the area – to do humanitarian distributions and related tasks inside the no man's land, along the lines of a plan reported exclusively by IRIN in October.
World Vision, however, has opted to pay a logistics contractor affiliated with a militia run by Syrian businessman Rakan Khdeir and backed by Jordan. Khdeir's militia provides armed protection. While this route has its critics, the NGO says it's effective and getting aid where it needs to go.
And, according to one well-placed source, one of the UN's contractors, First Technical Support Company (FTSC), is in fact paying the same militia to provide security for its own food distribution.
Mageed Yahia, the World Food Programme's country director in Jordan, told IRIN any security arrangements made by their contractor, FTSC, was the business of the contractor, not the WFP.
"They are supposed to arrange their own security. We told them that we can't provide it… it's not under our obligation" he told IRIN. "This is what we've been allowed by the government: distribution can only be done inside the no man's land, and we can only do a distribution if a contractor carries it out."
UNHCR, UNICEF and OCHA were also contacted by IRIN for this report but declined to discuss details of contracting arrangements at the berm.
A lawless zone
On Saturday, a car bomb exploded at Rukban, the larger of two settlements on the berm, killing at least six and injuring more than 14. It was the fourth blast in the demilitarised zone in seven months. It was also a reminder that tens of thousands of civilians are stranded in an area that has been infiltrated by IS on several occasions and is too lawless for most aid agencies to enter.
The Syrians see the Jordanian side as a beacon of stability: "I feel afraid when I go to the Syrian berm alone," said Asmaa, a mother of four living in Rukban (she asked IRIN not to use her real name for her own security). "I feel more confidence and safety when we see the Jordanian berm, because it's organised and has guards. There are people there who stay up at night to protect it, and protect the people in it."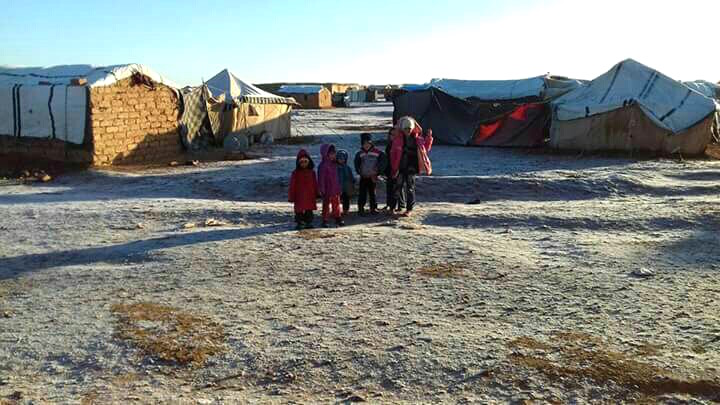 In mid-2014, Syrians began piling up at the berm's two crossing points: Rukban and Hadalat. Some were granted entry. Most were not.
Under pressure from the international community, in early 2016 Jordan increased aid and admissions. But after an IED killed seven troops on 21 June, entries ceased and the area was declared a military zone. Now, more than 70,000 people have amassed on the berm.
Only a trickle of aid has entered in the more than seven months since that June blast, and that's why Khdeir, the leader of a Syrian militia known as the Tribal Army (full name: Free Tribes' Army), says he began meeting with aid agencies in late August – he was frustrated with the pace of the UN delivery system.
Sheikh Rakan, as Khdeir is also known, has close ties to the Jordanian Armed Forces. In an interview with IRIN, he disclosed that his salary bill – including costs of $300 per Rukban-based fighter per month – is paid by Jordan, which also supplies his weapons. Khdeir told IRIN he had deployed more than 130 men to quell the violence in the Rukban "camp" and counter IS.
Sheikh Rakan's favoured aid partner became World Vision. "I felt their humanitarianism. What joined our beliefs was that they love order and I love order. This is very important," he said.
A working relationship commenced in September, and one senior humanitarian worker called the Tribal Army "the new favourite child of Jordan".
"Our role is to receive aid from the border, take it to the warehouse, protect it, and then protect the World Vision team as they distribute it," explained Khdeir.
Dodgy deal?
World Vision has contracted a Jordanian firm connected to Khdeir, Al Badia Logistics Services, to implement the deal, which included drilling a borehole just inside Syria.
A spokesman for World Vision told IRIN: "We have a commercial relationship with Al Badia Logistics Services to deliver goods to the berm for distribution. Payments have been made for services delivered as part of that contract."
Working so closely with an armed group has upset some in the humanitarian community.
"The nature of the agreement they have is so dodgy," one senior humanitarian said of World Vision's collaboration with the Tribal Army. "It's so far from what I'd call normal humanitarian conduct."
Describing World Vision's access as "very instrumentalised", another aid worker asked: "How can you provide humanitarian assistance through an actor, a military actor, no less?"
But World Vision defended its approach.
"In situations like this, there are no perfect answers," a spokesman for the NGO told IRIN. "We take great pains to follow humanitarian protocols and principles, carrying out assessments and checks in deciding who we work with. In our request for access to the berm, there were no preconditions requested or agreed that contravene humanitarian principles."
Khdeir himself seems aware of the apparent contradictions of a militia doing humanitarian work. He said he met with "all the NGOs" but was frustrated at how slowly most of them moved. "Right now, we're in a time of war, emergency. Making the process democratic won't facilitate or ease anything," he told IRIN.
World Vision says it has distributed 4,000 hygiene kits and 3,000 packages containing baby clothes, a relatively small part of the total aid response at the berm.
With the Tribal Army as facilitator, World Vision has also trained some Rukban residents to carry out a rapid needs assessment of 600 families. IRIN met more than a dozen of these refugees brought into Jordan for training.
The survey found that hunger was the top concern. The surveyors themselves appeared to confirm that: every one was thin, some even gaunt. All claimed to have lost weight while at Rukban, and none ate more than a single small meal per day.
Allegations and attacks
In addition to these ethical questions surrounding humanitarian principles and neutrality are other serious allegations.
Omar al-Beniai, an activist with a local Syrian Bedouin tribe, accused the Tribal Army of preventing some civilians from accessing medical services, selectively distributing World Vision aid to friends and allies, and sending some back to contacts in Daraa inside Syria, where it could be sold for profit.
Al-Beniai said the Tribal Army is a US and Jordan-backed proxy established to fight IS, and that it had strayed far from its initial mission. The US and Jordan maintain a joint special forces presence near Rukban.
Khdeir dismissed the accusations, and World Vision insisted that its aid delivery is closely monitored.
"We're confident that the hygiene kits from our first test distribution, at the beginning of November, reached the children and families they were meant for," a World Vision spokesman told IRIN.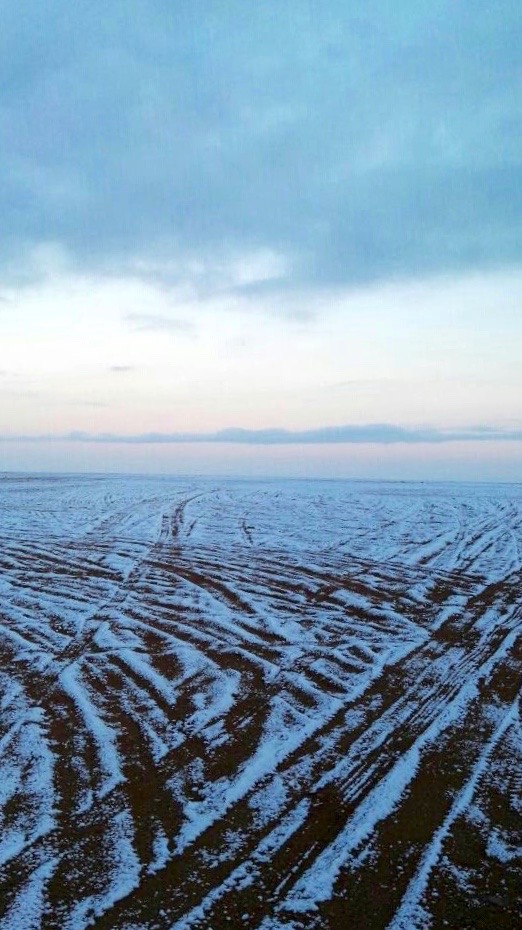 "We carry out the best monitoring we can in situations like this, including checks of the identification of beneficiaries, and we don't have any evidence to suggest that these supplies – which included diapers, nappy rash cream, toothpaste and laundry detergent – were diverted."
Regardless of its merits, the aid operation itself may have become a target: on 17 December, a motorcycle-riding suicide bomber blew himself up outside World Vision's warehouse in the berm area. The fire killed several Tribal Army militiamen guarding the warehouse and destroyed up to 12,000 children's clothing kits that World Vision said had been donated by UNICEF.
What next?
The technicalities of how aid is delivered may seem dry but they can mean the difference between life and death.
Well-placed medical sources assert that at least a dozen children have died for lack of health care since June, while women in pregnancy and labour are at high risk, and there is now an outbreak of hepatitis A.
While World Vision's modest operations continue, the larger UN effort continues to work with both the Jordanian Armed Forces and private contractors to find ways to deliver aid into the berm area, without entering themselves.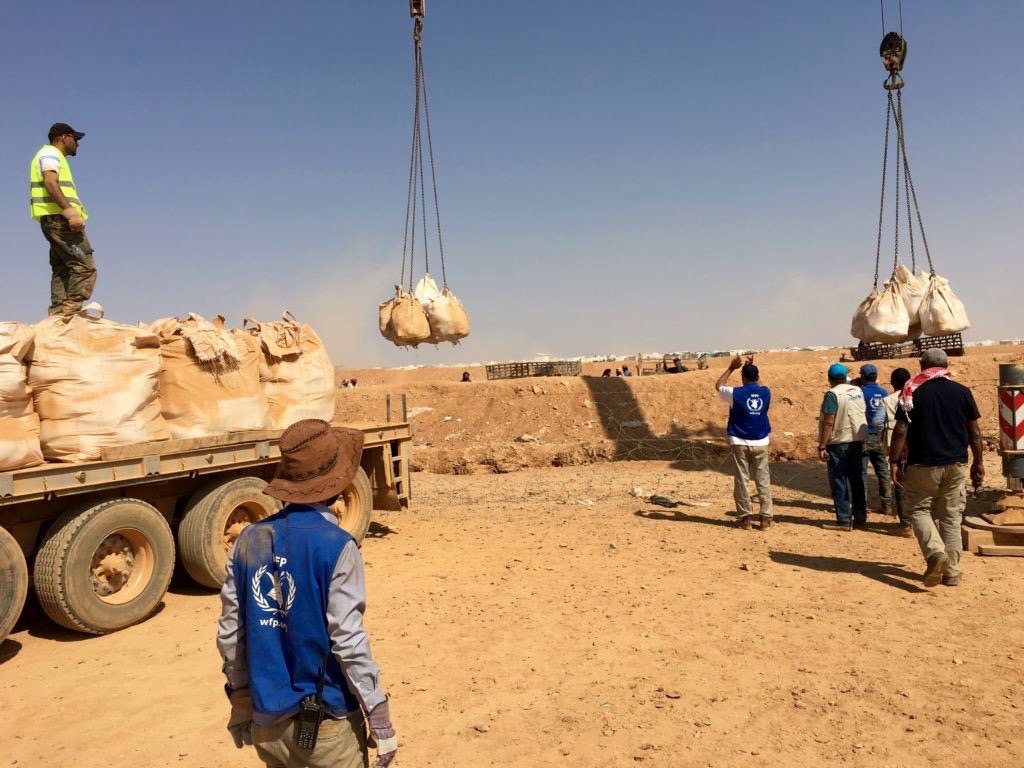 Since June, UN-run aid operations even to the berm's southern edge have been a start-stop affair, and anything further inside is carried out remotely (aid has even been delivered by crane), or through contractors.
MSF, like other aid agencies, has not been able to work in the area since June. Luiz Eguiluz, Jordan country head of Médecins Sans Frontières until the end of last year, said the UN system isn't getting the job done. "Remote support doesn't address the needs of the people at the berm. Not having trained medical professionals there is a problem," he told IRIN.
The aid boss who called the Tribal Army deal "dodgy" said the main worry was about how it might affect everyone else: "Our concern is that World Vision's operation doesn't jeopardise the rest of the operation." However both the World Vision and UN operations appear mired in security agendas.
The Jordanian military, senior aid workers say, has already had a strong influence on the selection of UN contractors. One senior UN figure confirmed to IRIN that since the area is a military zone, tenders for work there can only be awarded to contractors pre-approved by the Jordanian Armed Forces. Jordan continues to seek UN and donor support for a range of security measures related to the berm that go far beyond the humanitarian operation.
The UN says it expects to begin a second food distribution cycle on 28 January. But at the berm, plans derail easily.
sw/as/bp/ag
(TOP PHOTO: The UN has set up a service area on the southern side of the berm area with the capacity for more secure distributions. Photo: WFP, November 2016)