Four years after an historic agreement brought a nominal end to a decades-long armed conflict in Colombia, the process to restore peace has stalled and a continuing rise in violence has served as proof of its failure to end hostilities.
Among the many human rights abuses committed before the accord was signed in Havana, Cuba in 2016 were thousands of extrajudicial killings by state forces known as falsos positivos, or false positives, whereby innocent civilians were killed and falsely made out to be combatants.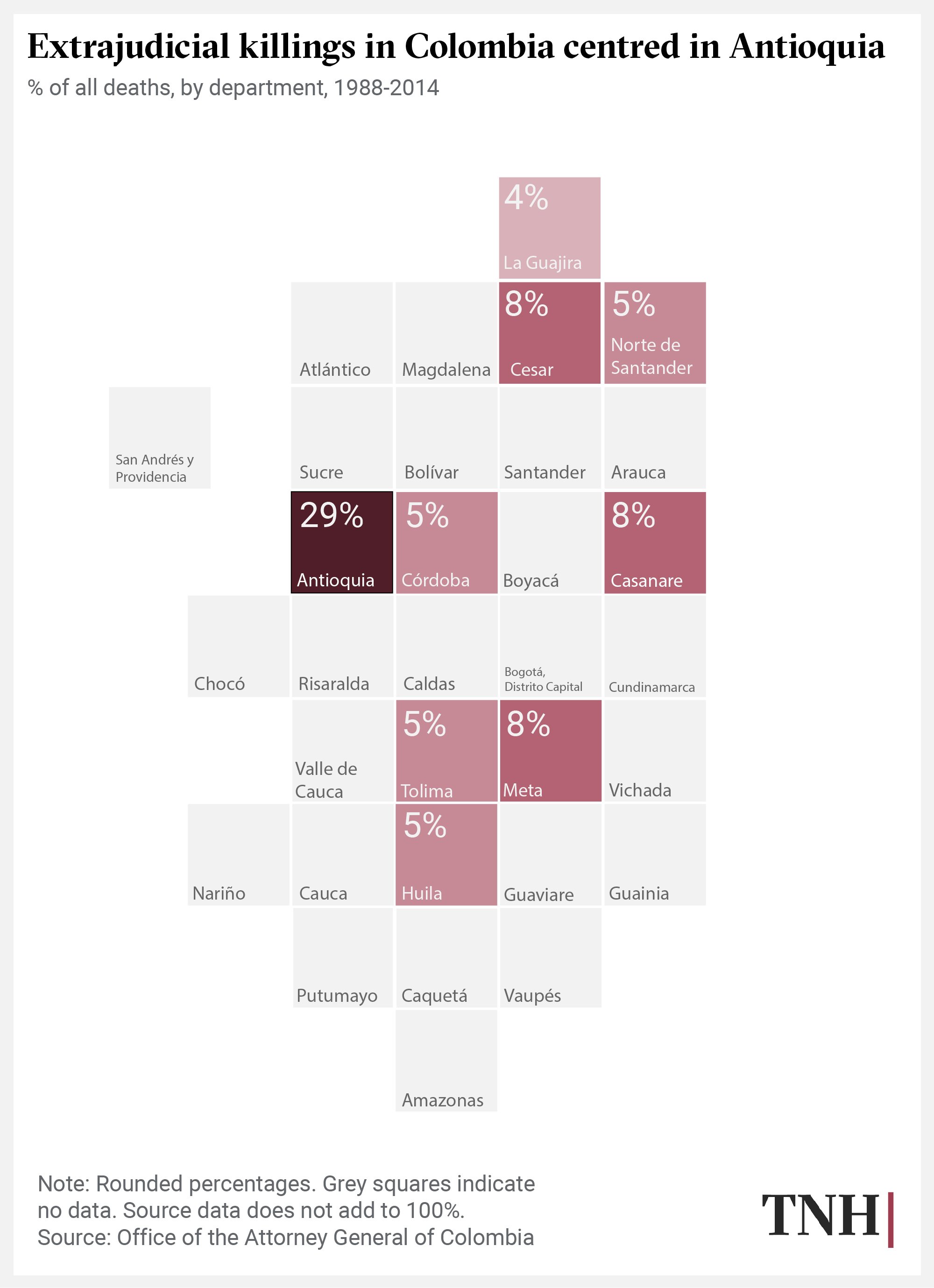 In an interview with The New Humanitarian, Jacqueline Castillo, president of the Mothers of False Positives, or MAFAPO, a group looking for justice for the victims' families, says the investigation of those abuses through a transitional justice body has been agonisingly slow.
Read more → Is a new Plan Colombia putting a fragile peace at risk?
Castillo says Colombian President Iván Duque, long critical of the peace deal, has sought to derail the objectives of the Special Jurisdiction for Peace (JEP), leaving the tribunal – the role of which was clearly set out in the Havana Accords – to regularly fend off his political attacks.
In 2018, a report by the public prosecutor's office to the JEP documented over 2,200 false positives between 1988 and 2014, peaking between 2006 and 2008, but MAFAPO believes the real number could be as high as 10,000.
Castillo joined MAFAPO after losing her brother when he disappeared from the Colombian capital, Bogotá, in 2008 – he was eventually found, two months later, in a mass grave hundreds of kilometres away, in Norte de Santander department.
Here is the interview, edited for length and clarity.
TNH: Could you explain how the false positives were carried out?
Jacqueline Castillo: These killings were the result of a state policy through which soldiers were offered promotions, medals, even money, for delivering more combat kills. The scandal broke in 2008, under Álvaro Uribe's government, when it emerged that people were being recruited with false promises of work and taken to conflict zones, where they were killed and dressed in the uniforms of guerrilla groups.
Former members of paramilitary groups told us that they were paid by the army to bring them civilians for this purpose, and that in return the paramilitaries were given free rein to conduct their activities. Over the past 12 years we have come to realise that the army and the paramilitary groups have never really been at war, that they operate essentially as allies.
TNH: How did the killings affect the families and communities left behind?
Castillo: Our lives were changed completely. We are caught up in all these investigations, we spend all our time at hearings, and we've been put in danger ourselves, because we're having to fight against the state. It has also affected us economically, as we've accumulated debt while searching for justice. Some families are affected more than others – in one case the man killed was the only provider for his two young children, just two and four years old.
TNH: Did the 2016 peace agreement, and the launch of the JEP, help in your fight for justice?
Castillo: Before 2016, we had been able to secure a few convictions through the criminal justice system, but progress was slow. Through the JEP, many soldiers have admitted that they were put under pressure to produce combat kills, but the military leadership have never told the truth about their involvement, and by joining the JEP they have been set free.
I don't have much faith in this peace process. The military holds all the power in Colombia, and even more so through the peace agreement, as they have been able to pick and choose which elements to apply based on what suits them. The agreement did more for the guerrillas than for the victims – it allowed the FARC to become politicians, but has failed to provide justice for the victims.
TNH: Were you involved in the peace process at all?
Castillo: No, we were never consulted. One of our former members was invited in a personal capacity, but she had already left MAFAPO by that time, and we were never informed of her activities. If we had been involved, we never would have allowed the false positives to be judged by the JEP. These were not war crimes but crimes against humanity, and should have been tried through the criminal justice system. These victims were not combatants; they had nothing to do with the conflict.
TNH: Has the international community forgotten about the violence in Colombia?
Castillo: I don't think the international community has forgotten about us at all; we have always received so much support from abroad, far more than we could ever hope for within Colombia. Back in December 2019, we worked with the European Parliament to pass a proposal to put pressure on the Colombian state to move forward with these investigations, to help provide justice for the victims.
We have also received support from the International Commission on Missing Persons and the International Organization for Migration [the UN's migration body]. They have helped finance our fight for justice and our educational outreach work in Colombia, and supported our efforts to raise awareness and build relationships in the international community.
TNH: With violence escalating again, is Colombia now at risk of returning to conflict?
Castillo: I don't think the conflict ever really stopped; the violence against civilians and social leaders always continued, although recently things are getting worse again, right across the country. The crimes of the state have continued too, as we saw with the death of Javier Ordoñez [a 46-year old lawyer killed by the police in Bogotá on 9 September, sparking protests], and of those killed in the unrest that followed, at the hands of the police. We are still having to fight harder than ever.
The false positives never really went away either, although they are becoming more frequent again, especially in areas where the conflict has continued. Back in April, I visited a community in Catatumbo region [near the Venezuelan border], to meet with the victims there, and I heard about five new false positive cases in that area already this year. They are especially targeting poor or vulnerable people, who lack the means to seek justice.
TNH: Can truth and justice be achieved while the violence continues? And what is the plan now for MAFAPO?
Castillo: Our hope is that the military will finally recognise the truth. Then we can start on the road to reconciliation. We are willing to engage in a process of forgiveness, but the most important step will be achieving guarantees that crimes like these are never forgotten, and will never happen again. We have asked the International Criminal Court to take these cases forward, but there is a long queue. They will investigate eventually if Colombian justice continues to fail, but it will be a slow process.
MAFAPO will keep working with victims in different regions, all over Colombia. We will keep educating people, to show that the impact of conflict has been felt right across the country, and to make sure that these crimes are known internationally too, so that the world can help to secure justice, and so that the victims are never forgotten.
Data visualisation by Abigail Geiger.
cw/pdd/ag