Health workers across the world have been thrust on the front lines of the fight against COVID-19, often working in intense and dangerous conditions. That's an experience Syrian physician Amani Ballour, who ran an underground hospital while bombs fell around her, can likely relate to (and then some).
Her work is now featured in the Oscar-nominated documentary The Cave, described by critics as "blistering", "harrowing," and "inspiring", which follows Ballour as she runs the hospital in Syria's Eastern Ghouta, a rebel-controlled part of the country near Damascus that was under siege by forces loyal to President Bashar al-Assad from 2013 to 2018, subject to heavy shelling and air strikes. 
Directed by Feras Fayyad, it features scenes of Ballour and her colleagues dealing with the sick and injured, interspersed with moments of camaraderie amongst the staff and patients. Ballour, fiercely critical of al-Assad's government and Syria's ally Russia, is portrayed as calm and determined while the hospital is bombed. She manages care for victims of a chemical attack and generally works under continuous stress, danger, and uncertainty. 
Ballour, who was forced to evacuate Eastern Ghouta when it was re-taken by the government in 2018, has since left Syria and opened a charitable foundation, the Amal (Hope) Fund, to support women and girls in conflict zones. 
The attacks on hospitals did not stop, though. This week, a UN investigation found that the Syrian government "and/or its allies" were likely responsible for a series of attacks on hospitals and other civilian facilities in 2019, including some that were on a UN no-strike list.
Last month, Ballour visited Geneva to attend a screening of the film and draw attention to humanitarian needs, especially in Syria's northwest. Nearly a million people recently fled a government offensive there, and many are still sheltering in desperate conditions. 
Ballour, who said she has never been able to watch the film straight through, spoke to The New Humanitarian on 9 March, before the first cases of COVID-19 were confirmed in Syria. But she was already concerned about that and more, including the fate of displaced people in Idlib, and if, after nine years of war, the international community is paying any attention to Syria.
This interview has been edited for length and clarity. 
TNH: After watching that film, a lot of people would want to ask: "Are you okay? Do you sleep?"
Amani Ballour: Now, yes. When I left Ghouta [two years ago], I was very hopeless, really tired, very traumatised. But now I'm better. Because people still need help, and I have to do more. I have to be the voice of these people. I have the opportunity to go to the media and to meet politicians, so this is my responsibility now. 
TNH: Do you think that films, news reports, or TV can make any difference to what happens in Syria?
Ballour: The main goal is to tell the truth… to tell people we are not terrorists. Everyone has hope, even in very difficult circumstances. I thought we were going to die [when I was working in the hospital]… I said [to myself]: "If people see this film, maybe they will help us, they will put pressure on their governments."
I have lots of wishes [like that], but [so far] nothing has happened. 
TNH: If you could do it all over, would you work in the hospital again?
Amani Ballour: Of course. I did what I had to do, and I would never regret what I did. No one can tell any doctor to stop working, to stop helping people.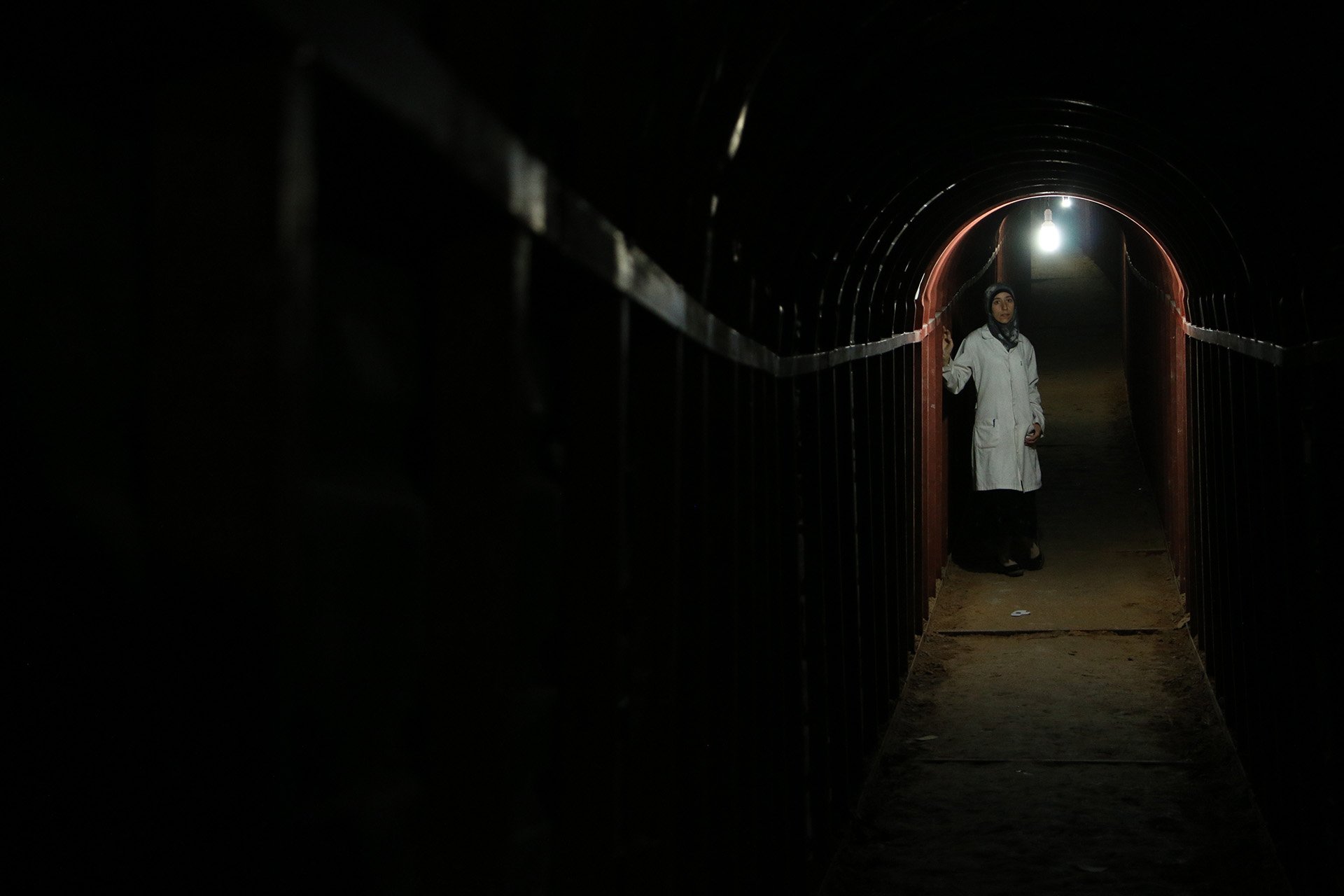 TNH: What about your family back in Syria, does the film coming out make it dangerous for them?
Ballour: Not only the movie — my work as a doctor, just to be a doctor [is dangerous]. The al-Assad regime arrests [activists'] families. Some of them, they kill. That's why I always feel worried about them. I was very worried about them after the [release of the] film, but nothing happened… [But] they don't feel safe. 
TNH: How did the film come about?
Ballour: I refused at the beginning. I said, "no, it's very dangerous." My main goal was to protect the hospital, to make it safer, and to make tunnels [to expand the hospital's underground network]. Because if [the government] bombed the hospital, they would kill the medical staff, and destroy everything. 
[But] we witnessed too many things and no one did anything for us. The international community was just watching…. I felt hopeless and I really wanted to tell the truth. 
The sounds of explosions play in the auditorium as technicians prepare for the screening. Dr Ballour jumps in her seat and laughs nervously.
TNH: What happens when you hear that sound?
Ballour: I really feel it [gesturing to her heart]...I feel it's beating quickly. I feel stressed, very stressed. That sound to me… in the hospital, it means there's a massacre or maybe [the bombing] will be on the hospital. I feel worried and like we have to be ready.
TNH: How did you pay people working in the hospital? Where did you get medicine and equipment? How do you run a place like that?
Ballour: At the beginning [of the siege in] 2013 and 2014, it was a very hard period. Some people died because of the lack of medicine. Some children died, and [so did] cancer patients. 
But after that, we had tunnels that we used to smuggle medicine and medical supplies. Some people who worked with the al-Assad regime sold us medicine and medical supplies at very high prices.
When I became a manager of the hospital, I had support from MSF [Médecins Sans Frontières]. And SAMS also – the Syrian American Medical Society – they supported a part of the hospital with doctors' salaries and fuel. 
When [the government] tightened the siege, everything became very expensive. So every month I wrote what we needed and the prices…but sometimes when [MSF] sent money, the prices had [already] changed.
TNH: They aren't shown in the film, but somewhere in the background of all this are the two rebel groups that were controlling the area. How was your relationship with them?
Ballour: They are not, you know, not very good people, but compared to the al-Assad regime they were much better. In my area there was Failaq al-Rahman [the Free Syrian Army affiliated rebel group]. They were not from the area, so they were forced to work with the local councils, and to respect our community... They couldn't meddle in our work because we said if they did something bad, we would stop working. And they couldn't stay without us.
Read more → Understanding Eastern Ghouta in Syria
TNH: Would they bring their men to you if they were injured?
Ballour: They [Failaq al-Rahman] had their own emergency room, and two doctors working with them. Our hospital was for civilians. But if one of their injured came to us, well, of course we take all patients.
TNH: For some it was quite unusual for a 29-year-old woman to be in charge of a hospital. Would you call yourself a feminist?
Ballour: When I was a student I didn't think of women's rights. I insisted on not getting married [then], but I wasn't a feminist. I wanted to be a paediatrician. That was my passion. I don't want to say I'm a feminist because I want to defend all human rights. I care about all rights, not only women. Of course, I believe in justice for women. I faced problems because I'm a woman, and I will help women to defend themselves.
OK, I'm a feminist.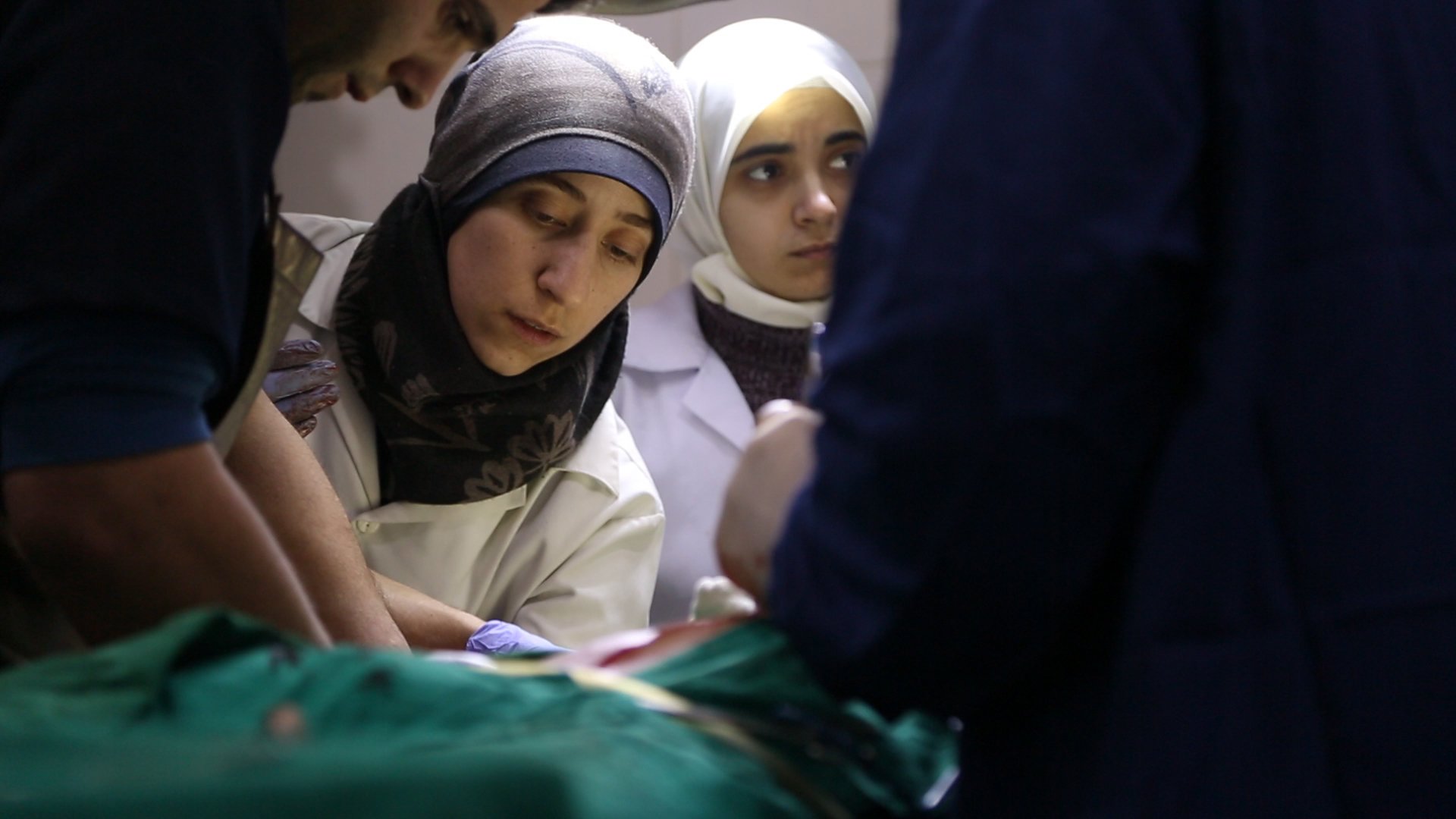 TNH: Right now there is a lot of diplomatic activity around the situation in northwest Syria, and a truce was announced a few days ago. What do you think will happen in Idlib? 
It's now a catastrophic situation. About a million people have nowhere to go, they are dying… sleeping under trees, on the streets. I really don't know what will happen. The Turkish border is closed and they are trapped.
TNH: The government and Russia say they have been targeting terrorists in Idlib. What is your response to that?
Ballour: They always say "terrorists, terrorists," but what about this million people? Yes, there are some terrorist groups but millions of civilians... In Ghouta, we didn't have ISIS [so-called Islamic State], just a few soldiers with [the extremist group Jabhat] al-Nusra. But they bombed and destroyed all of Ghouta. And now it is happening in Idlib. In Ghouta they always targeted hospitals, schools, shops: civilian infrastructure. They didn't target the armed groups.
TNH: The film shows you and your colleagues treating the victims of a 2018 chlorine attack. Do you think that and other chemical attacks finished the resistance against al-Assad?
Ballour: The last one, the chlorine attack, was in 2018, but… the biggest one was in 2013, with sarin gas. It was a very big shock to me. It was very early, 2013, and at that time we were very hopeful that the siege would end, the bombing would end. After the chemical attack, I realised that they would kill all of us. 
We didn't know [at the time] that it was sarin; we found that out later. We just saw people were suffocating... My house was very near, so I arrived to see the big square in front of the hospital full of people. I felt like I was dreaming.
"After the chemical attack, I realised that they would kill all of us."
The most difficult thing was to choose; because as a doctor I had to choose who I could help. I started with children, but others died because they needed emergency procedures. They were suffocating.
I feel really guilty because I chose, but I had no choice.
TNH: What do you think the impact of COVID-19 will be on Syria?
Ballour: People are scared because they know that this regime doesn't care about them.
But if the coronavirus reaches the northwest, it will be a disaster, because people in the camps have no health system. They don't have hospitals, the al-Assad regime destroyed a lot of hospitals.
TNH: You are now meeting with ambassadors and international figures. How do you feel about the international community?
Ballour: They let us down. I'm very disappointed. We thought that they were going to help us. They were talking about human rights and human dignity. This is what we wanted when the demonstrations [against al-Assad] started [in 2011]… to live in a democratic country. I was sure that they were going to help us, but they did nothing, they were just watching. I don't think they have the will to help Syria.
bp/as-js