At a glance: The crisis in Cabo Delgado
Around 65,000 people now displaced as violence spreads.
Military operations have caused insurgents to scatter and target civilians.
Residents face double misery after Cyclone Kenneth ripped through the region in April.
Hunger rising as residents abandon their farms.
Government unwilling to discuss the crisis and few aid groups on hand to help.
Analysts describe a multifaceted insurgency with unclear objectives.
First, her house was hit by a deadly cyclone that ripped off its flimsy metal-sheet roof. Then, six months later, suspected Islamist insurgents stormed Atija Malique's village and burnt down the parts of her home still standing.
In Mozambique's northernmost Cabo Delgado province, many residents face the same double misery: struggling in the aftermath of April's Cyclone Kenneth – the strongest cyclone to ever hit the African continent – they also have to contend with spiralling violence that is driving more and more people from their homes.
A series of attacks in recent weeks blamed on the extremist group known as Ansar al-Sunnah has left dozens dead and villages empty. Residents describe it as some of the worst violence since a poorly understood insurgency began in this gas-rich region more than two years ago.
The attacks come as the Mozambican military – supported by Russian mercenaries – attempts to wrest back control from the militants, who are lashing out against civilians in response.
The violence has left hundreds dead and displaced around 65,000 people since late 2017, while many more are growing hungrier by the day as farmers abandon their fields.
Vehicles overflowing with displaced families are now seen bumping down sandy roads on a daily basis, aid workers said.
As needs grow, residents and aid groups say the government has been unwilling to openly discuss the crisis and help those in need of support, while the few humanitarian agencies working in the region have been focused largely on cyclone relief efforts.
With no camps for those fleeing violence, displaced people are packed into the houses of volunteer host families, who are themselves still picking up the pieces after Kenneth destroyed or damaged some 35,000 houses in Cabo Delgado.
Though the killers are commonly described as Islamists – recent attacks have even been claimed by so-called Islamic State – the group has not released a manifesto, has no public face, and a religious message has proved hard to discern amid seemingly indiscriminate village burnings, beheadings, and kidnappings.
"Even the government doesn't know who this group is," said Sergio Chichava, a researcher at Mozambique's Institute of Social and Economic Studies.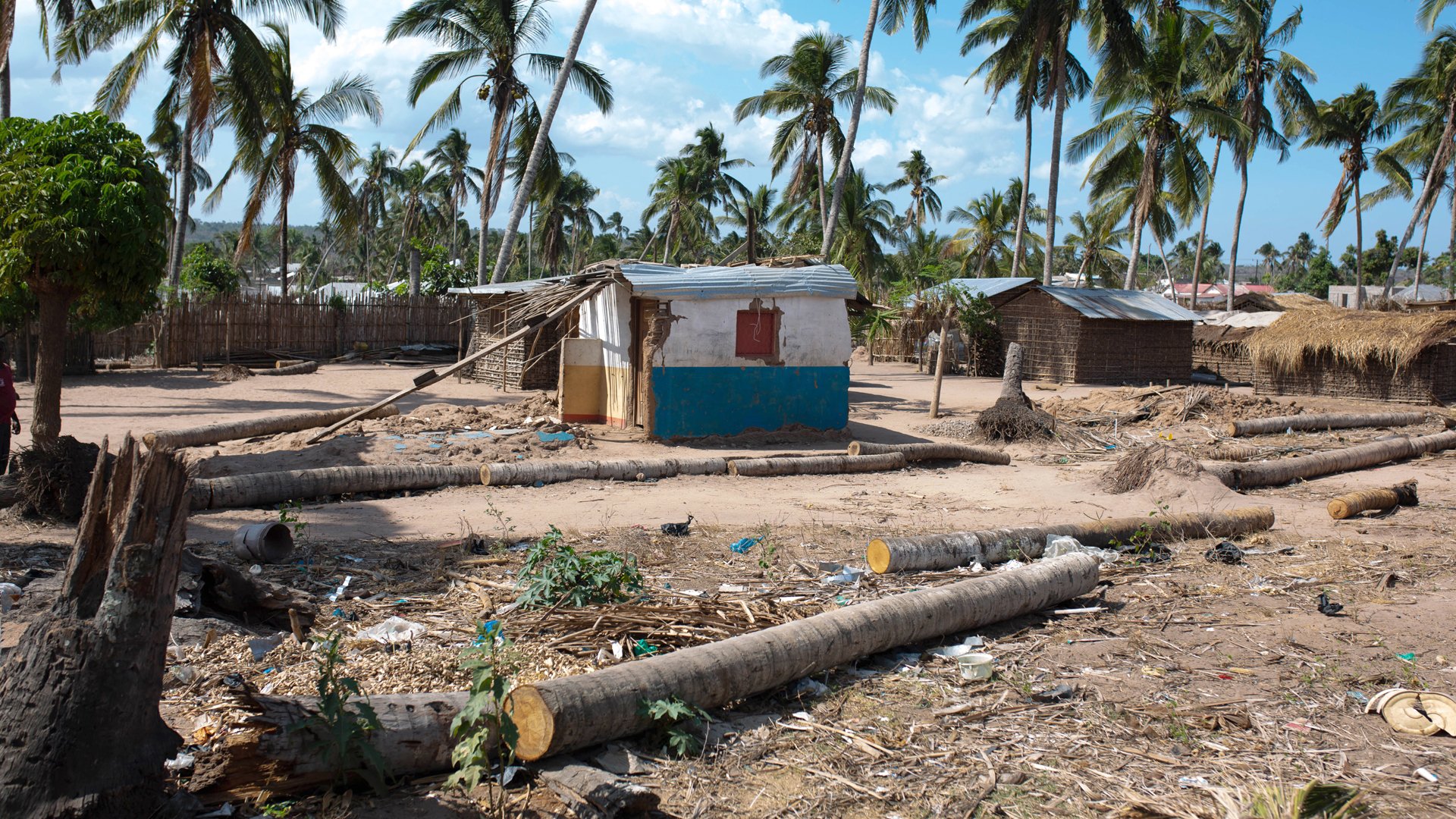 Insurgency smoulders
A majority-Muslim coastal province, the population of Cabo Delgado ranks among Mozambique's poorest despite a wealth of natural resources and white-sand beaches that have attracted tourists from around the world.
The discovery of natural gas – worth an estimated $50 billion – off Cabo Delgado's Indian Ocean coast has led to licenses for big energy firms but little yet for locals, thousands of whom have been resettled from their land to make way for new plants.
These grievances have created fertile ground for extremists – who have little footprint in southern Africa – to exploit, said Chichava. "They are exploiting the poverty of the people," the researcher said.
Read more → Briefing Mozambique's post-cyclone problems multiply
Few know who the group actually is or what they want, but what is clear is that the insurgents are getting stronger. Described as gangs with machetes last year, they now have heavy weapons, military uniforms, and can attack multiple places at once.
Operations by Mozambican soldiers and Russian mercenaries have done little but disperse them. Roving around in small cells, the insurgents have launched dozens of retaliatory attacks against civilians in recent weeks.
"Definitely this is the worst we have experienced," said Simão Bombni, a farmer from Mbau – a small village where dozens of people have been killed since September.
Aid workers say the government doesn't want updated displacement numbers published, fearing it may damage the reputation of a province on which – due to the gas finds – the country's economic future is effectively mortgaged.
"Kenneth was the wind that blew us in. But it's not the only reason we should be here."
The government has not set up camps, meaning most of the displaced have found refuge in host families in safer towns, though some are living in public buildings or even under trees, residents said. Others are so afraid they have fled to idyllic little islands dotted along the coast.
The UN's food agency is providing support to those affected by conflict, but assistance is limited. Few aid agencies were around before Kenneth made landfall – and those that did set up operations are mostly funded to work on the cyclone's aftermath.
"Kenneth was the wind that blew us in," said Margeret Mueller, Oxfam's area manager in Cabo Delgado. "But it's not the only reason we should be here."
Growing needs
As the insurgency spreads, humanitarian needs are growing.
Unable to farm their fields for fear of bumping into insurgents, hunger is now gnawing at residents, many of whom are facing "crisis" levels of food insecurity according to the US-funded famine watchdog FEWS NET.
As part of the post–cyclone relief efforts, some NGOs have been distributing seeds and tools to help farmers replant fields destroyed by the wind and the heavy rain. Many residents are too afraid to use them.
Most people in coastal areas are now surviving on seafood diets – if their small fishing boats weren't obliterated by Kenneth – while inland, residents say they are limited to eating maize and beans they can harvest close to home.
Afraid of fetching wood from forests, residents who lost their houses to Kenneth have ended up rebuilding simple mud huts just half the size. For some unlucky ones, their new or repaired homes were then burnt down by the insurgents.
Thinking only men were at risk, several women in a village called Miangalewa said they took over responsibility for working in the farms and forests themselves. A spate of brutal sexual assaults brought that to a stop.
"Mothers would go to farm with their children, and the children would return alone," said José Elise, a Miangalewa resident.
With limited support, much of the humanitarian caseload has fallen to locals residents. In Macomia, where more than 30,000 displaced people are living, The New Humanitarian found a single-storey house and courtyard shared by 64 people from 19 families. The host, António Alfredo, had never met any of them before.
"That's the way we do things here," Alfredo said. "If people are in need, we help them."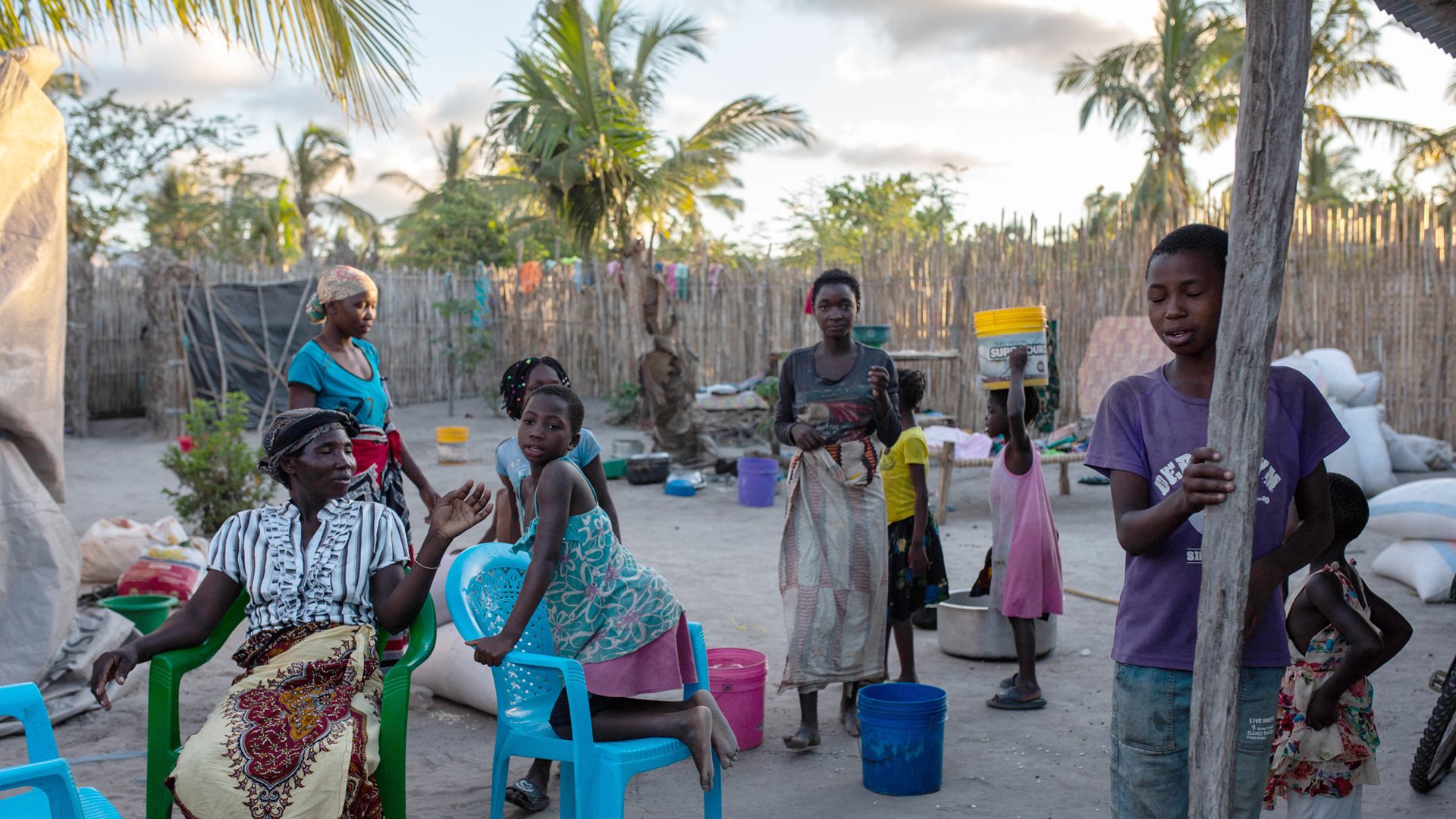 But the hosts need help themselves. Most are still struggling in the aftermath of Kenneth, which pulled down power lines and sent palm trees and baobabs crashing into people's homes. At the local hospital in Macomia, women are still giving birth in tents. Government workers spend their days in airless offices with no power.
"I don't know how we are going to manage this," said Maria Justina, a local government official.
Information vacuum
More than anything, Cabo Delgado's residents speak of fear: of killings and house burnings, but mainly of the unknown. Two years ago, people thought they understood who was behind the attacks: a religious sect called "al-Shabab", which means the youth in Arabic.
The sect – which has no formal ties to Somali extremists – set up mosques in Cabo Delgado to preach a conservative version of Islam. Its members included extremists from Kenya and Tanzania who moved down the Swahili coast after crackdowns back home.
But, with no public statements from the group, few are clear how "al-Shabab" morphed into the macabre organisation it has become.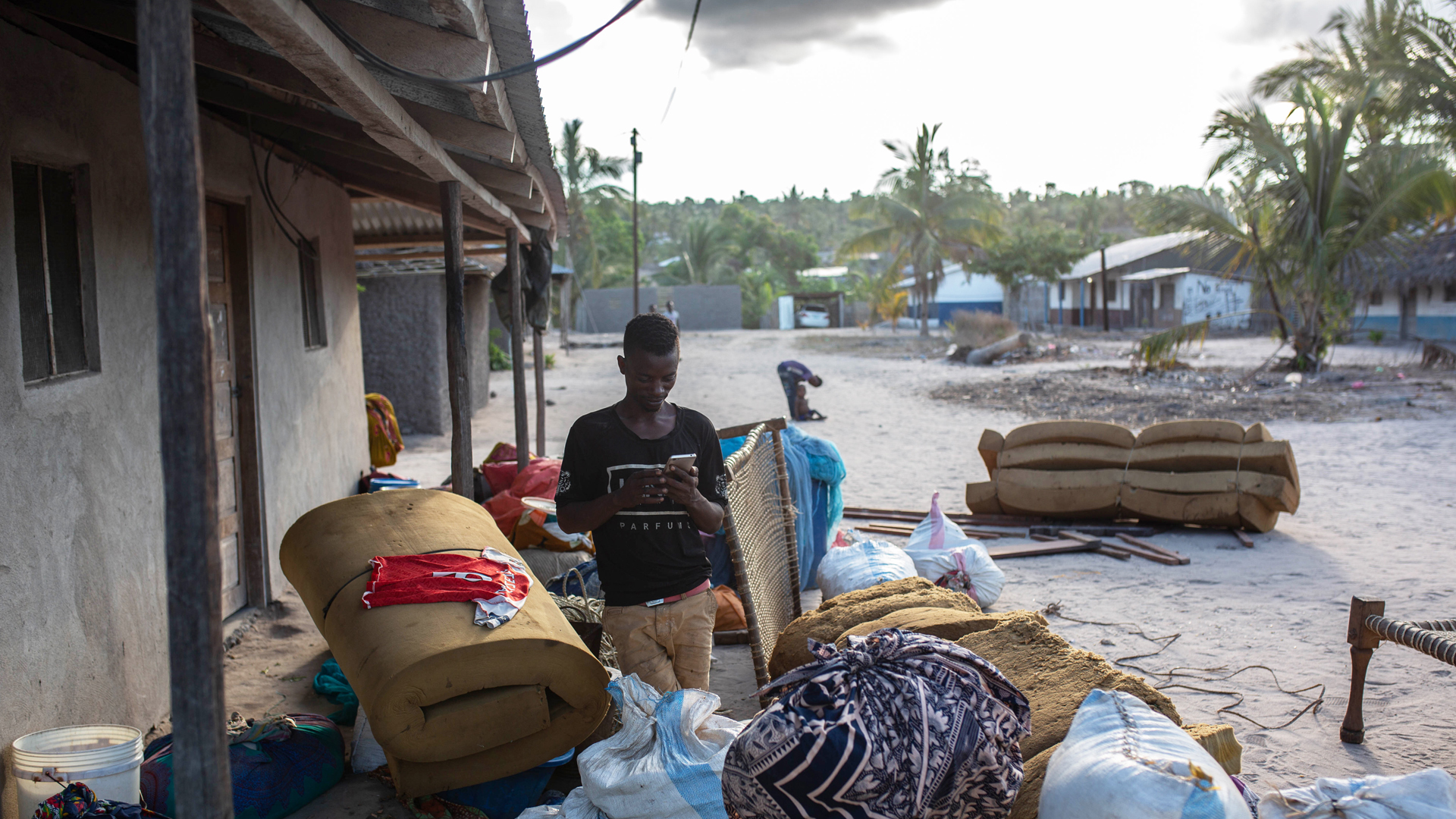 Aid officials and researchers doubt religion is at the heart of the violence and say there may be multiple groups operating here. Impoverished locals, opportunistic criminals, even army defectors are thought to be involved.
A lack of information from the government – which has arrested journalists working in the region – has helped "create a situation of confusion", said Sister Pilar de Puerta, a nun working in Pemba, Cabo Delgado's largest city.
In an information vacuum, conspiracy theories – involving energy corporations, government officials, even the American mercenary mogul Erik Prince – are thriving.
'We are threatened from both sides'
While campaigning for recent elections, Mozambique's President Filipe Nyusi said he would be open to dialogue with the insurgents. But Chichava, the researcher, said "it will be difficult to talk to a group without a face".
For now the government is sticking to a military approach that has been marred by human rights abuses.
In Mbau, two men said soldiers accused them of being insurgents because they had not fled alongside others after their homes were attacked last month.
"It will be difficult to talk to a group without a face."
One was tied up and beaten in front of his 12-year-old daughter; the other was shot in the back and foot while trying to escape. Both survived and were taken to a nearby hospital, which TNH visited.
"We are threatened from both sides," said one of the men, who asked to remain anonymous.
Aid groups are also struggling with a lack of information, although, for now at least, none have been attacked by insurgents. The increasingly militarised space is raising concerns about future humanitarian access.
As their post-cyclone operations wind down, the question is whether aid agencies will now find cause to remain in Cabo Delgado. For residents here, the emergency is certainly far from over – and most have nowhere else to go.
"The cyclone was just a natural event," said Malique, the woman whose house was twice destroyed. "These attacks… they continue to kill."
pk/ag