After months of negotiations, last week Yemen's warring parties failed to agree on a prisoner exchange, but may have settled on a preliminary swap of 1,000 corpses. Moving the war dead is a job that's usually done by health workers, or carefully negotiated by diplomats. But for the past few years in Yemen, one former boy scout and his small team have been going it alone.
After walking 10 hours carrying the dead body, Hadi Juma'aan needed to rest. Far from where his car had failed in the mountains between the northern Yemeni provinces of Amran and al-Jawf, without mobile phone service, Juma'aan closed his eyes and waited for morning to come.
A few hours later, before sunrise, he awoke in a panic.
"A dog came wanting to eat the corpse," he recalls. "I thought the dead had risen. I was terrified."
But once he came to his senses, Juma'aan carried on. After all, bringing the bodies of dead fighters home to their families is his job.
After three years and 10 months of war in Yemen, and more than 60,000 dead by one estimate, Juma'aan is busy. By his count, he and a small team of volunteers have evacuated the bodies of 360 fighters from front lines, and negotiated the release of 170 prisoners of war, without much in the way of financial resources, training, or even plastic gloves.
Beginnings
Juma'aan, who is in his mid thirties, didn't set out to become a body collector. Before the war, he worked as a community activist at a government-run organisation that promoted sustainable development.
But in September 2015, seven months after the fighting in Yemen began, the job came for him. A relative asked Juma'aan, a former boy scout with wilderness skills, for help finding his two brothers who had gone missing while fighting in Taiz province. He found their bodies, was shot in the process by a soldier who mistook him for a combatant, and found his calling.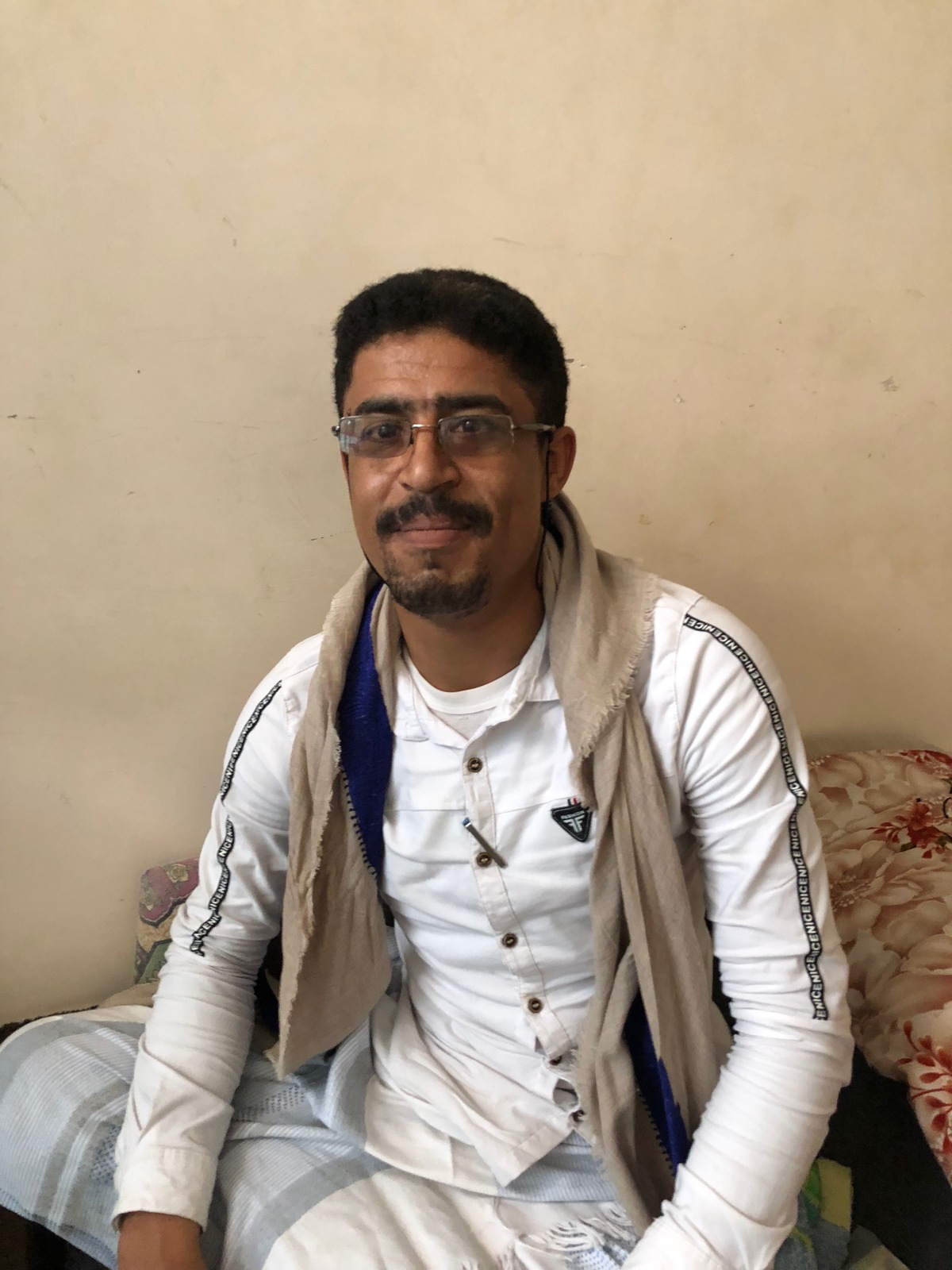 "That is where it all started for me," Juma'aan says, recalling the role his Muslim faith played in his decision to take on the job. "When I saw all the corpses scattered, it struck me. Yes, these were fighters, but they are our brothers and they need to be respected. Our religion tells us that burial is how we honour our dead."
Shortly after that first mission to Taiz, Juma'aan officially founded and registered the Coordination Council for Human Rights, in the hope that operating as a non-governmental organisation would enable him to scale up. He recruited 70 volunteers, including 12 women, and after word spread about his February 2016 evacuation of 11 corpses from a front line in Nehm, east of the capital city of Sana'a, the requests from families began to pour in: they wanted help finding their missing fighters, or bringing home their loved ones for burial.
Yemen's war has pitted Houthi rebels and their allies against the government of President Abd Rabbu Mansour Hadi and forces who back it, including a coalition led by Saudi Arabia and the United Arab Emirates. There is no rule of law anymore and the fighting has left almost nothing in the way of services like ambulances, let alone a system for bringing the dead home.
Juma'aan's job filling in the gaps requires close coordination with all sides in the war: he works with both Houthi rebels and Yemeni military leaders, making sure that both sides at a front line approve of how and when he plans to pick up a body. Sometimes, they must agree to respect a brief ceasefire so he can enter and do his job. This can take months of preparations and negotiations.
"I make a dozen or so trips to meet with field commanders, officials, local leaders, and families of the fighters, so that I have accurate information," he explains, adding that he tries to recoup his costs by charging a "small fee" from parties to the conflict, but nothing from civilians.
To identify himself as a non-combatant when he enters an active conflict zone, Juma'aan wears white clothing and raises his white scarf as a flag. He brings plastic bags, his truck, and a mobile phone.
He never brings a gun.
Not that he hasn't found himself in peril; Juma'aan regularly risks his life for those who have lost theirs. He has survived bombings and been shot twice. He has lost three pickup trucks – two were hit by airstrikes and one was taken by the Houthis.
Then are the less immediate physical risks. "Most of the time, the bodies have been there for weeks and even months," says Juama'aan, who has had no formal training in how to deal with corpses or the possible health complications. "One time a corpse split in half while I was trying to put it in a bag. The stench was overwhelming."
Divisions
Despite an insistence on maintaining his own neutrality, Juma'aan's work is not spared the divisions that have torn Yemen apart.
"If I evacuate a body and an attack or airstrike happens after that, people accuse me of spying for the other side," says Juma'aan, who has been imprisoned a total of seven times by both sides in the war.
His own family has been split apart by the war, too. "My closest relatives are divided," Juma'aan says. "Some [stand] with.. [Hadi's government] and some with the Houthis. It is painful."
"Every time I contemplate quitting, families come to me to help them find their loved ones."
While Juma'aan feels his work brings a sense of comfort to families who have lost loved ones, he has also witnessed the depth of desperation that accompanies grief, and the stress of living in conflict.
He recalls an older woman who falsely claimed a corpse he had recovered as the body of her son, burying it as her own.
"When I asked her why she lied and claimed the wrong body, she told me she did it to get compensation from the Houthis," Juma'aan says. Her son was a missing Houthi fighter, she presumed him to be dead, and Yemen's economic collapse meant she needed money badly.
It's a frustrating and emotionally draining job – one that has left Juma'an in debt and seen his team dwindle to 15 as his staff struggle without resources or proper training.
But three years after taking up the mantle of this unique form of diplomacy, he has no intention of giving it up. At least not while his services are still needed.
"I know what I am doing is almost suicidal, but every time I contemplate quitting, families come to me to help them find their loved ones," he says. "I keep going because I know what I do brings them comfort and peace."
nd/as/ag