When nine-year-old twins Jan and Jannick started their new school term at the beginning of October, they admitted that for the first time in years they weren't scared to attend class.
Months earlier, the family escaped Oursi – a Burkinabé town in the restive Sahel region – after the twins' former school closed due to fighting and extremist attacks. The boys are among the lucky ones, able to continue their education safely 400 kilometres away in the capital, Ouagadougou, at a school started by a local couple.
"Our parents decided to leave because of the jihadists," says Jan, wearing a green uniform and sitting outside his new classroom. "We heard gunshots often at school. When fighting started, classes would stop."
"I was afraid when we left," his brother Jannick says, remembering the day they fled Oursi. "We sat in a crowded bus with all of our luggage. There were jihadists in our town. They killed one of the teachers and kidnapped people."
Violence has been on the rise in Burkina Faso: from armed attacks by jihadists on villages, roadside bombs, kidnappings, and, earlier this year, targeted attacks on the army headquarters and the French embassy in the capital. The fighting has displaced almost 40,000 people, according to the UN's refugee agency, UNHCR, with an additional 7,000 fleeing across the border to Mali.
Before they left Oursi, life was a daily struggle for the twins: their parents – a teacher and a businessman – both battled to earn an income or keep their jobs; and with frequent gunfire, more schools closed, officially putting their education on hold.
Their former primary school is one of 473 (55 percent of the total) in the country's Northern and Sahel regions forced to close because of this year's violence, according to OCHA, the UN's emergency aid coordination body. Some 65,000 pupils and more than 2,000 teachers were driven from schools in the northern borderlands, it said.
Today the twins are safe at CEFISE, the centre for integrated education and training of the deaf and hearing, a local initiative committed to providing for the needs of all children, including those with disabilities and those like Jan and Jannick who fled armed conflict.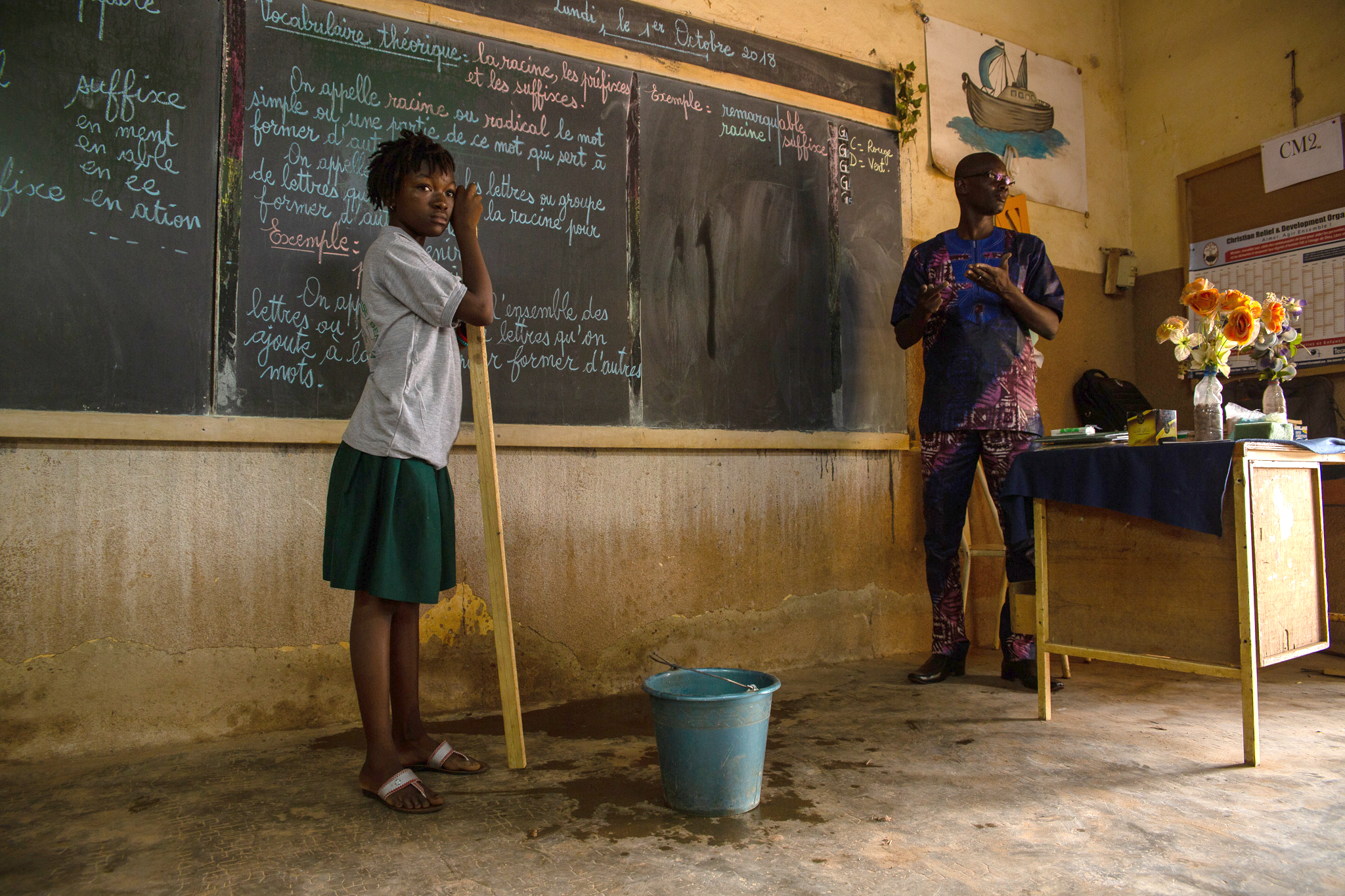 But teachers say the boys, like other classmates, are still traumatised by their experiences.
"Displacement affects children's learning. Many are afraid and recall attacks," explains Elie Bagbila, country director of Light for the World, a non-profit supporting CEFISE and helping children with disabilities. "At the same time, they have to get used to a new school and new teacher."
CEFISE has an annual tuition fee of roughly $300, but the school says education should be accessible to all, and fees are often reduced or covered by the school's partners.
While many other schools offer free education, they often lack resources, especially when it comes to helping disabled children or those who may have additional needs due to psychological trauma.
Home-grown help
"Children need to find a welcoming environment, otherwise they will never feel safe again," Thérèse Kafando, CEFISE's co-founder and director, tells IRIN.
Together with her late husband, the couple started the institution 30 years ago, when, according to Kadando, "nobody saw the need for inclusive education" for the disabled or those suffering mental health problems.
Even today, she says, there aren't many schools like CEFISE; but the initiative is expanding. While a particular focus is put on children living with disabilities, the school's unique curriculum – including on-site psychologists – makes it an open and welcoming environment for children who had to flee conflict.
☰ Read more: Why the aid sector wants to go local
The global humanitarian system is overstretched. In 2017, the UN asked for a record $22.2 billion to cover 33 emergencies around the world. But the funding gap continues to widen as the price tag soars.
What is local aid?
The global aid sector has broadly committed to an agenda to "localise" aid – putting more power in the hands of locals working on the ground where emergencies hit.
Why local aid?
The aim of of the "localisation" agenda is to improve humanitarian response by making it faster, less costly, and more in tune with the needs of the tens of millions of people who receive humanitarian aid each year. Local aid workers are closer to the ground, they have local knowledge and skills, they can often access areas that international aid groups can't reach, and they know the needs of their own communities.
Who are local aid workers?
Local humanitarian aid includes a broad spectrum of potential on-the-ground responders to crises and disasters: local NGOs, civil society groups and leaders, indigenous peoples, local governments, faith groups, as well as people who are themselves affected by crises, including displaced people and the everyday volunteers working to help their own communities.
Sitting in her office, she is surrounded by awards and medals that student groups have won over the years. While she can't put a number to exactly how many of her students fled conflict, she says that numbers are growing due to the recent uptick in violence. A total of over 4,000 students, more than 500 with disabilities, both from the capital and beyond, currently attend classes here.
Initial funding for CEFISE first came out of Kafando's own pocket. "I really believed in the concept and at first, we had to prove ourselves," she says. "Today we receive some government support as well as training and funds from Light for the World, an organisation that works on inclusive education."
However, aid workers and organisations like Light for the World face their own challenges in Burkina Faso, including providing emergency education and serving the needs of disabled children in areas of conflict; increasingly difficult in the country's Sahel region.
"Our community-based rehabilitation workers, who visit remote villages to ensure that children with disabilities are cared for and receive an education, haven't been able to access the northern regions they usually work in," Bagbila explains. This is largely due to weighing risks and making sure that both beneficiaries and aid workers can be kept safe.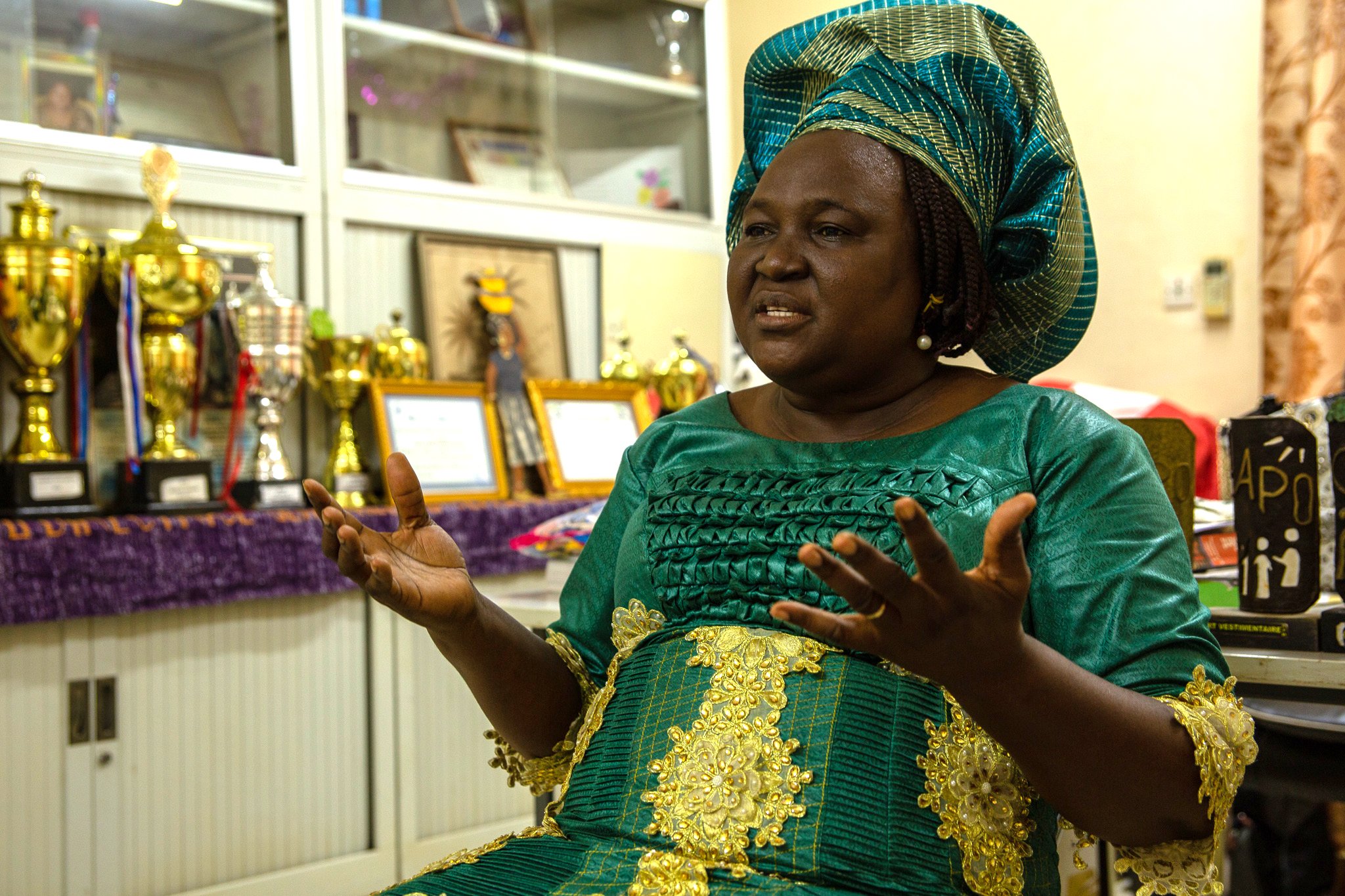 "There are no easy solutions and children are especially affected in this conflict. They need to be in a place where they can access services," he says.
Schools under threat
Burkina Faso is on the front lines of jihadism in the Sahel region and the situation continues to deteriorate. While the government tries to weaken the power of Islamist groups in the north, many people say they feel unsupported by a state that has weaker security forces than other West African nations.
Providing education in this environment has been tough.
Attacks or threats against schools have increased fear among the local population, especially teachers, UNICEF said in July. Violence and displacement have surged, and more than half  of those registered as internally displaced are children, according to OCHA.
Children who haven't fled as far as Ouagadougou often attend "safe schools", either set up in IDP camps or in other areas were people have settled. The government has organised special remedial sessions for children who have missed exams due to conflict – most of these happening in the camps – but needs are growing too fast to be adequately met.
Against this backdrop, initiatives like CEFISE in the relative safety of the capital continue to draw students, especially from the restive areas. While Ouagadougou has experienced violence, the larger military and UN presence arguably make it harder for armed groups to launch attacks there.
In the Sahel region, families with disabled children face additional hardships. As one of the least urbanised countries in the world, Burkina Faso boasts high levels of poverty, and outside the cities jihadists target the most vulnerable.
The government of Burkina Faso signed a law on the promotion and protection of persons with disabilities in 2010 but admits that most of the work is left to NGOs or local initiatives such as CEFISE.
"Even with 20 percent of the national budget allocated for education, the government has little capacity and is overwhelmed when it comes to working with children with disabilities," says Rasmata Ouédraogo, director for the promotion of inclusive education at the ministry of education.
A shy 13-year-old girl with braided hair and wearing a summer dress, and who prefers not to be named, tells IRIN how she came to CEFISE a few years ago and now stays with distant relatives while her parents live in a camp in the north.
Born deaf, she originally didn't attend school, but when the conflict intensified at home, her parents sent her to Ouagadougou. "Back home, I was scared because it wasn't safe and I wasn't able to hear anything," she explains in sign language.
Jan and Jannick recall struggles that children with disabilities face in their hometown Oursi, including fear, neglect, stigmatisation and ridicule.
"There was a deaf boy and whenever we had to run away [from the fighting], he didn't know what to do. It was more dangerous for him," says Jan.
For vulnerable children, and for those who have escaped conflict like Jan and Jannick, CEFISE has become a better alternative. Here, those needing psychological support have found care and a safe place to study alongside children living with physical as well as mental disabilities.
But the twins still remember the other children in Oursi who have not been as lucky.
Talking about his deaf friend back home, Jan says: "I think about him sometimes. It would be good for him if he was here too."
"I don't think he is in school now," he adds. "I don't think most of my friends are in school."
sg/si/ag