When Ali Osman Diblawe arrived in Bariire he was barefoot and winded. He had sprinted the 2.5 kilometres from his farm to the southern Somali town after hearing a barrage of gunfire tear through his small village soon after the early morning prayer.
That was on 25 August. In the days prior, he and at least two others on the farm had seen what they thought was an odd-looking black bird in the sky.
"There was something small and dark that was flying high over the town in the morning when we went to our farms and in the evening when we came home," Diblawe told IRIN over a phone. "It was far away, but I thought that's a drone, that looks like a drone."
Anxious, he approached the local Somali National Army commander to voice his concerns over what he suspected was US surveillance of the village.
He explained that although the farmers had small arms – as many do in rural Somalia, where there are ongoing clan conflicts – they were not members of the jihadist group al-Shabab. He returned to his village on 24 August hoping he had been listened to.
The next morning the shooting started and Diblawe ran. When he plucked up the courage to return home he saw the bodies of 10 of his neighbours sprawled on the ground. Standing over them were the SNA soldiers who had killed them, and the handful of US Special Operators who had orchestrated the operation. Diblawe's warning had fallen on deaf ears.
Local media first misreported the incident as a US drone strike. They later clarified that the 10 people had been killed in a joint US-Somali ground operation – confirmed in a statement issued by the US Africa Command, known as AFRICOM.
The raid came six months after President Donald Trump had loosened regulations restricting operations in Somalia, and five months after the first US soldier was killed in the country since the infamous Black Hawk Down incident in 1993.
The Bariire raid exemplifies what has been a gradual ramping-up of US military activity in Somalia over the last three years, one in which drones – both armed and for surveillance – have played a central role.
This includes the first air strike against so-called Islamic State in Somalia on 3 November.  According to an AFRICOM statement, the drone attack killed "several terrorists" near Qandala, a small port town in northeastern Puntland that IS briefly occupied late last year.
"In 2011 there were four or five maybe six [air] strikes and US ground operations, and that trend continued up until 2015," said Jack Serle, a specialist investigator with the Bureau for Investigative Journalism's drone warfare team.
"But in 2015 the pace of strikes really accelerated and we're now tracking at least 20 airstrikes and ground operations this year, which is the highest we've ever recorded."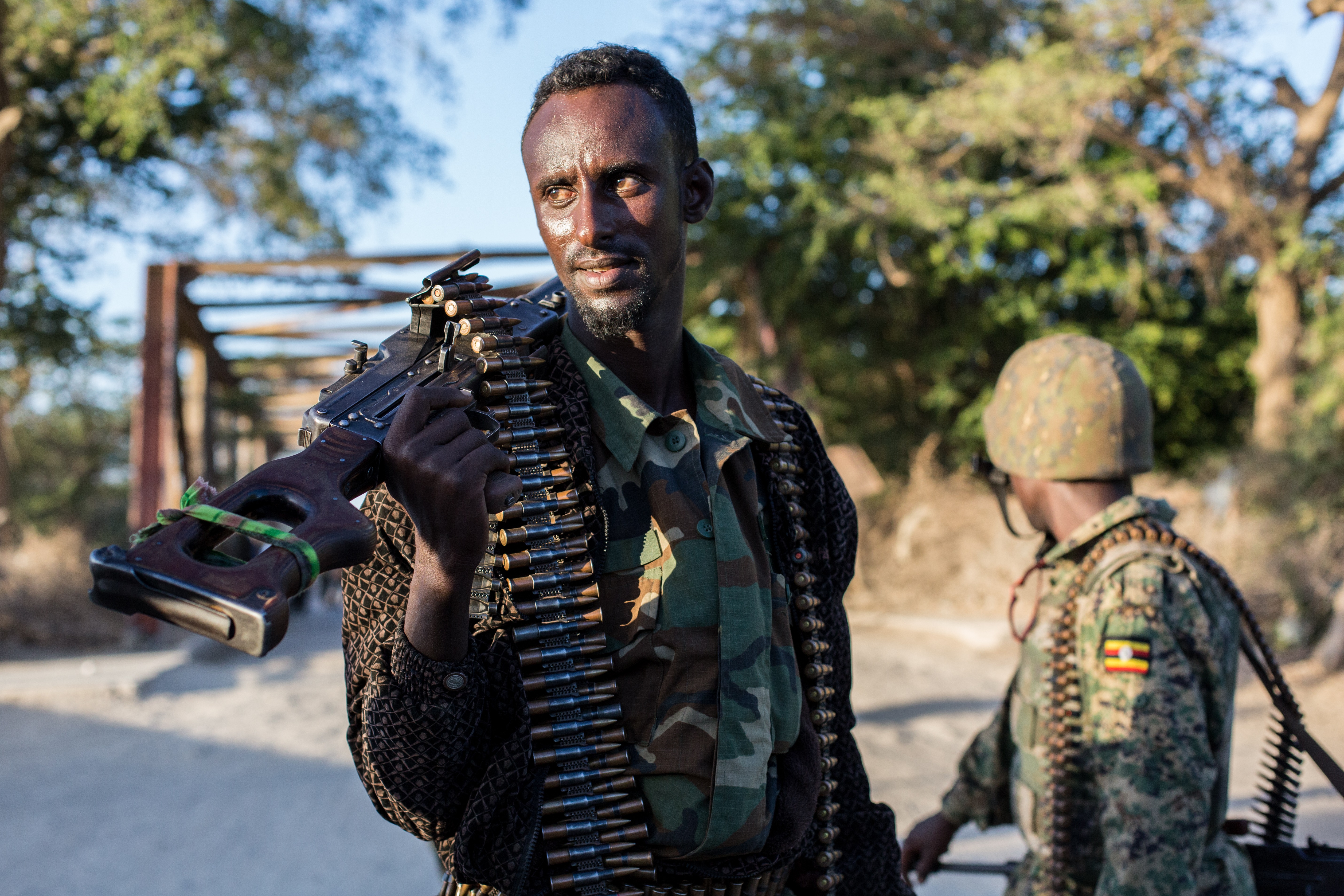 Relaxed rules of engagement
In March, the Trump administration designated parts of southern Somalia an "area of active hostilities", a move which gives commanders in the field greater autonomy over the use of force.
Prior to the policy change, US forces in Somalia had been operating under the more restrictive Barrack Obama-era guidelines known as the Presidential Policy Guidance.
Implemented in May 2013 in an effort to reduce the number of civilian casualties in counter-terrorism operations, the guidelines require high-level deliberations among cabinet officials to confirm that targets outside of traditional war zones pose a threat to Americans, and that there is near certainty no civilians will be killed.
The undoing of these regulations came after significant lobbying from the Pentagon and General Thomas Waldhauser, the AFRICOM commander.
Yet in the initial three months after the new policy was implemented, there was no change in the number of strikes: there was one strike in April, one in May, and one in June.
But then in July something changed: there were five strikes that month, four in August, and three in September, according to the Bureau of Investigative Journalism.
"This pales in comparison to other countries where the US operates drones," said Serle, noting that in Yemen there have been 115 confirmed air strikes this year alone. But, he added, in comparison to the last three years in Somalia, "this is unprecedented."
Who's a terrorist?
The marked increase in strikes and operations in recent years, combined with the Trump administration's new operating regulations, and the incident in August, has caused concern in human rights circles.
Researchers have repeatedly warned about the challenges of foreign militaries operating in a country where clan conflicts and small arms are prolific among civilian populations, like in Bariire.
In these areas, where various clans have long feuded over land and water, farmers often carry guns to protect their farms against attacks from rival clan militias.
A prolonged drought has also caused mass displacement, forcing these armed farmers and pastoralists to move into new areas when the land can no longer support them. Without accurate intelligence, this can look like a group of al-Shabab militants on the move.
Though many claim that farmers who carry guns in al-Shabab controlled areas are in some form of alliance with the jihadists in order to keep their weapons, it's incredibly difficult to discern whether this is true.
It's particularly hard when translators and intelligence officers providing foreign militaries with this information are themselves often involved – even peripherally – in these clan disputes. 
"We have already started to see in certain circumstances a real risk that expanded operations are leading to increased civilian harm," said Laetitia Bader, senior researcher for Human Rights Watch.
"It could also be used or seen as an opportunity from a whole variety of actors to sow [dis]information and feed into increasingly tense localised conflicts," she added.
Such it seems was the case in Bariire, where it appears the US operated on misleading intelligence that Diblawe – and many others – suspect came from a rival clan in active conflict with the people in the village.
In a press release after the operation, AFRICOM said it was aware of "civilian casualty allegations" and that it was "conducting an assessment into the situation to determine the facts on the ground."
More accidental deaths
But Bariire isn't the first US investigation into accidental casualties in Somalia. In September last year, a drone strike killed 22 soldiers from a regional militia the US had worked alongside near Galkayo, in Galmadug State, central Somalia.
At the time, the Galmadug security minister told reporters that he suspected security personnel in a rival clan in neigbouring Puntland had deliberately misinformed US forces – telling them Galmadug's soldiers were actually al-Shabab.
In the immediate aftermath of the attack, AFRICOM claimed US forces had carried out a "self-defence strike", which resulted in the death of nine al-Shabab militants. But as furious residents of Galkayo burned American flags in protest, AFRICOM said it would open an investigation into the allegations.
"It's essential that if operations that the US are unilaterally carrying out, or supporting the Somali armed forces to carry out, that when they go wrong, the US is promptly investigating civilian casualty allegations and publicly publishing the outcomes of these investigations," said Bader.
"When there are incidents of criminal wrongdoing and when these operations are found to be illegal, it's key that individuals are being brought to justice."
In Bariire, Diblawe is still waiting to hear the results of the Pentagon's latest investigation, which he hopes will bring justice over the deaths of his neighbours and friends.
"We don't believe the Americans have any agenda to kill us, they don't have an agenda to support one clan against another," he said. "But there are people who systematically brand us with the name 'al-Shabab' in order to get support in this clan conflict."
But before Diblawe gets answers, Somalis can expect more drone strikes. President Mohamed Abdullahi "Farmaajo" and Somalia's international partners are preparing for a much-anticipated large-scale offensive against al-Shabab in which the US, which has emerged as one of the government's strongest allies, will most likely play a key role.
cg/oa/am
TOP PHOTO: US MQ-9 Reaper drone