Everyone in Iraq's desert camps has a story, and everyone wants to go home.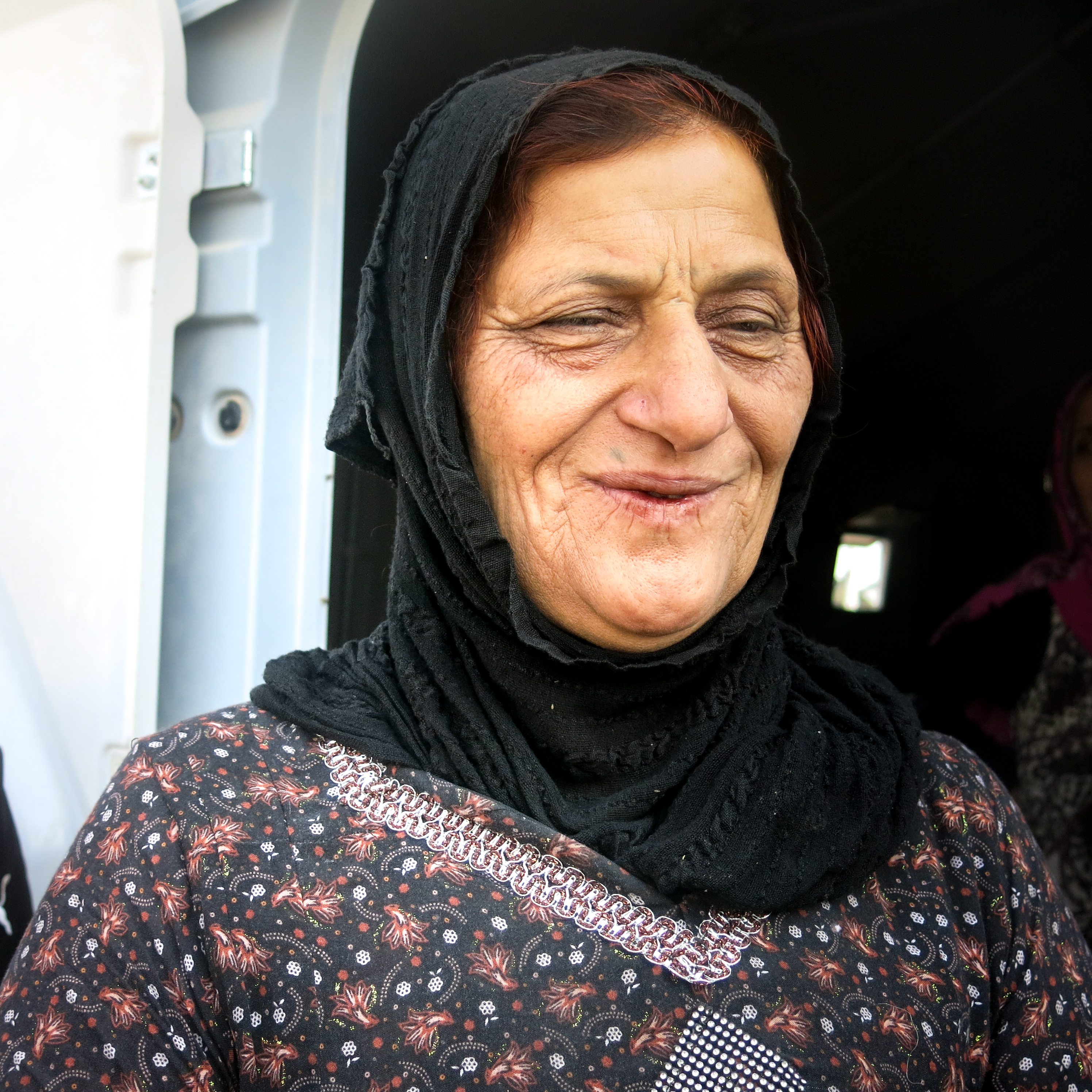 Saadiya, 70 years old with a gravelly voice and henna-stained nails, smiles even when she says her home has been destroyed.
In a nearby prefab shelter, Fazih, weathered and sun-beaten, isn't sure of his age but recalls fleeing so-called Islamic State after months of surviving on animal feed. He tells how the men of his village waved their white undershirts in the air at the advancing Iraqi army.
And then there's the young boy who doesn't speak and stares straight ahead, with black speckles that look like shrapnel in his cheeks and raised scars across his body – wounds of war. Relatives say he lost his mother in a battle and his father is missing.
These three are all from the Fallujah area, but Ameriyat al-Fallujah is home to some 50,000 internally displaced people (IDPs) from across Iraq – traumatised men, women, and children who have escaped IS fighters or the war against them.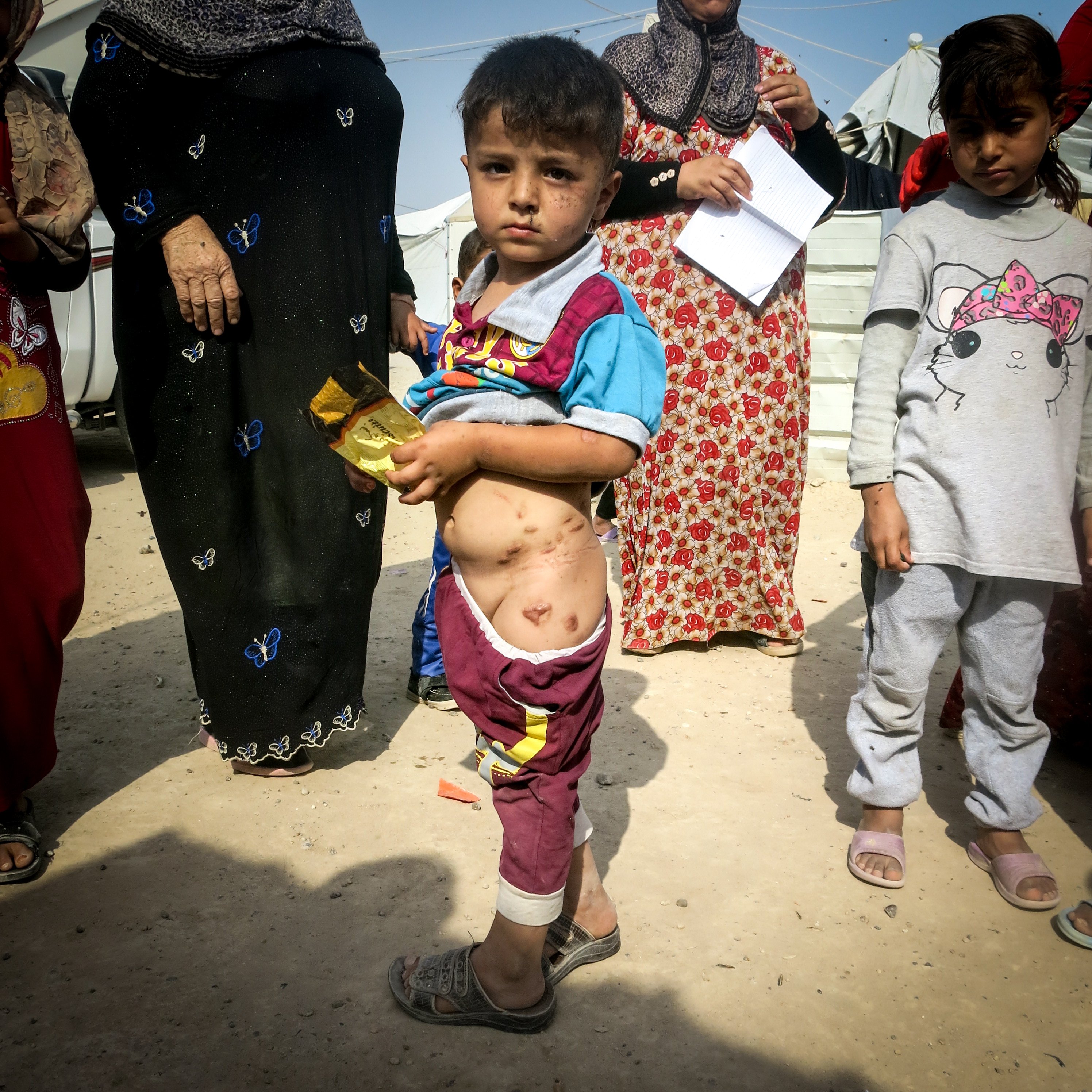 The focus, both militarily and for the international media, is further north, on the Mosul offensive that could finish off IS in Iraq. But while eventual victory there seems likely, it's the far more uncertain future of these uprooted people and millions like them that holds the key to a proper and lasting peace.
The majority of Iraq's estimated 3.2 million displaced actually don't live in official camps. Here in Anbar, the province with the highest number of IDPs (540,000), only about 20 percent are staying in camps and more than half are with host families. Others reside in schools, unfinished buildings, informal settlements, or rented accommodation. By contrast, only around three percent of Baghdad's 450,000 IDPs live in camps.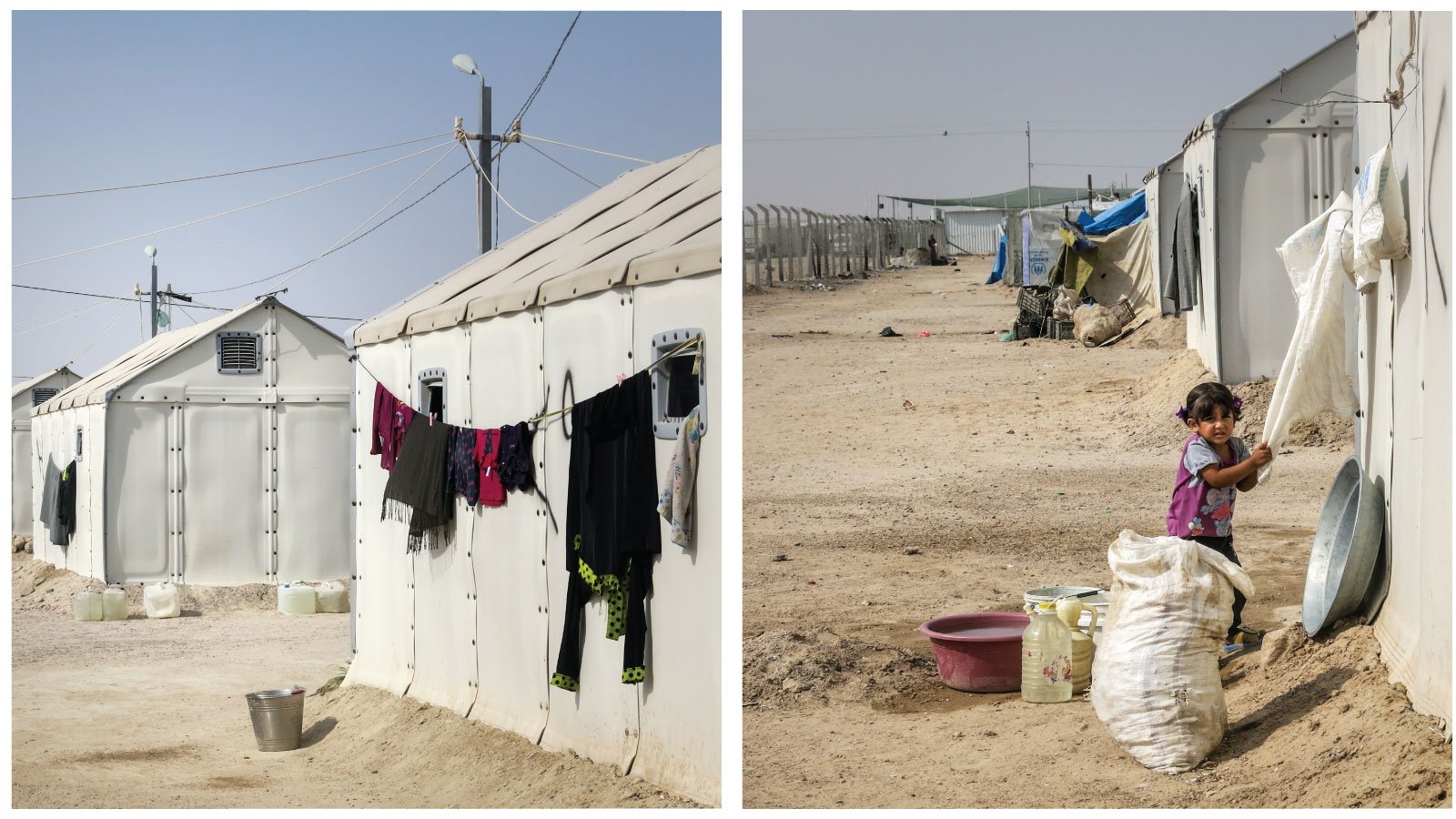 Having survived life under IS, many walked through the desert to Ameriyat al-Fallujah in June, only to find an aid response that was overwhelmed and unprepared.
Things have improved. When they first arrived, many were packed tightly into huge tents like sardines in a tin – anything to protect them from the sand and the summer sun. Those white shells now stand empty, with residents housed in prefabricated units or in smaller tents. They have water, toilets, and showers. A small market has popped up where there was nothing before, selling vegetables and mobile phone credit.
But there isn't much else, and, across the country, whether they're in limbo in desert camps or hosted in towns or cities, IDPs are rarely able to move between provinces without permits, and work is hard to find. Many say they feel forgotten.
For those forced out of areas being cleared of IS, like parts of Anbar province, returning home is complicated and politically fraught, tied up with past conflicts and sectarian divisions. Rebuilding has barely begun.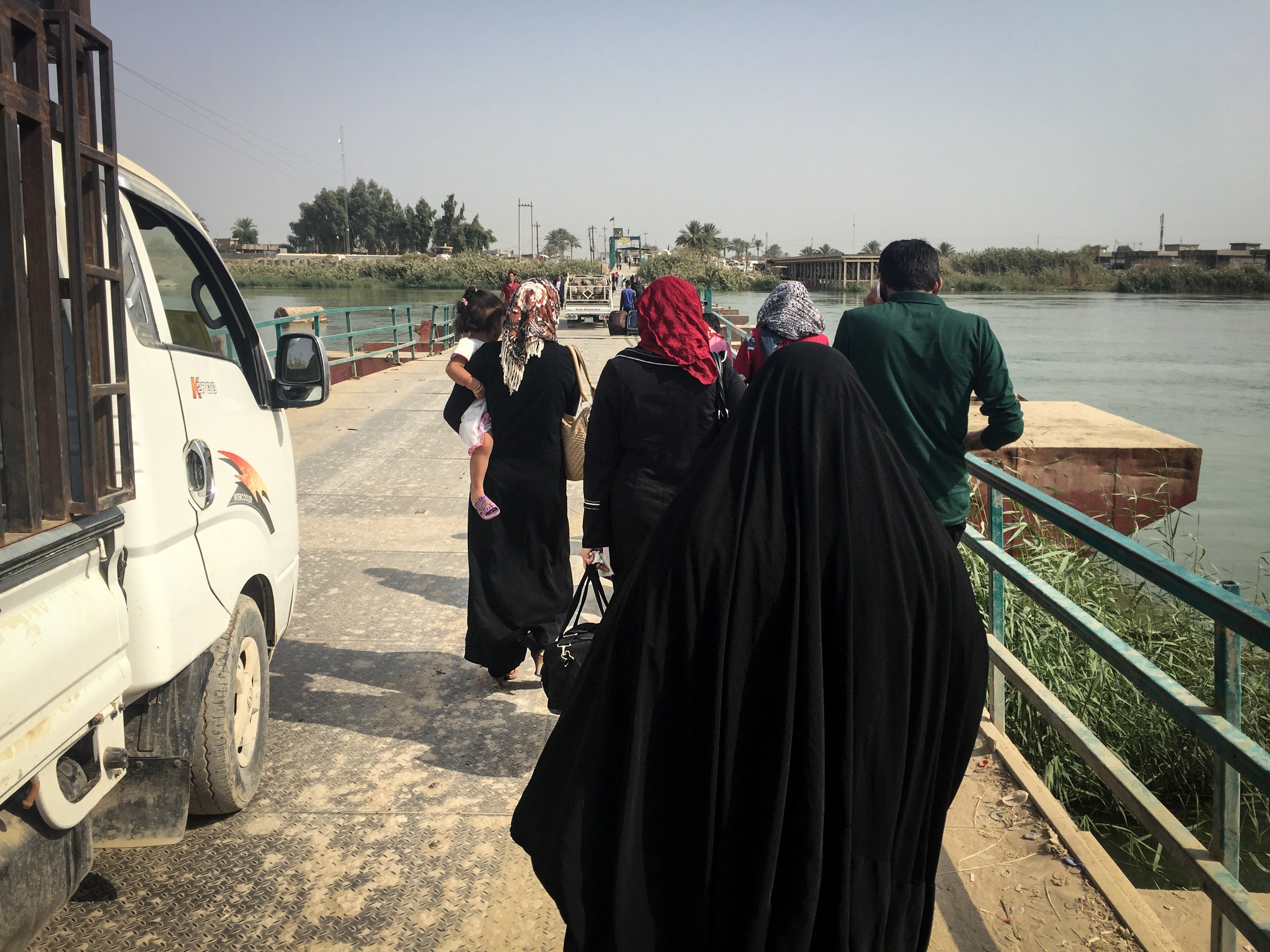 The Anbar example
Poverty and desperation go some way to explaining why many are so eager to go home – a recent survey of returnees found 86 percent of those who went back to Anbar said the chance to make a living was their main motivation.
But those who make it find reality rarely lives up to expectation – all returnees surveyed said the trip, destination, or both was unsafe.
Efforts to clear Ramadi, the provincial capital, of explosives are under way, but it is expected to take years and hundreds of millions of dollars to really finish the job. With much of the city destroyed by months of fighting, there is little in the way of infrastructure.
A member of Anbar's provincial council and the head of its security, Sheikh Rafi al-Fahdawi cuts a striking figure in a Baghdad hotel in a crisp white thobe, surrounded by men in white suits.
"There's no normal life in Ramadi right now… no livelihoods, no water, no fuel," Sheikh al-Fahdawi told IRIN. "People are happy if they find just one wall standing."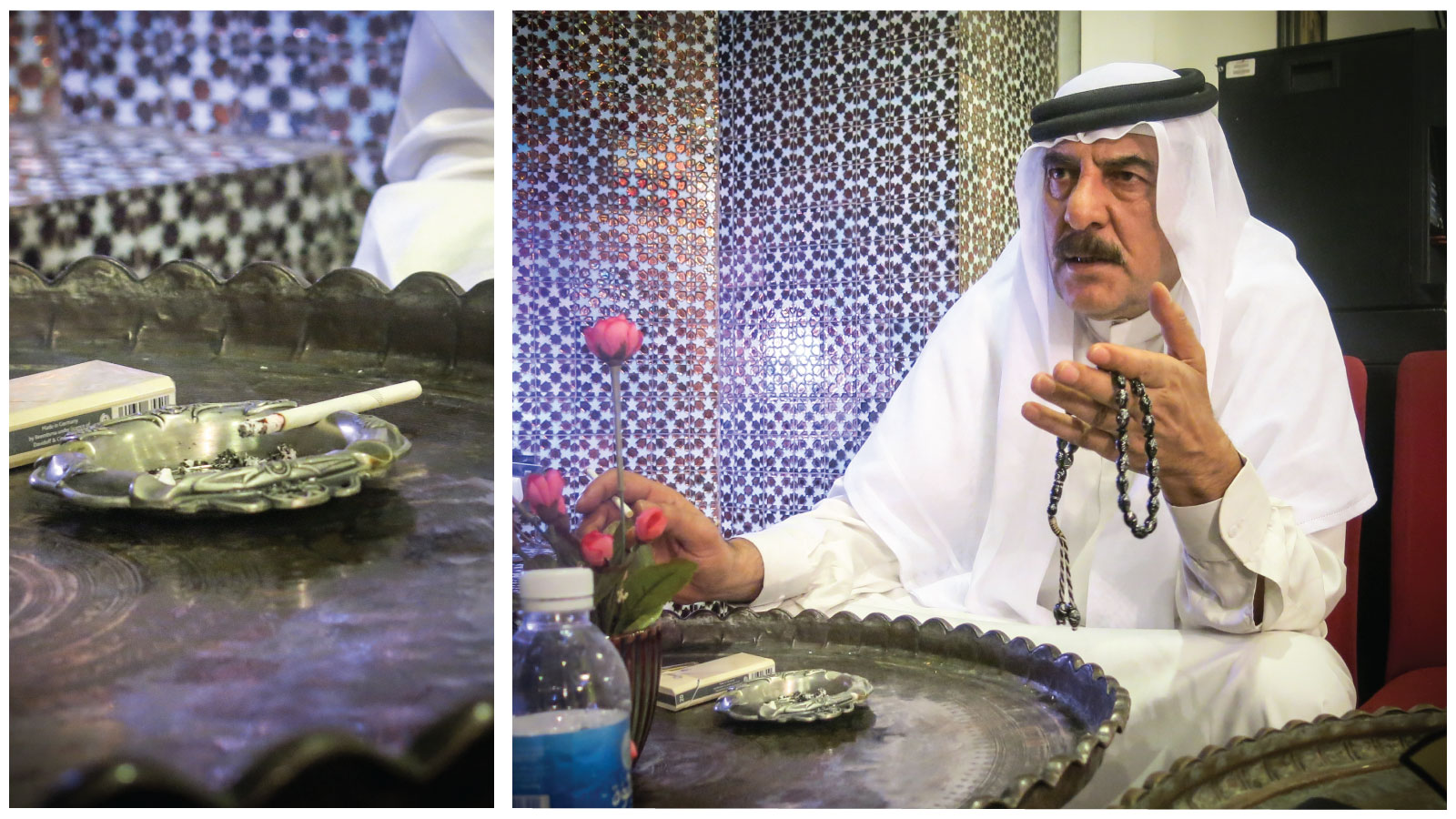 Nearly a year since IS was routed from Ramadi, al-Fahdawi said 70 percent of residents have officially returned home to a city mostly in ruins. A recent assessment puts the number actually living there closer to 180,000, out of a pre-war population of half a million.
What happens in Anbar matters – it's the only province dominated by the country's Sunni minority, and many believe IS managed to take hold there quickly because of some degree of local sympathy. It's been home to extremism before: during the anti-American insurgency after the 2003 invasion, Ramadi was an al-Qaeda stronghold, although Anbari tribes also played a major role in driving the group away again.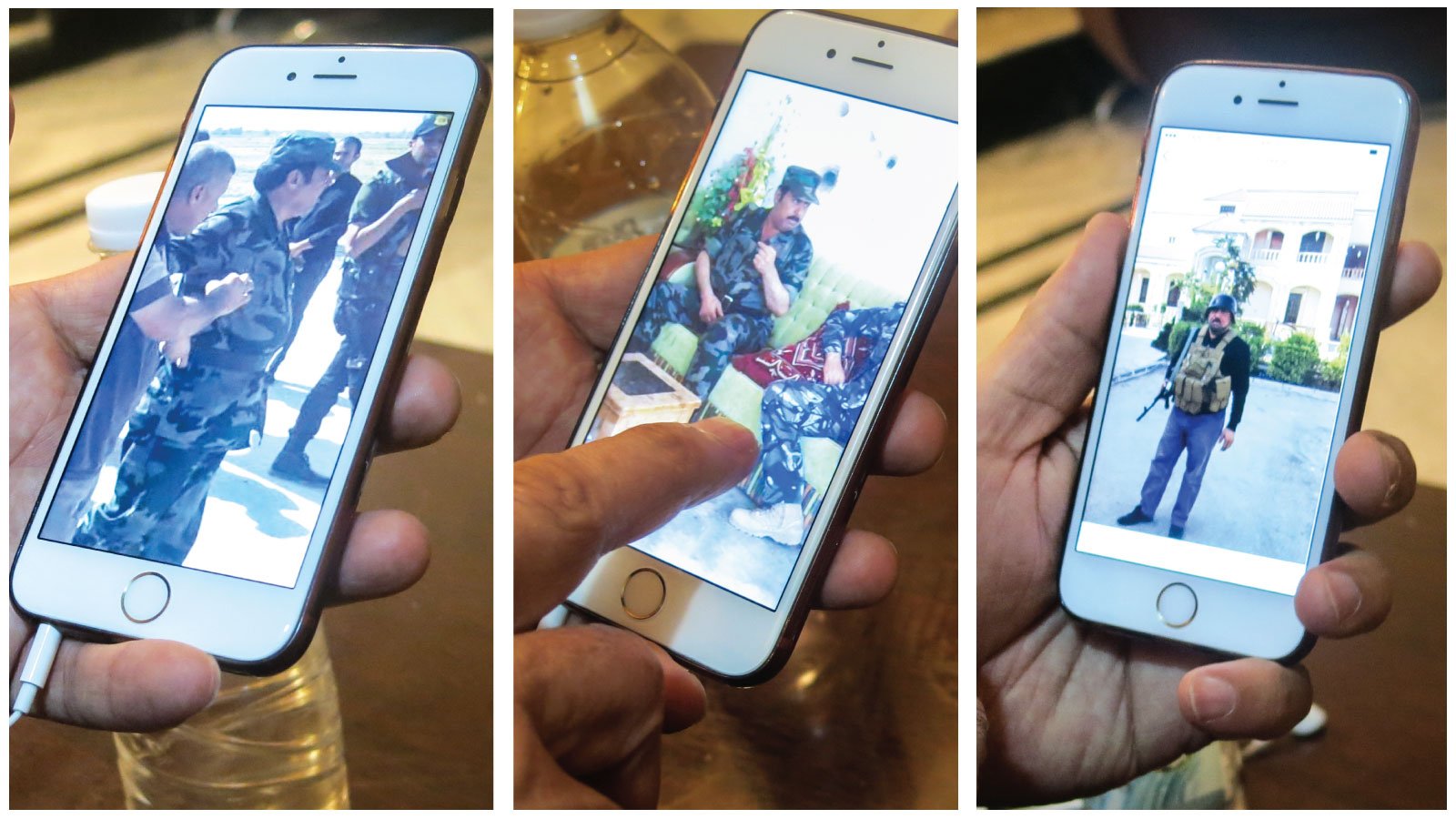 Al-Fahdawi is concerned that without a functioning economy, schools, and strong leadership, there's a real danger things will get bad in Anbar again, and fast.
"The Anbar local government is really weak," he said. "The provincial council isn't really taking responsibility for the major problem we are facing, and the central government isn't either."
He spoke of tribal fighters and former policemen who have weapons and no salaries – some of whom he leads and who he worries will turn to criminality or to fighting each other.
"All of this could end up being similar to what's happening in Baghdad, where you have a weak local government and the society's security is under constant threat," he concluded.
Security screenings
Because of this threat in the capital, tanks sit outside busy shopping streets and there are army checkpoints scattered liberally throughout the city.
Locals complain that the cursory inspections – often little more than a wave – don't make them feel any safer. But there is a real concern that as the Mosul fight continues, there will be an IS pushback in Baghdad and elsewhere.
And despite claiming complete control of liberated areas, on 14 November, the group claimed a series of suicide bombings in the Anbar city of Fallujah, said to be the first since the extremists were driven out in June.
The violence isn't isolated though, not even on that day, when IS suicide attackers also took aim at Shia pilgrims near the holy city of Karbala. Although there are pockets of quiet and in many parts of the country Iraqis continue their lives as normal, the UN says 1,120 civilians were killed in "in acts of terrorism, violence and armed conflict" in October alone.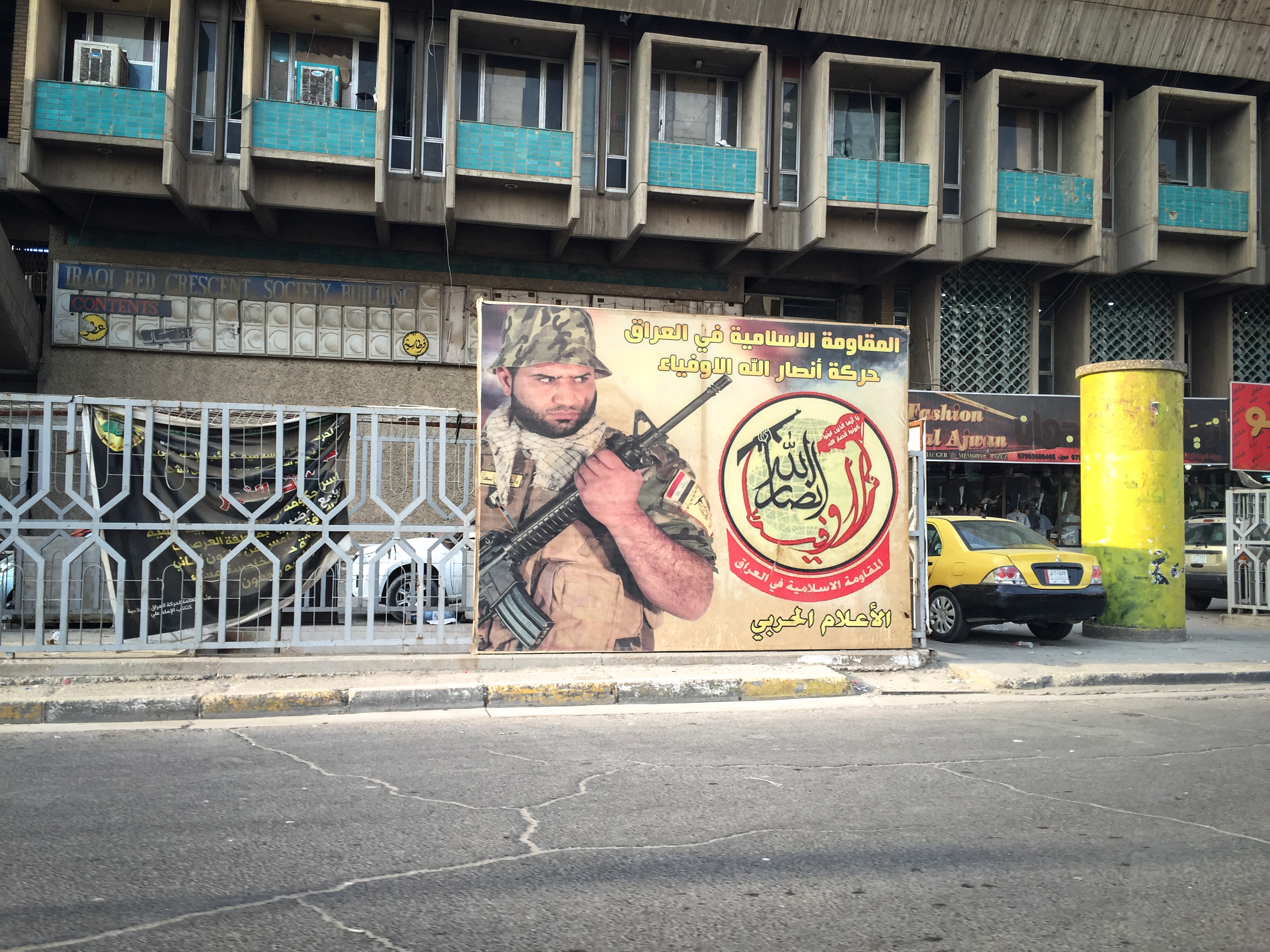 So security is tight. Most men and boys who flee IS are screened by the Iraqi army – or more controversially, a group of allied Shia-majority militias – before being allowed to enter formal camps, unfinished buildings, or host communities. There have been serious abuses in the past, including allegations of summary executions, and there are deep and lingering concerns about the way the process is being carried out around Mosul.
Even if they pass the initial screening process, IDPs who want to go home must also pass the muster of local committees made up of police, security forces, tribal leaders, and intelligence. "It's like a visa," al-Fahdawi said of the pass returnees receive upon clearance.
Sheikh Hamid al-Hayes, head of Anbar's Salvation Council – a breakaway part of the so-called Sunni tribal "awakening" against al-Qaeda in 2006-2007 – was frank about how it works in practice.
From a gilded drawer in his home – one of Baghdad's most prestigious addresses – he pulled out a dossier of men from Ramadi who are effectively condemned and therefore in major trouble if they show up at the entrances to Anbar cities cleared of IS.
"We have a data system," he said, as he talked IRIN through a stack of paper, several inches thick and bound together with string. It is full of pictures, names, crimes, and last known addresses.
"We won't accept the return of those with IS beliefs," he said. "We are not against Islam, but we are against terrorists and I dare any [extremist preachers] to talk about extremism. It won't happen."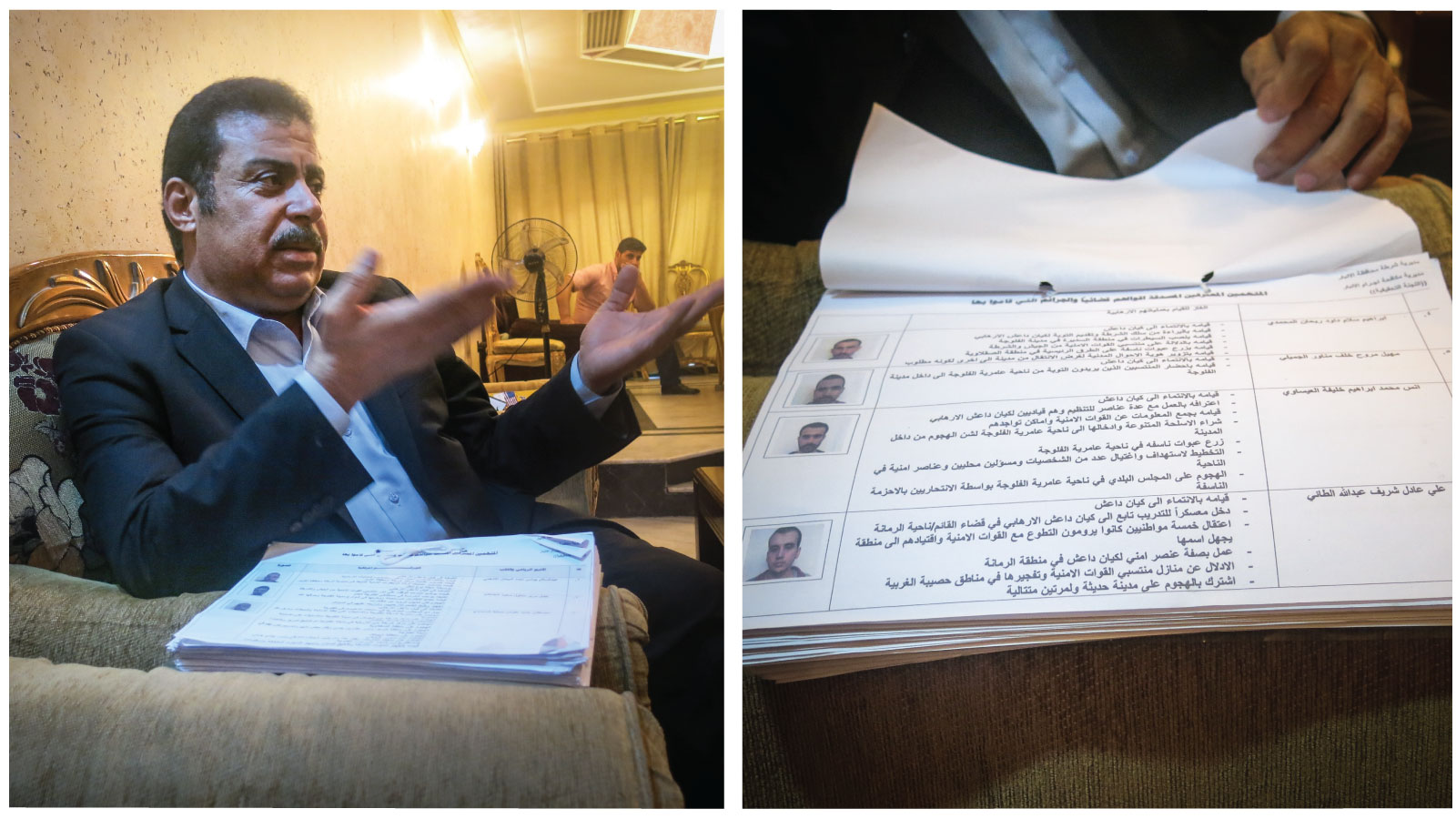 Critics of the process say it isn't so clear-cut, alleging that names can vanish from the list with a bribe. Al-Fahdawi was certain this has happened, while several other officials said they couldn't rule it out.
And then there are those, like Saadiya in Ameriyat al-Fallujah, who say their loved ones are being implicated unfairly and that their families are wrongly barred from going home.
Saadiya says her family attempted to get one of the "visas" that officials speak of, but that her husband's name turned up on their hometown's dreaded blacklist. She insists he has no IS ties and says he now spends his days trying to clear his name. He was told this would cost him $500, but she says "he doesn't even have money to make copies of his documents and for transportation".
In Baghdad, what appeared to be an official recognition of potential missteps (from at least one ministry) only raised more questions.
Dhia Sallal, an official at the Ministry of Displacement and Migration, told IRIN: "There have been oppressive security measures against families whose sons or brothers collaborated with IS and are now prevented from going home".
"These families must not be punished for what their sons did."
So even if Saadiya's husband did have something to do with IS – is leaving her and others in the desert the best way to go? It's a question politicians don't yet seem sure how to solve.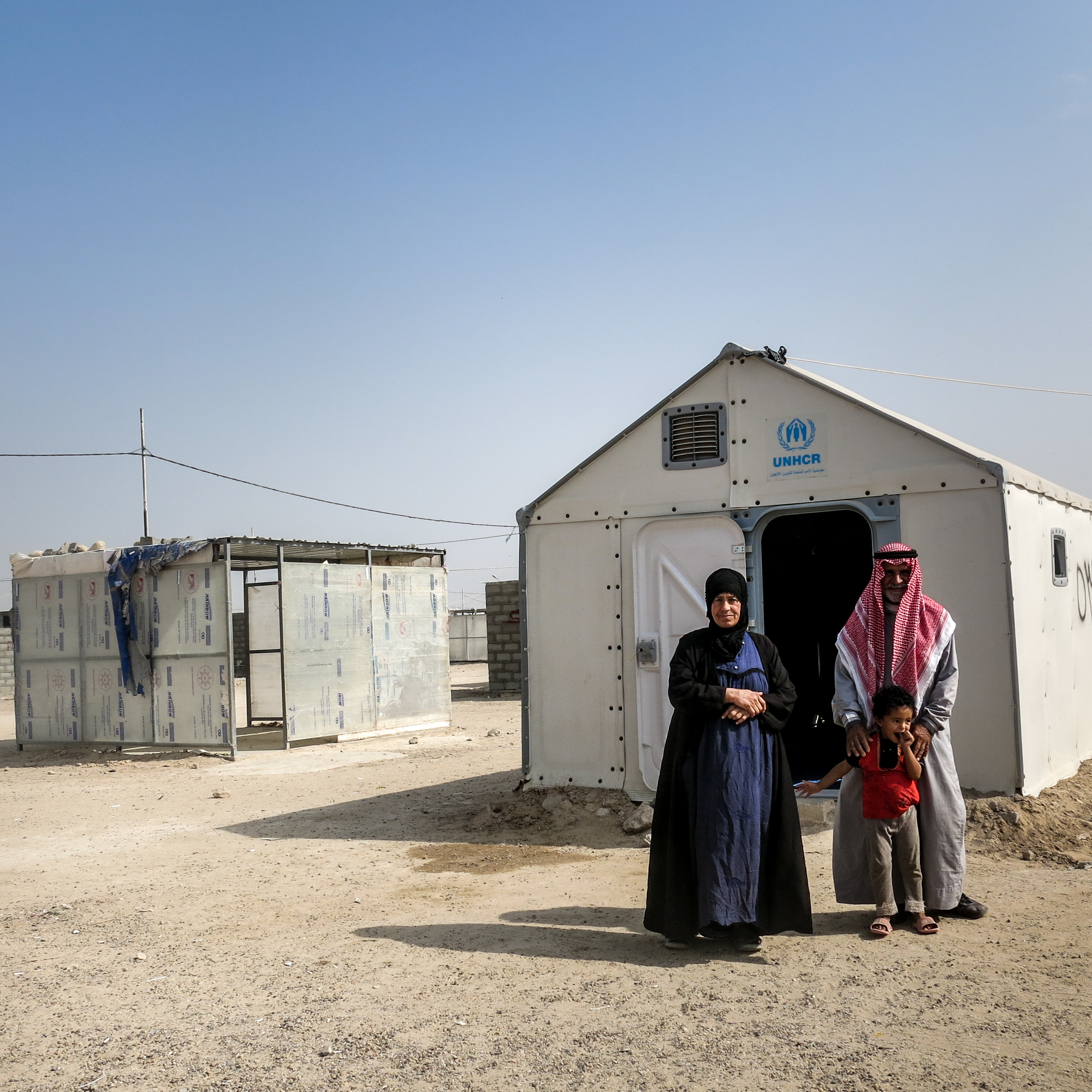 A country and a leadership divided
To say the Anbar leadership is divided is an understatement: within months of liberation from IS, MPs from the region demanded that the provincial council be disbanded, and there was a failed effort to remove the governor. Tribal leaders and politicians have long been split over whether to even participate in Iraq's political process.
Most Sunni leaders do seem to agree on one thing, however: their sect will be forced to suffer for the sins of IS – fuel was added to this fire when the Kurdish governor of Kirkuk reportedly forced Sunni IDPs out of his province after an IS attack there (he later denied doing so).
"The Sunnis of Anbar are always accused of being collaborators," said al-Fahdawi. "Just look at Kirkuk."
The potted version of recent Iraqi history and Sunni grievance is that the overthrow of Saddam Hussein (and his Sunni-dominated Baath Party) in 2003, and the installation of an ostensibly democratic government dominated by the Shia majority, led to sectarian tension that hadn't previously been a major factor in Iraqi society.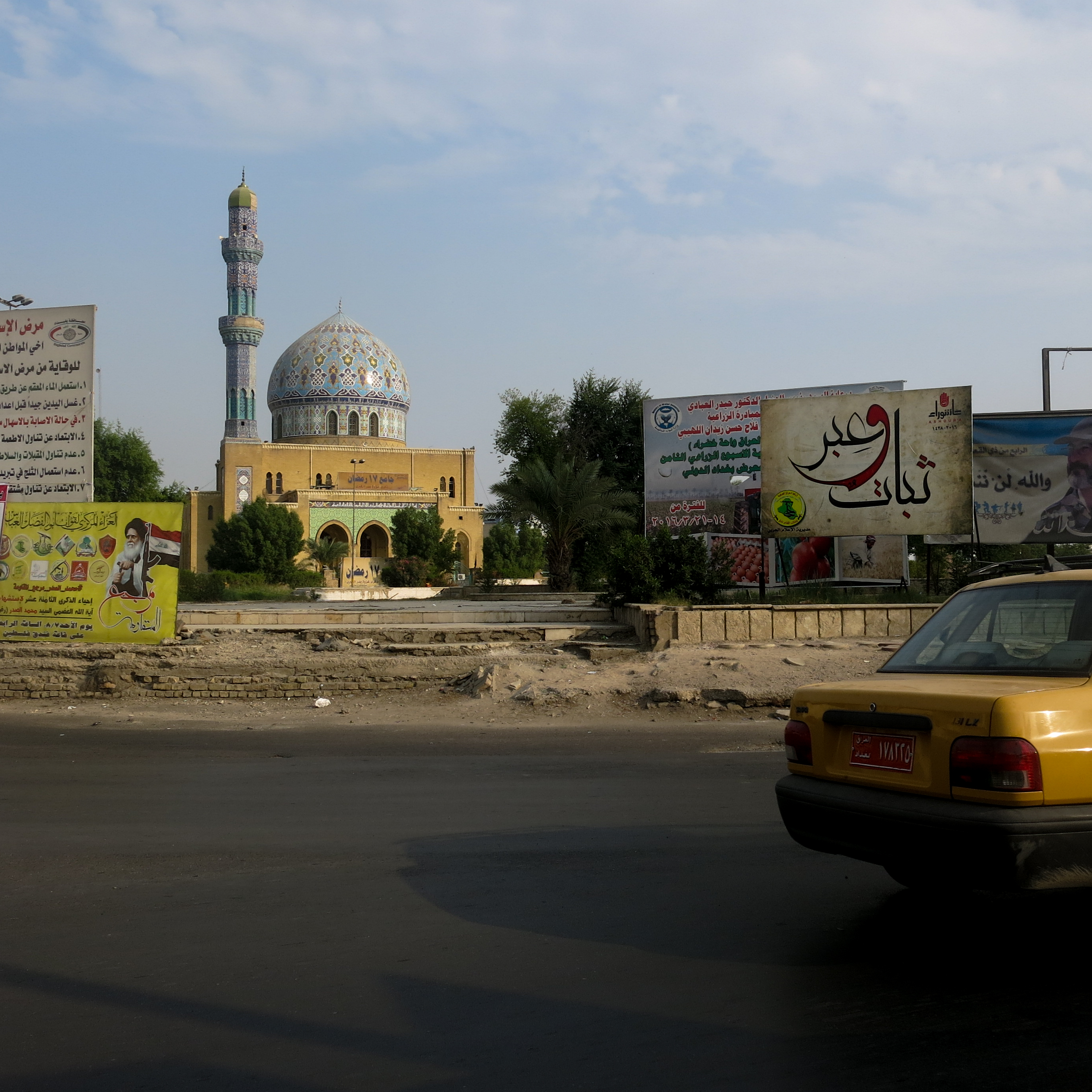 Sunnis make up some 25 percent of the population, and some see the de-Baathification process that followed Saddam's fall – and is still to a certain extent ongoing – as having unfairly targeted even Sunni leaders who weren't loyal to the dictator, for ideological and sometimes criminal reasons.
Chatham House Iraq expert Renad Mansour pointed out that Sunni leaders played a part in their own marginalisation with their decision to forgo central politics – there is currently no real political movement that represents the sect, although they do have ministers in the government.
Frustration and a lack of opportunity left a hole that was filled by al-Qaeda, and then by IS. The concern is that this may happen again, with another extremist group, another set of grievances. A major fear is that de-Baathification will simply graduate into de-ISification.
Mansour said the key to turning things around in Anbar, and beyond, is restoring trust in central and local government – a difficult task as many Anbar leaders have lost the trust of the local population.
"The people will go back if they know there is a permanent solution to the IS threat, but also to the root causes of the IS threat," he said. "Because for them, this is not the first time they have seen it."
One part of this is reconciliation, a word brought up by several tribal leaders and government officials IRIN spoke to. Some have even signed a plan – laminated in a blue folder – that lays out a comprehensive roadmap, with ideas on everything from re-education to community rebuilding. It looks fine on paper, but it boils down to money, and paying for it will be another matter.
In an Iraq where there's an explosion every few nights in the capital and a frontline within a few hours drive, security is the overriding priority. Reconciliation plans are way down the list.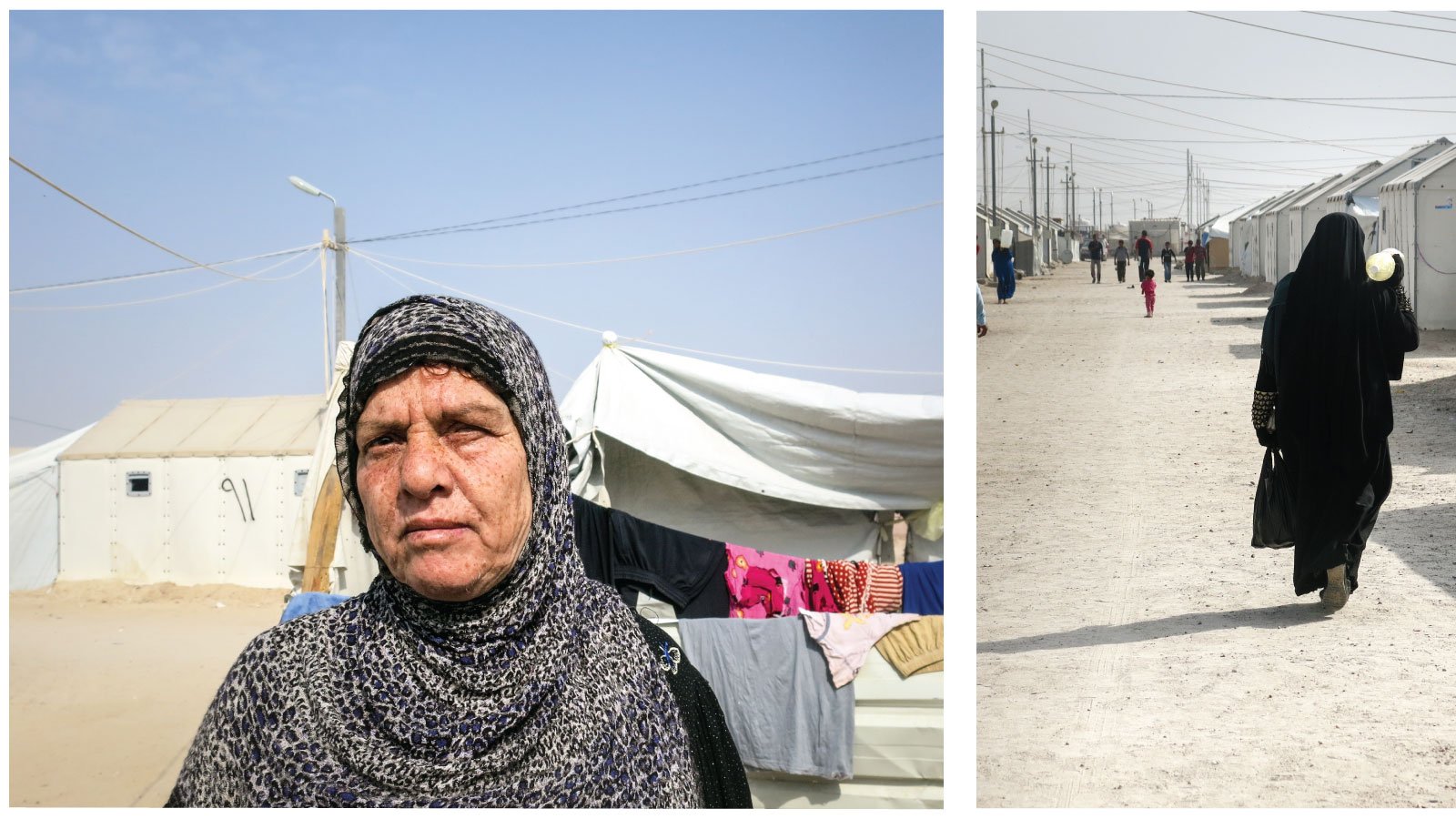 Limited resources?
According to Raad al-Dahlaki, an MP from Diyala who chairs the parliamentary committee on migration and displacement, the ministry of the same name received about 40 percent of its $108 million budget in 2016. It's also supposed to get 40 percent of the three percent lopped off salaries of public employees – the rest goes to pay for the militias supporting the Iraqi army.
Compare that to $19 billion in projected spending in 2016 on defense and you get a lack of foresight, said Chatham House's Mansour.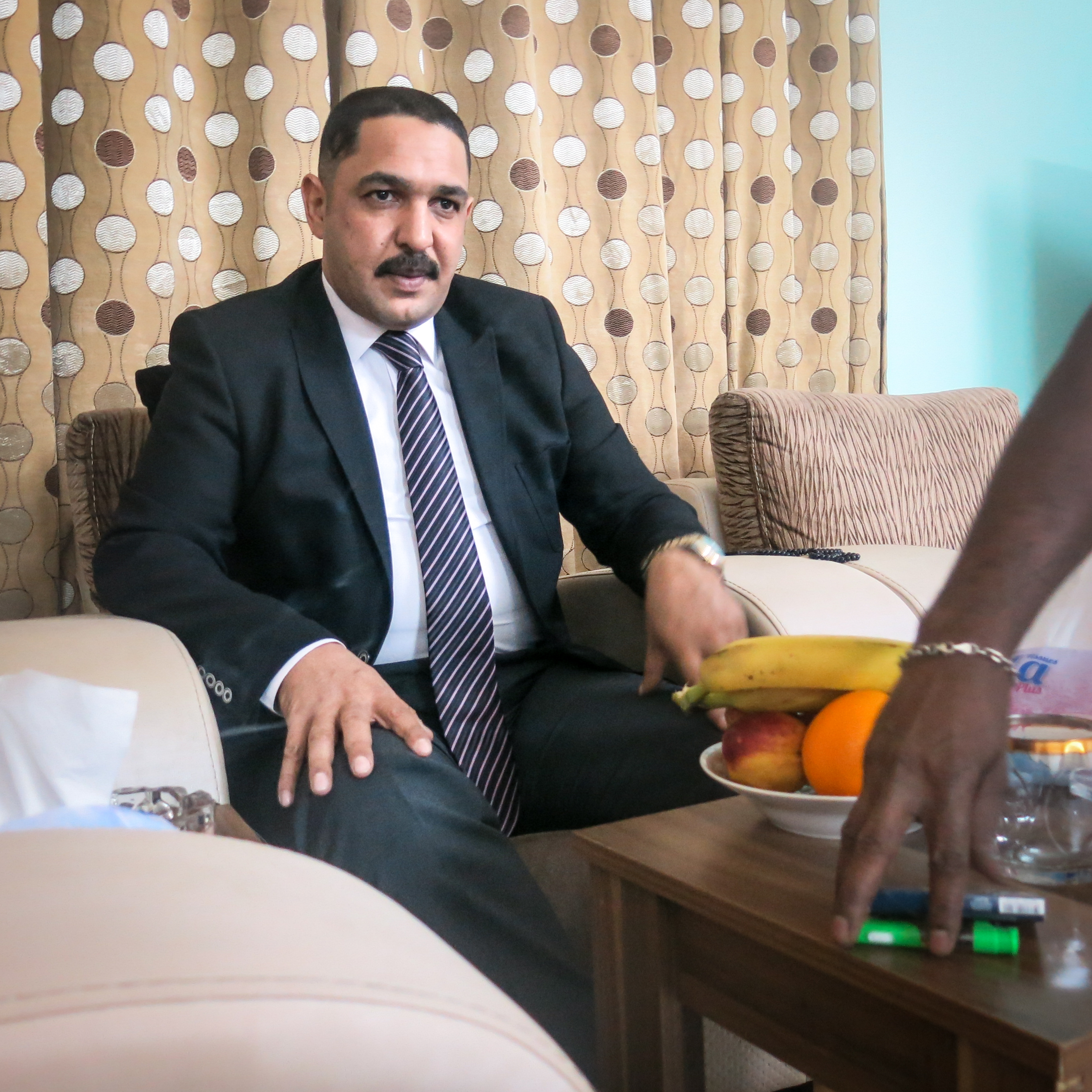 "The focus seems to continue to be on the military side of things, because to some extent it's the easier option. It is easy to gather a bunch of weapons and soldiers and go and fight IS. It is harder to bring all these groups together to find some sort of compromise.
"Right now, you have some sort of unprecedented cooperation [against IS]," he said. "This is the time really to try to come up with the political solutions and link it in to a humanitarian solution. Unfortunately, it is not being done and that is a cause for worry."
The government of Prime Minister Haider al-Abadi insists it's doing all it can with limited resources.
Saad al-Hadithi, the prime minister's spokesman, told IRIN it has "provided financial aid to a great proportion of the registered [IDP] families". He said the government is working to "rehabilitate liberated areas despite the economic crisis", and insisted that the "security clearance process is going well" and that IS suspects would be tried.
The fact that some IDPs have received cards pre-loaded with $300 was not enough to placate al-Dahlaki, the MP from Diyala, who is calmly furious. Seated in his Green Zone flat – many government officials live in this extra-secure part of town – he said the crisis of displacement had "far exceeded" what anyone in Iraq anticipated and strongly criticised the overbearing screening system.
"The number of obstacles they have to go through in this process: it's harder than applying for an American visa," he said. He went on to question its entire rationale, asking incredulously: "As long as a person stays outside [his own town or city] he is fine, but when he goes home he is a terrorist?"
Back in Ameriyat al-Fallujah, Saadiya tells IRIN she'll go back home even if it's just rubble. "I have trees, and I'll sleep under them," she says. Her smile then turns into a grin; her hands unclasp: "When I get back, I'm going to throw sweets into the air."
as/ag