The conflict in Syria has left 6.5 million people internally displaced and created more than 2.2 million refugees. The bulk are living in the neighbouring countries of Jordan, Lebanon, Iraq and Turkey, where the demands on humanitarian agencies and host governments are huge.
Helping relieve this burden is the application of smart technologies.
Here are some of the innovations helping aid workers plan and deliver a better and more dignified response.
Satellite mapping:
The UN has been using satellite imagery and geographic information system (GIS) data to create detailed maps of areas of concern. The maps - similar to those used to help agencies respond to natural disasters like cyclones and flooding - have been instrumental in letting aid agencies know about conflict pockets and population movements within Syria. These satellite
images
show displaced people who have settled near the Turkish border.
The maps come from Geneva-based
UNOSAT
, the UN Institute for Training and Research's Operational Satellite Applications Programme, which is run with support from the European Organization for Nuclear Research.
When emergencies occur, field staff alert UNOSAT, which gathers satellite images of the affected areas from governments and commercial providers. They collate and analyse those images and produce maps and GIS data, which are then sent to decision-makers in the field.
Satellite images have been very useful in refugee camp planning. In Jordan's sprawling
Za'atari Camp
, home to 120,000 people, these maps have been critical in helping the UN Refugee Agency (UNHCR) manage the evolution of the camp and its residents, whose physical positions are constantly shifting. Using the images, aid workers can count how many new tents are put up and calculate how much land is still available.
UNHCR has also used satellite maps to manage
Domiz Camp
, the largest camp for Syrian refugees in Iraq.
In Lebanon, where more than 700,000 Syrian refugees are registered but no formal refugee camps exist, UNHCR is using online mapping tools such as
ArcGIS Online
to keep track of informal tent settlements.
"We need to know much more than what we've ever had to know in the past," Andrew Harper, UNHCR representative in Jordan, told IRIN. "Having these tools and analysis is not only extremely useful, but it's indispensable."
Biometric scanning:
Earlier this year, aid workers started adding all Syrian refugees arriving in Jordan to a biometric database upon registration. As well as improving the accuracy and efficiency of records and avoiding duplication, the biometric system has enabled cash payments to be issued through Hollywood-movie-style
iris scans
. It is the first time UNHCR has distributed cash this way.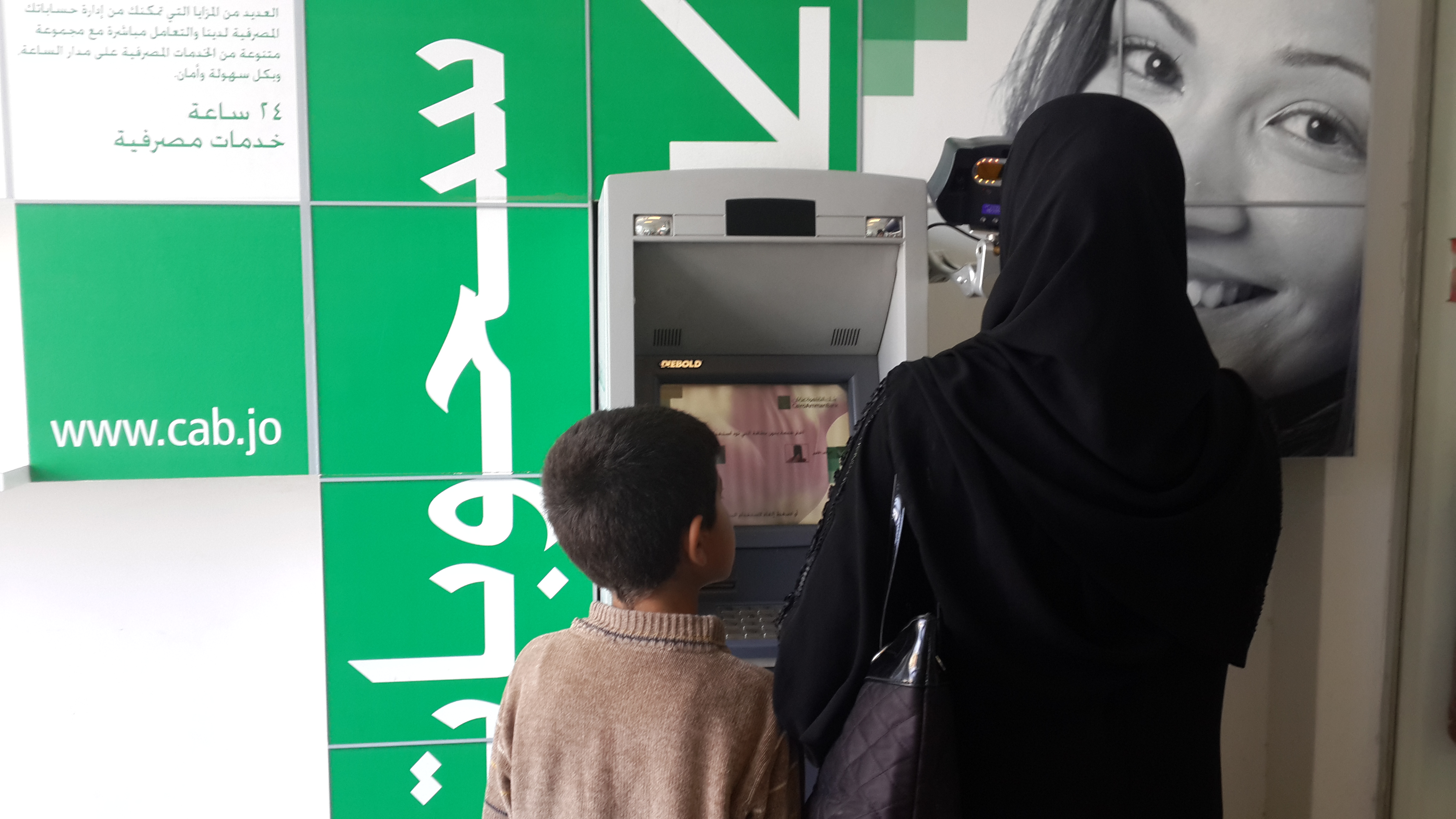 201311141356390197
In partnership with Cairo Amman Bank (CAB), refugees eligible for cash handouts from UNHCR can collect their money from over 100 locations in Jordan. Instead of using a debit card, they simply have their eye scanned at the ATM machine.
"It is an excellent way of [ensuring] that the people who take out the money are the ones who should be receiving it," Volker Schimmel, UNHCR senior field co-ordinator, told IRIN. "It's a targeting and anti-fraud measure. It's also a good post-distribution monitoring tool because we can see where the money is being taken out and we are able to link that to a person, and that person to a location."
That allows aid agencies to map where refugees are and assess how long they have to travel to access the banking services. One of the biggest problems for refugees in Jordan in need of assistance was the cost of transport.
UNHCR plans to use biometric refugee registration at sites throughout the region. For example, it will start applying iris scan and fingerprinting during registration in Iraq early next year.
Electronic food vouchers:
In Turkey, the World Food Programme (WFP), in conjunction with the Turkish Red Crescent Society, Kizilay, runs an
electronic food voucher scheme
. The refugees receive cards loaded up with "credit" on a monthly basis with which they can shop for food in local shops.
This not only gives the refugees choice of what they want to buy, but it also frees WFP from having to manage mass food distributions. Moreover, it eliminates the black marketization of free food items and it is more secure than circulating hard currency.
The e-Food Card is loaded with 80TL (US$45) per person per month for use in shops selected by WFP, Kizilay and the government. The cards can be used to buy any food items except alcohol, cigarettes, chocolate, sweets, biscuits, ice-cream and soft drinks.
The money is electronically loaded onto the cards via two installments per month, and at the end of the month any balance remaining on the card is cleared.
Since August 2012, the scheme has provided around 117,000 Syrians the equivalent of 73 million meals.
"The e-Food Card is a cost effective and efficient way of providing food assistance while supporting the local economy," Jean-Yves Lequime, WFP's emergency coordinator in Turkey, told IRIN. "Most importantly, it allows Syrian families to shop and cook for themselves based on their own tastes and preferences."
Following the success of the scheme in Turkey, WFP is now rolling out a similar system in Jordan and
Lebanon
.
Specialist SIM cards:
In Jordan, UNHCR is about to launch a new programme giving Syrian refugees custom-designed mobile phone SIM cards through which they can receive mass information messages. Each SIM card will come with a ready-built menu providing key information and contact details of service providers.
The SIM cards will be fitted with emergency SMS features so that refugees can also make free calls to the UNHCR information line, which currently receives around 700 calls a day. The SIM cards do not expire, even if no credit is added to the account.
UNCHR says it expects to deliver 120,000 cards in the coming months.
In Iraq's Kurdistan region, UNHCR shares information with residents of Domiz refugee camp via SMS. Through the scheme, run by the International Rescue Committee (IRC), around 5,000 refugees get regular updates about camp life, including distribution times, access to non-food items, information on registration and other general community issues. The programme is expected to be extended to other camps in the Kurdistan region soon.
Tabletization:
UNHCR teams in Jordan working with urban refugees are moving towards tablet-based data collection in a bid to streamline paperwork. Increasingly, the agency is now using mobile devices when conducting home visits, vulnerability assessments, post-distribution monitoring, as well as for individual counselling.
Given the confidential nature of the information the organization gathers, UNHCR staff in Amman have designed their own Android application to ensure that registration and assistance data do not have to be hosted outside UNHCR's secure infrastructure.
In Lebanon, UNHCR protection teams are using
OpenDataKit
, an open source mobile data collection application, in border monitoring and eviction tracking. UNHCR's partners also use it to conduct assessments and monitor distributions. The software allows users to collect the data on a mobile device, aggregate it and extract it in useful formats.
QR codes:
Most people will associate QR (Quick Response) codes with their Smartphones, using them to sign up for discounts and competitions or to shop online. But humanitarians use them too and in the Syrian context they have been a vital tool in getting essential aid to those who need it most.
Due to access challenges in Syria, international aid agencies have to use several different partner organizations to deliver aid in the country. In some cases, this can lead to long and convoluted supply chains that are hard to track. In its latest
World Disaster Report
, the International Federation of Red Cross and Red Crescent Societies (IFRC) cites one international aid agency using QR codes to monitor these supply routes and ensure delivery of goods.
The aid agency, which the report did not name, equipped several different "transporters" with smartphones that had customized QR codes and other applications, allowing them to record the location of the packages. The end-user then confirmed or denied the shipment's arrival via email, Skype or other means. In the space of a year, the size of the deliveries had grown significantly and other agencies are now using this system.
lr/ha/cb
---
This article was produced by IRIN News while it was part of the United Nations Office for the Coordination of Humanitarian Affairs. Please send queries on copyright or liability to the UN. For more information: https://shop.un.org/rights-permissions