Changing weather patterns, poor maintenance and lack of investment are taking their toll on Bangladesh's extensive polder system, viewed by many as a first line of defence for coastal communities against tidal surges, experts say.
"Many of the polders are in various states of disrepair," Wahida Ahmed, former disaster risk reduction manager for ActionAid, told IRIN, citing extensive damage by cyclones Sidr (2007) and Aila (2009). "This puts millions of coastal residents at risk."
Her comments come one month after Cyclone Mahasen struck southern Bangladesh, killing 17 people and resulting in the evacuation of more than one million, the government's
Ministry of Disaster and Relief
reported.
Cyclones strike Bangladesh's coastal regions almost every year, in early summer (April- May) or in the late rainy season (October-November), while a severe cyclone (wind speeds of 90-119km per hour) strikes every three years on average.
Why polders matter
In the 1960s, 123 polders (low-lying tracts of land enclosed by earthen embankments), including 49 sea-facing polders, were constructed to protect low-lying coastal areas from tidal floods and salinity intrusion in southern Bangladesh.
Instrumental in the region's agriculture development, they have also played a key role in mitigating the loss of life and damage during tidal surges.
"Polders play a crucial role in avoiding waterlogging from tidal surges. The recent Cyclone Mahasen was low in intensity, but the damage could have been significant from the resultant tidal surges and flooding. But the polder networks allowed the water to run off, avoiding long-term flooding," said Delwar Hossain, executive engineer of the Bangladesh Water and Development Board which maintains an extensive database of coastal polders, including their length, location, construction year and cost.
That protective role, however, is being eroded, many believe.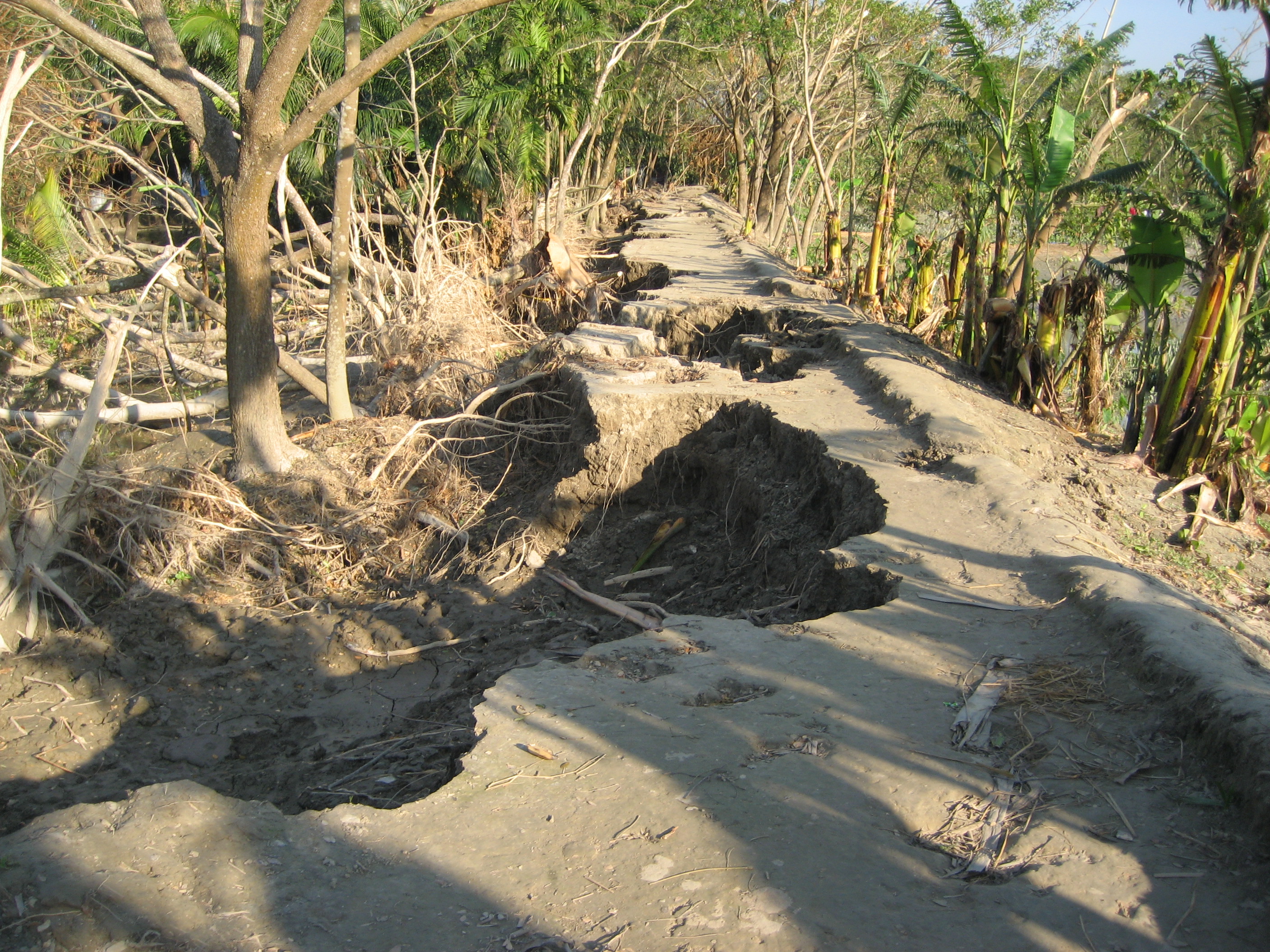 200712072
Salinity
"Overall, the potential of polders as a barrier to salinity greatly relies on a need for better management and maintenance anticipating future changes of climate, combined with policies ensuring controlled and sustainable management of shrimp farming," said Melody Braun, a climate change specialist with
WorldFish
in Dhaka.
Bangladesh's thriving, multi-million dollar
shrimp
farming business is leading to the long-term salinization of water and soil.
"With the dikes surrounding the floodplains, the land is protected from the tides. One-way sluice gates regulate the water flow from the polder area out into the channel. Thus the land within the polder zone is free of waterlogging, salinity intrusion and can be used for farming and other agricultural work," said Mohammad Emdad Hossain, a scientist and monitoring and evaluation specialist at the
Consultative Group on International Agricultural Research
.
But river siltation, outdated sluice gate designs and illegal dike excavation are reducing the system's effectiveness.
In fact, in many areas, siltation has raised the river or other water channel bed to such levels that the polder region itself effectively lies below the water level. As a result, when sluice gates are opened, instead of water running from the polder lands, outside water rushes in, resulting in long-lasting water logging and flooding.
Call for more investment
According to a 19 June World Bank
report
, Bangladesh will be among the most affected countries in South Asia, with rising sea levels and more extreme heat and more intense cyclones threatening food production, livelihoods and infrastructure.
Cyclone Sidr flooded 3.45 million households. A potential 10-year return cyclone in 2050 could expose 9.7 million people to more than three metres of inundation affecting agriculture and lives, said the report, prepared by the Potsdam Institute for Climate Impact Research and Climate Analytics and peer-reviewed by 25 scientists worldwide.
Bangladesh is also ranked as being at "high-risk" of multiple devastating hazards by Maplecroft's annual Natural Hazards Risk Atlas.
Experts are calling for more investment in the country's polder system, with adaptation costs of close US$900 million by 2050 and annual recurrent costs of $18 million.
Despite an extensive infrastructure to protect coastal residents from cyclones, currently 44 of Bangladesh's 123 coastal polders run the risk of overtopping if a severe cyclone hits, while by 2050, another 59 coastal polders could be overtopped as inadequate mangrove forests mean higher-velocity storm surges, according to recent
studies
.
oa/ds/cb
---
This article was produced by IRIN News while it was part of the United Nations Office for the Coordination of Humanitarian Affairs. Please send queries on copyright or liability to the UN. For more information: https://shop.un.org/rights-permissions