The Middle East continued to boil in Year 2 of what was once an Arab "Spring" with the ever-worsening conflict in Syria, toxic spillover into Lebanon, deadly clashes in Egypt, proliferation of weapons in Libya, assassinations and bomb blasts in Yemen, emboldened insurgents in Iraq and continued protests in Jordan.
While much of the world has been consumed by quickly changing political and security developments in the region, longer-term humanitarian issues have also been simmering under the surface - and sometimes in plain - but neglected - view.
Here are 10 of the main issues IRIN highlighted this year:
Syria's refugee crisis:
The number of Syrians registered as refugees in neighbourhing countries 
skyrocketed
from 10,000 at the beginning of the year, to half a million today, despite some borders being
less than open
. The UN has launched 
appeal
after appeal to help the refugees living in basic conditions in Jordan, Lebanon, Turkey, even Iraq, and increasingly Egypt, but funding has consistently been insufficient to meet the rising needs - largely due to
politics and donor fears
. In the meantime, refugees have been vulnerable to harsh winters,
labour exploitation
;
child work
; 
early marriage
and
political tensions
.
The humanitarian toll in Syria:
Syria has made the headlines daily in the past year, but most news reports have focused on rebel advances or diplomatic efforts to end the nearly two-year conflict. Meanwhile, the quality of daily life inside the country has spiralled downwards - and fast. In early 2012, 
alarm bells
rang over food security; by year end, even in the capital Damascus people were having a hard time
finding bread
. 
Farmers
have been especially hard-hit. At least two million people are now
internally displaced
, and the problem was exacerbated in July when
fighting hit Damascus
. 
Winter
has brought a whole new series of challenges for the displaced. Healthcare is
hard to access
. Many people forget that Syria was home to more than 1.5 million refugees - mostly 
Palestinians
and 
Iraqis
- who have become more vulnerable because of the crisis. With millions of people affected, the aid operation has struggled to keep up with the quick increase in needs because of
insecurity
, a
lack of funding
, drawn-out initial negotiations with the government over
access
, and questions around the capacity and impartiality of the major player in the response, the
Syrian Arab Red Crescent
. The result is a 
new kind of humanitarianism
- through local activists and illegal cross-border aid, which has raised some eyebrows in the aid community.
Regional spillover:
The Syrian crisis took on regional implications this year, as Lebanese sects with Syrian alliances
shot at each other
; 
Kurds
in Turkey, Iraq and Syria sought a piece of the pie; and Syrian shells hit southern Turkey. The US military even sent troops to Jordan to prepare for a possible widening of the conflict. The Iraqi government says the conflict in Syria has
emboldened insurgents at home
; increased the flow of weapons across the border; and heightened sectarian tensions. Some analysts have predicted a 
Sunni-Shia war
that would draw in Iran, Turkey, Lebanon, armed groups in the occupied Palestinian territory and engulf the entire region.
A forgotten crisis in Yemen:
Meanwhile, the poorest country in the Arab world slid 
further into crisis
this year. 
A crumbling economy
has driven more and more people to the point of
desperation
. If they were not already, the numbers are now staggering: The UN estimates that more than 13 million people - over half the population of 24 million - need humanitarian assistance. More than 10 million people do not have secure access to food; 13 million do not 
have access to safe water
and sanitation; and nearly one million children are acutely malnourished. After Arab Spring protests in 2011, a new government was born in 2012, ending the 22-year-rule of Ali Abdullah Saleh, but many complain of little change in Yemen. The new government has faced 
innumerable challenges
in its first year, including the demands of
minority groups
, lingering
corruption
, and political
divisions
, as remnants of the old regime try to
cling to power
.
These more recent challenges add to Yemen's long-standing threats: Houthi rebels in the north, 
al-Qaeda-linked militants in the south
and a southern secessionist movement. Despite these deterrents, 2012 saw 
record numbers
of refugees and migrants head to Yemen, where - rather than refuge - they often found
more trouble
. 
Sectarian clashes in the north
and military operations in the south brought the number of 
internally displaced people
to nearly half a million. The government declared in June that it had 
rooted out militants
who had taken control of parts of the south, but people have struggled to return to their homes due to
landmines
, limited basic services, including
health care
, and continued insecurity. 
Access for aid workers
to former conflict areas has increased, but
funding is not yet fully secured
. Yemen is in desperate need of 
immediate assistance
 to avoid becoming the next Somalia.
Continued violence in Iraq:
Iraq slipped out of the headlines as the US pulled out its troops at the end of 2011, ending a nearly nine-year occupation. But 2012 was 
no less violent
for civilians. A surge of violence in January, in the weeks after the withdrawal, had many Iraqis
reconsidering their options
. Insurgent dynamics have changed post-withdrawal; Shia groups have become less active, while Sunni groups appear to have resurged, with several high-profile coordinated bombings across the country throughout the year. But the 
main driver of violence
continues to be dysfunctional and polarized politics. The situation is likely to get worse in the lead-up to elections in 2013 and 2014, and as the situation in neighbouring Syria deteriorates further. Hundreds of thousands of people 
remain displaced
by the war, and tens of thousands of Iraqi refugees returning from Syria could 
further destabilize
the country.
The stalling of Libya's transition:
Libya held its first democratic 
elections
since the ousting of former leader Muammar Gaddafi, but a 
power struggle
between Libya's budding new government and a web of revolution-era militias continued to plague Libya's transition to stability after the toppling of Gaddafi in late 2011. Tens of thousands of Libyans remained 
displaced
months after the fighting ended, afraid to return home because of lingering ethnic tensions. Clashes in 
southern tribal areas
rocked the country in the early months of the year; and many minorities were unsure if the revolution would finally bring them
more rights
. Libya's policy towards
migrants
, who were violently targeted in the months following the revolution, remained harsh. Many of them, along with Libyan refugees and failed asylum seekers, are still stranded on the
Egyptian border
.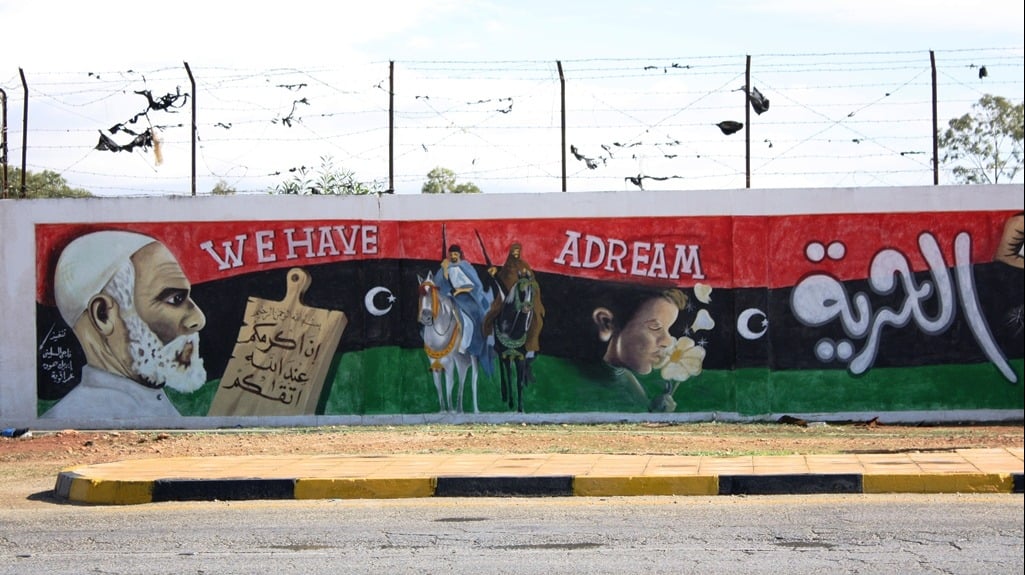 201212311144080052
The price of Egypt's revolution:
It has been another gripping year in Egyptian politics, as debate and controversy surrounded the withdrawal from power of the ruling military council; the election of a
new president
, the disbanding of parliament, and the drafting of a
new constitution
. Increased polarization within Egyptian society led once more to a series of fatal clashes on the streets throughout the year. The political turmoil has prevented the much-hoped-for economic revival, with foreign currency reserves dropping by more than half, unemployment rising, poverty increasing, and the budget deficit at US$27.5 billion and growing. The poor have been the
hardest hit
. In the short term, the revolution
has yet to bring tangible gains
; on the contrary, it has led to
fears of rising malnutrition
;
fuel shortages
;
child abductions
; and a rise in
religious extremism
. The new constitution was passed in a referendum at the end of the year, but opposition remains high. Next year is likely to be as unpredictable as the past two.
Never-ending challenges for Palestinians:
Changes in Egyptian politics 
raised hopes
in the Gaza Strip that a five-year blockade by Egypt and Israel would be eased. (New Egyptian President Mohamed Morsi's Muslim Brotherhood movement is close to the Islamist rulers of Gaza, Hamas). But significant changes have yet to take effect, with Gazans continuing to depend on 
underground tunnels
to smuggle in supplies. This has left Palestinians continuing to face
food insecurity
, an
aid-dependent economy
, and
Israeli settlement expansions in the West Bank
. This year, Gaza had the added misery of a severe fuel shortage and related
energy crisis
, with the UN predicting in August that Gaza could be
uninhabitable by 2016
. It was in this context that in November, Israel launched (with the stated aim of halting rocket-fire from Gaza into Israel) large-scale 
air attacks
which killed dozens of civilians, 
displaced thousands
of others, and left communities on both sides of the
border reeling
. The legacy of the eight-day military operation is
still not clear
; at the end of December, Israeli officials said they would start allowing construction materials to enter Gaza daily via the Kerem Shalom crossing. Despite the high needs, aid agencies have traditionally struggled to provide aid amid tight Israeli
restrictions
; but this year, aid agencies in oPt began
resisting the status quo
.
Migrants in Israel:
Throughout 2012, Israel 
hardened its stance
towards migrants. In January, it introduced a 
new law
designed to stop what it calls "infiltrators" and by spring, public opinion had significantly shifted against migrants, leading to attacks involving
Molotov cocktails
, 
mob beatings
and
police crackdowns
. In April, Israel began 
deporting
South Sudanese asylum seekers who previously had protected status in Israel.
The coordination of humanitarian aid:
When Valerie Amos became UN under-secretary general for humanitarian affairs in 2010, one of her priorities was to increase partnerships between the UN and other players in the field. After years of 
mistrust
between the mainstream humanitarian system and aid agencies in the Arab and Muslim worlds, the UN Office for Coordination of Humanitarian Affairs (OCHA) in 2012 signed memorandums of understanding with Qatar and Kuwait. OCHA's liaison office in the Gulf has set up a new 
web portal
as a link between Gulf donors and the UN, and Gulf countries are moving towards 
increased coordination
in aid and emergency preparedness among themselves. Aid agencies in the Muslim world are also trying to 
make better use
of the 
billions of dollars
given in alms and charity every year.
ha/cb
---
This article was produced by IRIN News while it was part of the United Nations Office for the Coordination of Humanitarian Affairs. Please send queries on copyright or liability to the UN. For more information: https://shop.un.org/rights-permissions