Niger's foreign donors have spent hundreds of millions of dollars on training and supporting its security services over the past five years as they seek to contain a growing jihadist insurgency linked to a franchise of the so-called Islamic State.
But the mostly European donors have failed to put in place strong programmes to prevent rights abuses by the army, and haven't held the Nigerien authorities to account for the alleged deaths and disappearances of hundreds of civilians rounded up during anti-jihadist operations, local rights groups, aid officials, and foreign diplomats told The New Humanitarian. 
Despite the abuses, a lot more funds are likely to be invested in Niger as its geopolitical influence grows. The country is expected to become the main hub for foreign forces in the Sahel as France closes its military bases in neighbouring Mali – part of a wider restructuring of its regional military footprint that is already underway.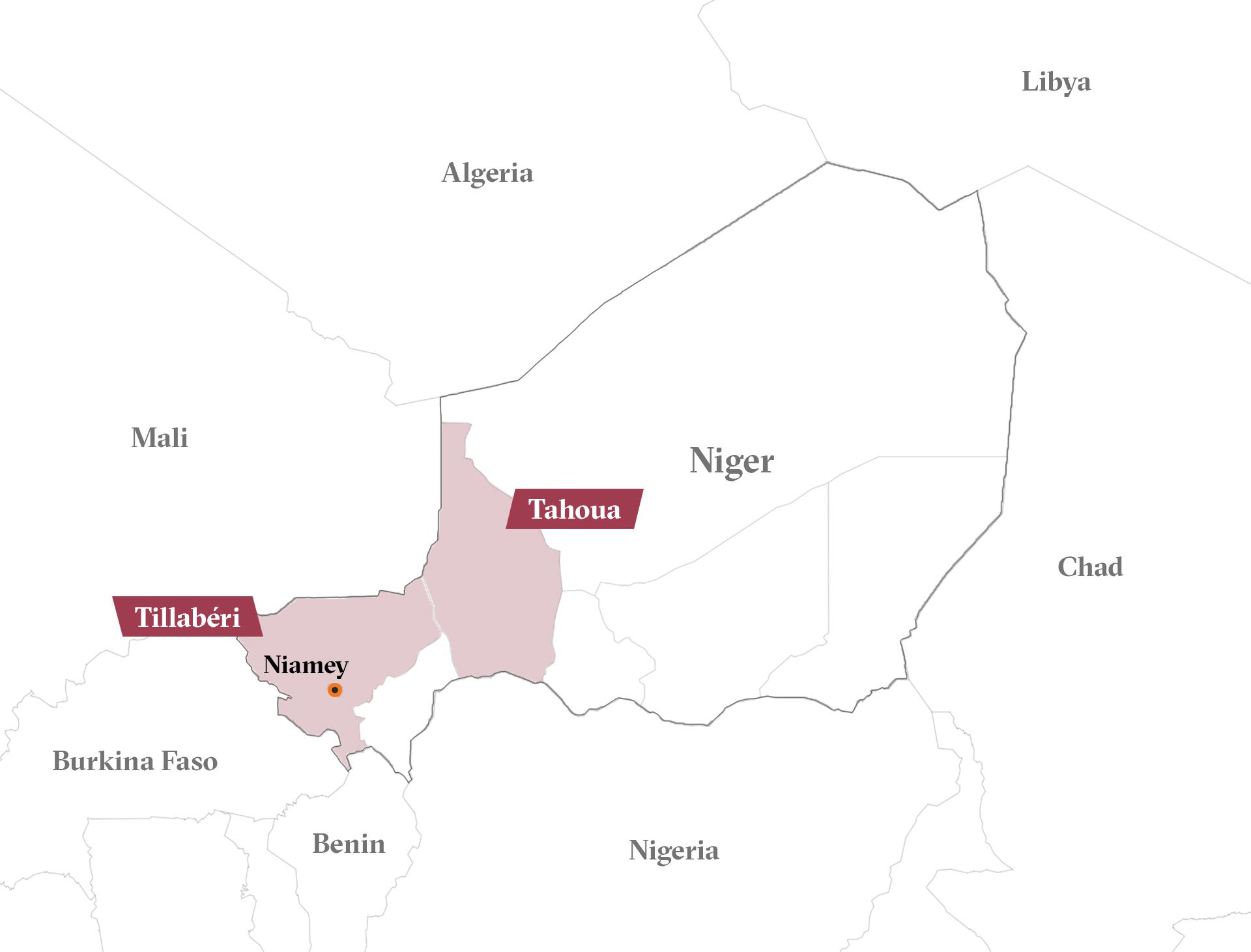 "We keep hearing that Niger is a model for the fight against terrorism," said Abdoulaye Seydou, director of the Pan-African Network for Peace, Democracy, and Development, a human rights organisation based in Niger. "But what about these deaths [caused by the army]?"
Foreign funders have spent money on a range of programmes and initiatives: new police and army units have been formed and equipped; military training centres have been built; and trucks, motorbikes, helicopters, and surveillance drones have all been donated.
Niger has also benefited from the vast sums foreign countries have spent on their own direct military engagements in the wider Sahel region – from France's soon-to-be-disbanded counter-jihadist mission, Operation Barkhane, to the European Takuba Task Force.
Yet the military efforts have failed to secure a clear victory in Niger, and jihadists have instead launched some of their deadliest attacks yet against civilians. Nearly 70 people were killed in one incident earlier this month in the western Tillabéri region, where much of the worst violence is concentrated.
Read more → What's behind the rising violence in western Niger?
Local analysts say abuses committed against civilians – often accused of collaborating with jihadists on flimsy grounds – feed into the hands of militant groups, which gain legitimacy when the state is associated with indiscriminate violence.
One of the worst documented atrocities occurred last year in Inatés, a commune of Tillabéri. According to a report by Niger's national human rights commission, 136 civilians were disappeared or killed by soldiers during military operations between March and April 2020.
More than 18 months after the alleged extrajudicial killings, legal and diplomatic sources in Niger told The New Humanitarian there has been no proper legal investigation into what happened, and no support for families of victims – mostly members of Tillabéri's Tuareg and Fulani groups, which have been targeted for recruitment by the militants.
"[The government] opened a file at the court of Tillabéri, then nothing moved until now," a former member of Niger's rights commission, who asked not to be named, said earlier this month. "It was only a way to please the donors: They created some noise, then they let the dust settle down."
Nigerien government officials from different departments did not respond to multiple requests for comment for this article, though authorities have previously blamed the killing of civilians in Inatés on jihadists, who they accused of imitating soldiers.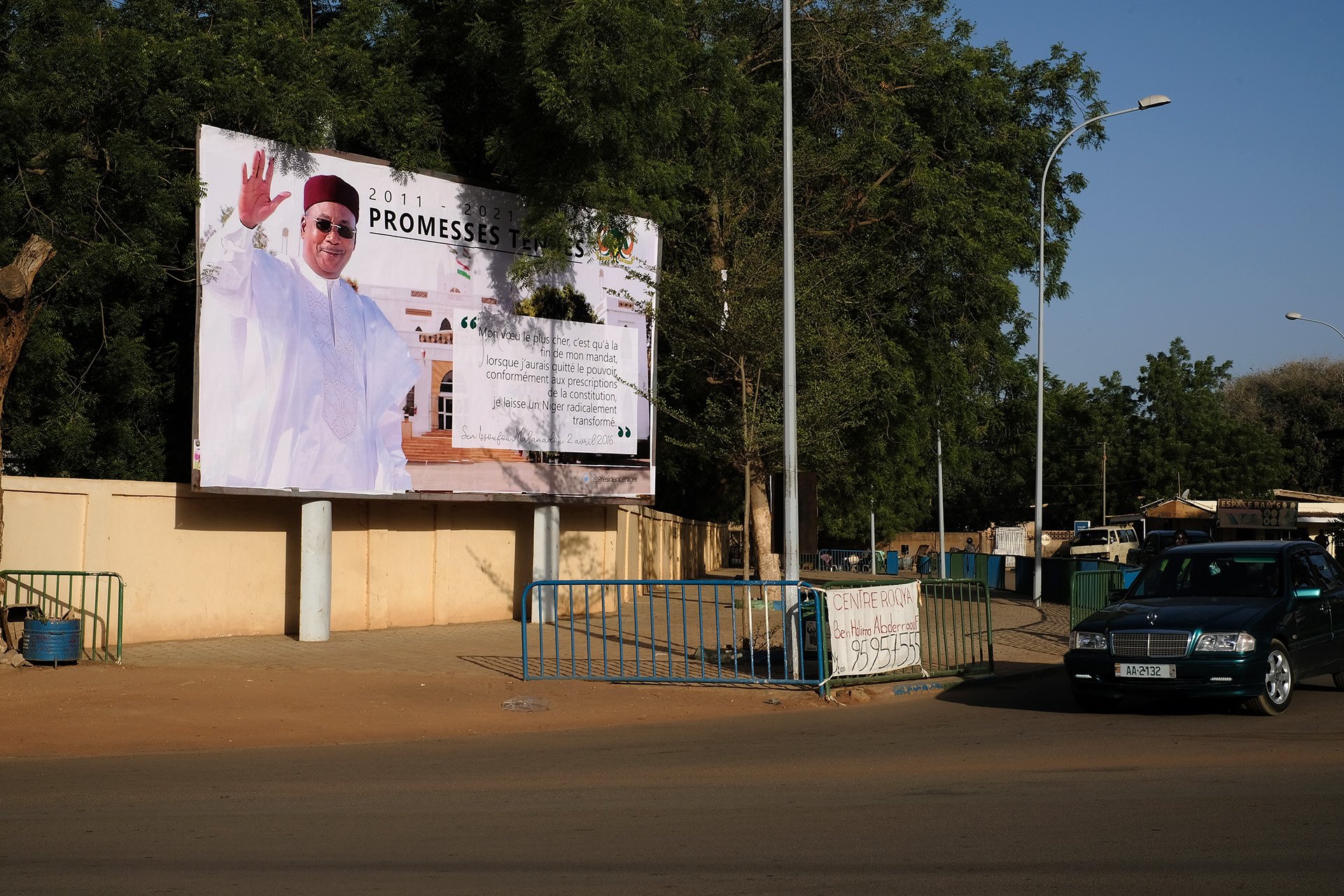 An EU spokesperson, meanwhile, described promoting human rights as at "the core" of its support to Niger. Since the events in Inatés, the spokesperson said the body has been in a "continuous" dialogue with Nigerien authorities.
Jaïr van der Lijn, a researcher at the Stockholm International Peace Research Institute, offered a different view. "If abuses happen, then there's no real consequence," he told The New Humanitarian. "European support [in the Sahel] is basically making local forces better at doing bad things."
A disappeared groom: 'They've taken him away from us'
Jihadist groups started a military campaign in western Niger in 2016, having previously based themselves in Mali. The spillover conflict represented a second border crisis for a country already dealing with Boko Haram insurgents in its southeastern regions.
Containing the spread of the militants became a priority for European powers, which were also seeking to reduce migration from Niger to neighbouring Libya – a waystation for those hoping to reach Europe.
To achieve its goals, the EU and some of its most active member states have spent at least $713 million on military missions and other initiatives aimed at training and supporting Niger's security forces.
READ MORE: Why $700 million is a lowball estimate of European spending in Niger
The New Humanitarian calculated the figure of $713 million by using online public databases, freedom of information requests, and through emailed questions to the EU and European governments.
The EU member states counted are the most active spenders according to open source analysis: Belgium, Germany, Italy, and The Netherlands. French contributions are discounted because the government would only detail its broader Sahel spending of $4 billion.
Projects counted are those in which Niger's security services were the beneficiaries, though most of the money is spent directly by the donor governments or is channelled through international organisations, NGOs, and UN agencies.
Regional and cross-border projects that didn't break down their spending by individual country were discounted, as were projects that had security and non-security components with no clear breakdown.
The $713 million also doesn't include weapons and arms donated to Niger by European powers because The New Humanitarian could not establish a complete picture of these donations.
The figure also discounts $213 million that The New Humanitarian established has been spent by the EU since 2017 on the G5 Sahel Joint Force, a mechanism used to coordinate and equip the armies of Mauritania, Mali, Burkina Faso, Niger, and Chad.
Despite the assistance, Niger's army has struggled to cope with the militants – who form a franchise known as Islamic State in the Greater Sahara (ISGS) – and the security forces stand accused of numerous atrocities.
Ghumrane Almaimoune was among those disappeared during the military operations in Inatés in early 2020. He had left his village of Agam Sourgou early one morning to purchase wedding supplies for his marriage, but never made it back to celebrate.
His name was included on the report published by Niger's national human rights commission in September 2020 – number 33 of 136. Trips to police stations and military bases by his relatives have since yielded no further information on what happened.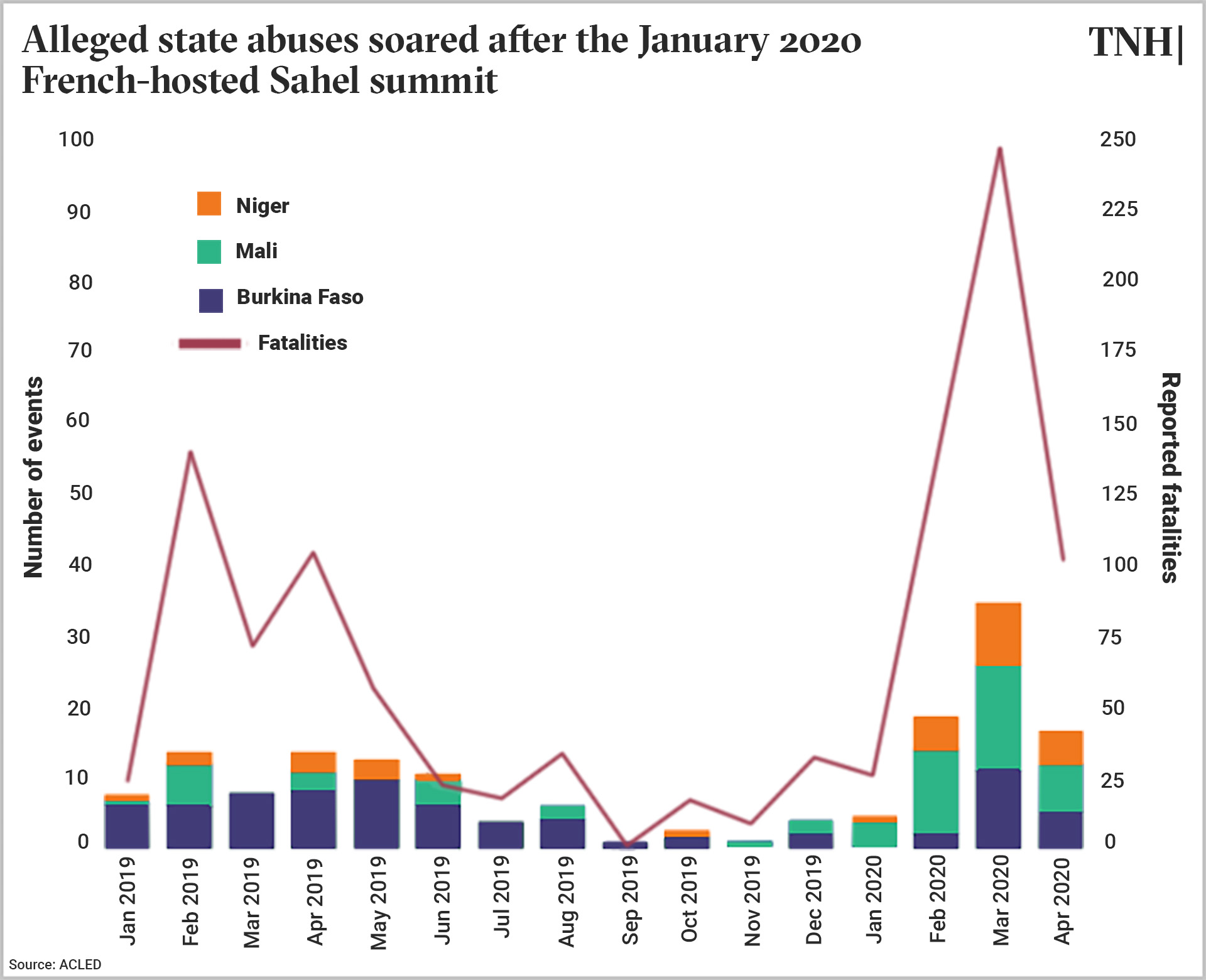 "[Soldiers] were supposed to protect him, but they've taken him away from us," said a relative who asked to remain anonymous to avoid reprisals. The relative said Almaimoune worked as a security guard in neighbouring Nigeria and had no ties to ISGS.
Abuses like this are far from isolated, according to community leaders in western Niger. "We hear about [events like Inatés] because of their size, but plenty of things happen every day in Tillabéri, amid Europe's indifference," said a local Fulani leader.
Since late 2019, the leader – who asked to remain anonymous for fear of reprisals – said they had kept track of 157 civilians assumed to be killed or disappeared during military operations by Nigerien soldiers in Tillabéri region.
European officials say their support for Niger's security services includes programmes that help protect civilians. This includes funding a human rights monitoring mechanism for the G5 Sahel Joint Force – a Sahelian counter-terrorism grouping that includes Niger – and human rights training sessions for Nigerien soldiers and police through the European Union Capacity Building Mission in Niger, known as EUCAP Sahel Niger.
Still, Van der Lijn, the researcher, called such programmes an "afterthought". He said European states "refuse to condition" their military support on respect for human rights in Niger and neighbouring countries because they "fear losing influence" to new actors in the region, such as Russia.
The EU's commitment to human rights in Niger has been questioned by the body itself. A recently published study commissioned by the European Parliament claimed there have been no reports or evaluations assessing the development of a "human rights-based approach" within EUCAP Sahel Niger, the EU's main initiative for training local forces.
Meanwhile, a well-placed official involved in setting up the human rights mechanism for the G5 Sahel Joint Force, told The New Humanitarian that its implementation had been stalled by French officials who fear that Barkhane soldiers – also accused of dozens of civilian killings during Sahelian operations – "might be caught in the crosshairs". 
A spokesperson for France's Ministry of Europe and Foreign Affairs denied that allegation. They said France had helped set up a "rigorous" human rights framework since the creation of the G5 Sahel Joint Force in 2017.
After a French summit, abuses soar: 'There's no room for dialogue, only for a display of force'
A spokesperson for the French government confirmed that its forces had supported Nigerien troops involved in the specific military operation – known as Almahaou – that local residents blame for the abuses committed in Inatés in 2020.
The spokesperson did not elaborate on the precise nature of the support but said: "The very good coordination existing between the Barkhane force and the Nigerien armed forces has enabled very significant results to be obtained."
Almahaou – which means whirlwind in the local Zarma language – is an ongoing mission that involves some 2,500 of Niger's best-equipped troops. It was significantly scaled up after a French-hosted Sahel summit in January 2020.
During the gathering, France pledged to strengthen the capacity of Sahelian armed forces, while participants also agreed to place a greater emphasis on combating ISGS, which is most active in Niger.
An investigator from Niger's human rights commission told The New Humanitarian that subsequent operations sought to defeat ISGS "at any cost" to the local population. The investigator asked not to be named in order to speak freely.
Out of the 136 people who went missing during the early 2020 Inatés operations, 71 were found blindfolded in six mass graves, according to the commission's report. Sixty-five others – including Almaimoune, the security guard – have still not been found.
A local government official from Ayourou – a town and commune in Tillabéri – said the operation also served another goal: shutting down attempts at dialogue and grassroots peace initiatives in the area.
"We had set up a small project to reintegrate former low-ranking fighters who deserted the Islamic State," said the official, who asked not to be named. "But these killings sent a clear message: There is no room for dialogue, only for a display of force." The local official added that such abuses mean "jihadist groups will have another recruiting tool".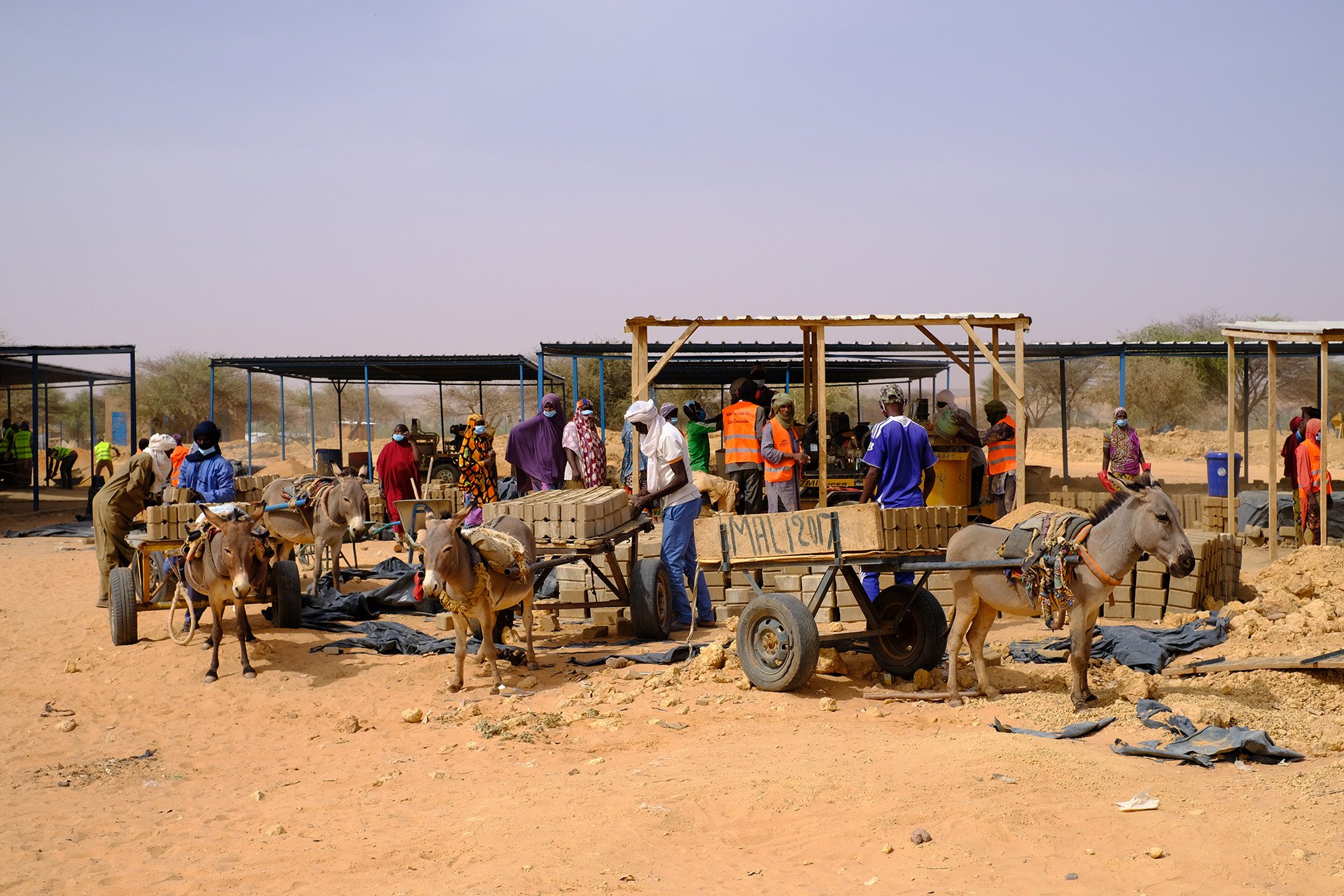 Foreign-made equipment, including French-built armoured vehicles, were used during Almahaou, according to video footage of the operation. It is unclear whether these specific vehicles were donated by France or bought directly from the manufacturer.
The New Humanitarian sent a freedom of information request to the EU to establish whether it had provided equipment for Almahaou. But the bloc rejected the request, citing the need to protect its "security and defence interests", as well as Niger's.
A former EUCAP Sahel Niger official said the thought of EU equipment being used to violate human rights has created "a real unease in the corridors of the European Commission". To avoid jeopardising future job opportunities, the official asked not to be named.
No path to justice: 'If you go looking for your missing relatives, they might treat you as a terrorist'
After Niger's human rights commission published its report on the abuses in Inatés, the body faced pressure from authorities in Niamey, including the defence ministry, which initially rejected its findings.
The Inatés case was then referred to a local court in Tillabéri, but "since the government didn't recognise the results of our investigation, there was no follow-up," said another former member of the commision, who requested anonymity.
A senior Nigerien prosecutor, who also asked not to be named, citing the sensitivity of the issue, added that "the [Inatés] file is advancing so slowly that we might even say it's actually blocked". After two military coups in Mali over the past 18 months, the prosecutor said Nigerien authorities are afraid they could be overthrown should the army feel undermined or demoralised.
Read more → No strings attached? How Europe's military support for Mali closes its eyes to abuses
Donor countries haven't helped push the case forward, said a European diplomat in Niger. "Despite showing a greater attention to human rights... European governments have been extremely shy on the [Inatés] file," said the diplomat, who asked not to be named.
However, a spokesperson at Germany's defence ministry disagreed with that assessment. They said they were aware of all allegations made against Nigerien forces and have "consistently called for the investigation of these accusations in political discussions".
Still, extrajudicial killings by the army have continued. In April 2021, soldiers reportedly killed more than a dozen Tuareg men in western Niger, according to community leaders. The government called the men jihadists, but locals said they were civilians.
Relatives of victims of abuse said they are often afraid to speak out, for fear of being treated as supporters of jihadists. "If you go looking for your missing relatives, they might treat you as a terrorist," said Tillabéri resident Malik Abou Bakrin.
Bakrin said soldiers took away his brother – Aghali Abou Bakrin – in late 2019, a few weeks after jihadists attacked a gendarmerie patrol near their village of Abarey, which is also in Tillabéri. Since that day, Bakrin said he has received no news of his brother. 
The Nigerien state prosecutor was similarly gloomy about the prospects of soldiers being held to account for events in Inatés. He said justice would only be served if the case went to the International Criminal Court, something few considered likely.
Edited by Philip Kleinfeld.