As the Syrian government prepares to launch an offensive on Idlib province, humanitarians are on edge. Estimating the area may hold as many as three million people, UN Secretary-General António Guterres has said he is "deeply concerned about the growing risks of a humanitarian catastrophe", calling on Russia, Iran, and Turkey to seek a last-minute deal to avoid violence, while UN envoy Staffan de Mistura is offering to personally escort civilians out of the warzone.
The three countries do appear eager to work together on some level, and have promised to meet in early September. But with Russia and Iran still Syrian President Bashar al-Assad's closest allies and Turkey supporting the rebels, there is little common ground between them.
It's not just aid workers who are worried. Hundreds of thousands of civilian lives hang in the balance, and with the border with Turkey sealed, they may have nowhere to run if the tanks come rolling in.
"The only thing people are talking about now is the coming battle," said Rajaai Bourhan, a former business student who now ekes out a living as a freelance journalist in northwestern Syria. Speaking to IRIN from Idlib last week, he described a city hostage to circumstances outside its control.
"People are afraid, and they can't do anything about it," he said.
Who lives in Idlib?
For years, Sunni rebel groups have controlled Idlib and adjacent parts of Latakia, Hama, and Aleppo provinces.
The surrounding area is mostly under al-Assad's control, but the northern side of the enclave connects to Afrin, a Kurdish area captured by Turkish-led Syrian fighters earlier this year. From Afrin, Turkish proxies control a crescent of territory stretching around Aleppo to the city of al-Bab.
The largest city in Idlib, a mostly rural area, is the eponymous provincial capital, with an estimated pre-war population of 150,000-200,000. Smaller cities include Jisr al-Shughour, west of Idlib, Saraqeb to the east, Maarrat al-Nouman and Khan Sheikhoun further south, and Khan al-Assal, Hreitan, and Anadan to the northeast, near Aleppo.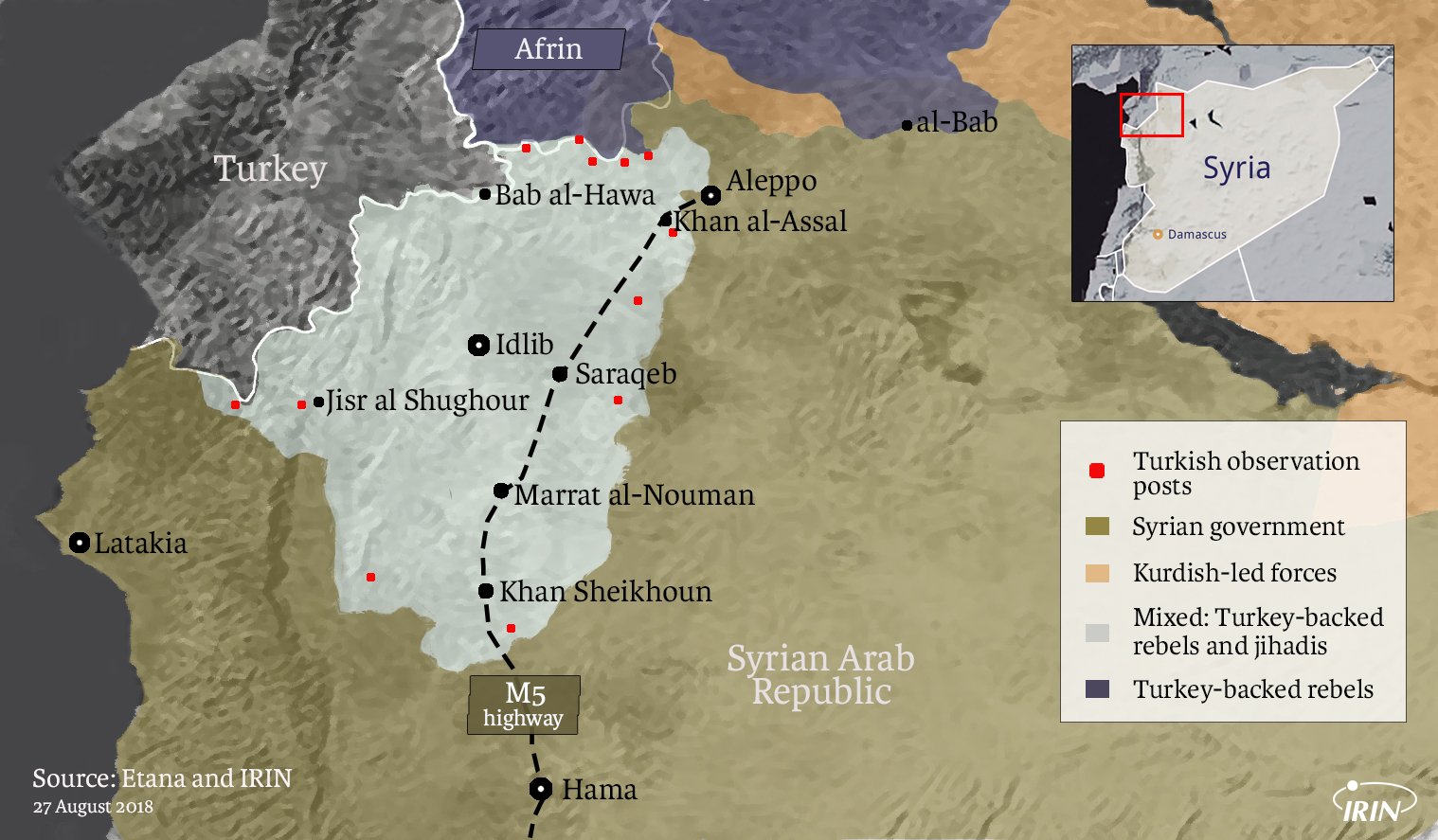 As one of few remaining opposition sanctuaries and an entry point for cross-border aid, Idlib has seen its population swell with the arrival of hundreds of thousands of internally displaced Syrians like Bourhan, who was born in the country's southwest and told IRIN he was detained for demonstrating against al-Assad's government in 2011.
He fled to a neighbouring town after his release and then followed defeated rebels to Idlib when the army retook it, fearing arrest or worse.
The inflow of people continues to this day, and the UN estimates that some three million people now live in Idlib, nearly half already forced to flee their homes at least once. That figure includes adjacent rebel-held parts of Latakia, Hama, and Aleppo, but not the Afrin or al-Bab rebel regions.
UN population estimates have often skewed high during Syria's civil war, but they remain the only detailed estimates available.
Two thirds of the population are said to be in need of some sort of humanitarian assistance, and "these people are extremely vulnerable", said Linda Tom, a Damascus-based spokeswoman for OCHA, the UN's emergency aid coordination body.
Pawel Krzysiek, head of communications for the International Committee of the Red Cross in Syria, told IRIN by email that fighting in Idlib "will put thousands, if not hundreds of thousands, on the move."
Tom said as many as 800,000 people could be forced to flee in the event of an attack, an increase of 100,000 from previous UN estimates.
Where will the displaced go?
Turkey's ties to the fight in northern Syria are about more than its longstanding support for some rebel groups, the opposition-in-exile, or its desire to keep Kurdish groups it considers terrorists from retaining power.
Turkey already hosts 3.5 million Syrian refugees, according to UNHCR statistics, and President Recep Tayyip Erdogan is under pressure from the Turkish public and the EU to secure his borders. The defeat of the rebels would diminish Erdogan's leverage over northern Syria – it currently has 12 military outposts in Idlib, and additional troops stationed in Afrin and al-Bab – and could trigger mass displacement toward Turkey.
"Preventing a refugee influx has been, and remains, a priority for Turkey," Armenak Tokmajyan, a Syrian researcher and International Crisis Group fellow, told IRIN, adding that many people may decide to stay put in the face of a major regime offensive, but "a big number" would likely try to cross into Turkey, or head towards Afrin.
Erdogan's intelligence services recently warned that 250,000 Syrians may head for Turkey if Idlib is attacked, advising him not to let them in but to instead "keep them in safe zones inside Syria near the Turkish border". It's not clear how these safe zones would work in practice, but the idea would likely mean Turkey tries to hold on to territory inside Syria.
So far, Turkey is attempting to hold off the assault and the refugee flows by insisting that Russia must uphold a deal brokered in the Turkish-Russian-Iranian Astana peace process, which was supposed to turn Idlib into a "de-escalation zone". But other de-escalation zones, like Eastern Ghouta outside Damascus, were eventually retaken violently by the government, and Russia and Iran are now pushing to let al-Assad resume military operations in this one.
On 30 August, the UN's de Mistura pleaded with the three Astana powers to delay military action in Idlib and use the time to create "safe corridors" that would let civilians exit the area under UN supervision and sit out the battle in government-held territory. Such a mechanism could reduce risks to fleeing civilians, but it would also likely weaken the position of the rebels and do little for fighters and political activists wanted by al-Assad's security agencies.
Dramatically, de Mistura offered to personally serve as a human shield to uphold such corridors, but although Russia expressed interest in the idea, many opposition leaders reacted with outrage and accused the UN envoy of underwriting civilian displacement.
And what of aid?
Refugees in northern Syria have long been banned from entering Turkey, but humanitarian aid and commercial traffic is still getting into Idlib, mostly through the Bab al-Hawa border crossing.
Bab al-Hawa's importance can hardly be overestimated. UN statistics indicate that out of 403 trucks carrying humanitarian cargo into Syria last month, 341 passed through Bab al-Hawa.
Tahrir al-Sham – one of the two Syrian rebel factions that dominates in Idlib – has controlled the crossing since July 2017. The group, which is listed by the UN as a terrorist faction, routinely skims money from civilian traders, but has treated humanitarian actors with a lighter touch to avoid triggering an aid cutoff. Even so, an internal USAID investigation recently found Tahrir al-Sham had diverted American-funded aid from a Catholic charity.
☰ READ MORE: Understanding Idlib's Rebel Factions
While Turkey controls the rebels in nearby Afrin and al-Bab, the landscape in Idlib is more complex. Two major factions dominate – the National Liberation Front and Tahrir al-Sham – and they differ on their positioning towards Ankara.
Turkey's favourite is the NLF, which is led by Fadlallah al-Hajji, a Muslim Brotherhood ally. The NLF includes Turkey-friendly Islamists like Ahrar al-Sham, the Noureddine al-Zengi Brigades, Failaq al-Sham, Jaish al-Ahrar, and groups that fought under the Free Syrian Army banner, like the Victory Army and the 2nd Coastal Division.
Big but brittle, the NLF is held together by Turkish sponsorship and shared enemies: al-Assad's government, Syrian Kurdish groups, and hardline jihadists.
The NLF's main rival in Idlib is Tahrir al-Sham, a jihadist group that controls the provincial capital, the Bab al-Hawa border crossing with Turkey, and other key areas in Idlib.
Led by Abu Mohammed al-Golani, Tahrir al-Sham grew out of what used to be the Nusra Front, Syria's official al-Qaeda franchise. It is classified as a terrorist group by the UN as well as by the United States, Turkey, and many other nations. Moscow and Damascus typically point to the group's presence when launching new military offensives.
Tahrir al-Sham has a murky relationship to Turkey. Al-Golani appears to engage pragmatically with Turkish intelligence but refuses to fully submit to Ankara's diktat.
To his dismay, Turkey keeps pushing for control over the entire Idlib insurgency. Turkish officers tell rebels the only way to appease Russia and keep al-Assad out of Idlib is for Tahrir al-Sham to dissolve and let its members join the NLF.
Some Tahrir al-Sham members seem to agree. Syrian analysts, including Ahmed Aba-Zeid, a well-connected Syrian researcher who supports the non-jihadist opposition, told IRIN that Turkey now dominates one wing of the group.
Al-Golani is also under pressure from jihadist hardliners who portray him as a Turkish tool and a sellout.
"Al-Qaeda leaders in Syria tend to see Tahrir al-Sham, and Abu Mohammed al-Golani in particular, as unprincipled and treacherous," Cole Bunzel, a research fellow in Islamic Law and Civilisation at Yale University, told IRIN. Bunzel said hardliners view Tahrir al-Sham as "having disobeyed the al-Qaeda emir [leader] in breaking off from the organisation, and since then persecuting al-Qaeda members in Syria."
Some of al-Golani's jihadist critics, many of whom are Jordanians and Palestinians, have gathered in a pro-al-Qaeda splinter faction known as Hurras al-Deen. The group is small, but its religious criticism stings and adds to al-Golani's challenges. He must now simultaneously fend off further defections to Hurras al-Deen and prevent his other flank from being peeled off by Turkey, whose "good cop" attitude is backed up by the threat of a regime offensive.
A Tahrir al-Sham official again rejected calls for the group's dissolution on 28 August, but added that it seeks "a salutary solution in the liberated north that spares our people the expected aggression." Behind the scenes, the group appears to be negotiating with Turkey, while Turkey negotiates with Russia.
In Aba-Zeid's view, how Tahrir al-Sham evolves in the future will depend on Ankara and Moscow.
"If Turkey reaches an understanding with Russia to let Turkey handle the jihadist file in Idlib, one can expect to see Tahrir al-Sham split" between members who join the Turkey-backed block and hardliners who draw closer to Hurras al-Deen, he said.
Minor factions and Chinese jihadists
Complicating the picture in Idlib are several second-tier rebel factions.
On the jihadist side, Hurras al-Deen is accompanied by a number of small foreign-led factions close to Tahrir al-Sham, including the Chechens of Junoud al-Sham. The so-called Islamic State also operates clandestine cells in the area, hunted by both the NLF and Tahrir al-Sham.
Jaish al-Ezzah, a Free Syrian Army-flagged faction based near Hama, has not joined the Turkish-backed NLF like many of its former comrades. Some see the group as a covert Tahrir al-Sham ally, while others say their base is simply too far from Turkey for joining the alliance to make sense, so they are surviving by ducking out of intra-rebel rivalries.
In the western part of the enclave, Jisr al-Shughour has emerged as a stronghold of the Turkestan Islamic Party, TIP, a group of Uyghur Chinese jihadists. The TIP's presence in this strategic area (it's near the border with Turkey and government-controlled Latakia) plus its links with both Tahrir al-Sham and Turkey could give this group a pivotal role in any upcoming battle.
TIP has worked closely with Syria's jihadist factions in the past, but also seems well acquainted with Turkish intelligence. After staying out of intra-rebel clashes for years, the group shed its neutrality policy this spring to help Tahrir al-Sham beat back a surprise attack by Turkey-backed Islamists.
Aba-Zeid, who follows intra-rebel conflicts in Idlib closely, said TIP helped swing that battle in al-Golani's favour. But, he still believes that "Turkey's influence on TIP remains greater than the influence of their alliance" with Tahrir al-Sham.
If all of this sounds complicated, it is. But to the Syrian government, Idlib's rebels are all terrorists pure and simple – and the Idlib fighters themselves also see al-Assad as their primary enemy, transcending factional divides. Aba-Zeid insisted that if Russia green-lights a Syrian government offensive on Idlib, no matter how the various groups view Turkey or each other, they would all "prioritise repelling the attack".
Mustafa Sejari, a leader in the Ankara-backed Moutassem Brigade, agreed. "This is the last fortress of the Syrian opposition and preserving it is everyone's obligation," he said.
If refugee movements or an attempt to pressure Tahrir al-Sham leads Turkey to ban trade and humanitarian assistance through Bab al-Hawa, the effects on the civilians in Idlib – including access to healthcare, food, and safe water – could be swift and severe.
"If border crossings with Turkey are to shut down, hundreds of thousands of people will be affected," warned the ICRC's Krzysiek.
Can Russia broker a deal?
The Syrian army has spent the past weeks moving troops to the Idlib region, including some former rebels from the south who have now joined up with al-Assad's forces. Russian ships have reportedly deployed off the coast.
The Syrian government appears to want to launch a major offensive, with Defense Minister Ali Abdullah al-Ayyoub saying on 26 August that "Idlib will return to the nation's bosom and all of Syria's soil will be cleansed of terrorism, either through reconciliations or through field operations."
"Reconciliation" is the government's term for when opposition factions capitulate in return for amnesty, as seen recently in the southern Deraa region. Rebels who refused were sent to Idlib, where they now face the same dilemma again – but this time with no clear escape route.
Housing thousands of rebel rejectionists from other parts of Syria, Idlib will prove hard to crack. The rebels are talking tough, too: Tahrir al-Sham leader Abu Mohammed al-Golani and the rival Turkish-backed Islamist commander Jaber Ali Pasha have both spoken about preparations for a massive battle and warned that anyone trying to negotiate a Deraa-style deal with the government will be arrested.
As sabre-rattling continues on both sides, what happens next is largely up to Russia and Turkey, whose support is indispensable for al-Assad and the rebels, respectively.
High-level meetings took place in Ankara on 13-14 August and again in Moscow on 24 August. Iranian Foreign Minister Mohammed Javad Zarif visited Ankara on 29 August, his Syrian counterpart travelled to Moscow the following day, and Zarif arrived in Damascus on 3 September-. A Russia-Iran-Turkey summit is scheduled in Tehran for 7 September.
Turkey wants to stop al-Assad from attacking Idlib; Iran wants the opposite. But Russia's role is more ambiguous: it wants al-Assad to win, but also to maintain good ties with Erdogan, whose country is a key NATO member.
All this puts Russia in a "curious situation", according to Alexey Khlebnikov, a Middle East expert at the Russian International Affairs Council. He told IRIN that while Moscow wants to support al-Assad, a new refugee crisis on Turkey's doorstep would run counter to Russian interests.
Even if Russia is content with kicking the can down the road, it's not obvious it would succeed in brokering such a deal.
"This is why Russia is likely to pursue an agreement with Turkey and the Syrian government," Khlebnikov said. But what kind of agreement might that be?
What happens now?
With al-Assad champing at the bit and Turkey insisting that the Astana agreement be respected, there seems to be little common ground.
Moscow may support an attack by al-Assad's forces to muscle a distracted and less than fully committed Turkey into a fait accompli, allowing al-Assad to seize all or most of the Idlib area in one or more military offensives.
Russia could also bend toward the Turkish position, postponing a reckoning in Idlib and giving Ankara more time to increase its leverage over the insurgents. A Turkish-allied Islamist leader stated on 1 September that, according to his information, Turkey's "great efforts to spare the liberated area have been crowned with success", pending a final decision at the 7 September tripartite Tehran summit. But rumours swirl, and this may or may not be true. Indeed, on 3 September, at the start of his visit to Damascus, the Iranian foreign minister warned that "the remaining terrorists in the remaining parts of Idlib must be cleaned out".
The Russians could also seek to establish a new interim arrangement, as a stopgap measure: a limited offensive that lets al-Assad retake certain key points while Turkey is allowed to dig in and continue to chip away at Tahrir al-Sham's autonomy.
For now, civilians can do little more than wait.
However, even if Russia is content with kicking the can down the road, it's not obvious it would succeed in brokering such a deal. To get Ankara, Tehran, Damascus, and Syria's factionalised rebels to respect the same Russian red lines is easier said than done.
"The situation in Idlib is incredibly complicated," Mustafa Sejari, a rebel official from the Turkish-backed Moutassem Brigade, told IRIN. "The regime cannot decide on its own to move militarily against Idlib, but Russia's calculus is also linked to Turkey, our strategic ally." What will happen, he added, will depend on "the extent of the Turkish-Russian understanding."
For now, civilians can do little more than wait. Bourhan, the journalist, said he's "very afraid and nervous."
With al-Assad knocking at the door of his latest refuge – and that of many other Syrians who opposed the government – Bourhan has started to look for a new escape route.
"I'm tired of this, I'm really tired," he said. "I want to live in a normal situation, in a normal place, with normal people. Everybody is tired of this war."
(TOP PHOTO: A woman carries a child as she sits in front of a tent at a camp for those displaced from the rebel-held Syrian province of Idlib on 2 September 2018. CREDIT: Nazeer al-Khatib/AFP)
This work was supported in part by a research grant from The Harry Frank Guggenheim Foundation.
al/as/ag