On a recent Monday morning, under the blistering sun of Nigeria's northeastern Borno State, two senior politicians – surrounded by a hoard of local officials and paparazzi – thought they spied victory in a small mountain of seeds.
Borno State Governor Kashim Shettima and former Nigerian president Olusegun Obasanjo, once a top general, picked through burlap sacks filled with 36 metric tonnes of maize, cowpea, and rice seed bred specially for the region's arid climate. These are the latest weapons in the war against Boko Haram.
The seeds were sitting in a massive dirt lot in Maiduguri, the state capital, alongside hundreds of gleaming new tractors, all destined to be donated to farmers across the state. The donations weren't just to grow food, Shettima announced. It was also to send a message to the Islamist militants who have terrorised this region for the last eight years.  
"At the risk of sounding immodest, I dare to say that there is no state in the Nigerian federation that is better prepared for agriculture than Borno State," he said, to applause. "All we are lacking is peace, and gradually we are going to get that back."
Shettima's high-profile dedication of farming supplies signals the government's readiness to convert its recent military momentum against Boko Haram into a revitalisation of the state's agricultural sector. Doing so could be lifesaving for the 5.2 million people suffering from acute food insecurity across the region, including an estimated 50,000 at risk of famine.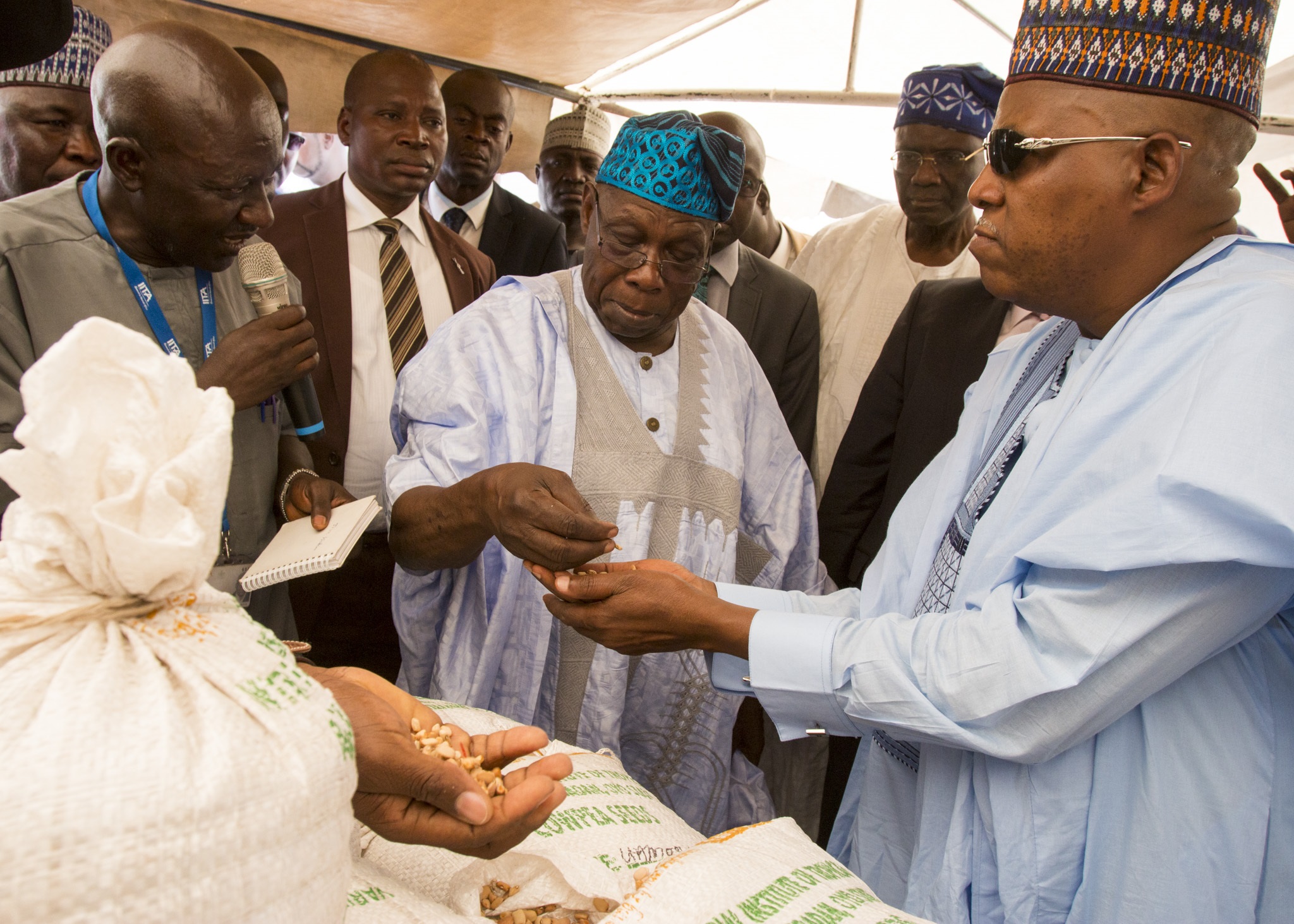 Not yet ripe?
But the aid community is deeply divided over whether the time is ripe for farming. Some fear a premature push could be a dangerous distraction from more urgent matters of security and humanitarian relief. And, as much as they would love to return to their fields, some farmers who recently fled insecurity think it remains impossible.
"As soon as you go outside Maiduguri, it's a crisis that is ongoing," said a senior humanitarian official who requested anonymity to speak critically of the government's rehabilitation efforts. "It's not ready for recovery. It's not possible to farm."
Ultimately, the fate of those seeds and tractors could be a more important measure of the government's success against extremism than the tally of insurgents killed or territory recaptured.
Prior to the rise of Boko Haram, northeastern Nigeria had an agrarian economy driven by smallholder farmers and livestock owners who produced enough food for the population to be mostly self-sufficient. But starting in the late 2000s, as the region became a war zone, farming became impossible.
Eventually the conflict wiped out 90 percent of Borno's agricultural production and triggered a food crisis, according to Mustapha Malah, deputy director of the state's agriculture office.  
"[Boko Haram militants] would burn down whatever they couldn't collect," he said. "Farmers had to run for their lives or they would be killed."
Military push
More than 1.5 million people have been driven from their homes in Borno, and sporadic attacks continue, most recently a suicide bombing at an internally displaced persons camp near Maiduguri in mid-June that killed eight people.
But after a few years of aggressive offensives, the military appears to be gaining ground, pushing the insurgents out of inhabited areas and into the northern desert fringes.
Fatalities are at their lowest level for several years. In December, the government captured one of the insurgents' last remaining forest strongholds, and more than 4,500 militants have surrendered through a government disarmament plan.
Since October 2015, 1.2 million IDPs have returned to their homes in the less volatile parts of the region, according to the International Organization for Migration.
"There is a big window of opportunity for farming," Malah said. "We hope that with the military on the ground, things will continue to improve."    
This view is supported by some important players in the humanitarian community.
The UN Food and Agriculture Organization has announced a plan similar to the government's seed donation programme that aims to supply one million farmers across the northeast with seed and fertiliser in time for the upcoming rainy season.
As the military offensive has freed up more land around the state, it's not necessary to wait for a full resolution of the conflict to send farmers back to their fields, said FAO country director Nourou Macki Tall.
"Agriculture cannot be an afterthought," Tall said in an interview. "Some people say, 'Let's wait until peace is here,' but that's a big mistake."
Tall said that humanitarian organisations are severely overstretched in their ability to address the region's staggering hunger crisis, despite already spending $1 million per day on food aid.
Up to half of that food aid may not even be reaching its intended recipients at all because of widespread theft from delivery trucks, acting President Yemi Osinbajo said earlier this month.
At the same time, malnourished and destitute people are more vulnerable to exploitation by the insurgents. Shifting some of the food production burden back onto farmers would both decrease hunger and increase security, Tall said.
"Even where it's difficult, we will just try to show that it's possible," he added.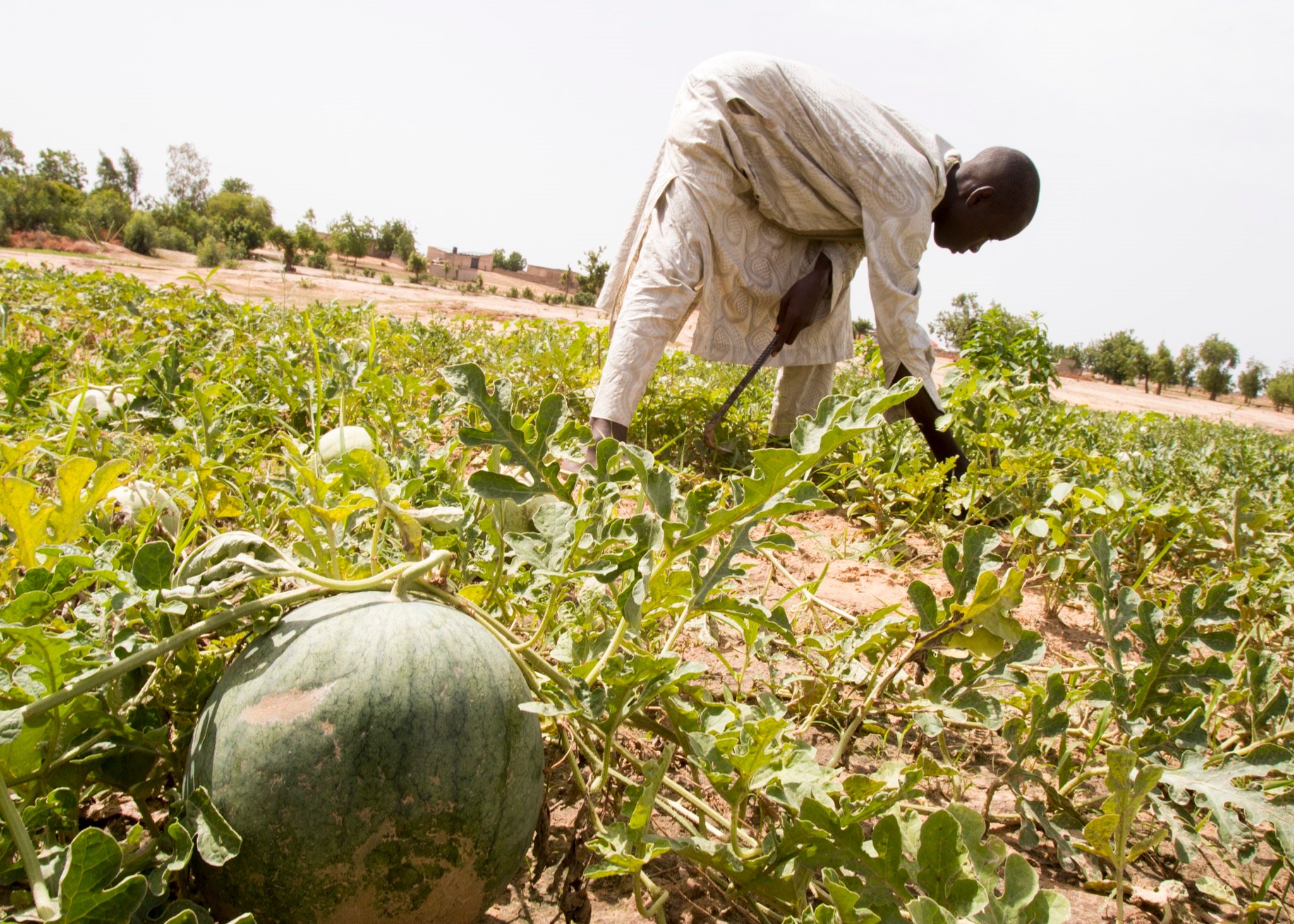 Self-reliant IDPs
A possible model is growing in the backyard of Bakasi Camp, a refuge for 21,000 IDPs on the outskirts of Maiduguri. Mallam Modusugu arrived here two years ago from the small town of Bama after his home was destroyed and his neighbours killed by Boko Haram.
When he heard that the government had set aside a small plot of land adjacent to the camp where IDPs could farm, he and a few friends worked odd jobs around town until they saved enough to buy a few seeds, starting with tomatoes, onions, and okra.
After surviving Boko Haram, Modusugu's new fear is fruit thieves who he worries will take away his newfound livelihood. "At night, we have to wait with the watermelons or people will come steal," he said.
Most of the crops grown here are for sale to locals and other IDPs, he said. The farm has proven successful, enough so that Modusugu has even been able to invest in a diesel-powered irrigation pump. And other IDPs have followed suit, planting maize, cassava, and groundnut over an area the size of several football fields.  
"When we came here, we were empty-handed," Modusugu said. "With these crops, we are able to sustain our lives."
Still, the risks remain high, even close to Maiduguri. In May, Boko Haram militants on motorcycles attacked and killed six farmers working on a field near town. In remote regions, the situation is even more volatile.
The military's control is limited to a scattering of fortified major towns, each of which is ringed by a perimeter of semi-secure land, ranging from one to 30 kilometers, that can potentially be used for farming. One humanitarian official compared the region to feudal Europe, with city-fortresses isolated in a mass of no-man's land.
High-risk zones
Several humanitarian officials warned that despite the military's progress, these zones remain highly vulnerable to attack, and that scattering Boko Haram is a far cry from eliminating it. Much more progress is needed on matters of security, food and water access, housing, and other necessities before farms can operate safely and productively.  
"We're a bit concerned at the pace all of this is happening," Mandisa Mashologu, deputy country director for the UN Development Programme, said of the rehabilitation effort.
"We have to expand the security perimeter little by little. If people return and there are no services, it's not going to help. It's not just about, 'Give out the seeds and everything will be ok.'"
At an IDP camp in Jakana, an hour's drive from Maiduguri, several farmers who had recently fled their homes said they couldn't imagine a return to their farms.
Bulama Alajiri arrived in early May from a village near the town of Konduga, 40 kilometers southeast of Maiduguri.
A small group of Boko Haram militants first reached his village three years ago. They robbed the villagers of food, money, and anything else they could find. Anyone who refused was shot. But those who complied were allowed to carry on their lives as before, tending to fields of maize and beans.
That changed when the militants, without explanation, instituted a law against farming, effectively putting the villagers under house arrest. Anyone who went to their fields got shot, including Alajiri's brother. It didn't take long for the village to run out of food. That's when the situation turned desperate.
"We ate tree leaves, because we had nothing else," Alajiri said. "If we were to stay like that, we would have died. So, we had to leave."
Now, Alajiri and his family scrape by on humanitarian aid and a small income from harvesting firewood. To him, the situation is unambiguous: As long as Boko Haram remains a threat, there's no hope to rebuild life outside the IDP camp.
"We have no plans to return [home], because up to now Boko Haram is still there," he said. "If the terrorists leave, we can return. If not, we can't."
Over the next few months, the seeds being donated by governor Shettima will make their way from Maiduguri to farmers across the state.
It's likely much will either rot before being planted or reach communities unable to make effective use of it, said Nkeki Kamai, an agronomist with the International Institute of Tropical Agriculture, the organisation supplying the seeds.
"If this seed is not properly managed, people may even eat it," Kamai said. "You don't know what hunger will do." 
But, he added, in a war increasingly about emptying the IDP camps and getting farmers back to the land, even if only a fraction of the seeds come to fruition, that would be a success.
tm/oa/ag
TOP PHOTO: Boko Haram militants occupied Bulama Alajiri's village for three years and forbade him to farm. In April, he and his family fled to an IDP camp near Maiduguri