Since the beginning of this year, more than 700,000 migrants and refugees have taken boats from Turkey to Greece and made their way to Western Europe using the so-called Balkan route. The journey is exhausting and dangerous, even for the young and able-bodied. For the injured and disabled, the risks and challenges are multiplied.
The World Health Organization estimates that 15 percent of the world's population has a disability. No one knows what percentage of the refugees who have travelled the Balkan route this year are disabled or have mobility problems, but the vast majority are fleeing war zones. Many have sustained injuries in conflict or on the journey, while those with existing disabilities are considered too vulnerable by their families to be left behind, even if it means pushing or carrying them across Turkey and Europe.
Bashar from Homs, Syria, lost his leg to diabetes. He is travelling with his son, his pregnant daughter-in-law and two grandchildren. They have made it as far as the Republic of Macedonia's border with Serbia and Bashar still has his wheelchair.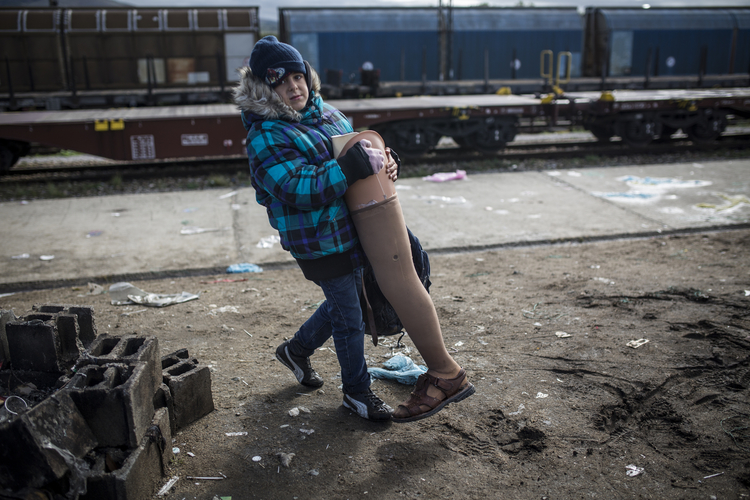 Aid workers in Greece report that many disabled refugees have to abandon their wheelchairs before boarding boats or are forced to throw them over the side when smugglers overload the vessels.
The International Rescue Committee has been distributing wheelchairs on the Greek island of Lesvos, where many of the boats come ashore. Demand sometimes outstrips supply. "We have had shortages, just because procuring that quantity of wheelchairs isn't always easy," says IRC health coordinator Rowan Cody. 
Those wheelchairs that are handed out sometimes break down along the way, she adds. "They're not meant for the terrain they're going on."
Much of the Balkan route can now be travelled by bus or train but "there are still certain places where they have to walk," says Cody. 
The Macedonia-Serbia border is one such place. Bashar's wheelchair is not much use here. Several kilometres of muddy no man's land separate the two countries. Volunteers in Macedonia drive Bashar as far as they can, until a dirt road peters out. From there, they transfer him and his prosthetic leg into a wheelbarrow.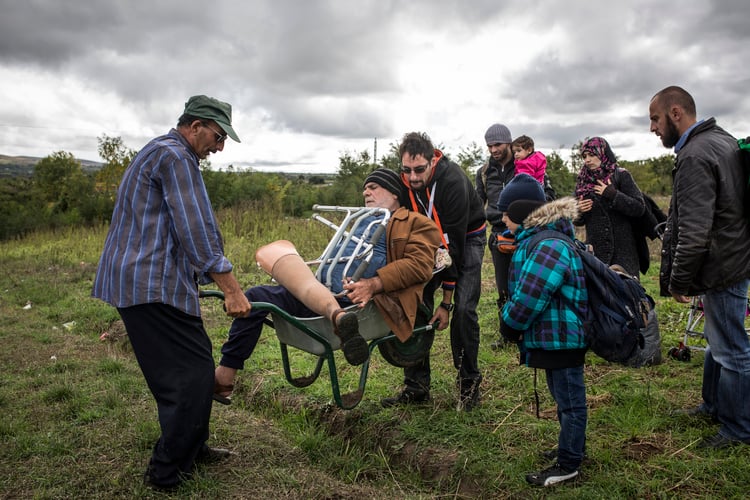 Pane Ignov, who works for the Macedonian NGO La Strada, another refugee and Bashar's son Maher, push and pull the disabled man over the bumpy ground to the border, occasionally getting stuck in mud, while Bashar groans in pain.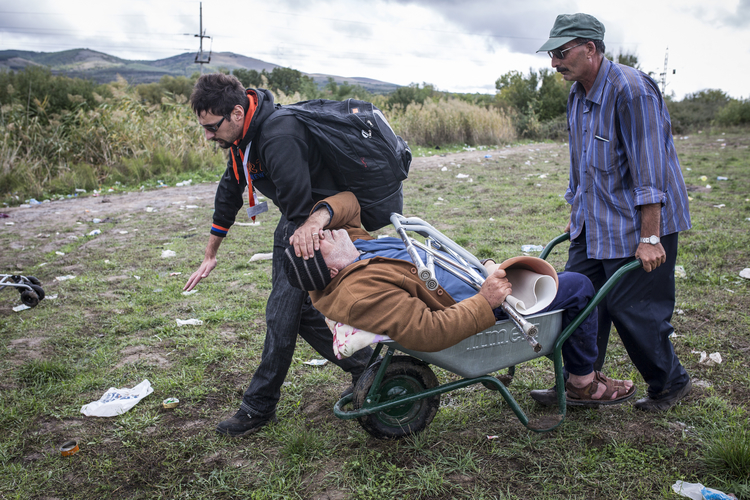 At a stream where wooden pallets have been laid down to form a makeshift crossing, the men transfer Bashar to his wheelchair and push him gingerly across.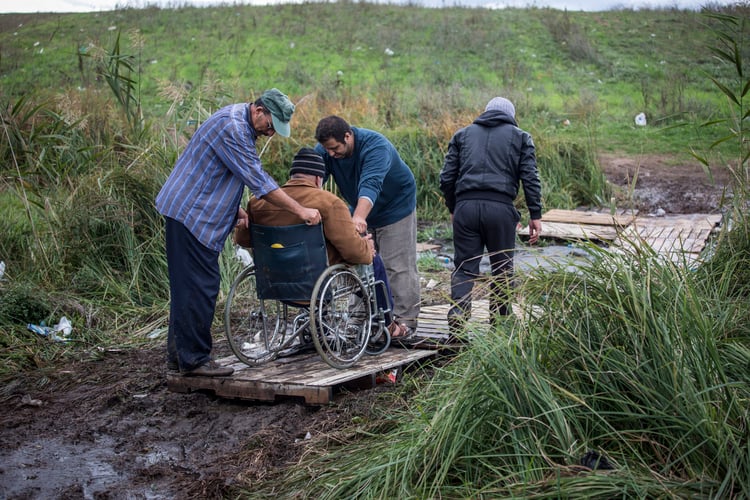 Finally, at the top of a small hill, they lay him on top of a raincoat to rest under a large tree, alongside two elderly refugees who also cannot walk.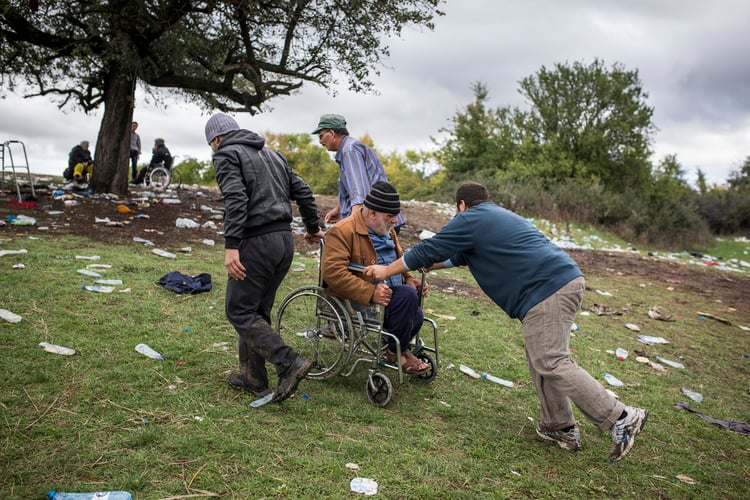 Unable to accompany Bashar into Serbia, Ignov tries to call his counterparts across the border in the hope they can come and collect the three disabled refugees. Nobody answers his calls and the families are eventually left to try to find a solution on their own as dark clouds overhead threaten rain and a cold wind blows.
Doaa, Bashar's pregnant daughter-in-law, rests nearby with her two children while Maher goes ahead to look for help. In the distance are two motionless Serbian police vehicles. No help is forthcoming.
Ignov says he and his fellow volunteers see at least four migrants a day with disabilities or mobility problems. During October, when a record 218,000 migrants crossed the Mediterranean to Greece and travelled through the Balkans to reach northern Europe, the numbers were even higher.
"We can't always provide wheelbarrows," says Driton Maliqi, who works for the Macedonian NGO Legis. He explains that the wheelbarrows they provide are seldom returned and that when no wheelbarrow is available, disabled refugees sometimes have to be carried.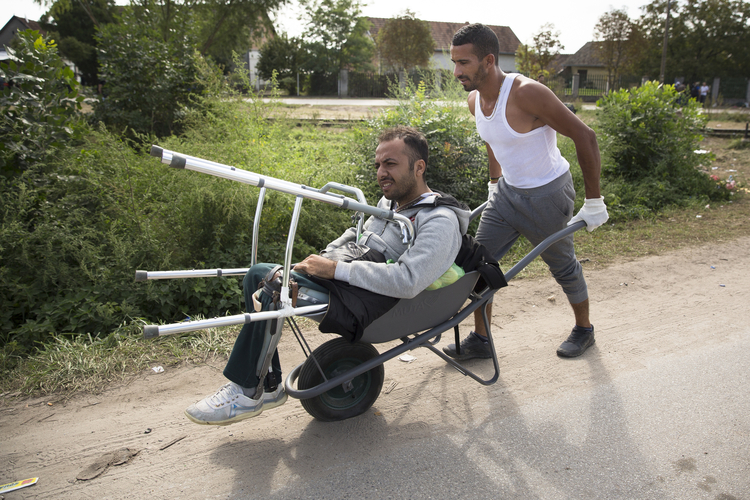 The distance that refugees have to walk at the Greece-Macedonia border is fairly short since a transit camp was built in Gevgelija over the summer, but the procedure for requesting a wheelchair is laborious.
"The refugee has to tell the border police that they need the wheelchair. Then the border police evaluate whether or not the claim is valid. Then, if they approve the claim, the police call the Red Cross to bring a wheelchair," explains Andreevska.
Conditions at the Macedonia-Serbia border improved recently after Macedonian authorities laid gravel on the first section of the dirt track that leads to the Serbian border. But the final 600 metres must still be crossed on foot, after which Serbia-based NGOs can usually bring vehicles to pick up disabled people. Some days, however, the mud is too deep for even four-wheel drive vehicles to access the area and most of the NGOs don't work late at night, meaning that disabled refugees are dependent on friends or family members to carry them.
"Many times I've seen refugees carrying [disabled] refugees in blankets or on their backs" — Gabriela Andreevska, volunteer
Maliqi says his organisation is working with NGOs across the border in Serbia to try to find a solution. There is talk of taking disabled people by vehicle all the way across the border, but for now there is no agreement between the two countries. 
The IRC also has plans to support NGOs in Serbia to provide wheelchairs, crutches and walkers. 
Cody expects to see more cold weather issues in the coming months, ranging from frostbite and trench foot to hypothermia and respiratory infections. She says the IRC and other agencies will be looking at how they can do more to help refugees with mobility problems, particularly at border crossings. "It's difficult when the routes change frequently," she tells IRIN. "Anything we put in place is going to have to be highly mobile."
jh/ks/ag