India and Pakistan's decades-old territorial dispute is often portrayed as a dormant conflict, but for Zaigham Abbas it is anything but.
His father Mumtaz Hussain was killed last August when India's Border Security Force (BSF) shelled the village of Bajra Garhi along the Sialkot Working Boundary in Pakistan.
"We were leaving the mosque after [morning] prayers when the Indians started shelling. The next thing I know, my father was hit in the ribs," Abbas said.
"By the time the shelling stopped, he was lifeless," Hussain's widow Shama Batool added. "I don't think much could have been done to save him."
In the street, the neighbouring homes still bear the scars of battle, with pockmarked walls and smashed glass.
Stuck in the middle
Abbas is one of around 80,000 Pakistanis who live in the 45 Pakistani villages regularly affected by fighting along the zigzagging 1,800-mile border with India.
Of that, a 124-mile stretch in Kashmir remains disputed between the countries – demarcated by a "line of control". Further south, the divide in the Sialkot-Jammu region operates on the basis of a "working boundary", meaning the Pakistani government considers the land on the other side occupied.
Three full-scale wars were fought over the border, the first in 1947 and the most recent in 1999.
Tensions have heightened after the coming to power of Hindu nationalist Narendra Modi in India in May 2014. In August he called off peace talks, while in October fighting intensified, with Modi taking a more aggressive tone. On the Pakistani side, too, calls for moderation have increasingly been sidelined.
Violence continues to wreck lives – on December 31, a rare attempt at a flag meeting spiraled out of control, with two Pakistani rangers killed after clashes which both sides accused the other of starting.
"The firing continued for five hours before the bodies could be retrieved," said Major Ijaz, a media officer of the Pakistan Rangers. He insisted that the Indians began the violence but Indian media denied the claim.
In January, at least four civilians were killed on each side of the border, while dozens of others were injured. Thousands in both countries have fled their homes.
When IRIN gained rare access to the Pakistani border region in late January, there was intermittent shelling, with civilians describing how they live in fear of the next attack.
Sumaira Raza, a resident of the village of Jooyian, said that she has had to flee on multiple occasions.
"Every few days, we leave and lodge with our relatives in neighboring villages. Others who do not have this option simply spend their nights in open fields. This winter, it was so cold that many families in neighbouring villages allowed women and children who are not their relatives to sleep in their homes."
Other residents describe having to leave elderly or disabled family members behind as they fled.
There are no specialised medical facilities in the areas and basic health units are unable to treat the severely injured.
Though there is no set pattern as to when the fighting begins, villagers say it usually starts after sunset.
"The shelling is getting more intense with each passing day," Farid, a farmer from the region, added.
Others say they live in fear of Indian drones, which they say often hover over the area shortly before an attack.
"When the village has fewer people, the shelling doesn't happen even if the drone comes but when the village is full and a drone comes by, we know shelling will happen," one teenager said.
Other villagers reported similar tales, but Ijaz would not confirm or deny such claims. Late last year India committed to buying 49 more drones to patrol the border.
IDPs of the night 
The effects of the conflict on the population can be drastic. Shama Bibi said she went into early labour during clashes and struggles with post-natal depression, which she blames on the violence.
"There was firing every day and at times we had to run for cover. Then came the September [2014] floods. The shelling stopped but our mudhouse collapsed. I walked for miles with my family in that condition. When my son was born, I didn't look at him," she said.
Even when peace reigns, risks abound. Both the Pakistani Rangers and the BSF have laid thousands of landmines across the border region, with many dating back to 2002.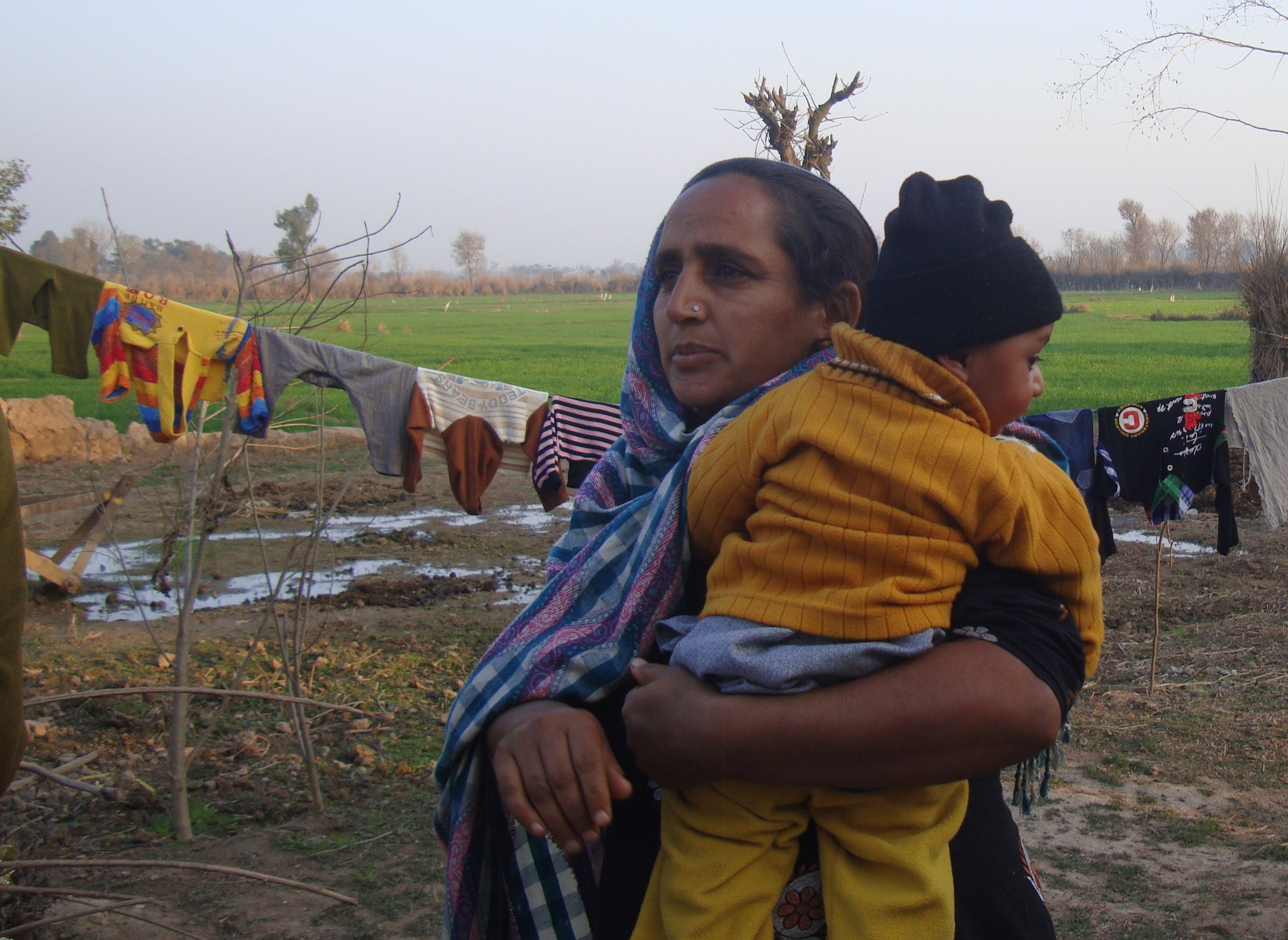 During floods in September 2014, some landmines are believed to have been swept across the border into Pakistan.
One of Ehsan's sons was partially blinded and another two crippled in a landmine explosion a decade ago.
"The government has abandoned us. No one came to offer us even medical help," he said.
Residents claim the Pakistan government has made no arrangements to move the villagers to other areas and there are no compensation schemes for those relocating. Sometimes local politicians arrange some support for those killed or injured, but it is arbitrary and limited.
As such many are faced with a choice between leaving their land and livelihood for good and the safety of their loved ones.
"I can either keep my family safe in another place or send my children to school," said farmer Ghulam Din who makes barely Rs8,000 ($78) a month. He moved his family from the border village Umeraanwali to a slum near Sialkot city where they are no longer in education. "I barely have money to feed them," he bemoaned.
Ironically the land he left behind could be some of the most valuable in Pakistan if the situation were different. Sialkot is among the most fertile parts of the country– yet the violence means there are few buyers for those seeking to flee.