Aid organisations need to be more transparent, improve efficiency, and stop competing with each other for resources, according to a new report laying out a high-level panel's key finance recommendations ahead of the World Humanitarian Summit in Istanbul.
The long-awaited report – "Too important to fail" – is the culmination of seven months work by a nine-member independent panel tasked by the UN secretary-general with coming up with solutions to plug the ever-widening gap between humanitarian needs and available funding.
In addition to calling for more "collaborative efficiency" under what it calls a "grand bargain" between donors and aid actors, the 31-page document also appeals for: more engagement with the private sector; better channelling of Islamic social financing; and the possible introduction of solidarity levies to fund humanitarian responses.
Other recommendations include: a rethink of World Bank financing eligibility criteria (specifically to help Middle Income Countries such as Lebanon and Jordan who are currently hosting large numbers of Syrian refugees); a bridging of the humanitarian and development divide; and a greater focus on crisis prevention and disaster risk reduction.
Beautifully articulated succint report.Lets see some beautifully calibrated succint implementation #2important2fail https://t.co/KFvpogfdd7

— sophia swithern (@sophiaswithern) January 18, 2016
Launched to great fanfare in the United Arab Emirates by Secretary-General Ban Ki-moon, in the presence of several UN agency heads and government ministers from leading donor countries, the report offers a clear, if not particularly revolutionary, analysis of the problems in the humanitarian financing system.
The fact that it does not shy away from criticising aid organisations for protecting their own interests at the expense of efficiency has been widely welcomed, but the big question now is how will the recommendations become actions, by whom and when?
"The report is not something that is going to set the world alight in terms of new ideas, but it's a nicely packaged and well put-together report," Barnaby Willitts-King, a research fellow at the Overseas Development Institute's Humanitarian Policy Group in London, told IRIN.
"It will be easy for people to sign up to, but the devil will be in the detail and its political implementation. What happens in the next few months in the run up to the World Humanitarian Summit will be key, " he said.
Congratulations @KGeorgievaEU @civicusSG & other members of HLP. A timely report for the sector #2important2fail https://t.co/OvZAkfvqyL

— Dr Jemilah Mahmood (@JemilahMahmood) January 17, 2016
Action items
Acknowledging scepticism that the report looked good but would achieve little on its own, the panel's co-chair and vice-president of the European Commission, Kristalina Georgieva, insisted that these findings wouldn't just be "put on a shelf".
"This report is not the end of the journey," she told journalists at the launch event at Dubai's International Humanitarian City. "We need to turn these recommendations into reality. We have been discussing reforming humanitarian aid for years. Now is the moment to carry this forward."
The sense of "moment" ahead of the WHS taking place in Istanbul in May and the political spotlight being shone on the report is what many feel makes it different to previous – and more detailed – reports on the same topic, such as "Looking Beyond the Crisis" published by the Future Humanitarian Financing initiative last year.
"This report doesn't add that much new," noted Willitts-King. "But it puts it in a more sellable format and it has that stamp of a panel that has seniority and a degree of influence and credibility, which should mean it will get taken up."
At the heart of the report is the notion of a "grand bargain", which sets out ways in which donors, UN agencies, and other aid actors can work better together.
The recommendations focus on stronger engagement with local and national actors and the of cutting of red-tape and inefficiencies and their associated costs.
They include: donors moving towards more multi-year and un-earmarked funding (to help aid implementers with planning and efficiency); simplification and harmonisation of reporting requirements; independent joint needs-assessments (to avoid duplication and pandering to organisational interests); and above all more transparency over cost structures and processes.
Would have liked a bit more reference to Peacebuilding on top of Dev/humanitarian linkages #2important2fail https://t.co/l5v6DhztmU

— Amjad Saleem (@amjadmsaleem) January 17, 2016
Partnership
Danny Sriskandarajah, secretary general of civil society umbrella organisation CIVICUS and one of the panel members, agreed that all these ideas had been suggested before but said that shouldn't stop efforts to make them happen.
"This is not just about good donorship," he told IRIN. "It's about a good partnership between donors and those organisations receiving their funds.
"It's about trying to use the financial instrument, as in the way that a grant is made and how funding is earmarked or not, to change behaviours as far down the chain as possible."
He said the panel members had taken the issue of localisation of aid delivery very seriously and that was a key part of their recommendations.
Beyond fears over whether the report would lead to practical change, there has also been criticism that while difficult issues such as "turf wars" and "vested interests" were talked about, the final recommendations remained too soft and non-specific.
#HLPF Grd Bargain btw agencies & donors key element 2 make system fit 4 purpose bt only if going beyond incremental change #2important2fail

— florika fink-hooijer (@florikafink) January 17, 2016
A source close to the panel told IRIN this has been a deliberate strategy to ensure wider political buy-in from the beginning, and to encourage donor governments to take points on themselves and make them into agenda items at Istanbul.
The newly appointed head of the UN's refugee agency, UNHCR, Filippo Grandi said his organisation was "very interested" in participating in the so-called grand bargain.
He agreed that improvement was definitely needed around needs assessments, transparency, and working with local actors, but acknowledged they were not "easy commitments" to make.
"The report tells us some difficult truths," Grandi said, adding: "It will require an incredible effort of collective leadership to overcome some structural and also some cultural obstacles and resistance to work together more effectively."
What next?
Lilianne Ploumen, minister for Foreign Trade and Development Co-operation for the Netherlands, said the grand bargain was something she had been "wishing for" for a long time, noting that while "everyone always calls for coordination, no one wants to be coordinated."
Speaking during a panel at the launch, she said the Netherlands was "fully committed" to getting the grand bargain on the agenda at Istanbul.
And, she offered to host a first meeting to "look at the nitty gritty so that when we get to Istanbul, governments and everyone else who needs to be involved, including non-state actors, just need to sign up."
Although international NGOs (INGOs) were conspicuous by their absence at Sunday's very UN- and government-focused launch, they did give a warm reaction to the report.*
"Changing the rules of the transaction that takes place between donors and humanitarian organisations is a great idea," Julian Srodecki, World Vision International technical director of humanitarian grants, said in a blog post.
"It has much potential to improve the quality of humanitarian action and realise efficiencies that can mean that more money goes to those who need it most, disaster affected communities."
Anne Street, head of humanitarian policy at CAFOD, a leading UK-based Catholic aid agency supporting the FHF initiative, also welcomed the publication, but said: "I think the challenge is the follow through on the recommendations made in the report.
"It is vital that INGOs are included in this, and indeed there is already high-level discussion within the INGO community about the commitments we are able to bring to the grand bargain that will make a substantial difference to how efficient, affective and appropriate humanitarian aid is."
Georgieva acknowledged the way forward would not be easy. "This will require a lot of political will and cultural change, and it does rely on leadership of agencies and donors," she said.
"My sense is that the sector is ripe for change and it is desired. If we want to raise more money, we have to bring in more transparency and inspire confidence in our sector… (and) we can facilitate this coming together in the grand bargain."
Relief chief suggests UN might need to change after all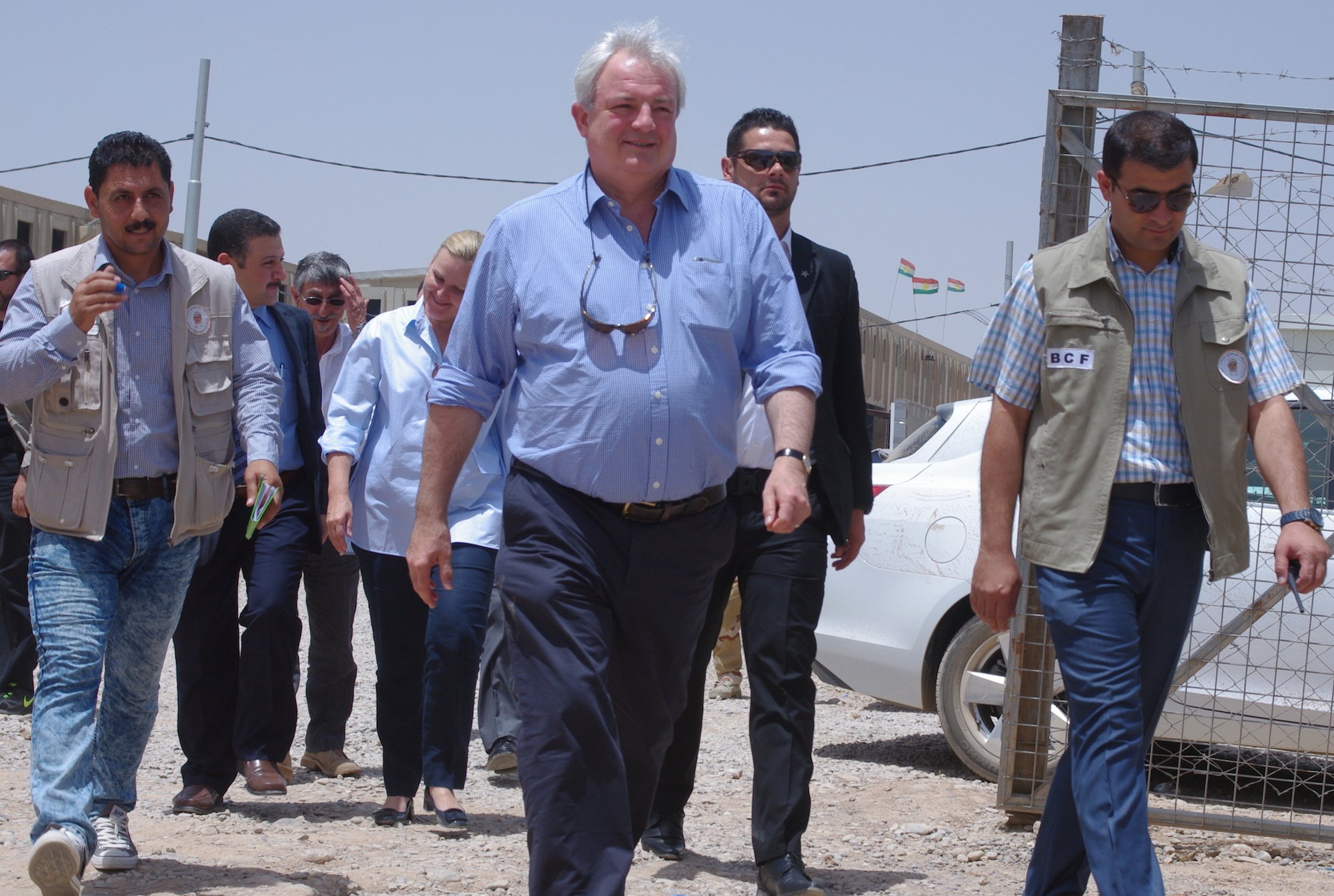 UN Under-Secretary-General for Humanitarian Affairs Stephen O'Brien made waves earlier in the year when he told IRIN the UN did not need to "fundamentally change".
He also said that focusing on concrete actions to come out of the World Humanitarian Summit was "boring", "uninspirational" and "so off the mark".
But speaking on Sunday at the launch of the high-level panel report on humanitarian financing, the British politician, who heads up the UN's emergency aid coordination body, OCHA, appears to have changed his tune.
On the WHS, he said: "The summit will set out a concrete set of actions and commitments that will enable us, the United Nations, UN agencies, member states, the affected populations, civil society, the private sector, youth and the humanitarian community, to better prepare for and respond to these events. "
And, acknowledging that the report offered "frank criticisms" and "pointedly states that turf wars, ill-defined boundaries of humanitarian and other work, working in silos as well as questions over data are impediments," he said: "I welcome these honest and critical remarks that will not only urge us to change but give us permission to change.
"Frankly I know there is a lot more we can do to lower our administrative costs and burden within our system. But I do also know that change is difficult, especially when it is of this magnitude and complexity.
"Because we expose institutional incentives and risks, both on the humanitarian and donor side, but if done right, with a will, it will lead to better outcomes for the people we care about, whom we all exist to serve.
"We are all very committed to wanting to deliver our very best with very precious resources, and that will come from the leadership level of our organisations to permeate right the way through under the leadership of the secretary-general."
*An earlier version incorrectly said here that the launch was on Monday.
lr/ag