Fighting between government and rebel groups in North and South Darfur in western Sudan has displaced tens of thousands of people and hindered access by humanitarian workers to some affected areas, sources said.
"While the international community remains focused on Southern Sudan, the situation in Darfur has sharply deteriorated," said Daniel Bekele, Africa director at Human Rights Watch (HRW). "We are seeing a return to past patterns of violence, with both government and rebel forces targeting civilians and committing other abuses."
The situation has deteriorated because of fighting between government forces and two rebel groups, namely the Sudan Liberation Army (SLA) and the Justice and Equality Movement (JEM). International attention was also diverted by the recent referendum on the future of Southern Sudan.
SLA is loyal to Minni Arko Minnawi, who signed the Darfur Peace Agreement in 2006 and was appointed special adviser to President Omar al-Bashir. He was also head of the Darfur Transitional Regional Authority.
Both government and rebel forces had targeted civilian populations based on their ethnic affiliations, HRW said in a statement.
"Sudan, its allied forces, and rebel factions should end abuses against civilians, and concerned governments – still focused on Southern Sudan's referendum – should press for an end to unlawful attacks and accountability for abuses," it noted.
Under international humanitarian law, which is applicable in Darfur, armed forces are required to ensure that military objectives and not civilians are targeted. "Civilians and civilian property may never be deliberately attacked – those responsible are committing war crimes," HRW said.
The clashes have gone on since December, displacing an estimated 40,000 people. On 25 January, fighting was still raging 24 hours after it erupted in Tabit, 45km south of El Fasher, North Darfur.
UNAMID kept out
"UNAMID [UN Mission in Darfur] peacekeepers have been prevented from entering the area by SAF [Sudan Armed Forces] officers, invoking security concerns," the UN reported.
A verification force failed to complete its mission from Shangil Tobaya to Tabit in North Darfur on 27 January after aerial bombardment started. According to UNAMID, about 200 government soldiers in 40 vehicles later surrounded the team and the adjacent makeshift camp that hosts thousands of civilians displaced by clashes in December.
Attacking civilians and preventing them from seeking a safe haven violates international humanitarian law, while blocking them from entering the UNAMID compound also contravenes the Status of Forces Agreement between the Sudanese government and the UN.
Two days earlier, two patrols from Graida, 100km south of Nyala in South Darfur, were denied access by government forces at two checkpoints. One was at a village in Assafaya Sufa, 32km northwest of Graida, and the second at Dito village, 41km northeast of Graida.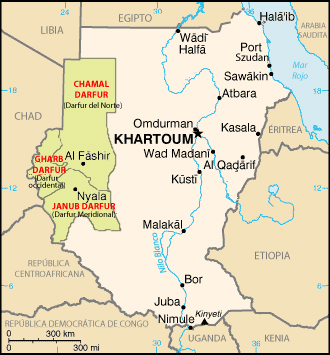 "The deteriorating security situation in South Darfur resulted in continued displacement of civilians and impediments to humanitarian activities and movement," the UN World Food Programme (WFP) said.
In Khor Abeche and Muhajeria, South Darfur, thousands have been displaced by clashes between government forces and both the SLA and JEM.
"At the end of the month over 10,000 IDPs had sought refuge outside a UNAMID campsite in Khor Abeche, and were in dire need of medical services, food and protection," WFP noted, adding that it had provided food to about 2,000 people in Khor Abeche and 7,000 in Jakhara.
Also in South Darfur, Shearia Town IDP camp was burnt down. Other clashes occurred in Shangil Tobay and Dar el Salam in North Darfur. The areas where fighting had taken place were out of bounds for UN agencies and international NGOs, WFP said.
"Increased suffering"
"UNAMID Joint Special Representative Ibrahim Gambari is very concerned by this latest outbreak of violence," the mission said. "JSR Gambari reminds belligerents that the Darfur conflict cannot be solved militarily and that peace can only be achieved through an inclusive political process, not through the use of force."
In New York, UN Secretary-General Ban Ki-moon expressed deep concern at the upsurge in the fighting. "The use of military force will not resolve the conflict; it will only prolong and increase the suffering of the people of Darfur," he said in a report.
Minnawi broke ties with the government after the Defence Minister, Ibrahim Mohammed Hussein, said SLA fighters were "a legitimate military target". Several of his cadres in North and South Darfur were arrested, before Bashir dismissed him from government. These developments have affected talks between Darfur groups and the government.
eo/mw
---
This article was produced by IRIN News while it was part of the United Nations Office for the Coordination of Humanitarian Affairs. Please send queries on copyright or liability to the UN. For more information: https://shop.un.org/rights-permissions