Gazans have been streaming through the Rafah border with Egypt over the past two days following an order from Egyptian President Hosni Mubarak to open the crossing "indefinitely".
''It was a humanitarian gesture meant to alleviate the suffering of Palestinians after the Israeli attack [on
Turkish aid ships
on 31 May],'' Murad Muwafi, the Egyptian governor of northern Sinai, told reporters.
Hamas welcomed the move but questioned its timing, hoping it would really be indefinite and not just until the furor over Israel's flotilla raid had died down.
Rafah is Gaza's only gateway to the rest of the world that is not controlled by Israel. Egypt, which has a 30-year peace deal with Israel, has kept the Rafah border closed for much of the past five years since Israel's unilateral withdrawal from Gaza under an agreement with the US, European Union, Israel and the Palestinian Authority.
The Egypt-Israel blockade was tightened following the 2006 parliamentary election victory of Hamas, an offshoot of Egypt's largest opposition group, the Muslim Brotherhood, and even more so after Hamas' complete takeover of the Strip in 2007. An illegal parallel economy operates as Gazans built a network of
illegal tunnels
under the border to Egypt to bring in supplies.
While ordinary Gazans have
taken advantage
of the border opening, it is not yet clear whether all goods will be allowed into Gaza from Egypt.
Reuters video short on Egypt
reopening Gaza border
Egyptian officials have been quoted as saying there would be no restrictions on the movement of Palestinians nor on food, medical and humanitarian supplies being brought in. However, reports suggest that concrete and steel, which Gazans desperately need to repair damage from last year's Israeli offensive in the Strip, would still need to be transported through Israel, which restricts supplies of building materials as it says they could be used for military purposes.
On 2 June, Egyptian border officials allowed a consignment of generators through the crossing; the first time non-food or non-medical supplies have been granted access in over a year.
Call for access
Israel is facing widespread criticism for its handling of the operation to stop six aid ships from breaking the Gaza blockade. On 2 June Israel released hundreds of activists - including 400 Turks - and has begun sorting through the 10,000MT of cargo on the ships, which were brought into Ashdod port, 30km from Gaza.
On 1 June, the World Health Organization (WHO) called for "the unimpeded access into the Gaza Strip of life-saving medical supplies, including equipment and medicines, as well as more effective movement of people in and out of the territory for medical training and the repair of devices needed to deliver appropriate healthcare".
"It is impossible to maintain a safe and effective healthcare system under the conditions of siege that have been in place now since June 2007," Tony Laurance, head of WHO's office for Gaza and the West Bank, said. "It is not enough to simply ensure supplies like drugs and consumables. Medical equipment and spare parts must be available and be properly maintained."
"It is clearer than ever that Israel's restrictions on access to Gaza must be lifted in line with Security Council Resolution 1860," Mark Lyall Grant, the British ambassador to the UN, said on 1 June. "The current closure is unacceptable and counterproductive."
Flotilla aid
Israel's Gaza District Coordination Office (DCO) said some of the cargo on board the aid ships, such as building materials, was banned from Gaza under the blockade and as such would not be delivered. But it said it began on 1 June delivering items that are on the list of supplies allowed into Gaza through the Kerem Shalom crossing.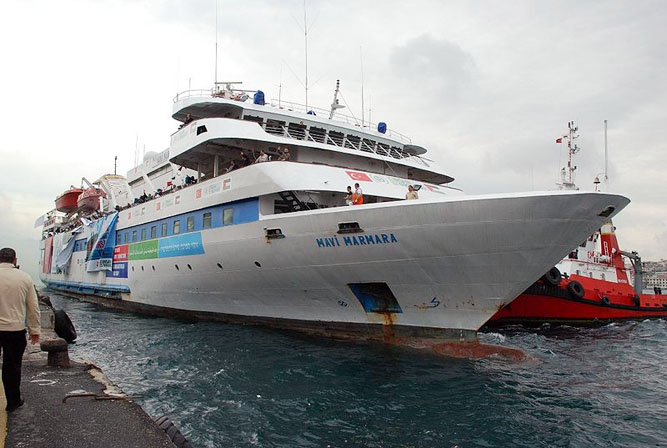 201006031326390995
Photo: Wikimedia Commons
The MV Mavi Marmara aid-carrying ship leaving Antalya, Turkey for Gaza on 22 May
The first transfer included medical supplies, motorized wheelchairs and some children's toys.
According to the DCO on 2 June, Hamas was refusing to allow the humanitarian aid seized on board the flotilla to enter Gaza, yet the DCO said it ''will keep trying to coordinate this transfer''.
Colonel Moshe Levy, head of the DCO, told reporters: "There was no need for this cargo. The same goods have been sent into Gaza over the past year on a regular basis. There were more than 100 electric scooters and tonnes of medical equipment. This proves that the entire sail was propagandist and provocative and had nothing to do with aid."
Levy told reporters recently the "humanitarian situation in Gaza is good and stable" while the UN has called the situation in the Strip a humanitarian crisis mainly because of the blockade.
td/ed/mw
---
This article was produced by IRIN News while it was part of the United Nations Office for the Coordination of Humanitarian Affairs. Please send queries on copyright or liability to the UN. For more information: https://shop.un.org/rights-permissions