Barely a year ago, Lalita Rai, 22, travelled to Kuwait escorted by a local job broker, who had promised her a good position at a beauty parlour. Instead she was tricked into working as an unpaid servant for a local household.
As soon as she got into a taxi from the airport in Kuwait, the broker took her passport and showed her to the house. He promised to return to fetch her, but she never saw him again.
Lalita protested against working as a servant, but she was beaten and locked in the house.
"It was a trap. I had trusted this man," Lalita told IRIN in her house in Nepalgunj, nearly 500km southwest of the capital. Finally, in October this year, she escaped, although she refused to say how she returned to Nepal.
Jamuna Chaudhary, 18, underwent a similar ordeal. Tricked into working as a domestic servant for a household in Abu Dhabi, where she had gone with the help of a local broker, she was sexually abused by her employer and his friends.
"I am lucky to be alive and back home," said Jamuna, who finally escaped with the help of the Nepal embassy in Abu Dhabi, which arranged and paid her flight home.
Foreign incomes
Foreign employment has become an important source of income in Nepal, with remittances contributing 18 to 22 percent to gross domestic product, according to a 2006-2007 report on trafficking in Nepal by the National Human Rights Commission (
NHRC
).
Officials from the NHRC say Gulf countries are one of the main trafficking destinations for labour.
"There is of course a great need to decide how to stop this crime to protect our women and we will be developing a special programme for that," Sarbadeb Ojha, Nepal's Minister of Women and Children, told IRIN.
"We usually pay attention to the trafficking of Nepalese girls to India's brothels but we often forget that large numbers of women are also trafficked to the Gulf," he added.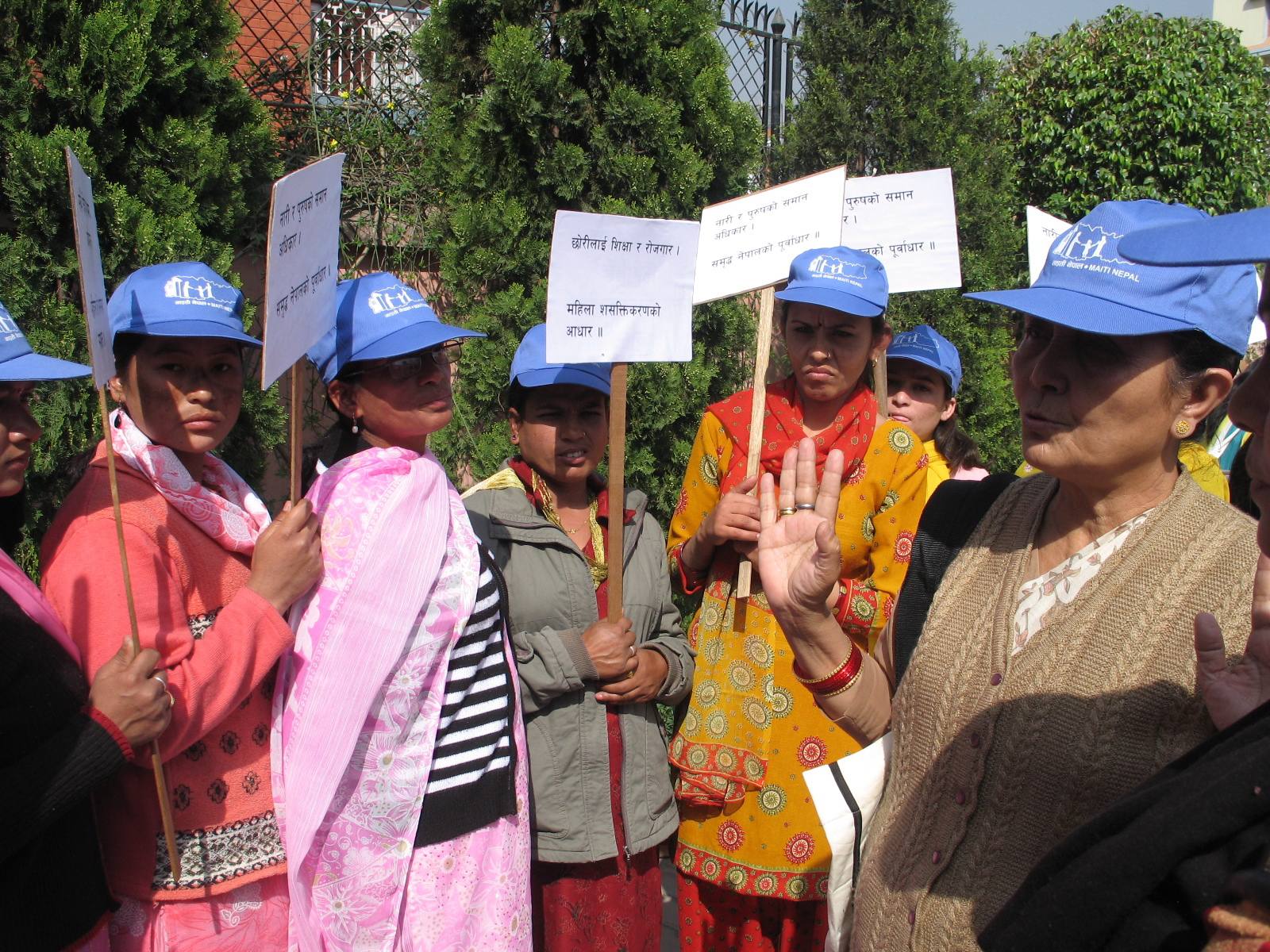 200911261122400437
Photo: Naresh Newar/IRIN
Members of the NGO Maiti Nepal, which campaigns against trafficking. Despite the efforts of NGOs and the Nepalese government, huge challenges remain in controlling trafficking, especially to Gulf countries
"The trend of trafficking to the Gulf for labour is a growing problem, as it is often a challenge to control this," Biswo Khadka, director of a national NGO,
Maiti Nepal
, told IRIN.
"This is a serious problem that needs to be addressed strongly, or a lot of Nepali women will face enormous risk of being trafficked and victimised," he said.
The NGO, which has been fighting trafficking for more than 16 years, is finding it increasingly difficult to prevent such movement to the Gulf, since the women travel through neighbouring India, and from there they fly to the Middle East.
The traffickers, posing as employment agents, easily take the women through the open 1,690km border between India and Nepal's south, choosing areas where there are no police checks.
In 2008 alone, the NGO helped to save nearly 17,000 girls and women, rescuing them from traffickers as they were crossing the border.
Better enforcement needed
"A large percentage of the Nepalese female workers are illiterate and impoverished and they have no choice but to work abroad for the sake of feeding their families, and they do that even at the risk of being killed," said Saru Joshi, regional coordinator for the UN Development Fund for Women (UNIFEM).
The UN agency helped the Nepalese government to introduce the Foreign Employment Act in 2007, which helps to protect and guarantee women's security and rights when seeking jobs abroad.
However, NGOs complain that implementation of this law – which forbids women from working overseas in informal sectors such as domestic service because of the abuse they are subject to - has not been enforced strictly.
Meanwhile traffickers are difficult to prosecute. "Unfortunately, the traffickers go scot-free due to a lack of enough evidence, and it is very difficult to prove their crime," said Anu Tamang, president of the Shakti Group, an NGO formed by survivors of trafficking.
According to the government's Foreign Employment Department, more than 20,000 Nepalese women work abroad, mostly in the Gulf, and many are at risk.
"These women cannot even report to the police, [either] in Nepal or abroad, as they have no legal contract," Ganesh Gurung, chairman of the Nepal National Network on Migration, told IRIN.
"The only way to protect them is to increase police vigilance and prevent them from [being trafficked] across the border," he said.
nn/ey/ds/mw
---
This article was produced by IRIN News while it was part of the United Nations Office for the Coordination of Humanitarian Affairs. Please send queries on copyright or liability to the UN. For more information: https://shop.un.org/rights-permissions