The expulsion or closure of 16 relief agencies in Darfur could trigger an exodus into Southern Sudan, aid officials warned.
In preparation, the UN and the Southern Sudan Relief and Rehabilitation Commission (SSRRC) are preparing for potential inflows of Darfuris, said Lise Grande, the UN's Deputy Resident Coordinator and Humanitarian Coordinator for Southern Sudan.
"Here in the South, under the SSRRC, we are going to have a contingency planning exercise that will look at how we might try and mount support," Grande said.
"There are technical assessments going on between the [Khartoum government's] Humanitarian Aid Commission in the North and the UN agencies," Grande said on 13 March.
"They are creating assessments throughout the three Darfur states, looking at the gaps in assistance created by the departing NGOs."
The expulsions are expected to leave an estimated 1.1 million people, especially in Darfur, without food, 1.5 million without healthcare and more than a million without drinking water.
"One of the things that those assessments will look at is possible migration flows," Grande said. Of particular concern were potential movements from south Darfur into the neighbouring South Sudanese state of Northern Bahr el Ghazal.
"This is something that we may expect," Grande added, warning that South Sudan already faced a major humanitarian crisis of its own.
Attacks by the Ugandan Lord's Resistance Army (LRA) have affected more than 100,000 people in South Sudan, half of whom were children, she said.
These included families in Western and Central Equatoria fleeing reprisal attacks by the rebels following a joint military operation against the LRA that began last December.
"Assessments … confirm that more than 100,000 people are vulnerable as a result of the upsurge of LRA attacks," said Grande.
These include over 36,000 internally displaced people (IDPs) who fled their homes in South Sudan, and more than 16,000 refugees from the DRC.
"An additional 50,000 people in host communities … are reported to be vulnerable and need humanitarian assistance," Grande told reporters in Juba, capital of Southern Sudan.
Conditions deteriorating
Conditions were growing worse, the UN warned in an additional statement.
"Assessments confirm that food security and nutrition have deteriorated dramatically over the past three months," it said. "The incidence of communicable diseases has increased."
More than 350 cases of watery diarrhoea, 230 of dysentery, 1,650 of malaria and 25 of measles were reported, according to UN and Southern Sudanese data.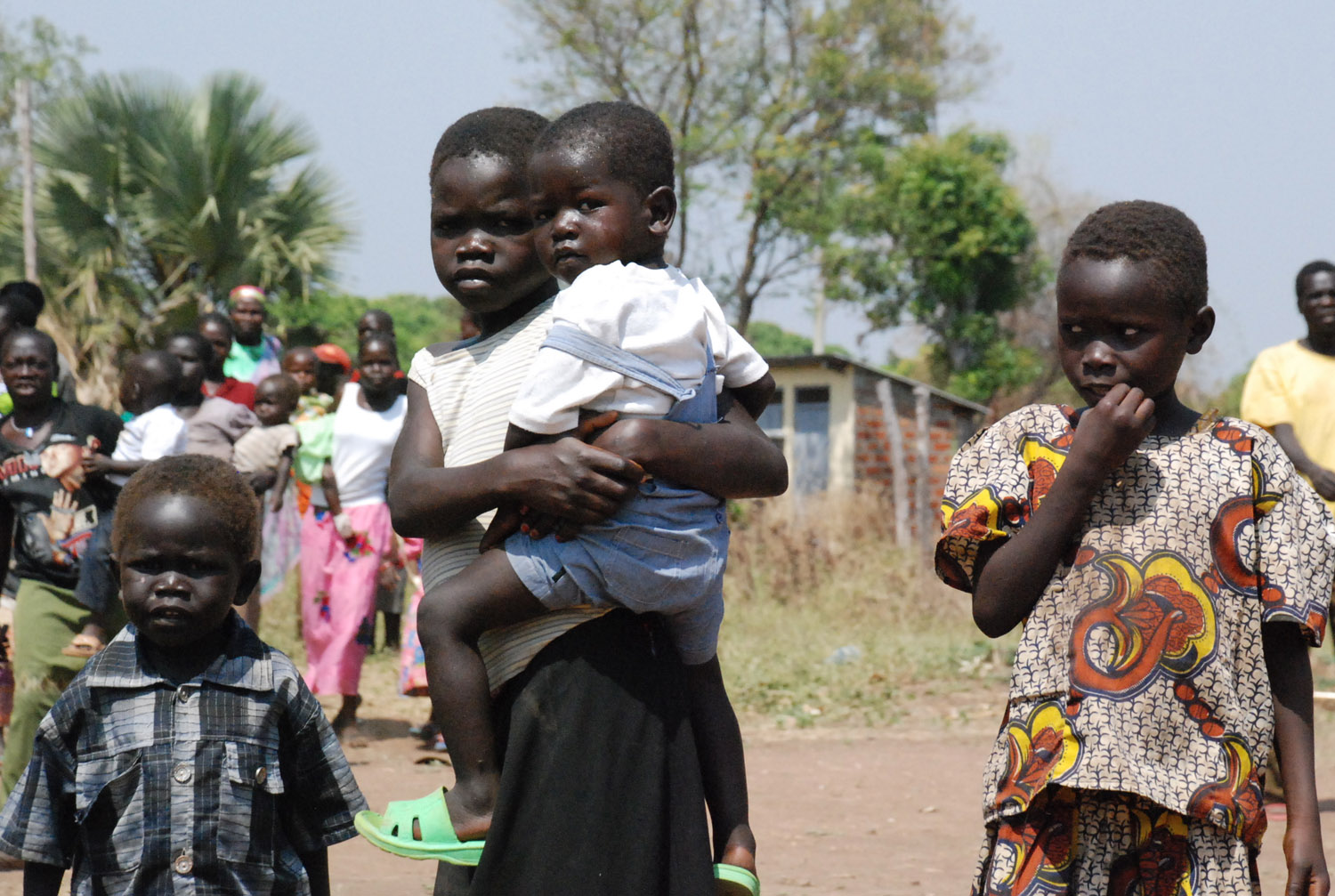 2009012711
Photo: Peter Martell/IRIN
South Sudanese children displaced by attacks by the Lord's Resistance Army
LRA units have scattered widely since the joint campaign by Ugandan, DR Congolese and South Sudanese forces.
"Attacks by small groups of LRA soldiers are expected to continue, destabilising the area for the foreseeable future and creating humanitarian needs which cannot be met through existing resources," the UN statement noted.
Extra support needed

More support, including seeds and farming tools, was needed. "The numbers are getting too big, and conditions are sliding," Grande said, adding that a request for extra support had been submitted to the UN Central Emergency Response Fund (CERF).
"With the rains coming shortly, the next stage of the humanitarian operation is likely to be very costly," she added.
Protection of the vulnerable – especially children and former abductees – was a "major gap" in the emergency response. Up to 2,000 unaccompanied or separated children needed help.
Meanwhile, Grande expressed concern over a recent outbreak of "violent tribal clashes" in the Pibor region of Jonglei state. "We have preliminary reports that may indicate … as many as 100 people have been killed," she said.
str/eo/mw
---
This article was produced by IRIN News while it was part of the United Nations Office for the Coordination of Humanitarian Affairs. Please send queries on copyright or liability to the UN. For more information: https://shop.un.org/rights-permissions