Diplomats in the Mano River Union countries of Guinea, Liberia and Sierra Leone, plus neighbouring Cote d'Ivoire, are calling Liberia "the eye of the storm", fearing that it could unleash greater turmoil on the region than already exists.
Liberia is critical to the economic and political stability of the sub-region, according to analysts, but diplomats in the capital, Monrovia, say President Charles Taylor believes his neighbours of support 'terrorists' who want to kill him. The UN Office for the Coordination of Humanitarian Affairs has warned that continuing conflict could expose the countries of the union (Guinea, Liberia and Sierra Leone) to "a large-scale humanitarian and human rights crisis", of much bigger proportion than it suffers already. Liberia's recent record of violent conflict is often traced to a military coup in 1980, in which Samuel Doe seized power and ruled until he was toppled and eventually killed a decade later.
Charles Taylor, now president, led an armed insurrection against Doe from Cote d'Ivoire in 1989 and controlled most of the Liberia by 1992. He eventually came to power in elections agreed to by the warring factions in 1997.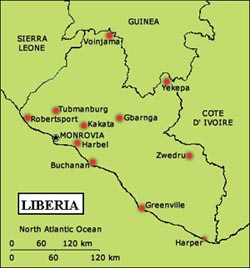 Opponents of Taylor took up arms again, and the current wave of fighting between the Liberian government and rebels of the Liberians United for Reconciliation and Democracy (LURD) started in 1999.
At least 120,000 Liberians have been displaced by the current conflict, and 228,000 forced to seek refuge in other Mano River Union (MRU) countries. A third of the country is inaccessible and a state of emergency declared in February remains in place. Some 76 percent of Liberians currently live below the poverty line; unemployment stands at 80 percent and just 50 percent of some pre-war facilities function, according to relief agencies.
Liberia's neighbours worry
Despite problems at home, Taylor has pushed the country's involvement in various sub-regional conflicts since coming to power. Neighbouring governments worry that "Taylor's agenda" could significantly destabilise their countries, according to regional observers.
In August, President Ahmad Tejan Kabbah of Sierra Leone formally requested the UN to extend the mandate of its peacekeeping force in his country, the United Nations Mission in Sierra Leone (UNAMSIL), "because the escalating conflict in Liberia is threatening to destabilise the entire area once again."
Sierra Leone is just emerging from a 10-year rebel war that was launched from Liberia by rebels of the Revolutionary United Front (RUF), led by Foday Sankoh. Backed by Taylor, the RUF waged one of the most brutal wars ever seen.
The rebels plundered, raped and amputated thousands of Sierra Leoneans until UNAMSIL brought the war to an end in January 2002. The RUF retains close ties with Taylor and one of its commanders, Sam Bockarie, is believed to live in Liberia, according to sources in Monrovia. Some of the rebel fighters have also been integrated into Taylor's elite Anti-Terrorist Unit, they said. Kabbah, who takes his case for an extension of the mandate of UNAMSIL to the UN Security Council this week, has said in a letter to UN Secretary-General Kofi Annan that the force needs to remain in his country for at least three more months, to guarantee the peace.
In June, Sierra Leone government officials told IRIN that they were bracing for up to 125,000 returnees and refugees from Liberia, because of ongoing conflict there. "General elections in Liberia are less than a year away... the concern of the Sierra Leone government [is about] a premature withdrawal of international peacekeepers," Kabbah said. Presidential and parliamentary polls have been announced by the Liberian government for next year. But sources expect that most government opponents may not take part. "We remember with deep regret the events that followed the premature withdrawal of ECOMOG [Economic Community of West African States Monitoring Group] from Sierra Leone before the deployment of an adequate number of UNAMSIL contingents," he added. Taylor's Liberia is also a keen worry to Guinea, according to diplomats in the region.
Apart from hosting regular influxes of Liberian refugees, especially around border areas like Macenta, Guinea is accused of hosting Liberian rebel forces by the government in Monrovia. Between July and August, Liberian government forces pushed the LURD rebels back towards the Guinean border. News reports said the rebels had crossed to re-group in Guinea. Kiss FM radio, which is owned by the Taylor family, reported that the "terrorists had returned to their bases in Guinea". Worried about the unease with which Monrovia views the purported presence of anti-Taylor rebels in his country, Guinean President Lansanah Conteh told journalists on 8 September: "There are no Liberian rebels in Guinea". Taylor is convinced otherwise, however, and diplomats in Monrovia told IRIN he has never hidden his distaste for Guinea. In 1999, armed people had attacked Guinean villages near the Liberian border, prompting suspicions that Taylor was trying to destabilise Guinea. Conteh threatened to invade Liberia, but did not act on the threat. Deteriorating relations in the MRU worsened still further when Taylor expelled the ambassadors of Guinea and Sierra Leone in 2001, saying those countries were backing Liberian rebels who were fighting him.
According to diplomats in West Africa, Taylor has lately developed suspicions towards Burkina Faso because President Blaise Campaore hosted a meeting for exiled Liberians earlier this year. Oddly, Burkina Faso supported Taylor during the Liberian civil war. Relations have also chilled between Taylor and Cote d'Ivoire, although his first group of Liberian rebels started out from that country in 1989. Cote d'Ivoire believes Taylor has become close to former leaders from tribes near the Liberian border and not the Ivorian government, according to analysts. Cote d'Ivoire hosts tens of thousands of Liberian refugees, as well as being home to some of Taylor's opponents, including political rival Ellen Johnson-Sirleaf, who has emerged as one of the rallying points for the Liberian diaspora.
Natural resouces played a role
Natural resources have played a key role in fuelling conflict in the region. Much of the fighting in Liberia was over control of areas rich in resources.
Analysts believe that warlords, including Taylor, made millions of dollars from trade in minerals and other resources. Taylor is believed to have made at least US $75 million annually. In 2001, the UN Security Council asked Taylor to end support to Sierra Leonean rebels and stop trading in that country's diamonds.
An unsatisfactory response prompted the Council to impose a ban on diamond exports and travel on some officials in May of this year. It also placed an embargo the on sale or supply of weapons to Taylor's government. "A vicious cycle" of armed conflict, proliferation of small arms, youth unemployment, weak governance and corruption, and illicit trade of mineral and other natural resources to finance military activities, has "exacerbated a spiral of violence" in the region, according to the UN. Humanitarian workers are fearful that the spread of the conflict in Liberia may spill over to Cote d'Ivoire, Guinea and Sierra Leone because of the deep historical links of the MRU countries.
For instance, Liberia hosted Sierra Leonean refugees during its decade of war. At least 30,000 are still in the country and many have got caught up in the continuing Liberian conflict. "Peace in one means peace in the others. The absence of peace in one means the absence of peace in the others," a humanitarian worker in Monrovia told IRIN. Adekeye Adebajo, author of "Building Peace in West Africa", published by the International Peace Academy, has noted that support by leaders in the sub-region of dissident factions destabilising neighbouring regimes has become an alarming trend. "Burkina Faso and Cote d'Ivoire assisted the NPFL [National Patriotic Front of Liberia]; Liberia and Burkina Faso assisted the RUF in Sierra Leone; Nigeria, Sierra Leone and Guinea backed the anti-NPFL factions in Liberia," he wrote. Various peace initiatives have been started to try and avert the spread of conflict in the region. King Mohammed VI of Morocco has this year hosted talks with the MRU presidents, while the Economic Community of West African States (ECOWAS) is trying to arrange talks for later in the year.
But worries remain. "Having waged a guerrilla campaign for seven years, Taylor still has the psychology of a warlord. He has failed to transform himself from warlord into statesman," according to analyst, Adekeye Adebajo. Meanwhile, diplomats say that available information indicates the LURD rebels may resume attacks against Monrovia when the dry season starts in November. They add, however, that the rebel group faces internal leadership problems at the moment, which could delay their campaign. Concerned about the situation in the MRU countries, UN agencies, aid agencies and donors met in Abidjan, Cote d'Ivoire between 9 and 11 September, to discuss contingency and response trategies. They also discussed how to raise funds, given that their consolidated appeals last year generated barely a third of the funding requested.
"The situation remains unpredictable, but the indicators are that the humanitarian crises in the region, especially displacement of people, is likely to increase," participants at the meeting stated.
---
This article was produced by IRIN News while it was part of the United Nations Office for the Coordination of Humanitarian Affairs. Please send queries on copyright or liability to the UN. For more information: https://shop.un.org/rights-permissions