A year after one of the world's most devastating typhoons swept through the Philippines, thousands are unable to resume their lives, with rehabilitation efforts bogged down by political divisions and bureaucracy, officials and survivors say.

In the village of Basper in the storm's epicentre of fatalities, white wooden crosses have been erected over a mass grave for some 3,000 victims, nearly half of the entire official death toll (6,300); thousands more remain missing.

The bodies are still unidentified, and survivors with missing relatives have randomly placed crosses with the names of their dead, in a heart-breaking ritual of acceptance.

"There was no DNA testing done and they were just brought here. But at least they now have a permanent home. It gives us a feeling of closure knowing that whenever we want to visit them there is a place we can go to," said Esmeralda Ignacio, 68, as she and her niece, Lynette de la Cruz, inspected the crosses.

Nearly a year ago, victims' families were already calling for DNA verification, as officials pleaded for more time.
"It has been very slow, and it is very, very difficult to get back to the business of living when you can't properly give your dead the burial they deserve," said Ignacio of the government's rehabilitation efforts and her family's quest for their kin's bodies. 
 
"We went to City Hall, but no one could tell us where to get these documents. No one seems to know what to do," she said.

She said the family is resigned to the fact they may never really find the victims' bodies. But that, too, also poses a problem. Without a body, they cannot be issued death certificates, a necessary document to claim legal benefits, including insurance, among others.
Dwindling aid
Across town, Lita Paa huddled her five children under the tent for a quick meal of sardines and rice, the last of the family's food rations received for the month. Aid has begun to run down, and even if she wanted to work, she couldn't.

Paa's family is among hundreds that still live in tents in the coastal village of Baybay. They were promised relocation in the government's "build back better" programme, but it has yet to be realized.

"The biggest question no one can give us an answer to is: when?" she said.

The typhoon's overall emergency relief efforts were funded at 60 percent by the end of October, as tracked by the Office for the Coordination of Humanitarian Affairs, with a $92 million shortfall for emergency shelter and $50 million for "food security". 

Aid agencies had been quick to give the fishing community boats so they could resume their livelihoods, but the municipal bay in Tacloban remains littered with tons of debris that has wiped out rich fishing grounds. The men cannot fish too far away in the open sea with their little boats, many of which now lie idle on the beach and which the fishermen jokingly call "solar boats" drying under the sun. 

Typhoon Haiyan slammed into the Philippines on 8 November last year, bringing devastating winds that at their peak hit 300km an hour. It left thousands dead and displaced nearly one million people, according to government data. It swept across the Philippines' central islands from the Pacific, cutting a swathe of destruction in 171 (out of the country's nearly 1,500) municipalities and making four landfalls.

The hardest hit areas were in and near Tacloban in Leyte Province, a coastal city of 250,000 people before the disaster hit. About 90 percent of the province was damaged, when huge waves swallowed up villages, while strong winds blew away homes.
Over 25,000 still in tents, bunk houses
One year later, the government and UN statistics say at least 25,000 people still live in tents and bunk houses. Observers say that while the emergency response was quick, bureaucracy and politicking has slowed reconstruction and rehabilitation.
SLIDESHOW: Tacloban one year after Typhoon Haiyan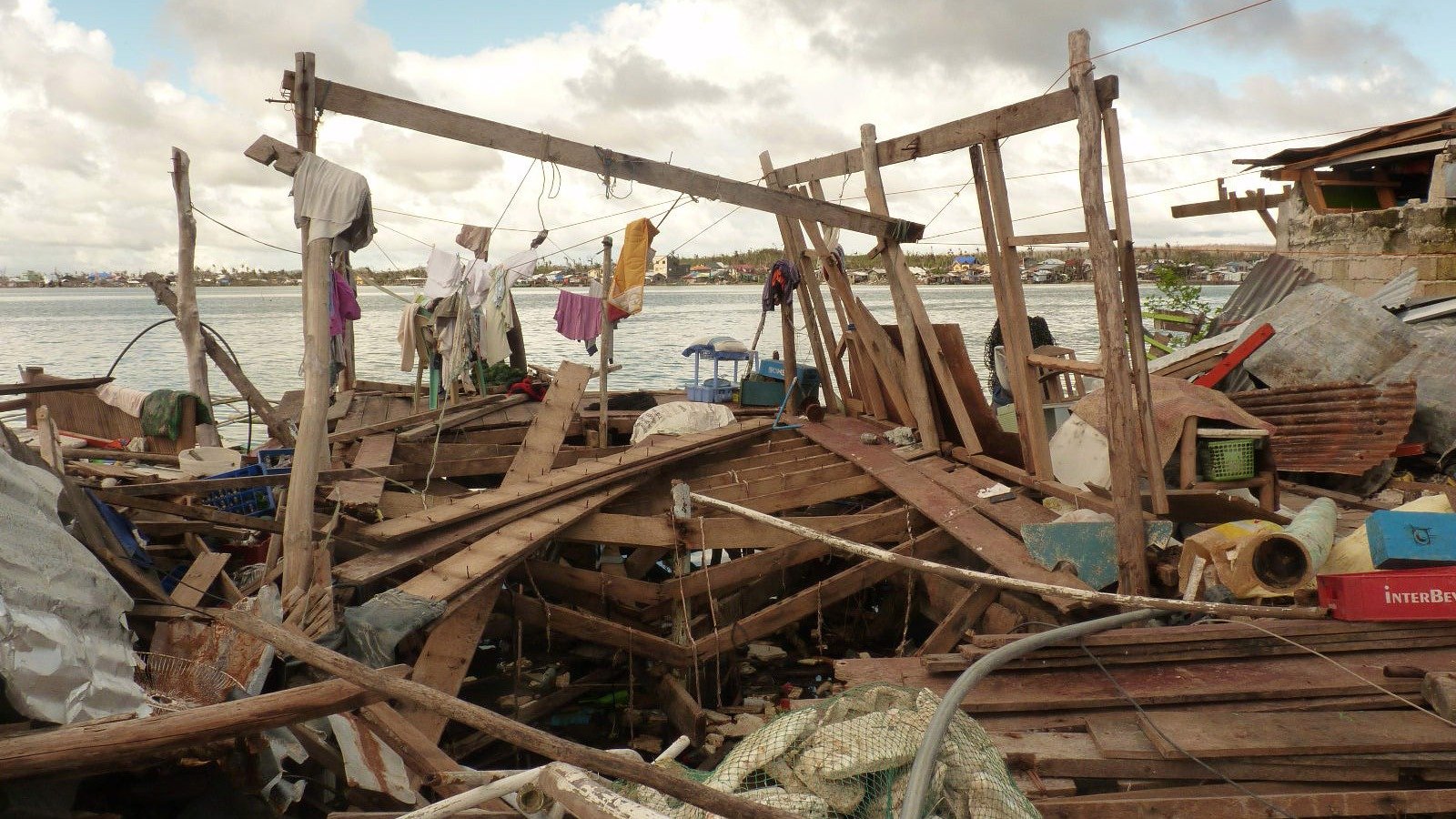 201407180950440742

"We only have about 100 of the promised 14,500 permanent homes finished. The government can only work with the resources it has, and you have to understand this is a massive rehabilitation and recovery effort," Tacloban mayor Alfred Romualdez told IRIN.

"It is now primarily a shelter issue. That remains to be the problem here," said Tacloban's mayor, adding that a new township for those affected in his city was being built further inland, but this was being met by some resistance from survivors fearing a lack of jobs away from the city.

"We are adjusting to a new normal here and people have to understand that the situation is unique. We are relocating people because we want to save their lives," he said. "People oppose change, but that is where we are headed."

Romualdez has openly accused the government of President Benigno Aquino of neglecting his city on account of politics. The mayor and president come from rival political families.

"The bottleneck is in the resources, and trying to get these [government] agencies to begin implementing the projects identified," Romualdez added.

At best, he said international NGOs are the ones who have helped the most. Up to 1 August, nearly 1,300 private sector/NGO projects were reported to the Office of the Presidential Assistant for Rehabilitation and Recovery (OPARR).

President Aquino signed a US$3.73 billion, 8,000-page, eight-volume rehabilitation and recovery master plan - submitted to him in early August - in late October, nearly one week before the one year anniversary.

The plan, among others, is to build nearly 200,000 homes that can resist storms with 250km per hour winds, and rehabilitate damaged irrigation systems, roads, bridges and sea- and airports.

About one percent of those homes have been built, even as the government has released an initial $1.15 billion in reconstruction funds, an OPARR spokesman said in late October. 

Back at a bunk house in Palo, on the outskirts of Tacloban, despair is as suffocating as the humidity. Tents and roofs leak, and jobless men have often resorted to drinking to pass the time, resulting in chaos and fights.

"Life here is very hard. There is a problem in drainage system, and it floods regularly. We are worried that this could cause diseases," said mother of six Emma Zurita, 52, who was a voice lesson teacher. She has now turned to gardening for some income.

"You do what you can to survive. You can't wait for aid all the time."

aag/pt/cb
---
This article was produced by IRIN News while it was part of the United Nations Office for the Coordination of Humanitarian Affairs. Please send queries on copyright or liability to the UN. For more information: https://shop.un.org/rights-permissions