Battered by extreme weather and rising seas, coastal Bangladesh is on the front lines of the climate crisis. But even within inundated communities, not everyone feels the impacts in the same way.
The riverside and coastal communities of Khulna district in southwest Bangladesh are locked in a continuous rebuild. Each new storm brings lasting damage, breaking flood defences and allowing seawater to seep in during the twice-daily high tides.  
Photographer Zakir Hossain Chowdhury returns to these communities frequently. His photo series below explores how women are withstanding the climate crisis, and the ways they experience its impacts differently – from an uneven hunger burden and longer treks for drinking water during lean months, to the hidden health risks from living on land increasingly flooded by seawater.
For Hosneara Begum, it is the hot, dry months of March, April, and May that are the hardest: Saline contamination – made worse by rising seas and storm surge – forces her to walk about two kilometres further to collect fresh water for her family. 
"We wait for the rainy season, because at this time we can drink the rainwater," she said.
Women are responsible for collecting water in Begum's community. They also often eat less when food supplies are short – putting the needs of their children or husbands first.
"Women suffer more from climate implications in Bangladesh, due to their lesser social standings than men in the patriarchal societies," said Raihanatul Jannat, a Bangladeshi researcher whose focus at the University of Eastern Finland includes gender and climate law.
Many coastal households say soil salinity has worsened, making it harder to grow crops. Some men, the traditional breadwinners in the family, are moving further away to search for jobs. 
Saltier drinking water drives up health risks, especially for women: In Dacope, a riverside sub-district of Khulna, research from the Grantham Institute at Imperial College London found a link between contaminated drinking water and hypertension in pregnant women. Hypertension is a leading cause of maternal deaths.
Separate research from coastal Bangladesh suggests that women have less access to information and resources to help them adapt.
"Women are the ones who are left behind," said Runa Khan, who heads Bangladesh's Friendship NGO, which focuses on issues like healthcare and food security in riverine and coastal communities. "In times of greatest danger, they are the forgotten ones."
The early damage: A storm's barrage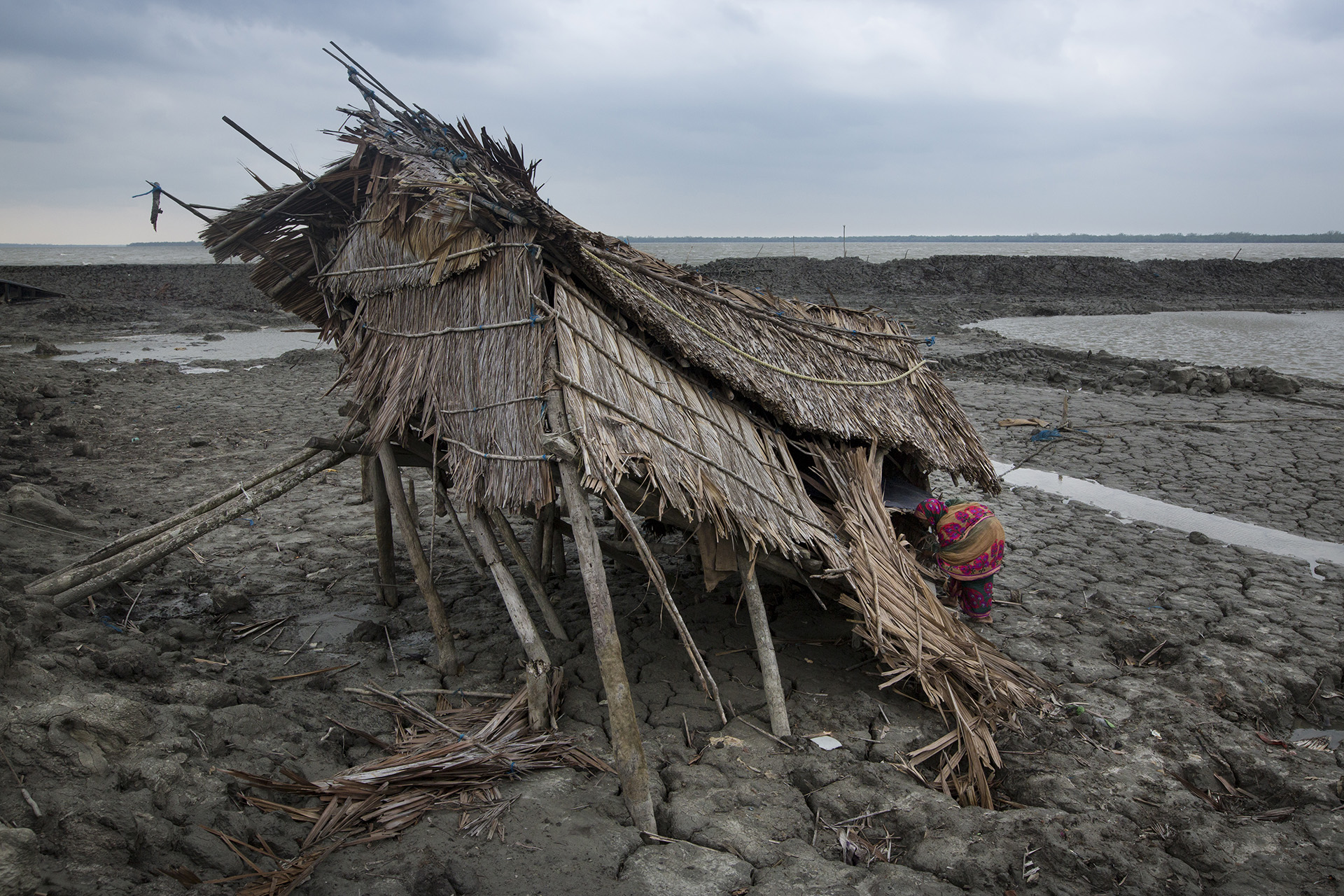 A woman inspects her former home, which was destroyed after Cyclone Fani tore through parts of coastal Bangladesh and India in April and May 2019.
Better disaster preparedness – including rapid evacuations and networks of cyclone shelters – has significantly reduced casualties during powerful cyclones in South Asia. But the damage to infrastructure and livelihoods can be severe and long-lasting.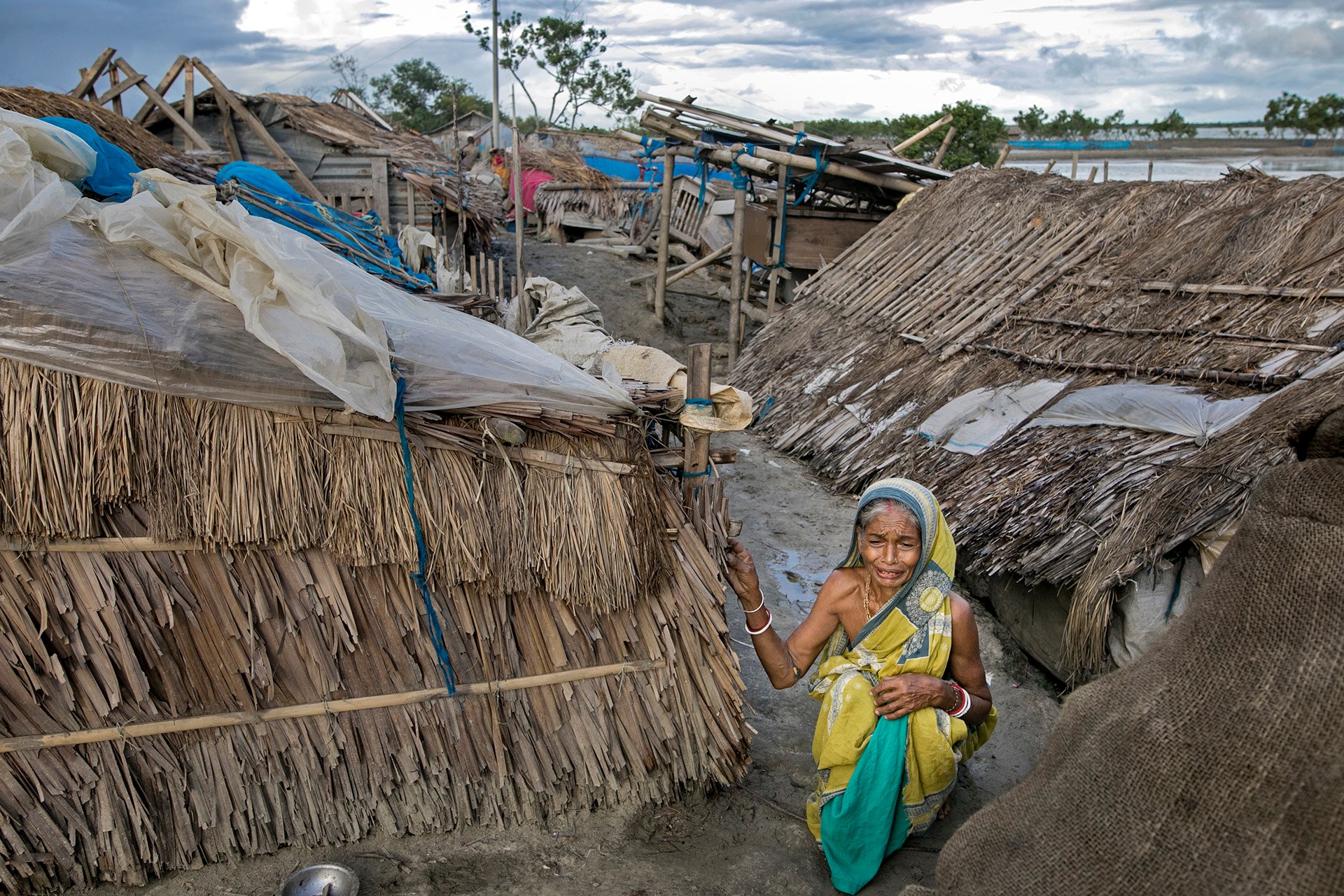 Anita Rani Mondol saw her home destroyed by Cyclone Amphan in May 2020. The 68-year-old couldn't find another place to settle, so she set up a makeshift tin shelter on a narrow embankment in southwest Bangladesh's Khulna district.
Hardships multiply: Searching for drinking water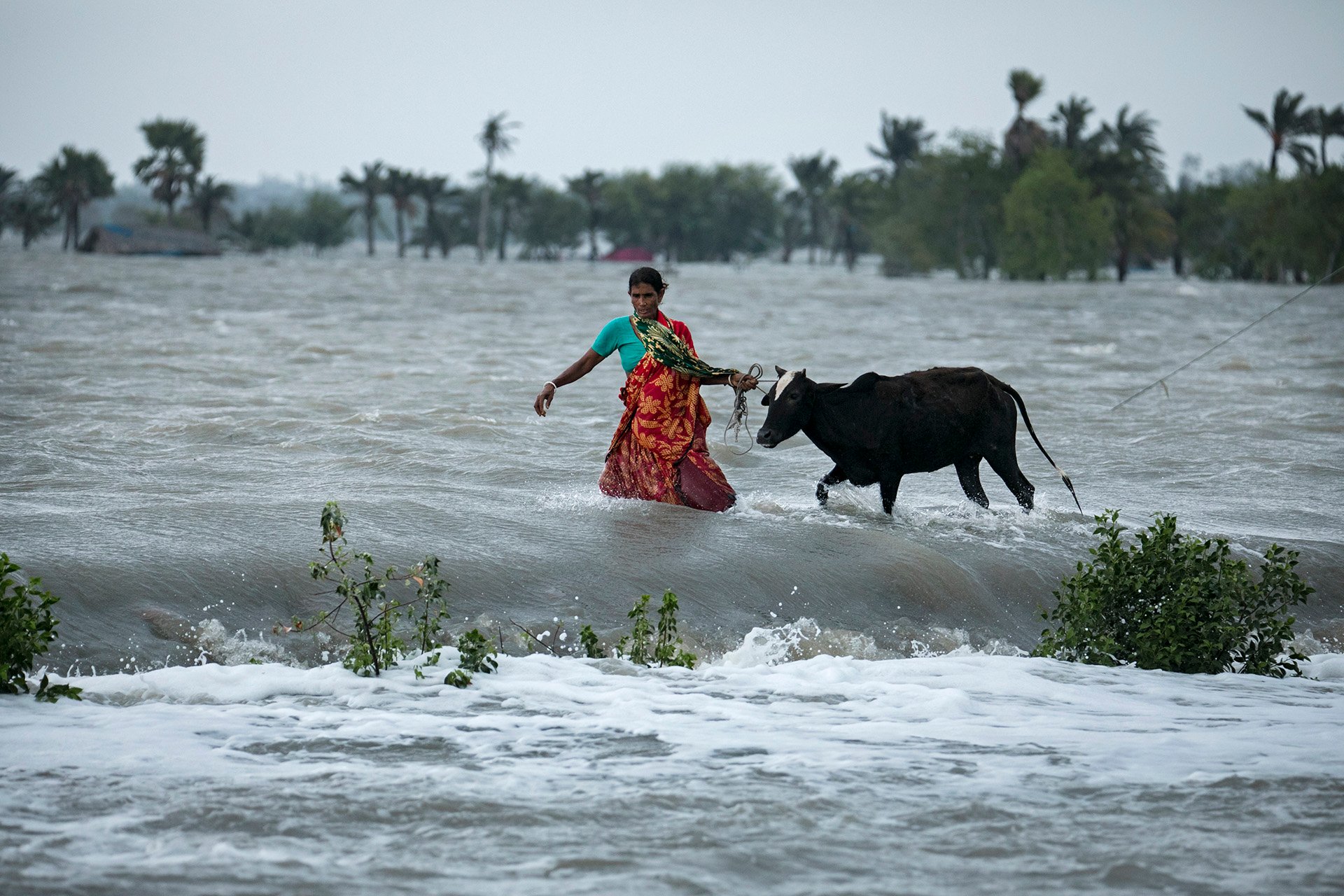 A woman tries to bring her cattle to higher ground after Cyclone Yaas damaged nearby embankments on the Shibsa River in May 2021, allowing saltwater to flood her home and land.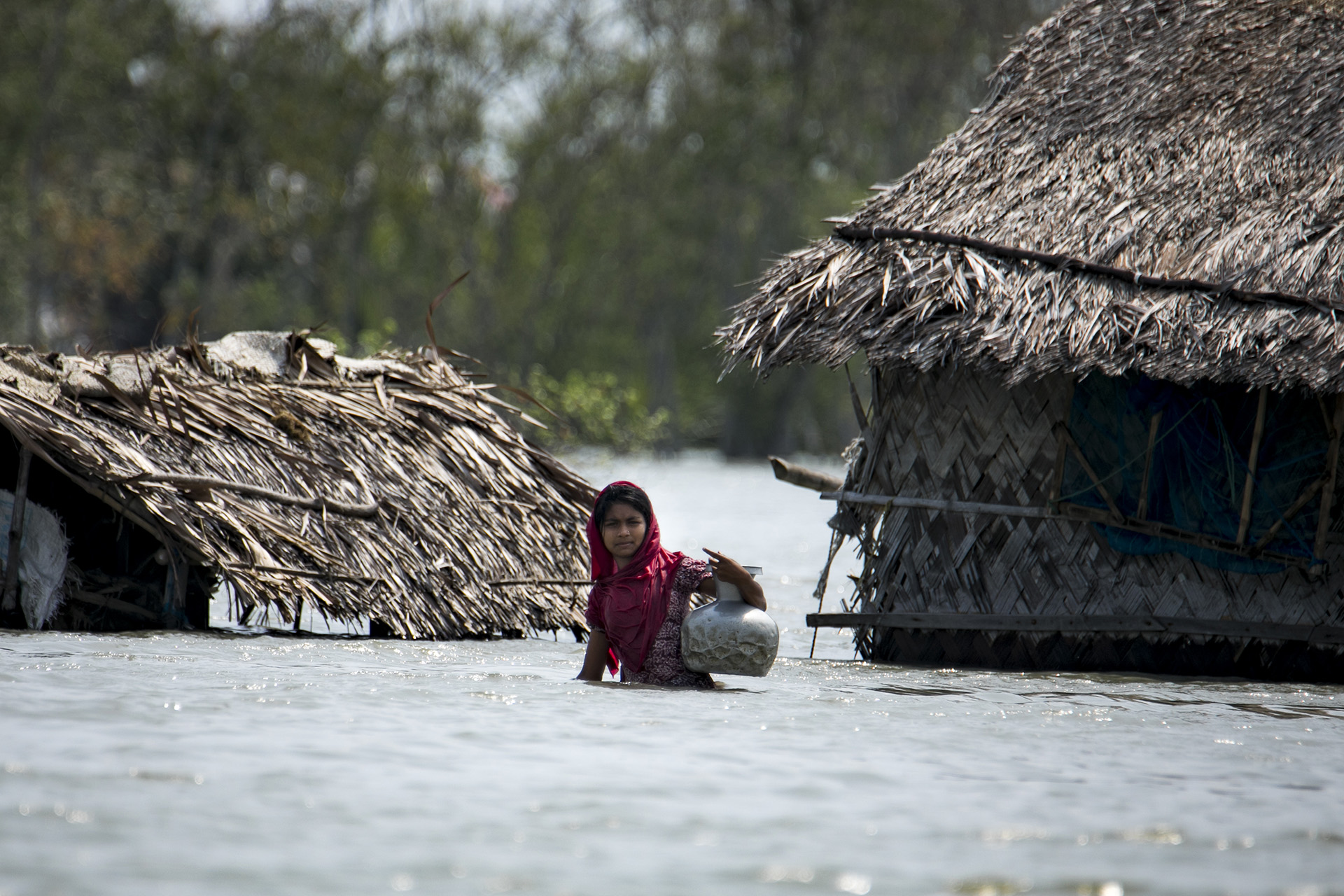 Flooding after Cyclone Yaas forced Shilpi, 13, to travel longer distances to find drinking water. The storm damaged her area's embankments. Daily saltwater floods now inundate the local freshwater pond, making it undrinkable.
Rebuilding: Mud embankments to hold back the sea
Women work to build mud embankments in Dacope, part of Khulna district. The embankments are meant to protect their homes and land from being flooded with saltwater during high tide. But the embankments are fragile, and are poor defences during powerful cyclones or storm surge.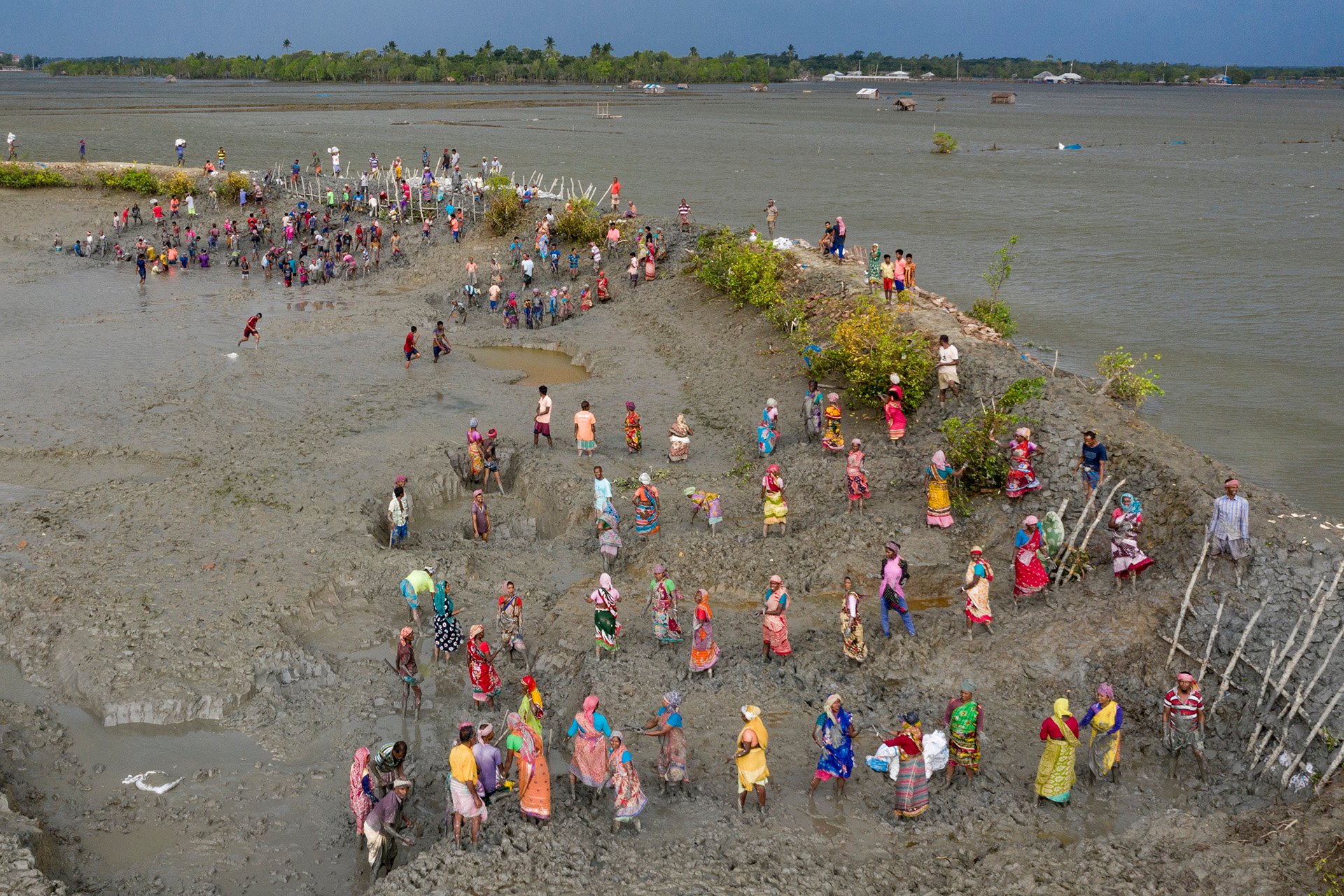 Women and men work to repair damaged embankments after Cyclone Yaas struck Bangladesh in late May. The storm, which traced a similar path to previous cyclones such as 2019's Fani and 2020's Amphan, caused only a handful of casualties. But there was extensive damage to land and livelihoods, including these embankments that usually keep high tides at bay.
Slow recovery: A shelter, then a home
Shondha Rani, 62, rests inside a primary school serving as a storm shelter in Khulna district, after Cyclone Yaas damaged her home in May. While sturdy emergency shelters are meant to protect communities, they sometimes become longer-term homes when families can't afford to rebuild.
Rani says continuous floods have damaged or shrunk her cropland from roughly three hectares to about a half. There's far less land for her animals and crops, and saline intrusion has made what remains less productive.
"We used to raise cows, ducks, and chickens," she said. "Now, we don't even grow grass year after year."
Repeat losses: A home destroyed four times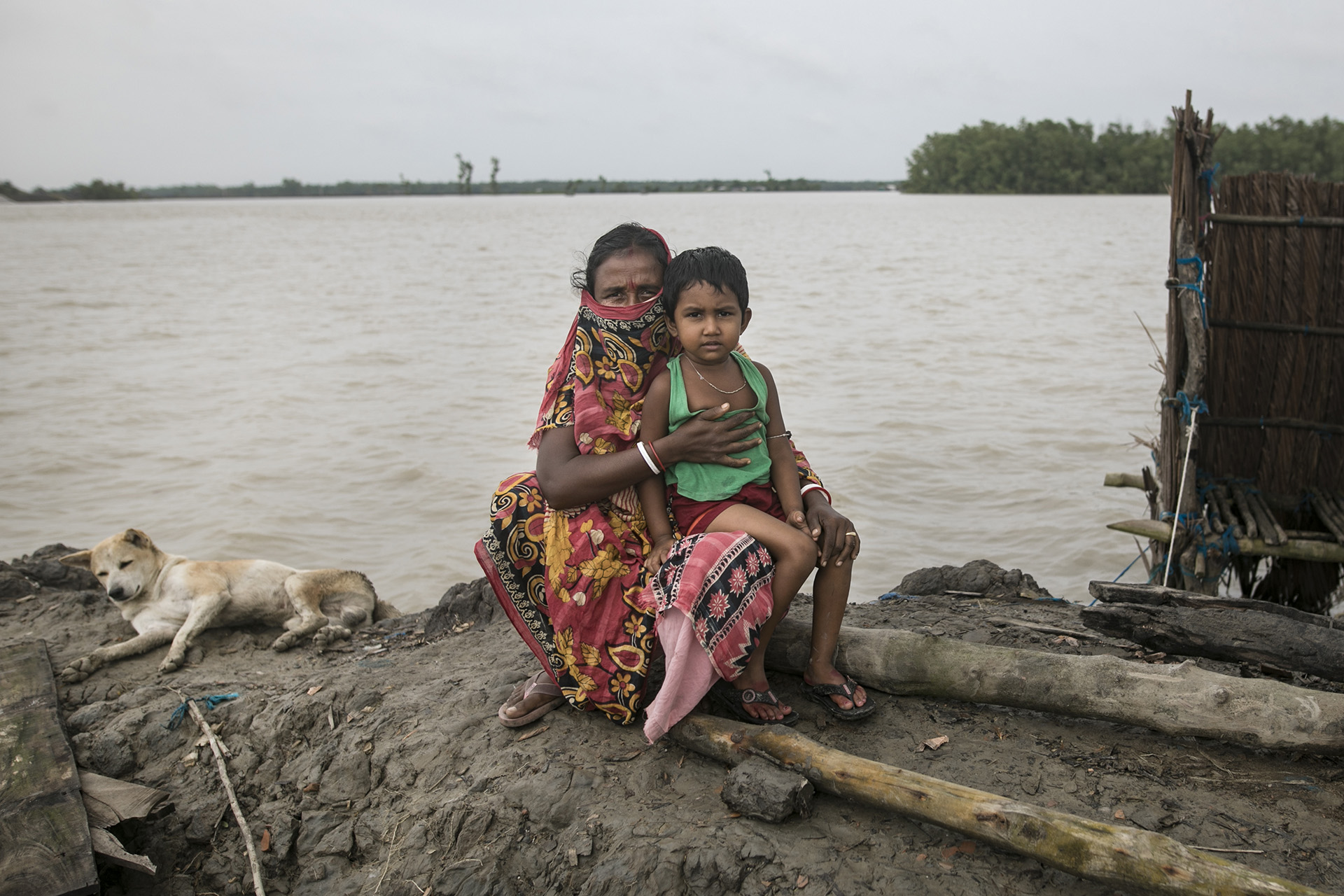 Meri Chitra, 37, sits with her niece in front of her submerged riverside home in Khulna district following May's Cyclone Yaas. It was the fourth time she has lost her home due to disasters like storms or erosion.
Women work long hours fishing or doing chores in brackish water, which causes health problems like skin disease and uterine inflammation, said Chitra, who works for a local NGO. Men have to travel further away to find work as disasters multiply. She said the repeat damage makes it harder to earn a living, and child marriage has risen as families struggle to cope.
"Due to climate change, women suffer a lot here," she said.
Edited by Irwin Loy.
Read more about...