A wave of militia attacks in the Democratic Republic of Congo's northeastern Ituri province has left hundreds dead and roughly 300,000 displaced in recent weeks, triggering a new humanitarian crisis in a region already grappling with the second worst Ebola outbreak in history, on top of multiple other conflicts and health epidemics.
On a visit to Ituri last week, Congo's President Felix Tshisekedi described the violence – blamed on an ethnic Lendu militia – as "attempted genocide" and a "plot" to destabilise the central government. The Congolese military said it had "totally neutralised" the armed group it considers responsible for the attacks.
In June, reporter and photojournalist Olivia Acland travelled across the conflict-torn province, finding camps overflowing with displaced people who told harrowing tales of machete attacks, lost loved ones, and villages burnt to the ground.
Ituri, a fertile region rich in gold deposits, has been an epicentre of conflict in Congo for decades. Between 1999 and 2003, around 60,000 people were killed here, as a power struggle between rebel groups escalated into ethnic violence.
Clashes regularly pit the region's Hema cattle herders against traditionally arable Lendu farmers. Tensions are rooted in social, economic, and political inequalities exacerbated by Belgian colonialists, controversial land laws, and foreign interventions by regional states.
After years of relative calm, conflict reignited in December 2017 following scuffles between Hema and Lendu youth. Subsequent attacks uprooted roughly 200,000 people – mostly Hema – and left more than 260 dead. 
The motives and identity of the attackers are still subject to speculation, though analysts say the roots of the violence cannot be reduced solely to ethnic divisions. A decades-old agricultural-religious organisation called CODECO is alleged to have recruited and trained Lendu fighters.
The latest round of violence began on 10 June when four Lendu traders were killed in an ambush on their way back from a market. The attacks were blamed on Hema assailants and sparked a wave of brutal killings against Hema civilians.
An estimated 300,000 people have since fled to camps dotted around Ituri and in its biggest city, Bunia, while others have crossed into neighbouring Uganda. The death toll remains hard to estimate as some villages are remote and too dangerous to access.
"At this point our estimations are provisional," said Marie-Noel Nyaloka, coordinator for civil society groups in Bunia, before reeling off a list of villages and the number of people killed in each location.
Aid groups have been slow to respond and camps – most of which have existed since the last spike in violence in 2017 and 2018 – have received little help. "The last time we received tarpaulins was in 2018," said Dogu Uketwengu, head of a camp on the shores of Lake Albert.
The exodus of people is particularly worrying in a province where Ebola has killed 136 people since August. Three new cases have been confirmed in recent weeks in Bunia, where a treatment centre can be found right beside an overcrowded displacement site.
The UN's migration body, the IOM, has warned that poor living conditions in the camps "severely increase" the risk that Ebola – and other diseases like cholera and measles – will spread.
Fleeing through forests
Beatrice Gbosi woke up to the sound of gunshots as rebels attacked her village at 5am one morning last month. She fled to the nearby forest but men armed with machetes chased her down, slicing the side of her mouth open and cutting the thumb off her right hand. She eventually escaped, making it to a nearby village before locals escorted her to a hospital. She doesn't know whether her sisters, aunt, and uncle are alive or dead. "I don't know if we'll ever find each other again," she said, from her bedside at the General Hospital in Bunia.
Killed in their fields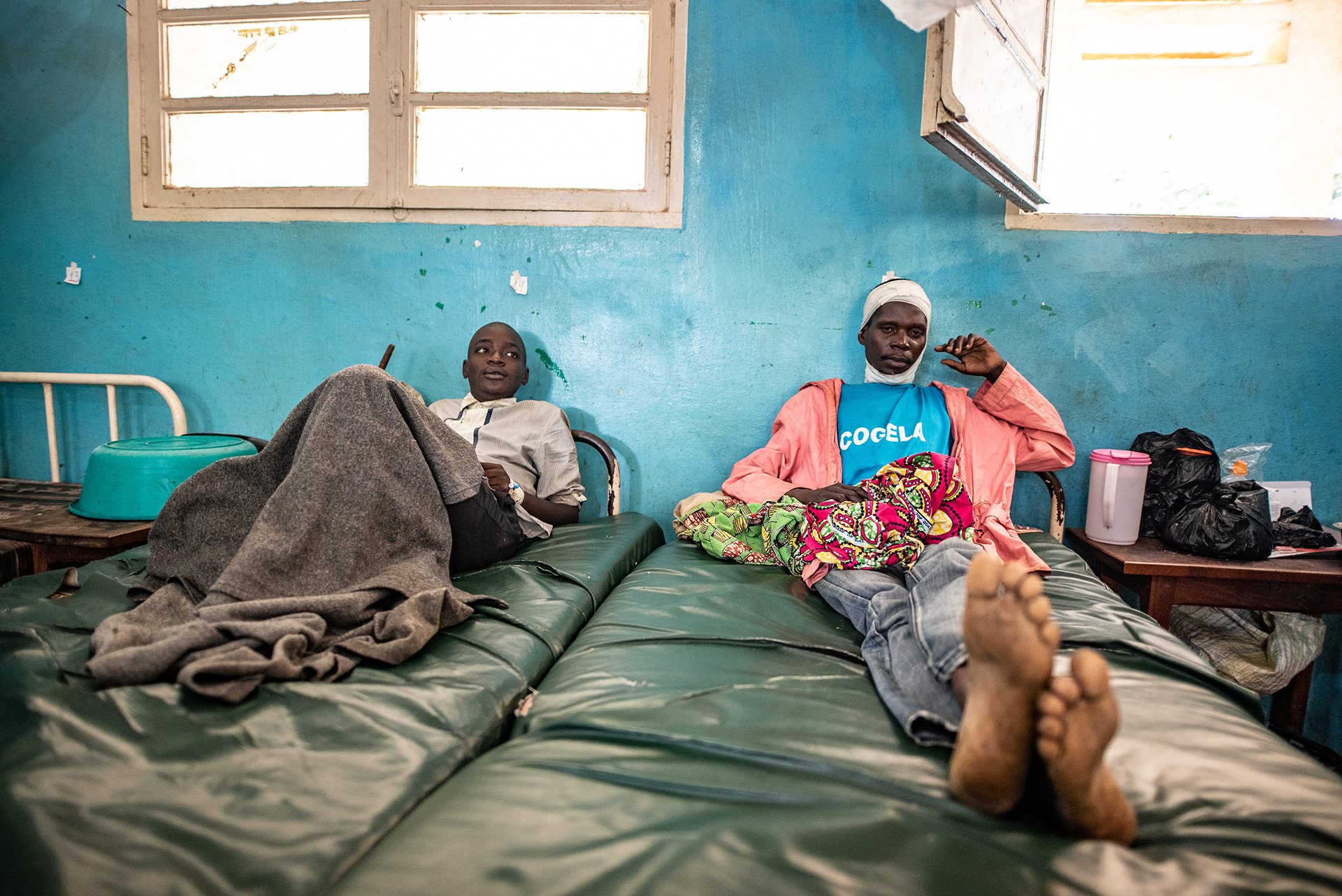 Batsi Lokana (pictured on the right), from an area called Iga-Barriere, was attacked while working in the fields with his mother. He lay on the ground playing dead as rebels decapitated his mother. "We never found her body, either they ate her or they threw her in the river," he said. 
Villages burnt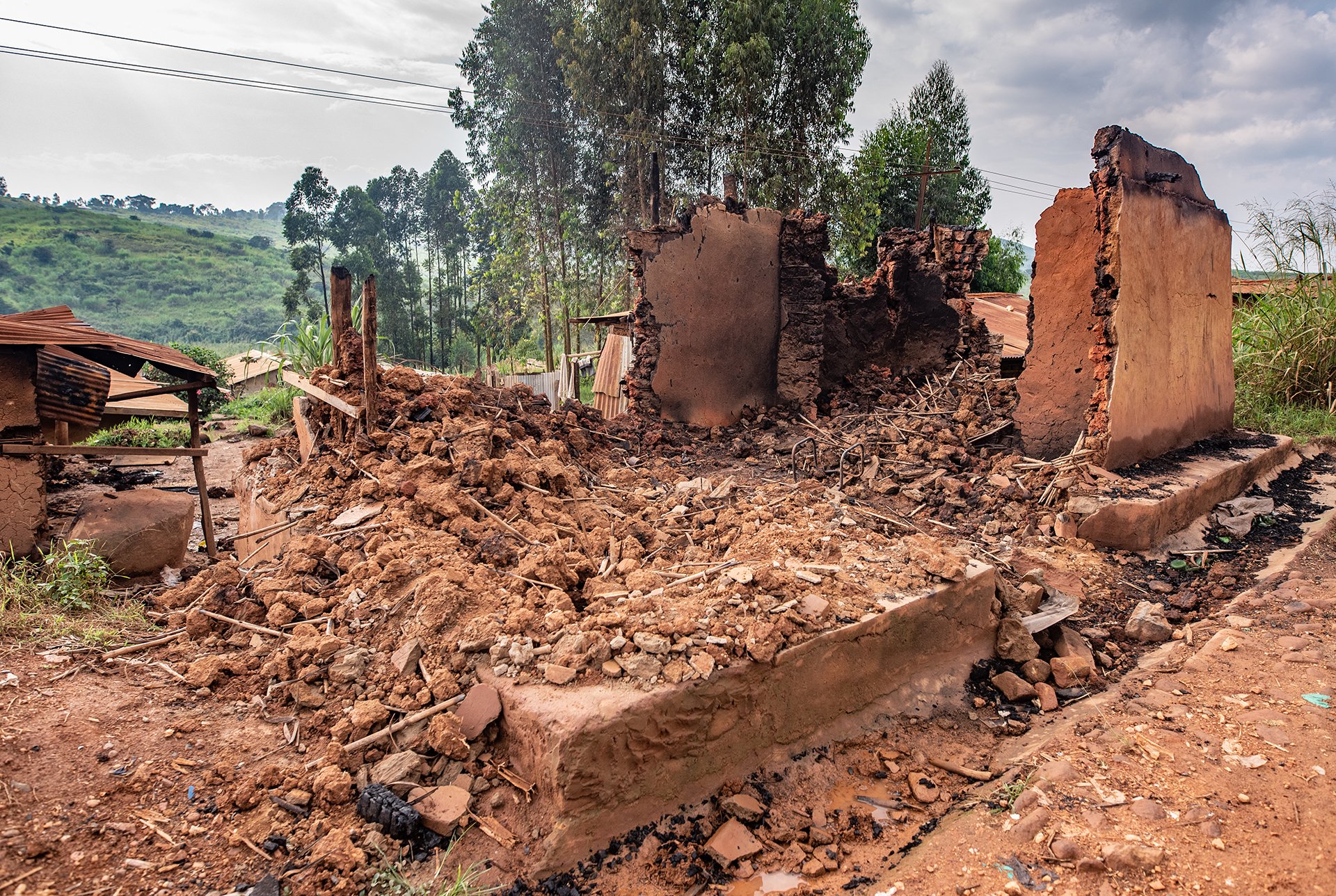 The charred remains of Makpo village can be found on the edge of a dusty road in Djugu territory, where most of the fighting has taken place. All the houses were destroyed during an attack.
Neighbours killing neighbours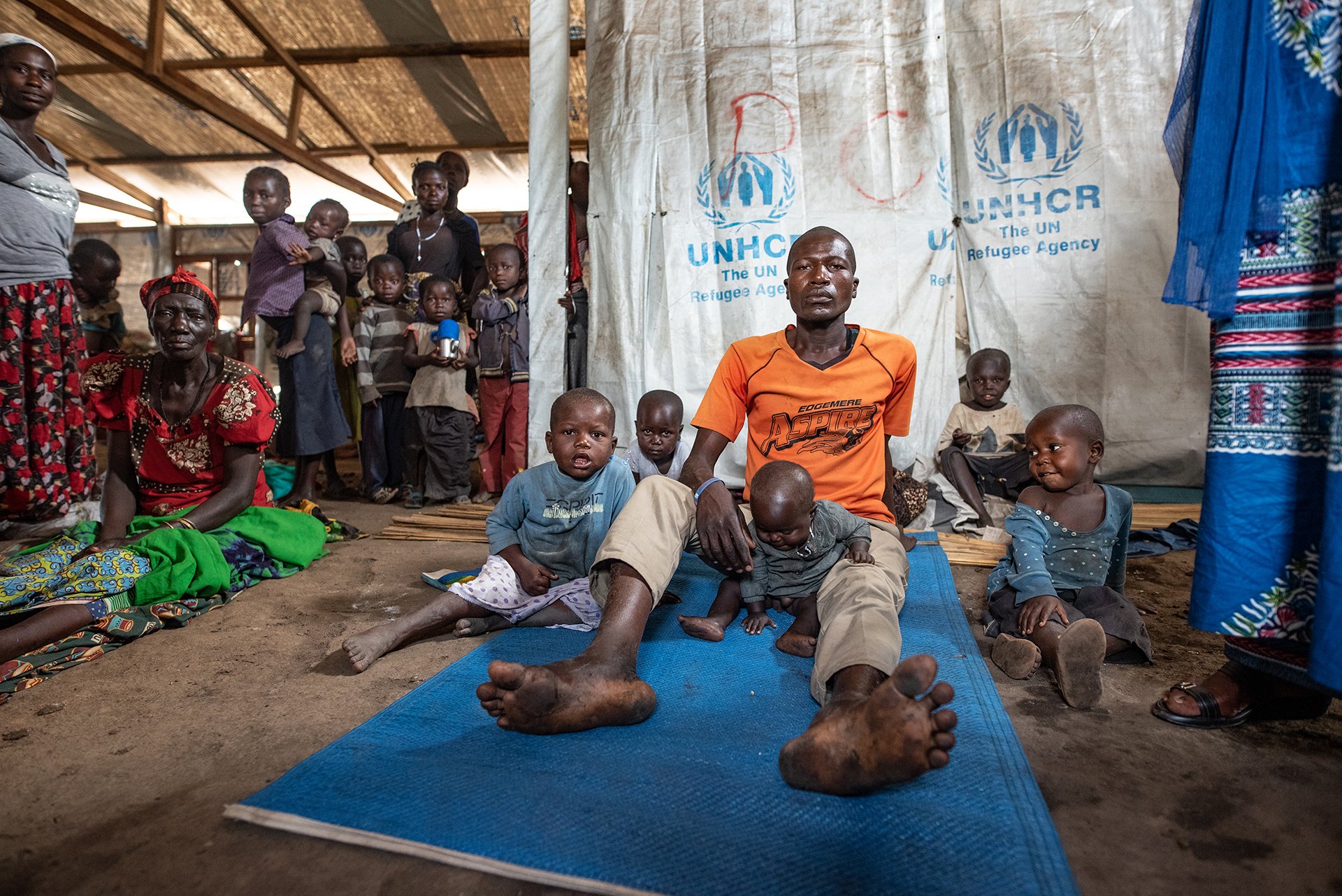 Innocent Lane, from Logo, recognised the attackers when they came to his village. "They were neighbours, I had eaten with them in the past, one of them went to my school," he said, before listing those he knew. The identity and motives of the assailants have been hard to work out as no group has claimed responsibility for the attacks.
Shelters destroyed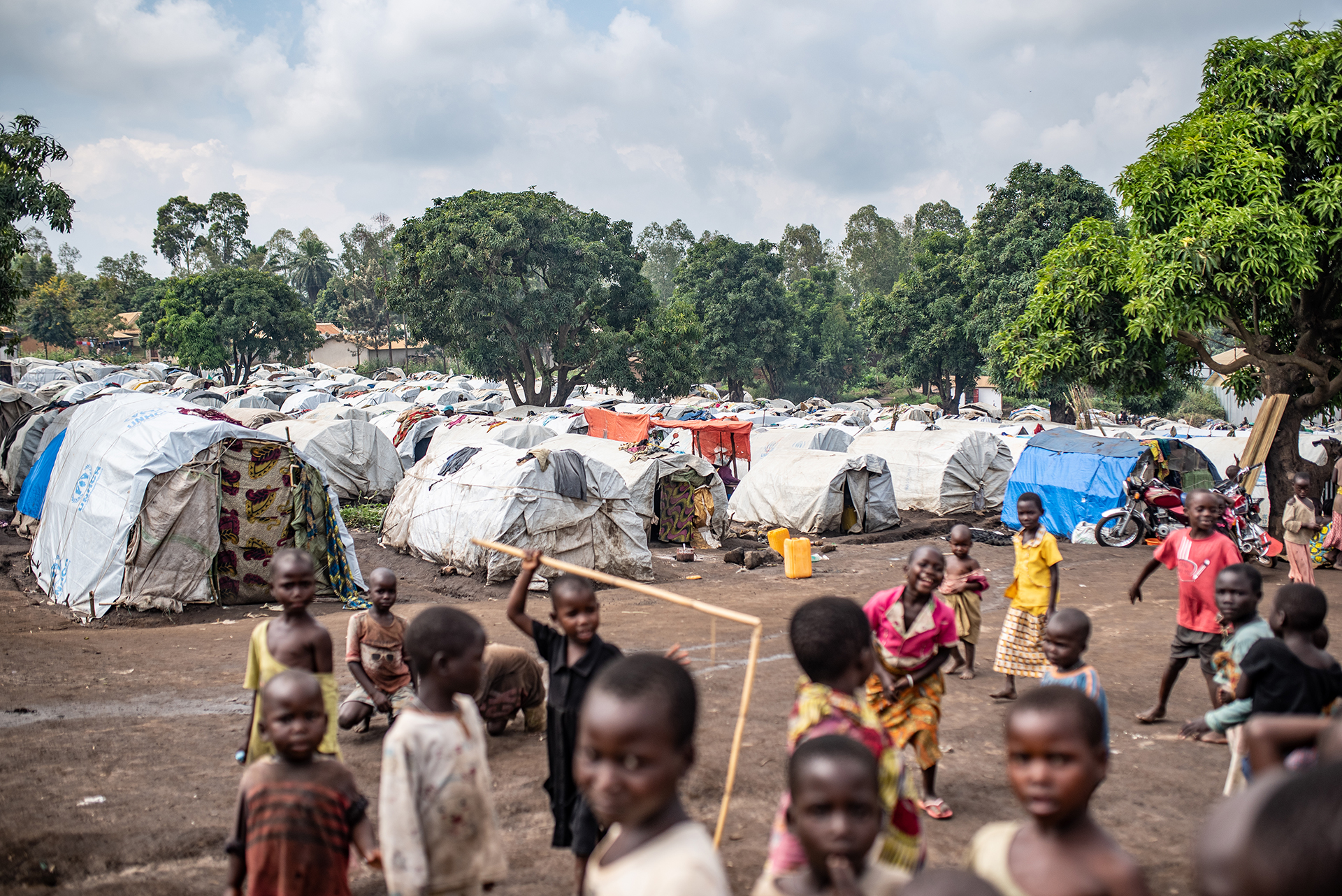 The UN's refugee agency set up shelters in parts of Djugu to encourage those displaced in 2017 and 2019 to return home. But Gloria Ramazani, a spokesperson for UNHCR, said militias have now destroyed the shelters: "They burned everything," she said.
Measles outbreak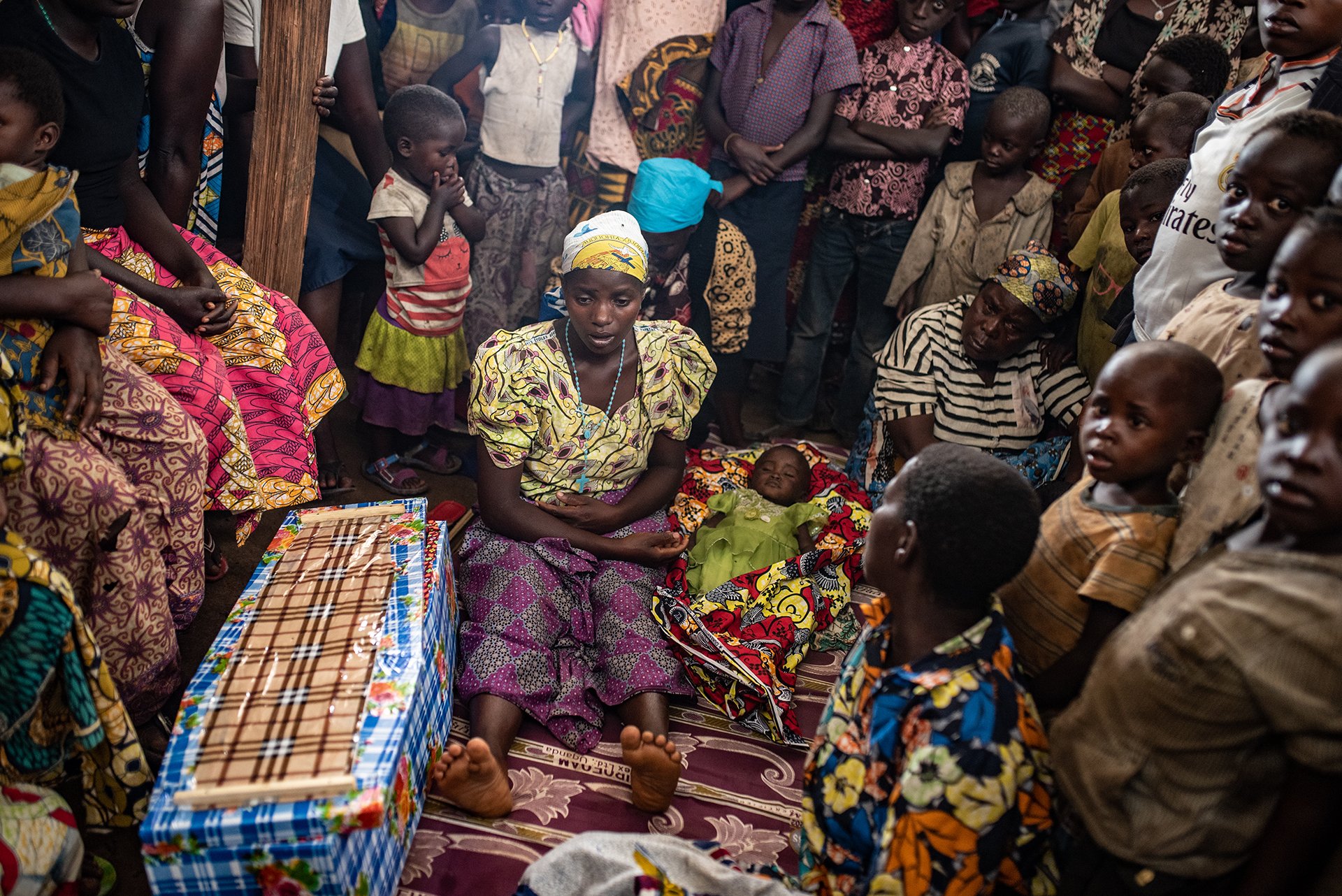 Two-year-old Ngabusi is the third child to die from measles in this camp in Bunia.
An outbreak of the infectious disease has killed more than 1,800 people in Congo since the start of the year. Malnourished children are the most vulnerable.
Sleeping rough, scavenging food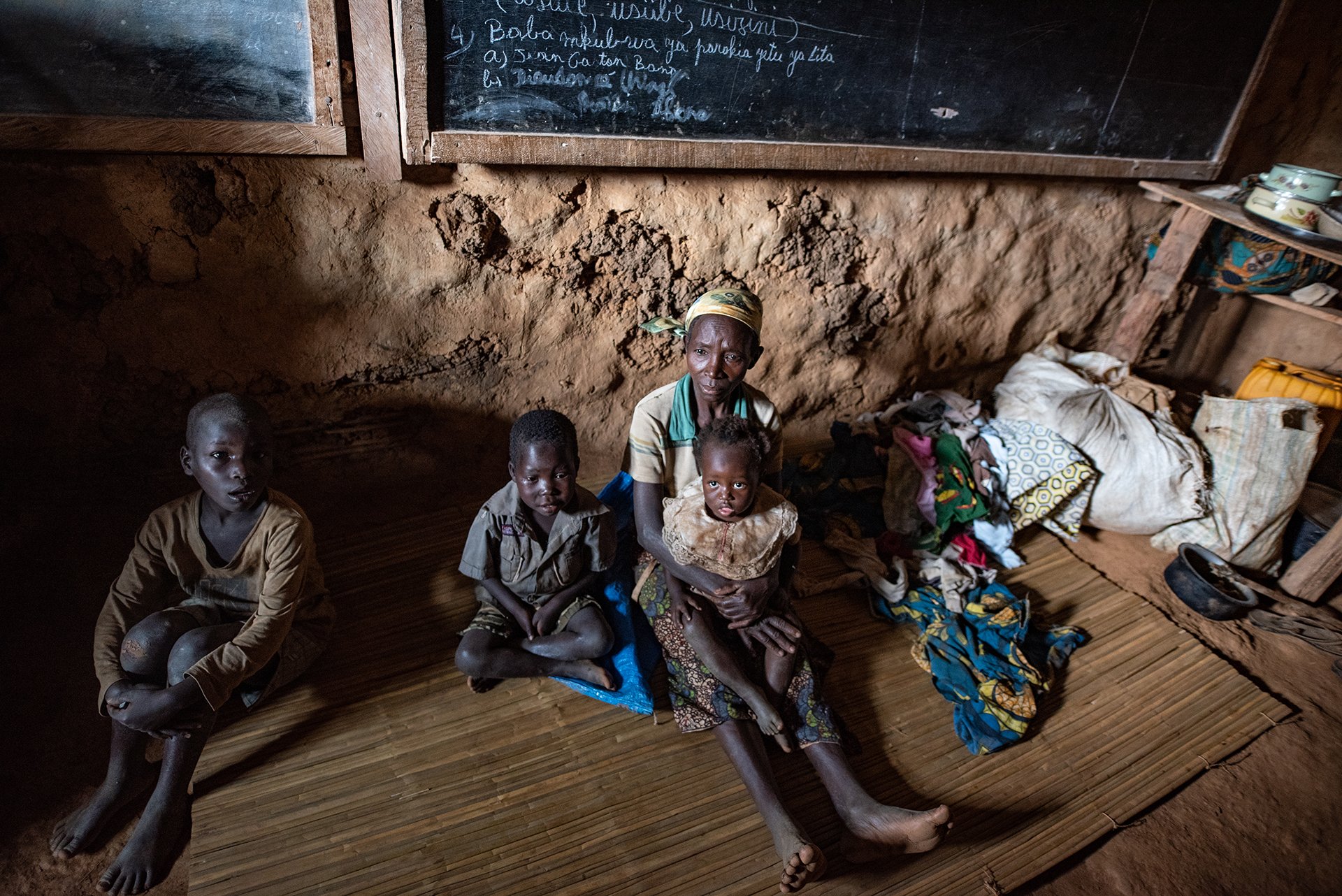 A woman looks after her grandchildren while her daughter returns to their ruined village to find food. The family is sleeping on the floor of a school classroom, which is sheltering dozens of other displaced people.
Setting up camp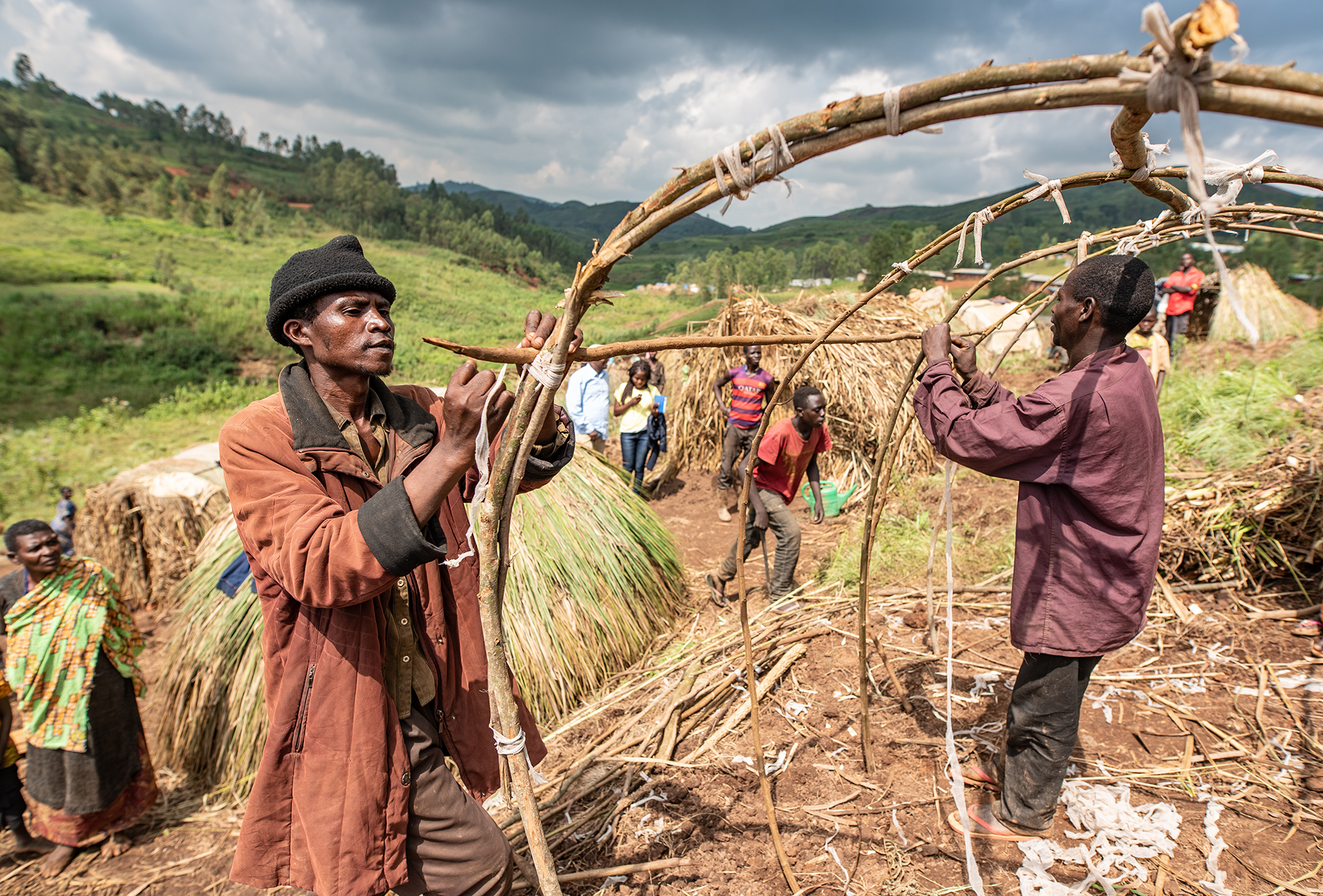 Displaced people build new shelters as they prepare for a lengthy stay in the camps.
(TOP PHOTO: Refugees rest after fleeing violence in Ituri, northeastern Democratic Republic of Congo.)