In a rare live-blog from the prime minister of a country grappling with disaster, Dominica's Roosevelt Skerrit described his own roof being torn off by Hurricane Maria. He has now confirmed 25 deaths and says his small Caribbean nation, population 73,000, will be building back "from zero".
As soon as a fixed-wing aircraft could land at Canefield Airport near the capital, Roseau, IRIN on Thursday became one of the first news organisations to see the devastation first-hand, joining a team of international aid workers assessing needs and offering support.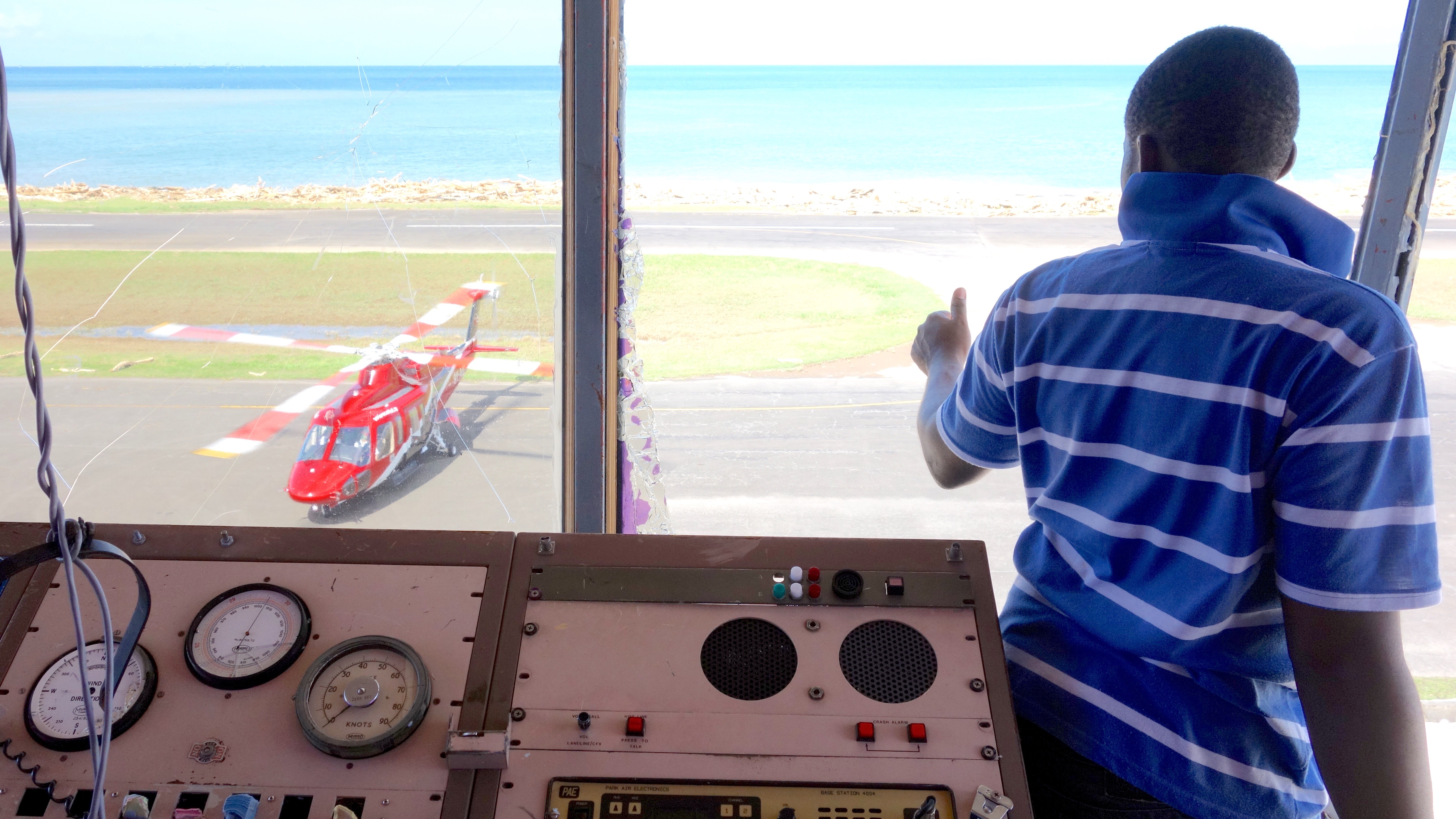 At the airstrip, the shoreline is littered with huge yellow tree trunks. Seen from the air, the mountains are browned by the stripping of leaves; a flotilla of thousands more trunks and branches, stripped of bark, bobs in the turquoise waters.
In the capital itself, the atmosphere is edgy – a curfew has been set for 4pm to 8am, and there are reports of looting. Several officials say they've heard gunshots. Beyond criminality are tension, fear, and trauma, among people jostling to scoop water from burst water mains, still lacking news about their friends and family.
Roads are jammed with cars navigating tree trunks, crushed vehicles, and heaps of mud. A new bridge has collapsed. Police and soldiers guard key intersections and sites. Families are on the move with wheelbarrows and shopping carts in shock and desperation. In quieter neighbourhoods, after days of rain, some households are drying out their belongings in the sun.
Foreigners cluster in smashed-up hotels, at the stadium, and at the seaport, trying to get a ride out.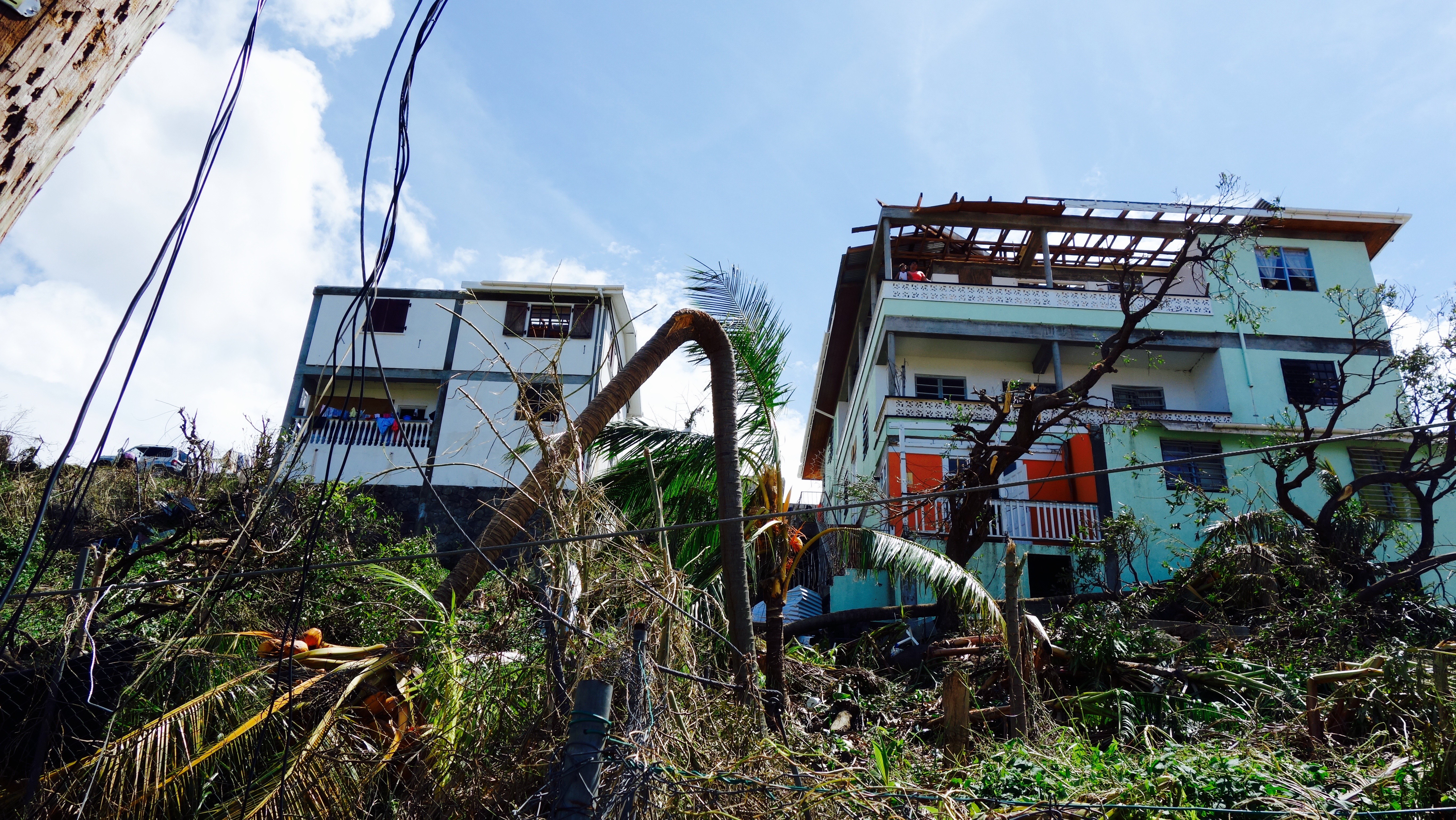 A Nigerian medical student, Adeleye Adeleke, tells IRIN he can't find a replacement for his asthma inhalers, his landlady's top floor is gone, he's lost papers and possessions and he wants out – "right now".
Adeleke says he saw the supermarket at the end of his street being looted but that security forces have regained control and set up checkpoints. But "there's nothing to buy, no clean water to drink," he adds.
Environmental health officer Selma Charles is "bunking up with a neighbour". Her house? "Roof totally gone. Everything gone. Totally gone." On the whole, she says Dominicans are pulling through, although it's "really sad and painful". In her professional view, the water safety issue is already becoming critical. "The water started smelling," she says, adding that dead animals could contaminate the supply.
Sketchy information
With information gathered largely from overflights and amateur radio operators, a picture is emerging of severe impact – estimates of missing or damaged roofs go as high as 90 percent. According to a satellite analysis, even one of the less-affected areas, the northwestern town of Portsmouth, appears to have had 55 percent of its buildings damaged.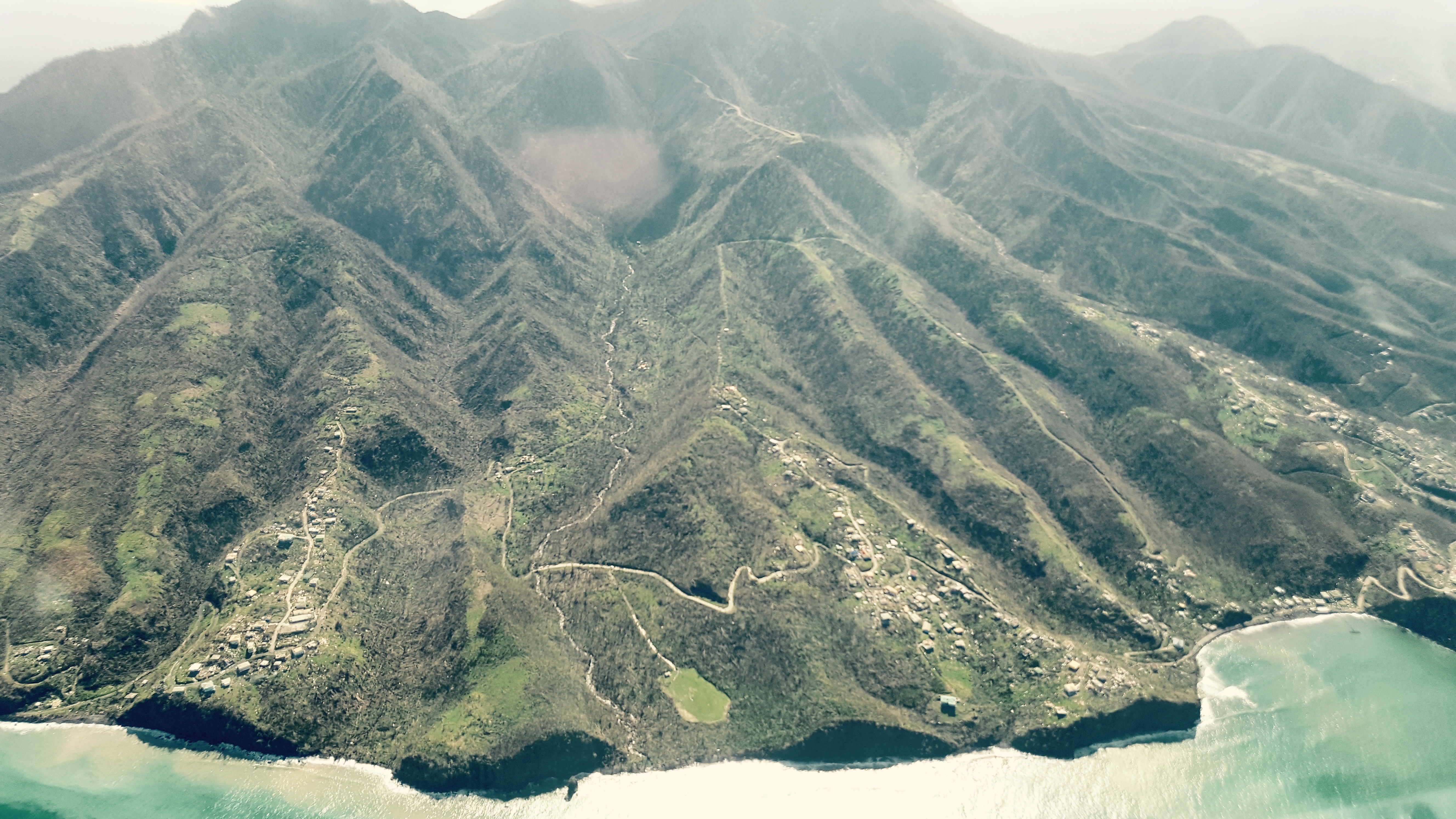 Maria cut power, telecommunications, and drinking water supplies, although one mobile phone network has restarted in the capital and an FM radio station is also on air. Some people's internet connections still work if battery or generator power is available, according to one radio enthusiast.
Ham radio operators have come into their own in the Dominica crisis, providing a stream of updates from their own homes to a global diaspora and across the island. A relay of a group of radio enthusiasts to Facebook brought hundreds to a nightly call-in by the radio hams across the island.
Being the only voices coming out immediately after the hurricane was "a pleasure", says radio operator Gordon Roy. "It's a hobby for us, but whenever the time comes for us to provide a service, we are always willing and able to do that."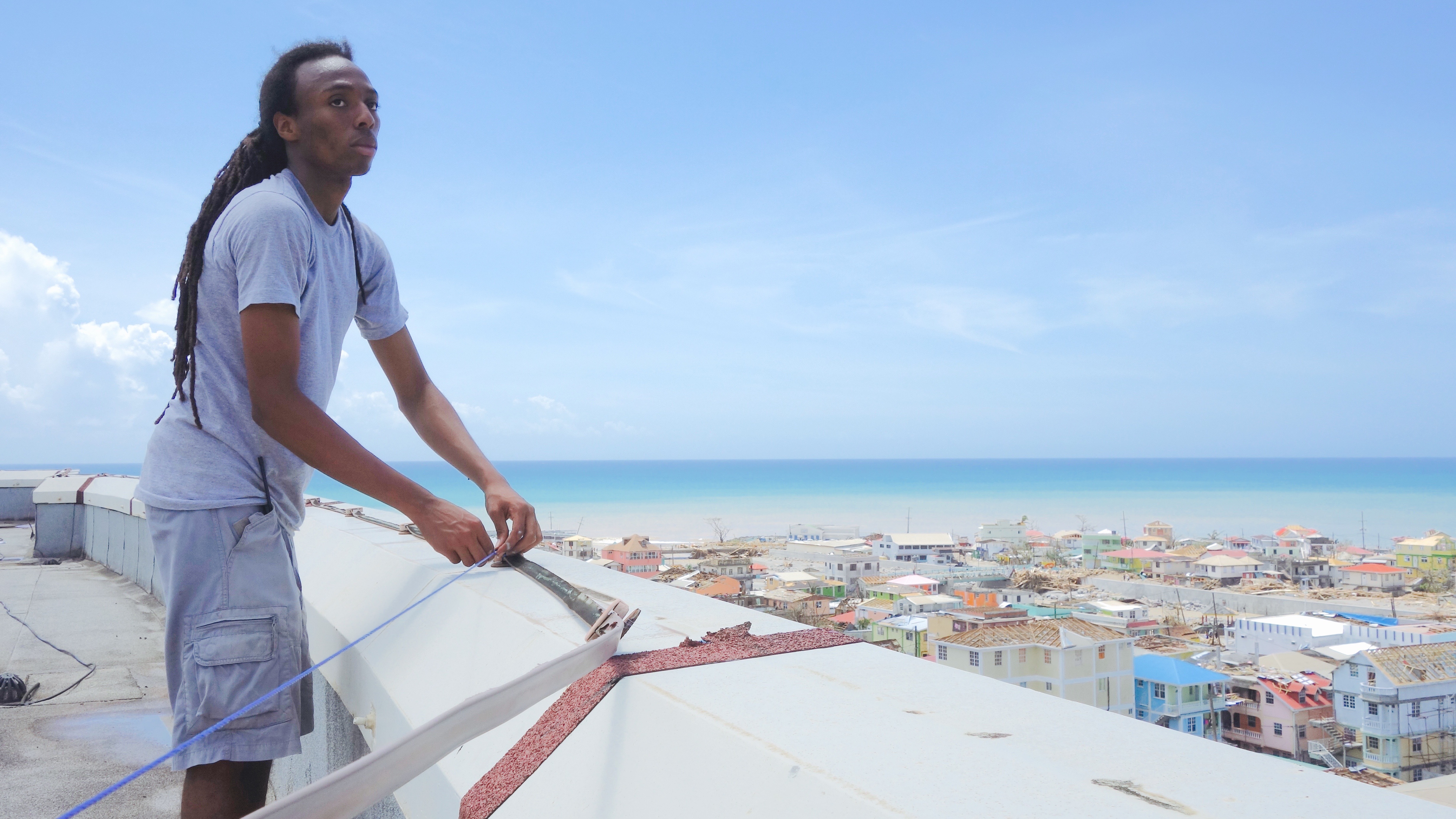 On the roof of the government building in central Roseau, Roy is setting up a new HF radio antenna – the long-distance type used by amateurs and professionals alike. Roy is the vice president of the over 50-strong Dominica Amateur Radio Club which has been providing a lot of the emergency communications. Some members cannot operate any more due to power as their batteries have run out and the mains electricity remains off.
The task ahead
Aid planners say rescue, relief, and clearance operations will be particularly difficult as the population lives along a narrow and often steep coastal strip, with a single road ringing the edge of the island. That road is cut off by debris in many places and may only be reachable by boat. Mudslides can be seen from the air in the steep valleys rising from the coast towards the interior. There are no roads across the pristine mountainous interior, designated a UNESCO world heritage site.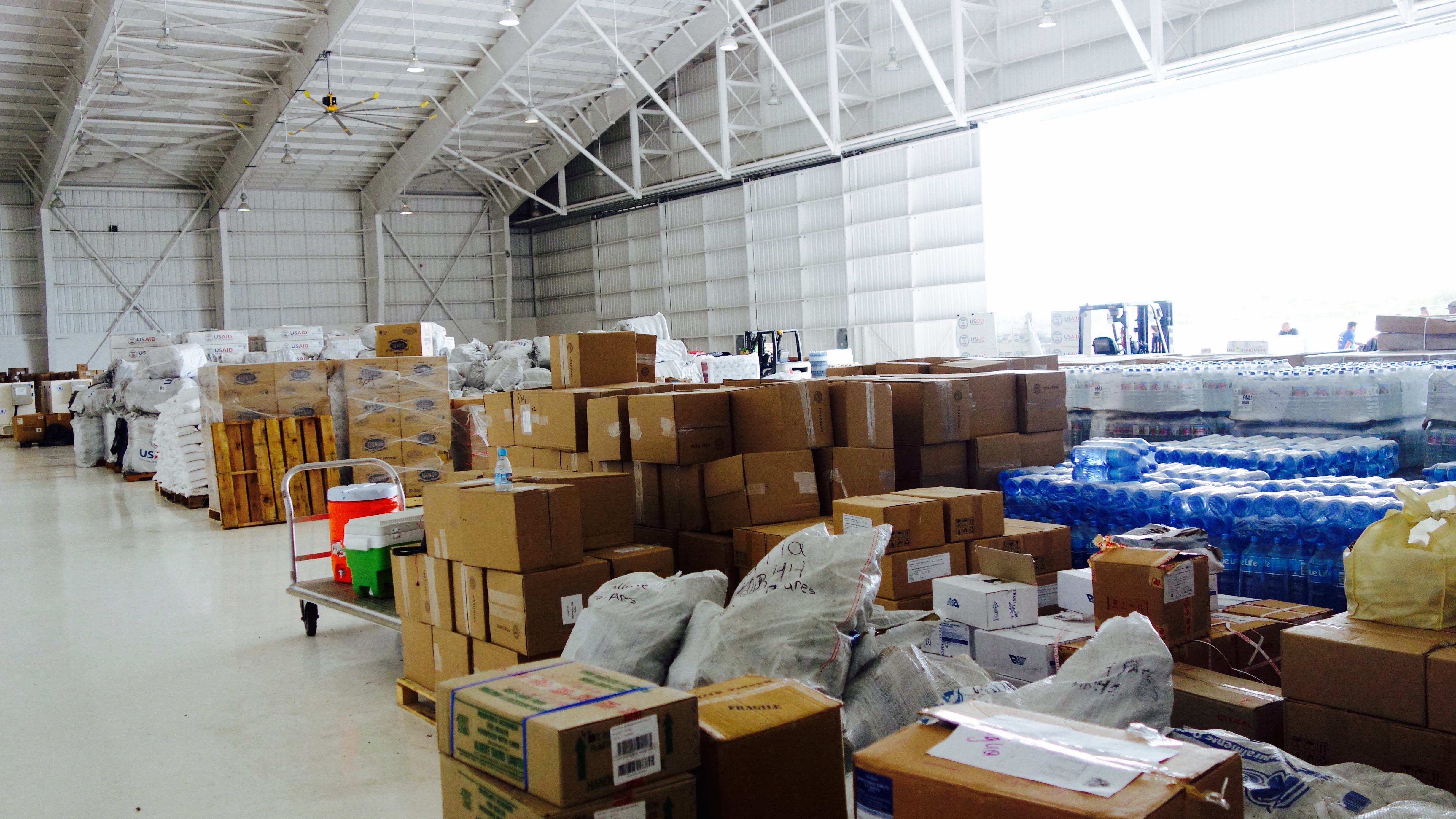 Dominica has a small and vulnerable agricultural and eco-tourism economy, whose key source of growth in recent years, according to one expert, has been to offer dual citizenship in return for fees and investments from wealthy individuals.
Aid and military teams from the Caribbean and Americas, Europe and the United Nations are converging to offer support. Regional states have loosened immigration rules to accommodate the needs of Dominicans and its visitors.
Joanne Persad, of the Caribbean Disaster Emergency Management Agency, is on the move in and out of an operations centre set up in the buzzing central government offices in Roseau. Her teams, flown in by heavy British military helicopters, are providing a first wave of support and assessment. She says the priority has to be clearing the roads and enhancing security as there have been "a few issues". The effective supply of relief and additional forces from Trinidad and Tobago and Barbados will quickly quell any insecurity, she adds.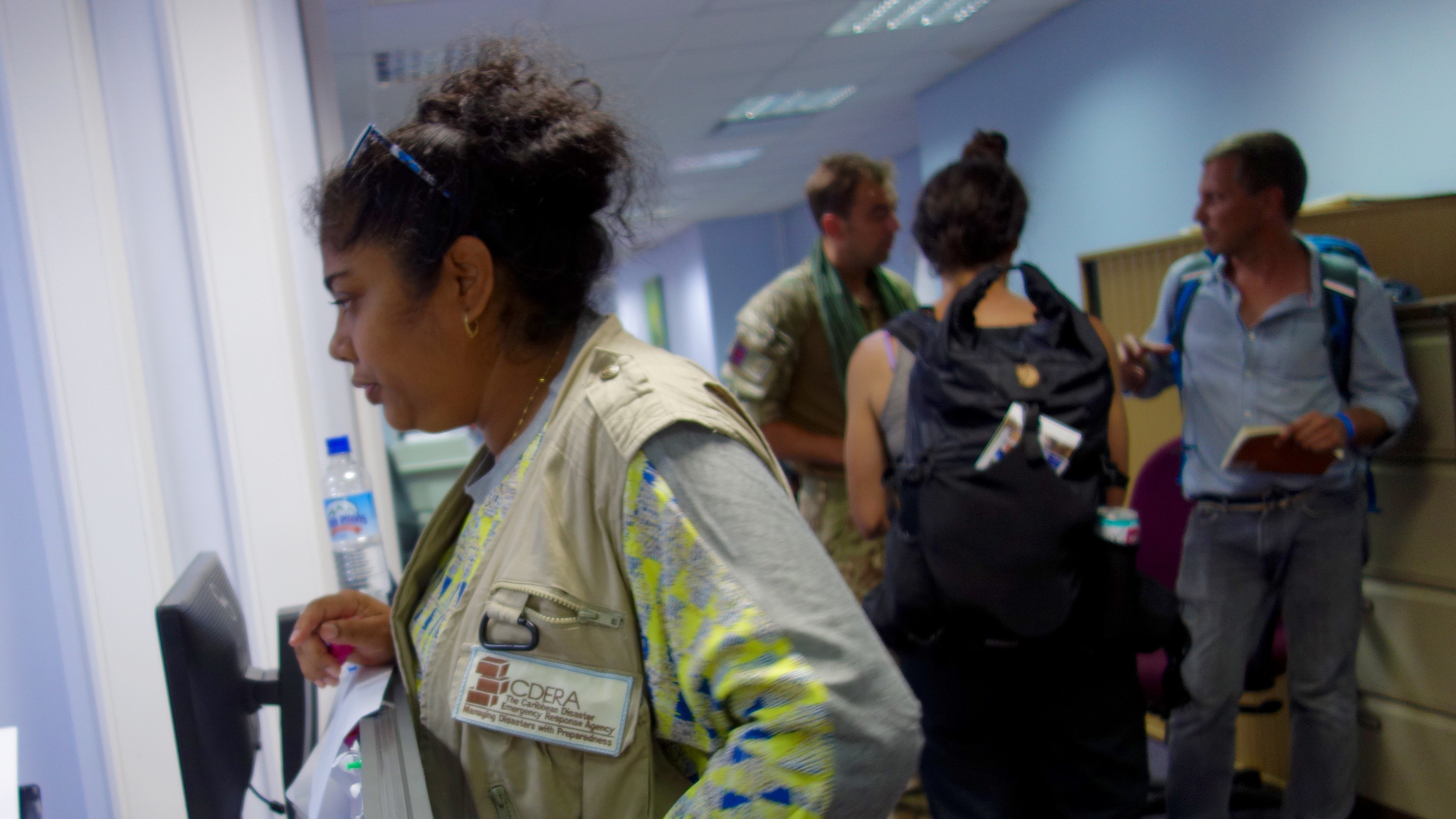 Managing the assortment of inbound help has become a priority: milling in the corridor are officials from regional bloc CARICOM, an airline, a UN-backed telecoms team from Luxembourg and Norway, French civil defence, British army, UN agency representatives, an official from British aid ministry DFID, and a family of tourists trying to find "a British diplomat" to let them on the Chinook helicopter idling at the stadium.
There are coordination challenges, simply because "national authorities are not yet up and about to lead certain processes", Persad explains. She acknowledges that national coordination, only a couple of days after the hurricane, is taking time to organise. However, she is confident that there can be "effective, systematic management of operations – if we coordinate it in this room".
Asked if there are too many players rushing in to help, Persad is cautious in her reply. "It can be managed," she says, going on to explain that so far in the regional response there have been no major issues, but some agencies have been asked to "pause on certain actions".
CDEMA is operating close to full capacity and Persad does not deny it is stretched. The UN's coordination mechanisms, including the UN Disaster Assessment and Coordination (UNDAC) teams, are taking a back seat to CDEMA and offering support as needed.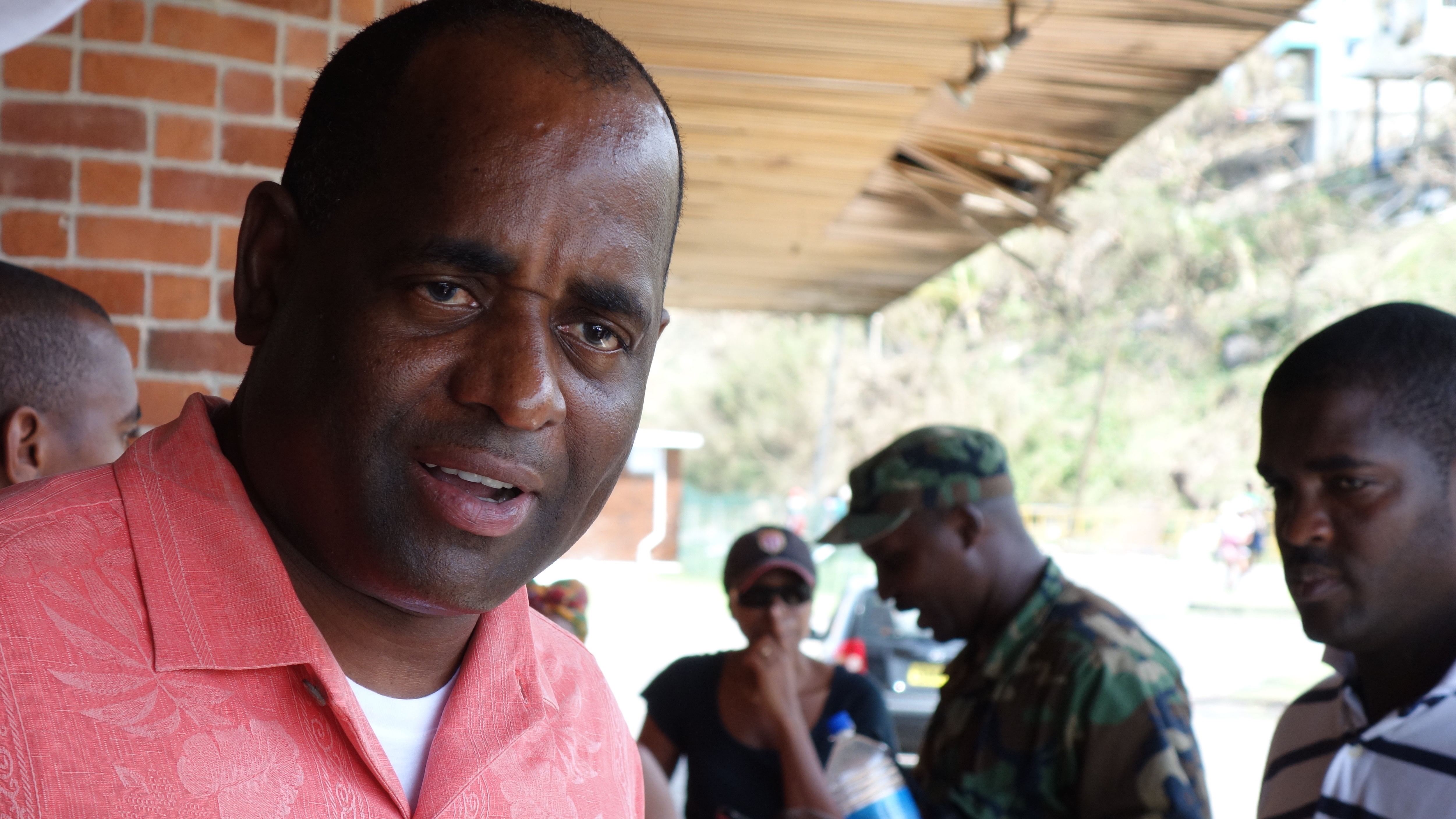 The World Food Programme will aid Dominica and the region through CDEMA with logistical support, including passenger and cargo services. WFP's logistics team can also provide tracking and coordination for military contributions.
Dominica's handful of ports are not set up for heavy cargo operations and both there and at the airports, more storage and handling capacity will be needed, says WFP's regional supply chain officer Belkachem Machane. "Distribution is the issue," explains another aid planner, saying that along the coast, smaller boats provide the best option for town-by-town access. Given the rugged terrain, there will be few easy landing zones for helicopters, he points out. 
At the airport, en route to the UN in New York to drum up support, Skerrit tells IRIN the country will need "wide-ranging" support, including for food, water, medical, clearance operations, and rebuilding.
"We have to continue having hope," he says. "And we have to do what we have to do."
Video from the outskirts of Roseau, #Dominica yesterday. #HurricaneMaria pic.twitter.com/vZeh5MsvR8

— Ben Parker (@BenParker140) September 22, 2017
More pictures and video on our Facebook feed.
bp/ag