It's been nearly four months since Emine Sahin's husband and children have been paid for their work picking fruit and vegetables on a farm in southern Turkey's fertile Adana Province.
A mother of eight, 44-year-old Sahin relies mostly on redeemable vouchers given to her family in lieu of cash, which local shops accept in exchange for about 80 percent of their value. When salaries are finally paid, they're always less than expected.
"When we don't get paid, we get very creative with the little food we have," Sahin said. "So instead of baby food, we use bread dipped in tea."
Still, she considers herself lucky. While her family is out picking, Sahin stays at a labourers' camp near the village of Doğankent Cumhuriyet, where she cleans the family's canvas tent, washes clothes, and bakes bread. Many other women in the camp work in the fields on top of performing the daily chores expected of wives and mothers.
Sahin fled fighting in the northern Syrian town of Kobani in 2012. Fighters with the so-called Islamic State later killed her two brothers and her mother. Now, like most of the 150,000 Syrian refugees registered in Adana, she and her family are dependent on seasonal farm work to sustain themselves.
Migrant workers are drawn to the region's fertile plains, where year-round harvests mean constant demand for unskilled labour. But exploitation of the Syrians, who now make up 85 percent of the agricultural workforce in Adana, is rampant and they live in isolated tent settlements far from schools and health facilities. Almost half of the school-aged Syrian children living here work in the fields.
​Adana is one of the hottest regions in Turkey which means sunstroke is a common problem for the farm workers.  
While Syrians are eligible for free medical care, they can only access such services in the district where they are registered. As seasonal workers tend to move around, following various harvest seasons, they may have to travel several hundred kilometres to receive basic medical care.
Labourers told IRIN that ambulances often refuse to pick them up from the camps, forcing them to pay for transportation to local hospitals.
Pay is late and little
According to a new study by the Ankara-based Development Workshop, Syrian agricultural labourers in Adana work an average of 11 hours a day for 38 Turkish lira ($11), about two thirds what Turks earn for the same work.
The study, which was funded by the EU's emergency aid department, ECHO, found Syrian workers often had to wait several months after bringing in a harvest before getting paid. Payments were usually made through elciler, or "handlers". These intermediaries act as employment agents and also organise transportation and living arrangements. In exchange for their services, elciler, who are mostly Kurds displaced from southeastern Turkey in the 1990s, take 10 percent of the workers' wages.
On top of paying elciler, migrant workers often have to pay rent for the plots of land they occupy, along with water and electricity bills. In Sahin's tent camp, for example, the yearly rent is 3,000 lira (about $850), with utilities deducted from monthly wages.
Most end up living a hand-to-mouth existence, said Saniye Dedeoğlu, a professor of social policy at Mugla University who contributed to the report.
"It doesn't matter how much it's paid, they know in agriculture there is work," said Dedeoğlu. "In families with 10 kids, maybe five working kids and working parents, [they] can make enough money to survive."
Since 2014, Syrians who registered with the Turkish authorities have been given temporary protection status, which granted them access to free health services, but not the right to work. Many nevertheless worked in the informal economy for way below the minimum wage.
New legislation was introduced in 2016 that, on paper at least, allows Syrians to apply for work permits. But the agricultural and animal-rearing sectors are exempt from needing permits. The result is that Syrian farm labourers are not covered by basic labour laws and are left at the mercy of unscrupulous employers.
The situation is unlikely to change in the near future, said Dedeoğlu. "[Syrians] are here to stay, especially the young generation," she told IRIN.
"People are hanging on to life, without any support as these tent populations show. They are trying to find jobs. They are trying to make ends meet in these appalling living conditions, and there is little to no schooling."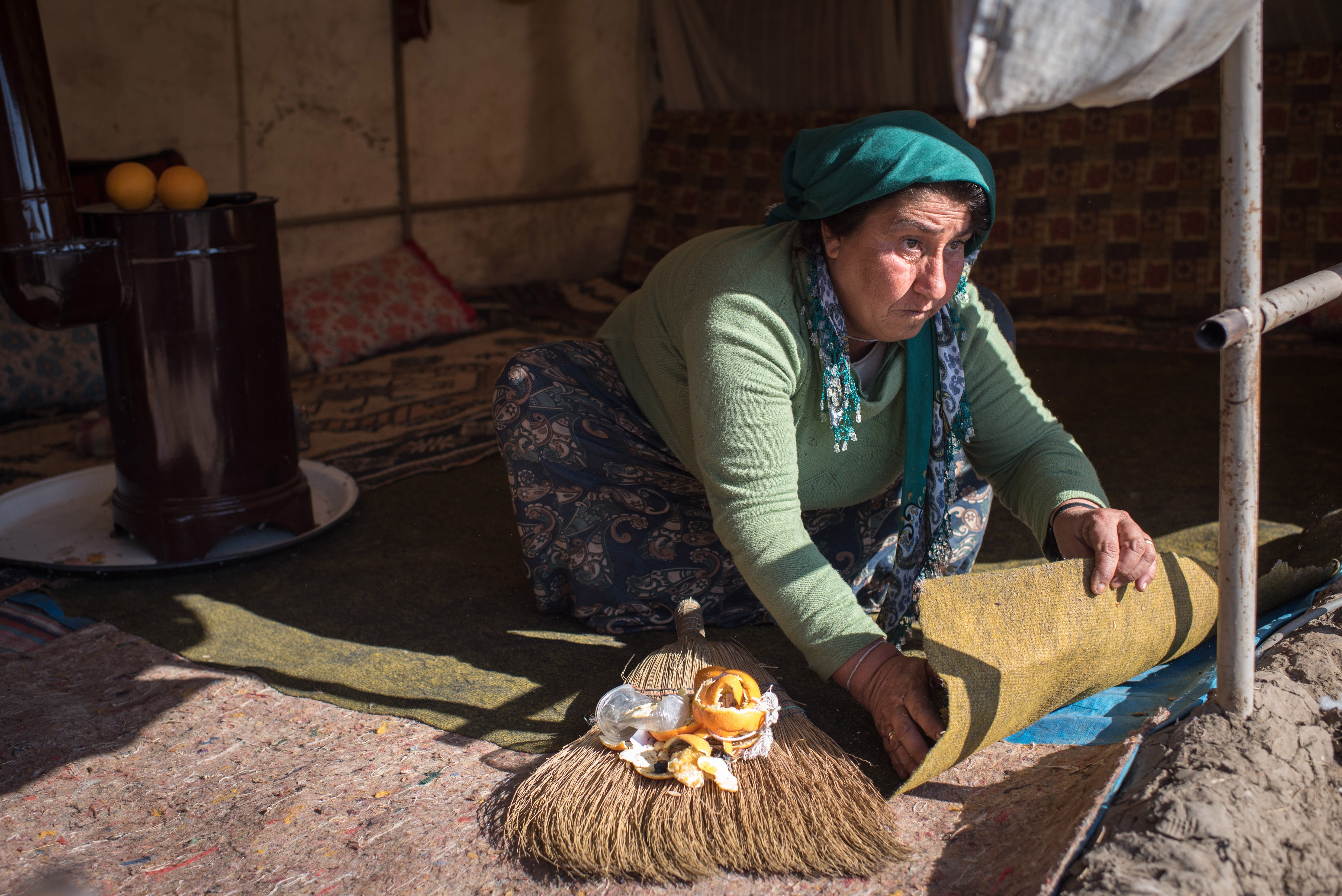 Emine Sahin, 44, cleans the floor of her family's tent in a camp of 600 farm workers in Doğankent Cumhuriyet. Despite difficult conditions, Sahin says she prefers a peaceful life in Turkey over war in Syria.
"People have gone through this before. We are not the only ones who have suffered," she says. "As long as we are alive, we are grateful."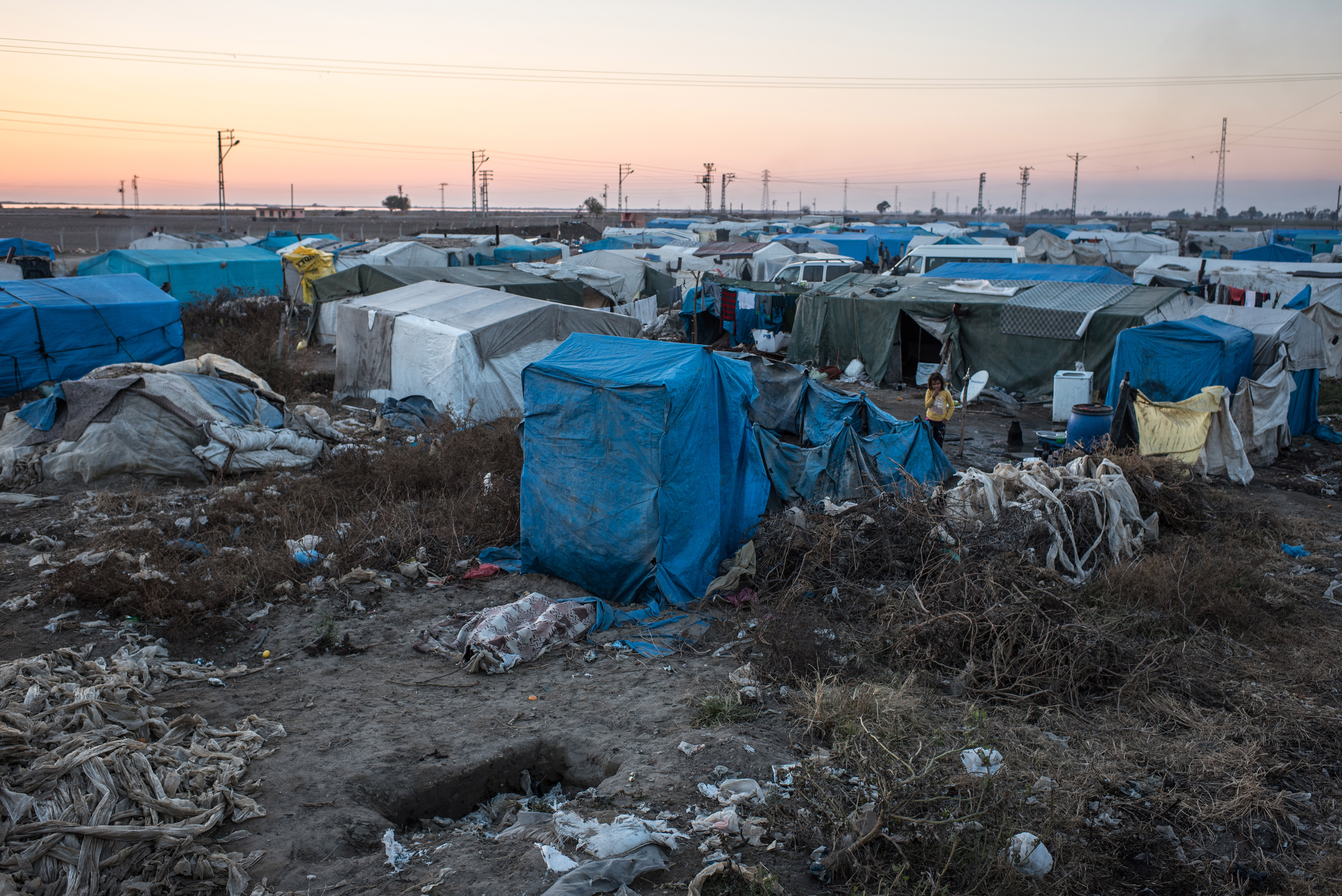 This is part of a settlement of 3,000 agricultural labourers in Tuzla. Nearly all seasonal farm workers live in similar camps not only because of the mobility required for their work, but also because many local residents don't want permanent workers' ghettos in their towns.
Celal Bakir, 38, elciler, or intermediary, between farmers and seasonal workers, says he's been living in the same tent for 34 years. "If [villagers] allowed us, if the municipality let us, I would build a house with bricks, but they won't let us establish anything permanent," he says. "Anyone who is not local is an enemy for them.
"They see us as thieves and rapists, but if it wasn't for us, they wouldn't be able to harvest anything."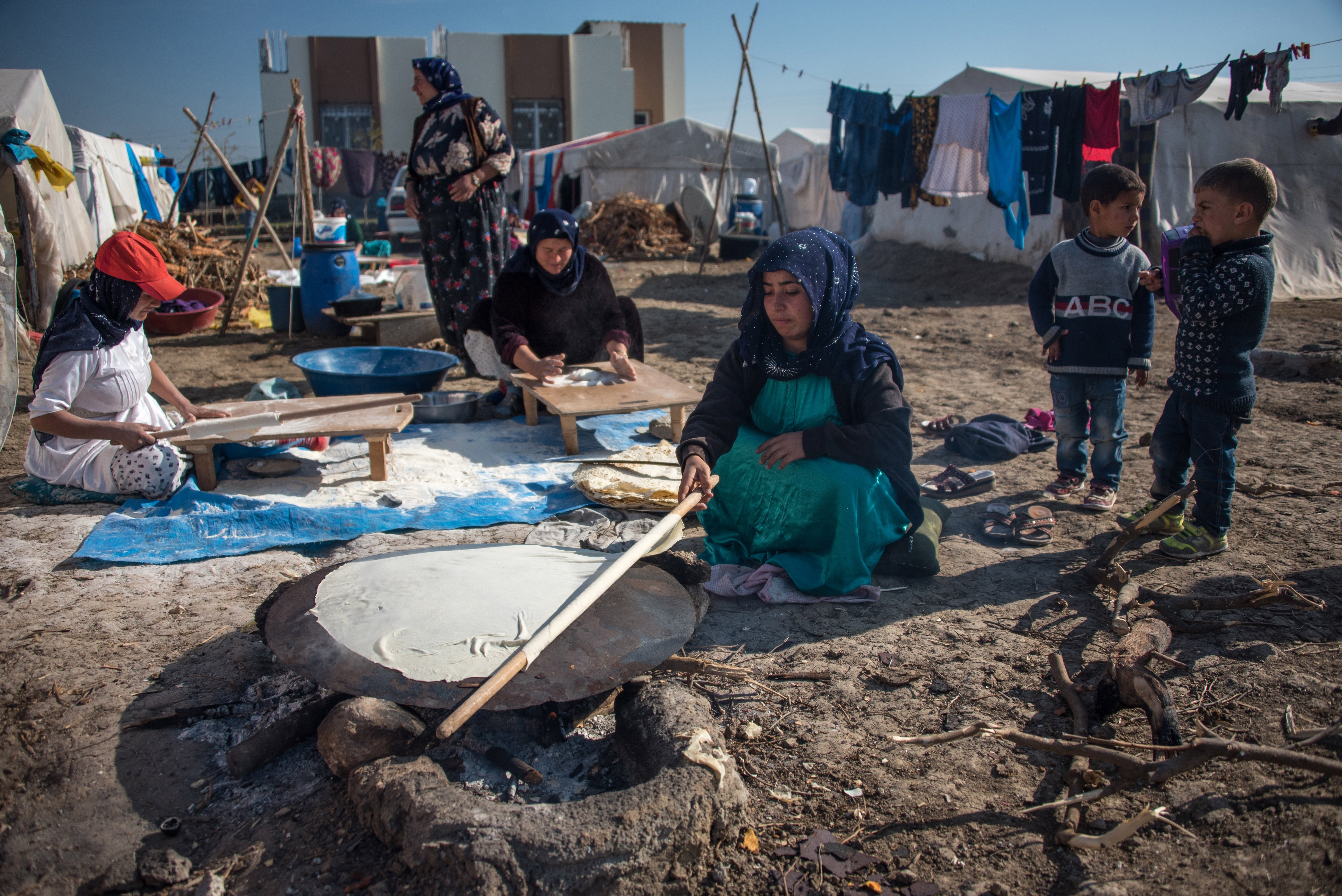 Kurdish women bake traditional bread in Doğankent Cumhuriyet. Women are burdened with more responsibilities than men in the labourers' camps. On top of being the primary caregivers for children and the elderly, 40 percent of women interviewed for the Development Workshop report were found to be working full time as well.
"We are the most oppressed of the oppressed," says Saadet Ostan, 42, a mother of five.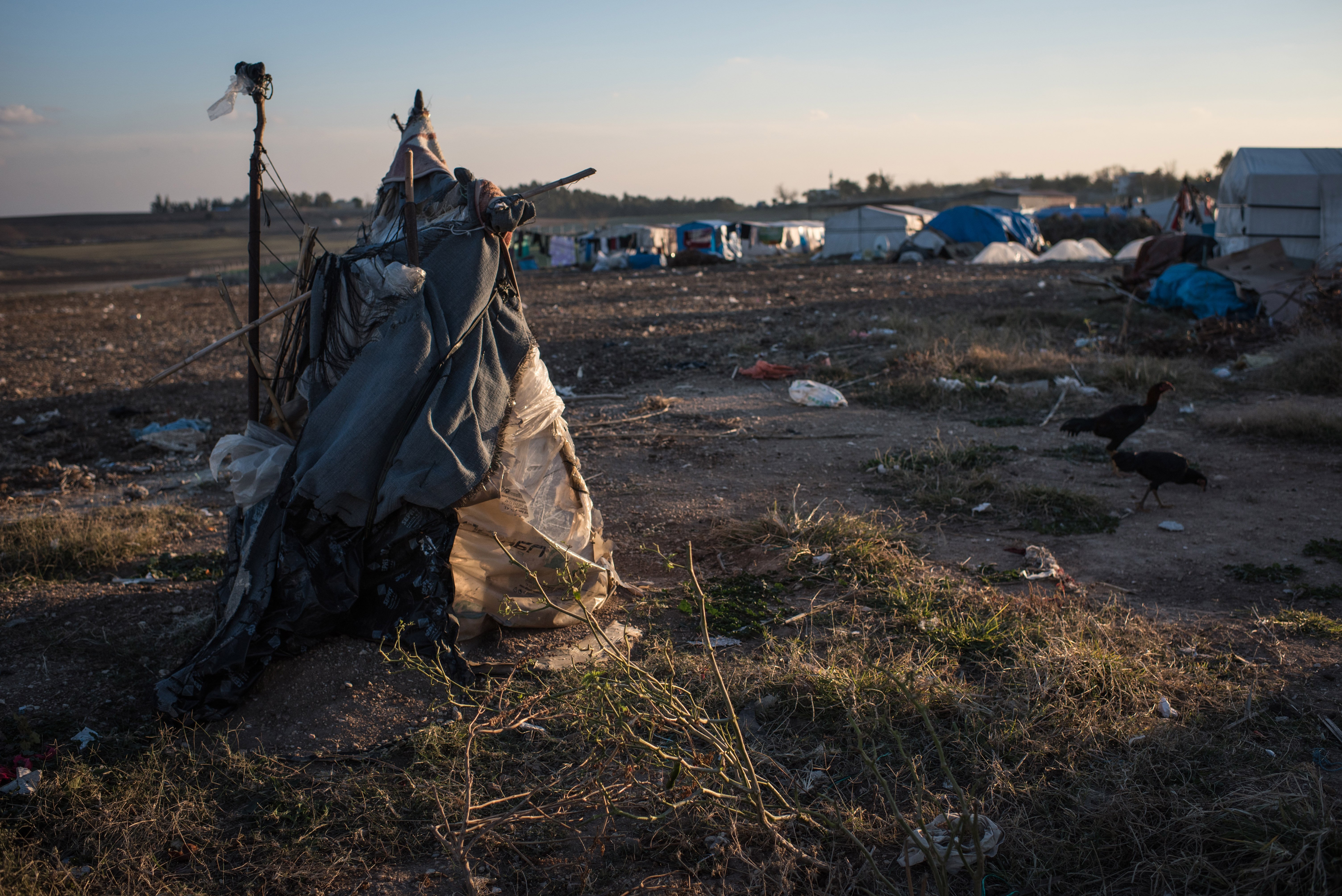 A structure is used to cover an outdoor toilet in a workers' camp of 300 in Bahçeköy. Because such amenities leave women highly vulnerable to harassment and sexual assault, many families say they won't let young women use toilets at night without escorts.
For the sake of added protection, underage marriage is common. Nearly 24 percent of 15- to 17-year-old girls interviewed for the Development Workshop report were found to be married.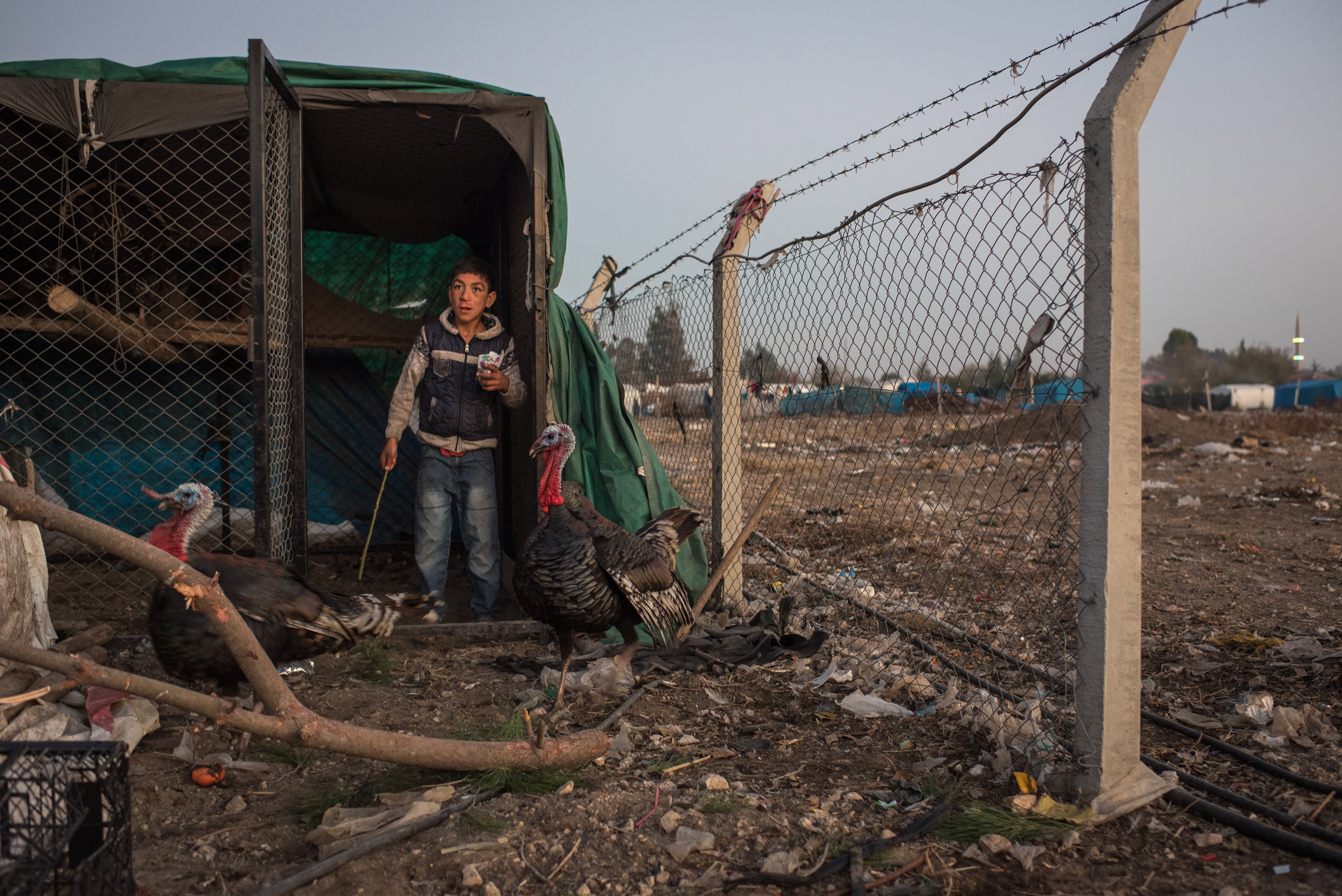 The same report found that 97 percent of the farm workers' children were not attending school and nearly half were working in the fields. As a result, illiteracy rates have jumped, with 60 percent of Syrian children aged between six and 14 saying they could neither read nor write.
"I want my kids to go to school, but when we don't get paid I can't afford the school uniforms and supplies, and we need them to work in the field instead," says Saadet Ostan, who sends only the eldest of her five children to school.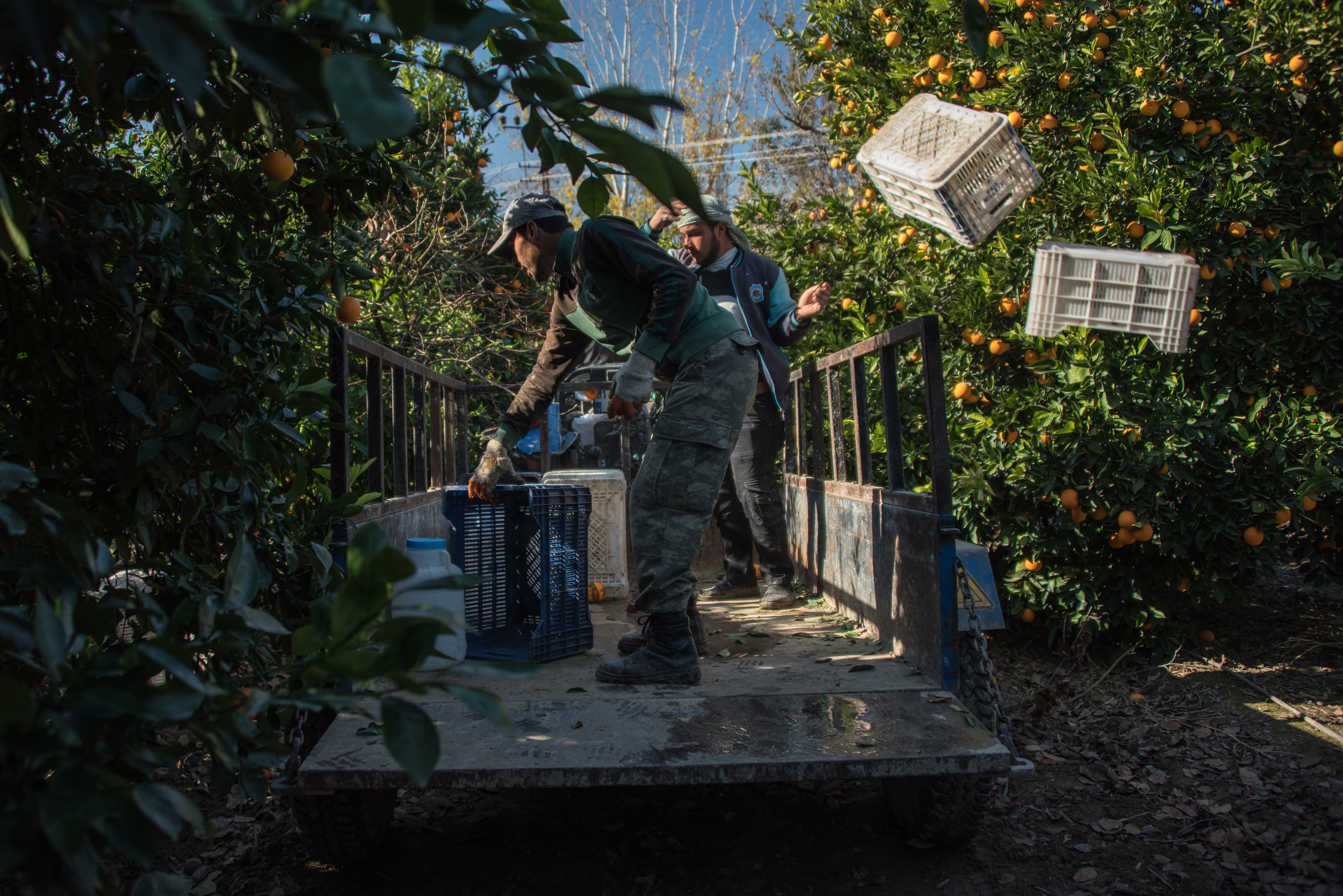 Although most Syrian farm labourers had a background in agriculture before arriving in Turkey, many found work in the fields because they lacked Turkish language skills.
Speaking while collecting oranges in an orchard south of the Adana metropolitan area, Abdullah Sheik Yassin, a 26-year-old from Aleppo, says he was studying law when the war broke out.
"I used to speak a little English, but I forgot it because I haven't been in school for four years," he says, before his foreman tells him to get back to work.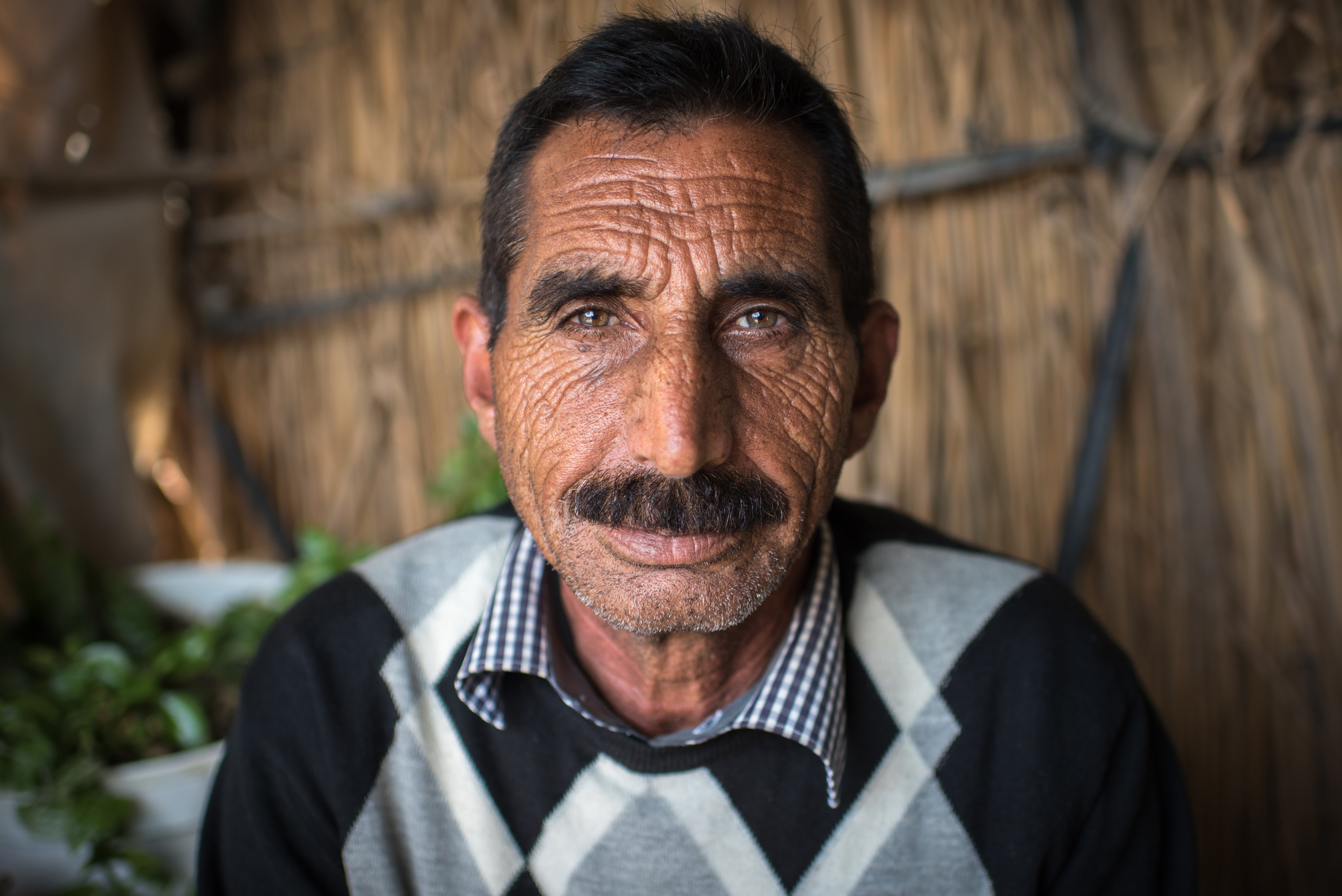 Ibrahim Hami, a 56-year-old from Kobani, says he has more than 100 acres of land in Syria where he grew olives, sunflowers, and pistachios among other crops.
"It's the first time in our lives that we live in tents like this," he says. "We were sleeping on the ground until people gave us mattresses…. Syria was heaven for us. The moment we can go back, we will."
dc/ks/ag