The globalisation of vulnerability – made clear by the coronavirus pandemic and a global anti-racism movement – is putting into question traditional conceptions of humanitarian aid.
What happens when the West falls into crisis?
The New Humanitarian recently asked this question in an online conversation (watch the video of the event here; and read take-aways from the discussion here). It's one of many ideas we're exploring this year in our Rethinking Humanitarianism series, marking our 25th anniversary.
During the discussion, activists, aid workers, and analysts said #BlackLivesMatter and COVID-19 were exposing the hypocrisies and structural problems that have long underpinned international humanitarian action. 
They called for taking a "sledgehammer" to systems that perpetuate inequality, de-funding institutions like the World Bank and the International Monetary Fund, and abandoning the humanitarian principle of neutrality as ways of  "decolonising" international aid.
The discussion explored, among other topics:
Whether the US is a fragile state in need of humanitarian response
The importance of narrative in our conceptions of who needs help
White supremacy culture within the aid sector
Whether discussions of racism in the sector will lead to meaningful change or are just the latest trend
What alternative futures for humanitarian action might look like
Read more and watch the conversation →
Over the course of this year, we will be crowdsourcing your ideas on #RethinkingHumanitarianism as we look to the past, present, and future of humanitarian action. Please join in with your thoughts using that hashtag. 
You've already shared many ideas during the online conversation and afterward, on social media. We've highlighted some of your comments below.
---
Readers react | On challenging the Western power structure in aid
Some panelists suggested taking a "sledgehammer" to institutions like the International Monetary Fund, the World Bank, the UN Security Council, and extractive industries that they said help maintain the status quo in international power relations. Another noted the white supremacy culture embedded even within the attitudes of Black people and "recipient countries". 
Here's how you reacted: 
We have to move from an aid / charity model, which preserves existing power balances and western exceptionalism, to a global solidarity model. #RethinkingHumanitarianism

— Lina Srivastava (@lksriv) June 18, 2020
Much food for thought (& action) here on how international aid architecture perpetuates and entrenches inequalities. Discourse defines Somalia as a fragile state, and not the US. Aid has always been political & part of power projection.@newhumanitarian #RethinkingHumanitarianism https://t.co/cjrEq4RR2X

— Lisa Wise (@Lisa_dh) June 18, 2020
Now that's telling it as it is @DeganAli talks about the dangers of racism being a feel-good trend across the aid industry, without a radical structural resssesment of the complicity of western aid system @BenParker140 @newhumanitarian #RethinkingHumanitarianism pic.twitter.com/L0JB2Ws6H2

— Jehan Bseiso (@jehanbseiso) June 18, 2020
Angela you are absolutely correct @newhumanitarian we have been conditioned to see everything external to us as absolute truth. Haiti is drenched in race and color politics. We as a people require serious deconditioning/education about "the self". #RethinkingHumanitarianism

— Guilaine Brutus, Msc. (@MigranDiasAmbas) June 18, 2020
Readers react | On whether the situation in the US is a humanitarian crisis
Here's how more than 900 audience members responded to a poll during the conversation: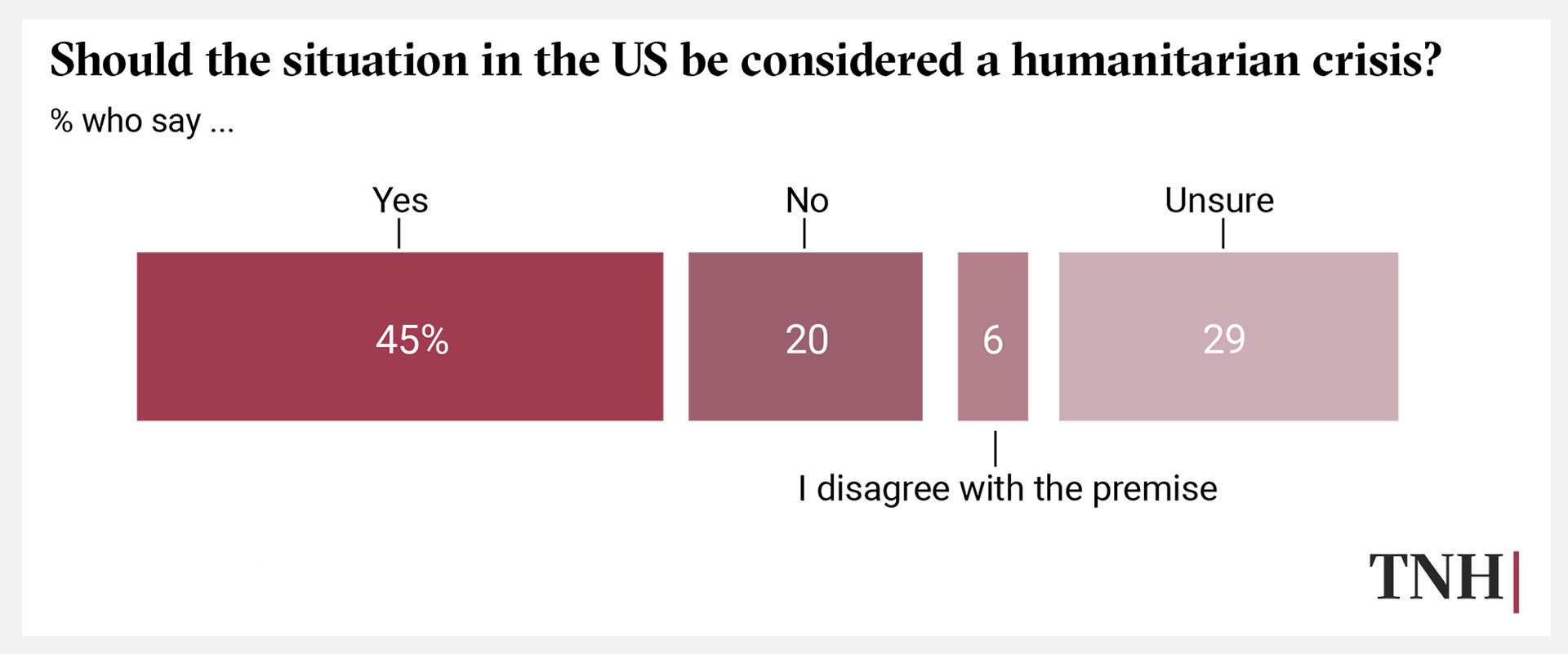 If you want to join the discussion, we're running this Twitter poll:
For full context, watch the online conversation above and let us know your thoughts in the poll or comments.

Should the situation in the US be considered a humanitarian crisis?

— The New Humanitarian (@newhumanitarian) July 1, 2020
Here's a taste of what audience members wrote in a real-time chat during the conversation:
Miro Modrusan: Should there be humanitarian assistance to the US? If we take into account the vulnerability of millions with no access to health and social services, and if we see how badly many ordinary people have been affected by COVID-19, and if we compare to just as equally rich country – the Russian Federation – that in the nineties and still much later, continued to be focus of Western humanitarian assistance, then perhaps the same logic could now apply to the US?
Simona Varga: Perhaps [the US is not in need of] humanitarian assistance, but rather something like technical assistance to reform its institutions. There are many examples from around the world (some more successful than others) of such programmes. Some even funded and/or driven from the US. Maybe it's time to reverse the flow of technical capacity and support the US to fix things such as the electoral system, police, taxation, social welfare, healthcare, etc.
Rahel Dette: Showing up to support the Black community inside the US would require us (as a country, as white people, as power structures) to acknowledge that we are a part of the problem. That is harder work than "aiding" elsewhere…
Lynne Jones: Great to apply a neocolonialist lens to the US as an exercise but we need a new lens globally. One problem is the depoliticisation of humanitarian aid is never politically neutral.
Will McCollum: In response to the question does the US need humanitarian assistance? No. The US needs to structurally transform it's own socioeconomic and political system so that we can change which facets of society we designate taxpayer money to. We have the means to help ourselves.
Lina Srivastava: American exceptionalism cuts both ways. We commit human rights violations against Black, Indigenous, and People of Color communities here and propagate a system of repression. Yet the development sector only looks outward. Then again, our latest discussions on antiracism are being driven by the atrocities in the US, when we should have been talking about how we propagate systemic racism internationally even before this. We need to flatten hierarchies throughout the sector and across the world. Global solidarity is key – not a shift in attention and resources to the US to the detriment of vulnerable communities around the world.
Hagen Berndt: Is it humanitarian aid that is needed? Definitely not international aid. Structural and political change, yes. Solidarity, yes. Also a wider focus: the crisis of climate justice is happening in several places at this very moment and out of the media. Wider focus: How can struggles be supportive of one another?
Sabine Wilke: With the refugee influx in 2015, a lot of (international) aid organisations in Germany discussed how to contribute, what their added value would be. A lot of the immediate lifesaving support (shelter, food, etc.) was being delivered by well established social domestic organisations and it would have been phony to think that "back office" humanitarians like us could add value here. But the thinking led to some interesting engagements, e.g. in-school integration programmes, gender advice to government structures, etc. But I'd say there needs to be a humble approach to domestic engagement if you haven't done it before. It may be more impactful to support existing domestic organisations financially.
Readers react | On whether international aid is inherently problematic
Here's how audience members responded to a poll during the conversation: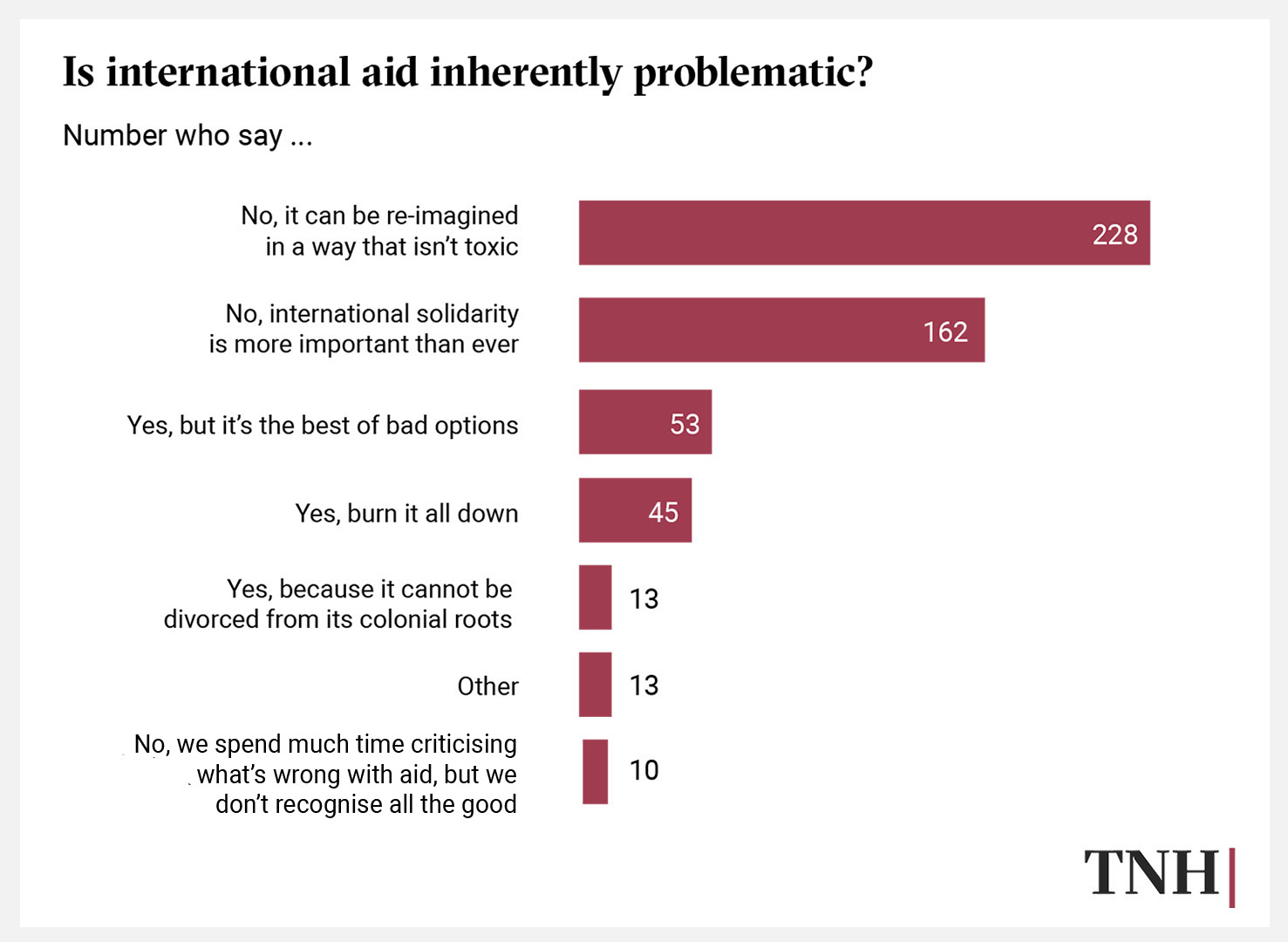 If you'd like to let us know your thoughts, we're running a poll for this one as well.
It's not too late to join the discussion on #RethinkingHumanitarianism. If none of these options work for you, you can say why in the comments.

Is international aid inherently problematic?

— The New Humanitarian (@newhumanitarian) July 1, 2020
Here's what audience members wrote in a real-time chat during the conversation:
Themrise Khan: How can you even ask a question like that? If aid had been beneficial all these decades do you think more than half of the world would still be falling apart? Aid is not the solution, it is part of exacerbating the problem of poverty and discrimination.
Alyssa Briggs: This poll question reminds me of the debate around "Defund the Police" in America. The idea is to stop spending money on a system that creates and perpetuates inequality, and instead invest in real community health and safety.
Charles Brown: I think the question is the wrong one. I would suggest that "humanitarian aid" is too narrow. The question is how we create a new international order that is genuinely collaborative, genuinely human rights-focused, and focused on economic and social justice.
Carlos Mejia: Reimagining of Ideology? Really? The issue is that we are ideologising everything and it is not transformational… while people are still victimised, discriminated, persecuted, killed. We cannot make structural changes without recovering a deep sense of humanity that will be expressed in real solidarity.
Rebecca Gang: I don't see the power structures of major INGOs/UN bodies doing anything close to the kind of reckoning that will be required to make major structural changes. Unless and until we get serious about getting out of the way, I don't see how 'aid' can be fixed. The concept of aid in and of itself is a problem.
Readers react | On the need for aid to better represent the people it serves
Here's what audience members wrote in a real-time chat during the conversation and on Twitter:
Hala Najjar: On who ends up as the decision-makers (and linked to hiring practices, etc.), the sector is incredibly elitist in terms of access (unpaid internships, extortionate masters need for entry positions, etc.), and because of systemic racism that inevitably leads to a lack of representation within it. The system therefore perpetuates the intersectional injustices that exist in society, and that is something that we urgently need to reckon with.
Readers react | How would you "de-colonise" or re-imagine international aid?
Here's how audience members responded during the conversation:
Share your ideas on #RethinkingHumanitarianism and international solidarity here.
We will be continuing this conversation over the course of our #RethinkingHumanitarianism series this year. Stay tuned.
Further reading
Here are some of the resources mentioned in the chat, both by panelists and participants: