Over the last three years of attending the World Economic Forum's annual meeting in Davos, I have watched as people and themes not traditionally associated with that high-profile gathering of business and political elites move into the spotlight.
Official sessions this year ranged from achieving the Sustainable Development Goals to investing in fragile states. A simulation of a day in the life of a refugee allowed CEOs and government ministers to experience what it's like to be held up at gunpoint or taken away to be raped. An entire day of programming was devoted to the oceans. Advertisements plastered on the town's streets sported corporate slogans like this one from Salesforce: "Because making the world better is everyone's business."
I walked past a media scrum, expecting the mass of journalists to be waiting for a head of state or Fortune 500 CEO; they were crowded around for 16-year-old Greta Thunberg, a Swedish climate activist who put the corporate elite in their place when she told them they had caused many of the world's problems.
From Amnesty International to the Rockefeller Foundation, from a small Indian relief organisation to the International Committee of the Red Cross – whose president sits on WEF's board – many non-profit types attend Davos because they believe that only by having a seat at the table can they affect those with power and influence.
Are they right?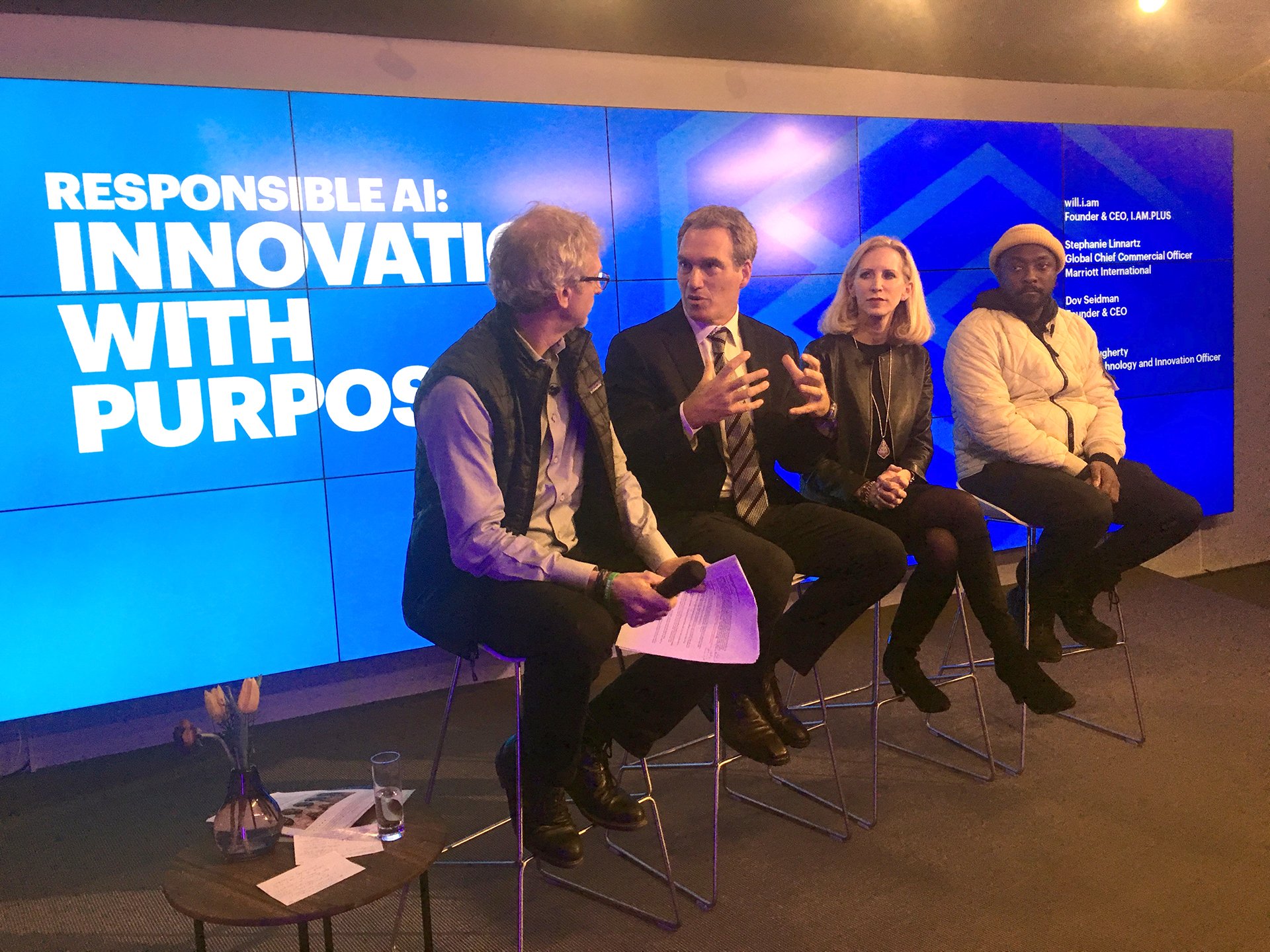 Self-doubt and tough questions
That question troubles many in the non-profit sector, for whom the real concern with Davos goes beyond the hypocrisy of eating canapés while discussing hunger or paying thousands of dollars for a mattress on a floor in a shared room.
They are aware of the well-trodden critique: that for all the willingness of today's titans of technology and finance to put climate change and income disparity centre stage, their eagerness to solve the world's problems lasts only as long as the solutions don't threaten their own wealth and power.
Those fears can run deeper "on the inside", for instance that even the presence of civil society at gatherings like Davos risks legitimising an approach that avoids real transformation of the system – a system that underpinned the rise of the elite and caused most of the world's problems in the first place.  
As one person working for social change told me: "So we're talking about migration and climate change, great. But are we really tackling the fundamental issues? Us being here – isn't it hiding the real issues?"
I asked Mohammed Hassan Mohamud, a Somali refugee and a co-chair of the meeting, for his take. His appointment to that post – a position usually reserved for the likes of Christine Lagarde, head of the International Monetary Fund, and Satya Nadella, CEO of Microsoft – itself signalled a shift at Davos.
I had met Mohamud about six months earlier, at his home in the Kakuma refugee camps of Kenya during a WEF-organised trip for its network of young leaders, of which I am one.
When he spoke to our group at Davos, he told us bluntly: "Next Saturday, I'm going [back] to the camp… Let's be really honest and tangible about what we can do."
At the end of the week, I caught up with Mohamud again.
"I am grateful for the platform to get my message across," he said. "But people [at Davos] want quick solutions," he added, "like building a library in the camp. We shouldn't normalise the camp."
I heard similar frustrations at the lack of attention to addressing more deep-rooted change.
At a session about the Sahel, for instance, leaders in government, the private sector, and aid talked about the need for development and investment – but they didn't tackle the geopolitics and foreign interference causing the instability in Africa.
The world has seen massive progress in recent decades, true, but have the underlying structures of power changed?
'The definition of insanity'
WEF is a non-profit foundation and its mission, according to its latest statutes, is to bring together "leaders from business, governments, academia and society at large into a global community committed to improving the state of the world."
Around a decade ago, WEF began inviting civil society into its meetings at scale*.
Critics saw the move as a smart response to protests against the forum's exclusivity. But those close to WEF's founder and contentious leader, Klaus Schwab, see his motivation as genuine. They say he recognised that the policy-making of the 1950s – governed by business people and political leaders – was not the policy-making of the future. In transforming WEF into a multi-stakeholder platform, his supporters argue, he created a unique, neutral, and impartial platform for discussions badly needed in today's world.
There are certainly signs this orientation has caught on – though WEF is by no means the only reason why.  
In 2011, less than 20 percent of S&P 500 companies (the largest and most influential listed in the United States) reported on corporate social responsibility programmes. By 2017, that percentage had jumped to 85, according to the Governance and Accountability Institute.
Dozens of companies – from Microsoft to Mastercard, from DHL to Accenture – now support the UN and NGOs with technology and know-how, at reduced costs.  
Investors are backing social impact bonds for refugees and humanitarian relief.
In Davos, I heard stories of CEOs pledging to hire refugees after experiencing "A Day in the Life", or investing millions of dollars in social causes as a result of exposure to new ideas.  
And, as IRIN heard in an event we hosted at Davos, many in the private sector see themselves as having the skills, the will, and the responsibility to be part of the solution in an ever chaotic world where traditional aid is no longer enough.
"Is public-private partnership really what's needed when they're the ones who got us in this mess to begin with?"
Yet as Matthew Bishop, who leads the Rockefeller Foundation's thought leadership centre, Bellagio, told me:  "There has still not been anywhere near enough soul-searching or deep thinking among the Davos crowd about what has gone wrong since [the financial crisis of] 2008 and why the decades of dominant liberal policy that preceded the crash didn't deliver real progress for enough people."
In short, he added, "Today, there still doesn't seem to be any clear strategy coming from Davos to make life better for the average person."
The sceptical activist I cited above described coming back year after year in the hope of influencing the Davos crowd as "the definition of insanity".
"Are we really going to shift the needle like this?" they asked. "Is there any evidence that it has worked? Is public-private partnership really what's needed when they're the ones who got us in this mess to begin with?"
These doubts exist even at the highest levels. When António Guterres, now UN secretary-general, was head of the UN refugee agency, he was never an enthusiastic participant at Davos, according to one of his former senior staffers. "He thought: 'These people are not really interested in our issues'," Nick van Praag, now head of an organisation that seeks the views of people affected by crises, told me.
"I tried to convince him otherwise," said van Praag. "I thought Davos was a great opportunity. Now, more than 10 years later, I think Guterres might have been right."
For van Praag, the Davos crowd has indeed adopted "our issues", but conversations are more likely to veer towards "titillating technology" than try to address the real issues the aid sector is grappling with. "For instance," he offered, "why not put that energy into the issues the humanitarian sector has already identified as priorities rather than having a completely separate conversation?"
As examples, he pointed to more predictable financing, localising aid, and giving affected people more of a say in the assistance they receive. That said, WEF's council on the future of the humanitarian system, of which I am a member, has focused its discussions on how to encourage private sector investment into fragile states to reduce dependency on aid – indeed a priority of the humanitarian sector.
In any case, the social change types keep coming. And I understand why.
Signs of change
I was similarly sceptical when I accepted invitations to join WEF's Young Global Leaders network and its Global Future Council for the Humanitarian System, a brain trust of sorts.  
But in attending meeting after meeting, I am realising that these opportunities are what you make of them. It's up to those of us who have a seat at the table to ensure our presence isn't just window dressing.
As a media organisation, for instance, it is up to us to effectively use this platform to bring the stories of those affected by crises to the so-called elite. We have an opportunity to provide newer players in this space access to the critical debate around ideas that can inform their behaviours, and to inform all those seeking to better understand the issues – regardless of their motivations.
My scepticism has also been tempered by the realisation that change is slow: IRIN is soon to mark 25 years, for instance, and sadly we continue to cover many of the same crises year after year. Does that mean we shouldn't bother? Of course not.  
It's up to those of us who have a seat at the table to ensure our presence isn't just window dressing.
And there are signs that change is afoot. Newer private-sector players are beginning to recognise that throwing money at problems won't fix them. While philanthropists such as Bill Gates may still see market-based solutions as the only way forward, they have evolved from promoting one-drop vaccines and plug-and-play laptops to taking a longer-term view that embraces the complexity of development. In one of the discussions I chaired at Davos, the CEO of Syngenta argued that new technologies his company is developing to help prevent food crises around the world will have little effect without better public governance.
And within WEF there's also more openness to voices of dissent and critical thinking. Its recent reports on global risk have called for "fundamental reforms to market capitalism".
The Davos edition of Time magazine, which lined the shelves of the Congress Centre where the official proceedings took place, included a short message from Anand Giridharadas, author of The Elite Charade of Changing the World, to the "1 percent elite":
"You plutocrats are gathering above the rest of us, convinced that you hold the key to solving problems you've caused…
"But," he wrote, "the hunt for answers to the present mess is not yours to lead. Your moral duty now is to refrain from thwarting those who are working to bury this gilded age and usher in vital reforms… Your task is simple: Stay out of their way."
Schwab pushes back against what he calls "the blame game".
"What we have to do is address the root causes. We have to work together in a constructive way," he told CNN.
I see a similar message in the fact that so many of those trying to usher in vital reforms spend time (and money) at Davos each year: even they believe that the 1% need to be part of the solution.
* An earlier version of this article incorrectly stated that WEF started inviting civil society to its annual meeting around 10 years ago. According to WEF, civil society representatives have attended since its inception in 1970, although the forum has significantly scaled their presence in recent years.