Our editors' weekly take on humanitarian news, trends, and developments from around the globe.
On our radar
No let-up in Sudan's ballooning humanitarian crisis
Four months of fighting has devastated Sudan. More than four million people have been driven from their homes – one million as refugees. Countless numbers have been killed, many buried in mass graves in the increasingly ethnicised violence. Rape and sexual abuse is rampant – especially in Darfur. Although the conflict between the army and rival paramilitary Rapid Support Forces is stalemated as a contest, the disruption to markets, agriculture, and aid agency operations still takes its toll. More than 40% of Sudanese are facing "high levels" of food insecurity, and 1.5 million children are expected to fall into crisis levels of hunger by September. Hospitals and healthcare workers have not been spared, targeted by both sides. Humanitarian leaders warn that the situation is "spiralling out of control", but peace talks have stalled, and aid budgets to meet the needs of people inside Sudan are only 25% funded. 
Could Indigenous knowledge help with future wildfires?
As Canada's worst-ever wildfire season continues to unfold, authorities have taken the unprecedented step of ordering the 20,000 residents of Yellowknife, the capital of its Northwest Territories, to evacuate the city, which is being menaced by flames less than 15 kilometres away. Other towns in the region, including Hay River and Fort Smith, are also under evacuation orders. The Territories are home to a large number of Indigenous communities who have been disproportionately impacted by the fires, which have ravaged the forests they rely on for sustenance and forced tens of thousands to flee their homes. And despite their millennia of experience in managing fires, the communities have historically been marginalised in the country's approach to fire and forest management, which has emphasised extinguishment rather than Indigenous techniques of prevention. However, as the frequency of wildfires increases each year, driven by the climate crisis, calls are growing for this to change. In Hawaii, meanwhile, after the hoses ran dry battling blazes on Maui that claimed at least 111 lives in the worst US wildfire disaster in more than a century, many are asking why the water rights of Native Hawaiians were trampled on to satisfy the demands of luxury golf courses and hotels. Read this report by The New Humanitarian for more on how Indigenous communities respond to wildfires.
Concern grows over Afghan healthcare system
The World Health Organization (WHO) has issued a stark warning about the need to ramp up investment in healthcare in Afghanistan, where 28.8 million people now need urgent assistance, compared to 18.4 million in 2021, when the Taliban returned to power. Last month, the International Committee of the Red Cross announced it would have to stop funding more than two dozen hospitals across the country due to budgetary shortfalls. Diogo Alcantara, the ICRC spokesperson for Afghanistan, told Reuters the phase-out would have to begin at the end of August unless alternatives are found. Such warnings come as the country continues to suffer economic fallout due to a lack of investment, banking restrictions, and international sanctions. With further cutbacks in aid incoming from Washington and London, and only 23% of the funds for this year's humanitarian response plan received, the fear is that a health system that was already struggling under the former Western-backed Republic could now become overwhelmed. For a look at how even power cuts can prove deadly, read our report from January.
Fresh clashes in Tripoli
Fighting broke out between two militias in the Libyan capital of Tripoli early this week, killing a reported 55 people. The violence appears to have erupted when one militia detained the leader of another, even though both groups are allied with the internationally recognised government in Tripoli. Libya is split between two rival administrations, and attempts to unify them or to hold elections have so far failed. Each is backed by a bevy of armed groups, some of which are affiliated with different ministries or powerful figures. What does all this mean for civilians and the prospects for peace? Hundreds of families reportedly had to be evacuated from the front lines this week, and some were trapped in their homes. And while violence has flared up and then calmed in Tripoli before, this week's fighting is a grim reminder of just how many armed groups are ready to fight on command, and of the absence of lasting peace nearly 12 years after Libya's revolution.
A day to honour the aid worker fallen
It's that time of year again – World Humanitarian Day – and a chance to honour those who lost lives or take risks trying to help people in need. The day is commemorated on 19 August, the same day that a truck bomb exploded at the UN office in Baghdad in 2003, killing 22 people, including Sérgio Vieira de Mello, the UN high commissioner for human rights and head of the UN's Iraq mission. More than 150 local and international aid workers were also injured. While a time for remembrance, the day comes with a sombre prediction from the UN: This year is on track to be another deadly one for humanitarians. Since the start of 2023, 62 humanitarian workers have been killed, 84 have been wounded, and 34 kidnapped. Last year, the toll reached 116. South Sudan remains the most dangerous place for humanitarians with 22 fatalities reported as of 16 August. Sudan comes in second with 19 fatalities so far, surpassing numbers not seen since the Darfur conflict between 2006 and 2009. According to the International NGO Safety Organisation, more than 90% of those killed each year are local staff. For more on the challenges facing local aid workers and the affected communities themselves as they step up to deliver for those living through crises, read our roundup.
Boost for traditional medicine as UN holds first-ever summit
This week, the WHO convened its first-ever global summit dedicated to traditional medicine, in the Indian town of Gandhinagar. Co-hosted by the Indian government, the two-day summit focused on sharing evidence and best practices in a field whose contribution to national health systems is yet to be fully acknowledged despite its widespread use. According to the WHO, people in 88% of countries around the globe rely on some form of traditional medicine, which it defined as "the sum total of the knowledge, skill, and practices based on the theories, beliefs, and experiences indigenous to different cultures, whether explicable or not, used in the maintenance of health as well as in the prevention, diagnosis, improvement or treatment of physical and mental illness". Acceptance of the efficacy of traditional remedies and their integration into national health systems has been accelerating since the turn of the millennium, and in 2019 the WHO included some traditional medicines in its International Classification of Diseases-11 – an influential compendium used by doctors to diagnose medical conditions. 
In case you missed it
ARGENTINA: Far-right candidate Javier Milei won the presidential primary – considered a good indicator of voter intent ahead of the 22 October general election – with 30% of the votes, running on a platform that includes: shutting the Central Bank; closing a clutch of key ministries, including those responsible for women, education, and labour; and spending cuts in health and social programmes. The result was widely seen as a slap in the face for the political establishment as the top food exporter struggles with runaway inflation and soaring poverty. For more, read the Argentina instalment of our Emerging hunger hotspots series.
BRITAIN: The discovery of legionella bacteria on 10 August forced 39 asylum seekers to be evacuated from the Bibby Stockholm barge where they were being held off the south coast of the UK. The bacteria can cause Legionnaires' disease, a type of pneumonia that can be fatal. The barge – and potentially more like it – are a keystone of the Conservative government's "stop the boats" policy aimed at reducing the numbers of migrants and asylum seekers crossing the Channel from France. 
CAPE VERDE: A Spanish fishing vessel rescued 38 asylum seekers on a large boat found adrift off West Africa's Atlantic coast. The boat left Senegal on 10 July heading for Spain's Canary Islands carrying an estimated 130 people. The bodies of seven people were found on board. A Spanish NGO said they alerted the authorities of Senegal, Mauritania, Morocco, and Spain about the boat nearly a month earlier, and that rescue efforts during that time had not been sufficient. More than 300 people have died trying to reach the Canaries from West Africa this year, according to the UN's migration agency, IOM.
ETHIOPIA: At least 1,400 people have died from starvation in northern Tigray since food aid was suspended five months ago by the World Food Programme and USAID following the discovery of large-scale food thefts, a regional official has said. The freeze on food deliveries is countrywide, affecting 20 million people.
HAITI: Armed fighting during the past week forced more than 3,500 people from 717 households to take shelter in schools and makeshift camps in Haiti's capital, Port-au-Prince, according to IOM. In the absence of protected displacement camps, communities have been hosting many of the displaced, now numbering more than 200,000 across the Caribbean country. The US, meanwhile, is expected to submit a resolution to the UN Security Council soon calling for the deployment of an international force to help reduce the violence. 
IRAQ: Turkish drone strikes killed three people in the semi-autonomous Kurdish region of northern Iraq on 11 August. Türkiye regularly conducts strikes against the separatist Kurdistan Workers Party (PKK), which it considers to be a terrorist group, but civilians have been killed in these attacks and local media reports said the victims of the recent strike were not fighters.
LEBANON: UNRWA, the UN's agency for Palestine refugees, said it was suspending services on 18 August in the south Lebanon camp of Ein al-Hilweh "in protest against the continued presence of armed fighters in its facilities, including schools." Fighting broke out in the camp late last month, killing at least 13 people, destroying homes, and displacing hundreds of families. 
NIGER: West African defence chiefs have warned that military intervention remains an option in Niger. Amid scepticism that the regional bloc would stand by its threat to send in troops to reverse last month's coup, ECOWAS doubled down after a meeting in Ghana and said most of its 15 member states were ready to contribute to an intervention force. Ahead of that gathering, Niger's junta called for a "mass mobilisation" of citizens to fend off the military threat.
PAKISTAN: At least eight churches and several homes belonging to Christians have been burned down in Pakistan's Punjab province after two Christian men were accused of blasphemy. Pakistan's blasphemy law has long been the source of controversy, with activists saying it is often weaponised to target minority Muslim sects and non-Muslim communities. Many, including Human Rights Watch, have called for the law to be repealed. The nation's caretaker prime minister, Anwaar-ul-Haq Kakar, condemned the violence, saying in a tweet that "stern action would be taken against those who violate law and target minorities". 
ROHINGYA: A new report by a human rights group has accused police in Bangladesh of arbitrarily detaining and extorting Rohingya refugees. Fortify Rights, which investigates rights abuses in Myanmar and neighbouring countries, says it interviewed 14 Rohingya who were beaten, detained, and bribed by police. It called on the government to investigate the charges.
UKRAINE GRAIN SHIP: A cargo ship that had been stuck in Ukraine's Odessa port since February set off across the Black Sea on 16 August and was reported safely reaching Turkish waters on 18 August. It was the first cargo ship to leave the port since Russia exited a deal brokered by the UN and Türkiye that allowed both Ukraine and Russia to export food and fertiliser. The International Maritime Organisation urged Russia to respect "Ukraine's sovereign right to control navigation".
Weekend read
When Ecuadorians go to the polls to elect a new president, they won't be able to choose Fernando Villavicencio. The 59-year-old former investigative journalist had campaigned on a promise to take on the gang-related violence fast turning his once-peaceful homeland into what he called a "narco-state". But on 9 August, 11 days before the election, he was shot in the head while leaving a campaign event in the capital, Quito, by a gunman with suspected links to organised crime. Whoever wins this Sunday faces an enormous challenge to prevent Villavicencio's worst fears from being realised. Sandwiched between the world's top cocaine producers Colombia and Peru, Ecuador saw its violent death rate soar from 5.8 per 100,000 people in 2016 to 25.6 in 2022, with warnings it's on course to reach 40 by the end of this year, on a par with the deadliest countries in the world. Our weekend read, reported from Ecuador by Carolina Loza León, explores what the country's rapid descent means for those bearing the brunt of it. In Nueva Esperanza, a gang-ridden community in the second city of Guayaquil, many people told her they are already too scared to leave their homes. As one Colombian refugee put it: "People here feel trapped and helpless."
And finally…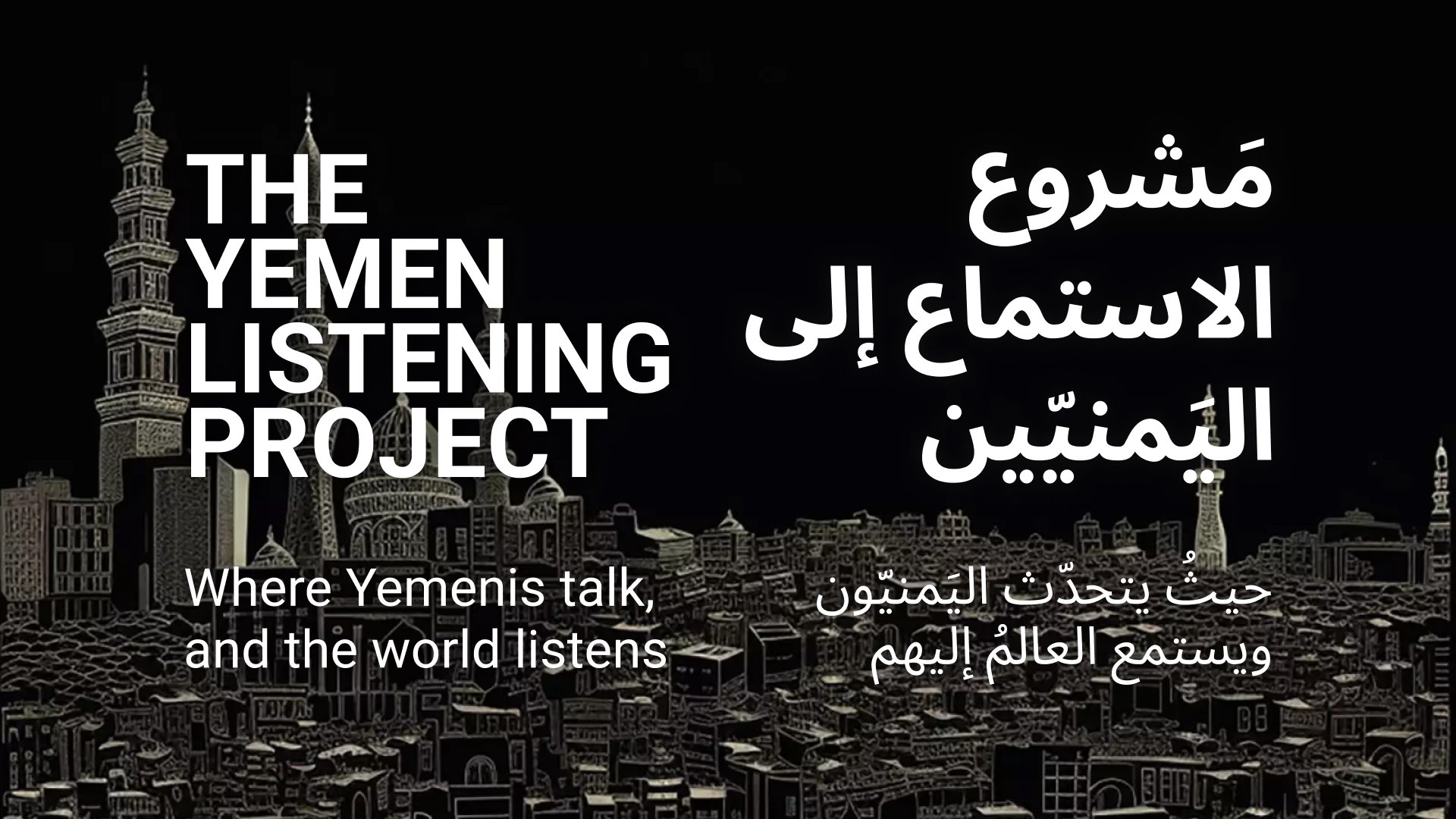 This week we're excited to introduce a new kind of participatory journalism from The New Humanitarian: The Yemen Listening Project. The story of Yemen's long war and massive humanitarian crisis has mostly been told by journalists, aid groups, and politicians. Until now. We are doing things differently, by inviting Yemenis and people who live in Yemen to tell their own stories of how the long war has impacted their lives. We will listen, translate, and publish. While the project focuses on Yemen's conflict, the stories themselves don't have to be sad. They can be empowering. They can be about love. Or family. If you have a story, it's up to you what you tell, and how you tell it. More information about the project, how to submit a story, and FAQs can be found in Arabic and English here. If you don't have a story to share but want to follow along, head to the page to sign up for an update when we release. Stay tuned for more from The Yemen Listening Project: Where Yemenis talk, and the world listens.