Over the course of just two weeks, Russia's invasion of Ukraine has created a vast humanitarian crisis inside the country and sent more than 2.3 million people fleeing into neighbouring states.
The UN has set out to raise more than $1 billion to support 18 million people it estimates will be impacted by the war over the next three months. Fighting has already crippled Ukraine's economy and battered its infrastructure, disrupting supply chains and leaving people struggling to access food, medicine, water, heating, and other critical services. 
There have been at least 18 attacks on healthcare facilities and workers, including the Russian bombing of a maternity and children's hospital in the southern city of Mariupol on 9 March that injured 17 and left three dead. Across the country, the civilian casualty count and death toll continue to mount – although the total number remains unknown because of difficulties collecting and verifying data.
Local aid groups and civilian volunteers have been at the centre of the humanitarian response – providing food, shelter, and other support to those displaced and affected by the fighting. When the Russian invasion began, UN agencies and most international aid groups in Ukraine paused operations and evacuated their international and local staff. But as the war looks set to drag on – defying early predictions of a swift Russian victory – the international aid response is gearing up. 
Meanwhile, many involved in the local response are wondering how long they will be able to continue, amid dwindling resources, dangers posed by the conflict, and concerns that volunteers in the largely civilian effort may become exhausted or overwhelmed.   
The western Ukrainian city of Lviv – located about 65 kilometres from the Polish border, and home to around 720,000 people before the invasion – has become a hub both for people fleeing the conflict and for the response. Estimates of the number of displaced people in the city range between 100,000 and 200,000, and the mayor has warned that it is reaching a breaking point in terms of being able to welcome more. 
Yuri Popovych, a 39-year-old IT specialist, left his day job soon after the Russian invasion began and has become one of the lead volunteer coordinators in Lviv, helping displaced people taking shelter in the city, which is one of the few urban centres in Ukraine yet to face Russian bombardment.
In the hours after the invasion began, Popovych got in his car and drove around Lviv asking people how he could help. He has ended up doing everything from buying chainsaws for soldiers to cut down trees to make roadblocks, to helping neighbours unload trucks full of donations. 
If the volunteers continue at their current pace, he worries that the local response in the city may not be sustainable. "We thought it was going to be a sprint, but now it looks like it's going to be a marathon," Popovych told The New Humanitarian, referring to initial expectations that the conflict would end quickly.  
He was seated on the steps of an art exhibition centre turned volunteer operations headquarters in the heart of Lviv, where hundreds of Ukrainian volunteers sorted through donations of children's games, stuffed animals, clothes, food, and shoes. "We need to be prepared to support this [over the long term]," Popovych said. "It's not going to end soon, and even if the war [does] end soon, the aftermath will be very, very long-lasting."
'People didn't really care before'
On the surface, Lviv still has the feel of a vibrant city, with its restaurants and café-lined streets. But these are now crowded with foreign journalists and aid workers – most locals have stopped going to work, schools are closed, and anti-tank barriers line checkpoints at its entrances and exits. 
There is an atmosphere of fear and sadness as women and children on their way to Poland say painful goodbyes to their husbands, fathers, or brothers. People have little choice but to separate because the Ukrainian government has barred men between the ages of 18 and 60 from leaving the country.
So far, many of the displaced who have reached Lviv from the capital, Kyiv, and other hard-hit cities and towns are staying with relatives or strangers who have volunteered to host them. But there's only so much excess room in the city's houses and apartment blocks, and the mayor said the city might need to start erecting tents to house displaced people as they continue to arrive.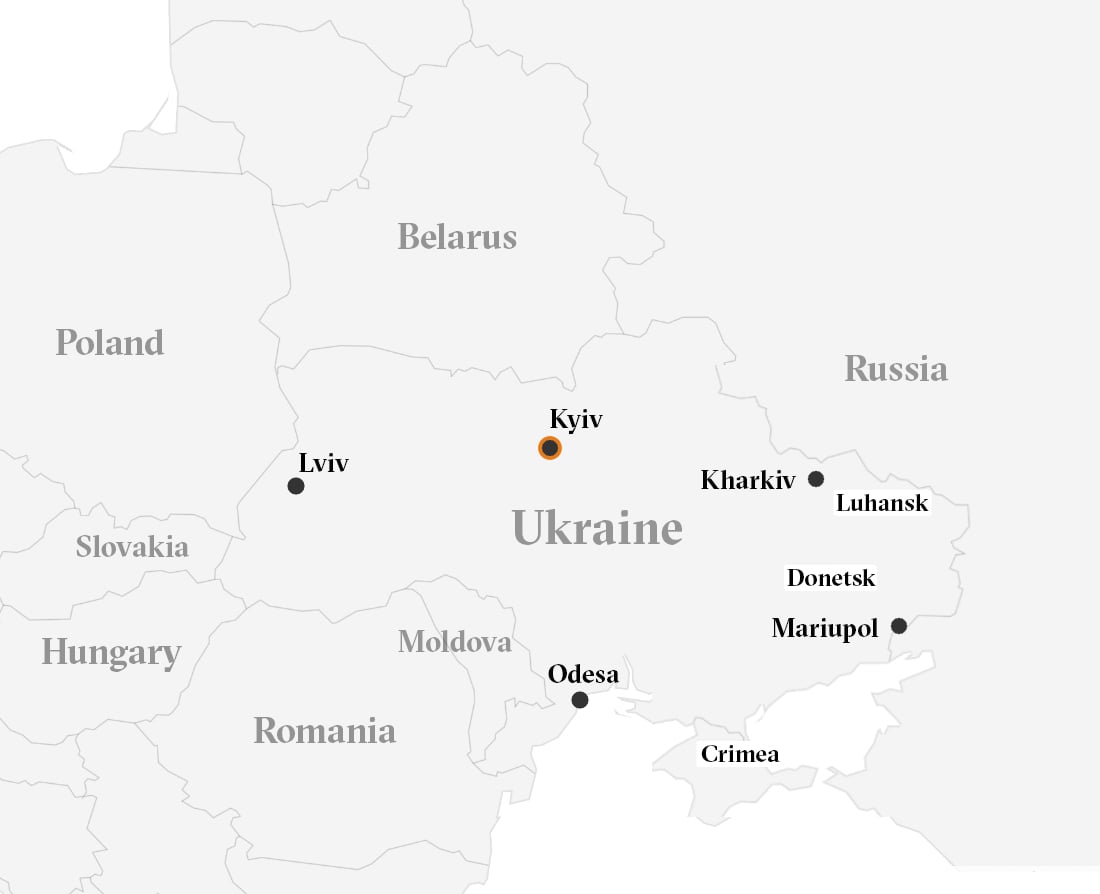 It's difficult to quantify how many volunteers are involved in the humanitarian response in Lviv and across the country. Locals say nearly everyone they know is doing something to help with the war effort. In addition to sorting and delivering donations, volunteers are helping the police patrol the streets at night – walking for eight hours in the cold to keep an eye out for suspicious activity and visiting displaced people to make sure they have enough food, water, and access to heating. Others are using their professional skills to help manage the logistics of distributing aid or to set up projects to allow people to report and document potential war crimes. 
This is not the first time ordinary Ukrainians have become involved in the humanitarian response to war. Following Russia's annexation of Crimea in 2014 and the conflict that began the same year in the eastern regions of Donetsk and Luhansk between Russian-backed separatists and the Ukrainian government, a national volunteer network sprang up to support those affected by the fighting. But the mobilisation this time around is much bigger. 
"This isn't a new war, but people didn't really care before because the old war wasn't impacting them," said 43-year-old Alena Marshenko, who has been volunteering to help soldiers and displaced people since 2014, when she was forced to flee Luhansk. Marshenko, who settled in Kyiv, has now been displaced again to Lviv and is spending her time at the city's train station providing psychological support to other displaced people.
Compared to formal aid groups, volunteers say they've been able to react more quickly because, as locals, they know the terrain, have good contacts, and don't have to deal with the same organisational bureaucracy.
Anna Didukh, one of the founders of a new platform of several hundred volunteers, "I Am Not Alone: We Are Ukraine", said the network had already sent 20 trucks and buses with medicine and food across the country to people in hard-to-reach villages outside Kyiv and Kharkiv, a city in the northeast that has come under heavy bombardment. "[The idea] started from problems, chaos, war, no fuel, people not knowing where to get aid," Didukh said. 
The group is working with the Lviv mayor's office and will soon launch a website where people around the world can make donations and track where their money goes, she said. So far, everyone who has contributed their expertise to get the project off the ground has done so for free. But those involved will need to earn a living to sustain themselves at some point, especially as so many people's normal employment has been disrupted by the war.
This is one of the reasons why volunteers worry the local response could wane as the war drags on: people may burn out or have to return to their jobs – if they still have jobs to return to.
The effects of ongoing fighting could also make it harder for people to help others if they too are impacted. Already, the amount of food coming into the volunteer centre in Lviv has decreased compared to the first days of the invasion: Stores are running low on stock – or running out entirely – making it difficult for people to buy items to donate.
Need for a professional response
While the local aid response is continuing full steam ahead for now, international organisations are entering Ukraine to restart or set up operations. Many are conducting needs assessments and have launched fundraising efforts aimed at supporting activities ranging from delivering cash assistance to people forced to flee so they can rent accommodation in neighbouring countries, to providing food, hygiene supplies, and medical care inside Ukraine.
Some international organisations are partnering with local and national aid groups to support and scale up their efforts or are tapping into volunteer networks for local knowhow and expertise. The NGO Hungarian Interchurch Aid (HIA), for example, is now paying some of the volunteers it started working with when the invasion began to do surveys and assessments of temporary shelters in and around Lviv, Giuliano Stochino-Weiss, the group's emergency director, told The New Humanitarian.
HIA is also providing training to volunteers on humanitarian principles as well as various practical skills that can be used to prepare and deliver aid, and the group is open to hiring Ukrainians currently involved in the volunteer response to work with them longer-term, according to Stochino-Weiss. 
While grassroots efforts are commendable, many aid workers say they are not a substitute for a professional response.
"Individuals can have a lot of power when they work together. It's good to have that spirit, but good to be organised," Ignacio Leon-Garcia, the Ukraine head of the UN's emergency aid coordination body, OCHA, told The New Humanitarian. "[Volunteers] can have very good faith, but when you have a crisis situation, individual actions sometimes are more harmful for people," he added. For now, the international community is rallying behind Ukraine, pledging billions of dollars in humanitarian assistance in the past two weeks. But some aid workers say the money has yet to materialise on the ground. 
"We need the international community to understand that the headquarters-heavy international aid groups might have consultants and huge reach to raise funds, have people in Brussels to lobby, but we aren't seeing them here actually operating and distributing aid," said one international aid worker in Lviv who didn't want to be named for fear of reprisal. Organisations being too risk-averse is resulting in a lagging response, they added.
An uncertain future
While international groups start planning for longer-term support, many Ukrainians The New Humanitarian spoke to expressed shock at the intensity and scale of the violence overwhelming their lives and said they were taking things one day at a time. 
Olena Akhundova, 33, wiped tears from her cheeks as she recalled the panic attacks she and her husband had while hiding for a week in a bomb shelter in Kharkiv. They fled with their six-month-old and 16-year-old daughters with only the clothes on their backs, travelling by train for 24 hours before arriving in Lviv.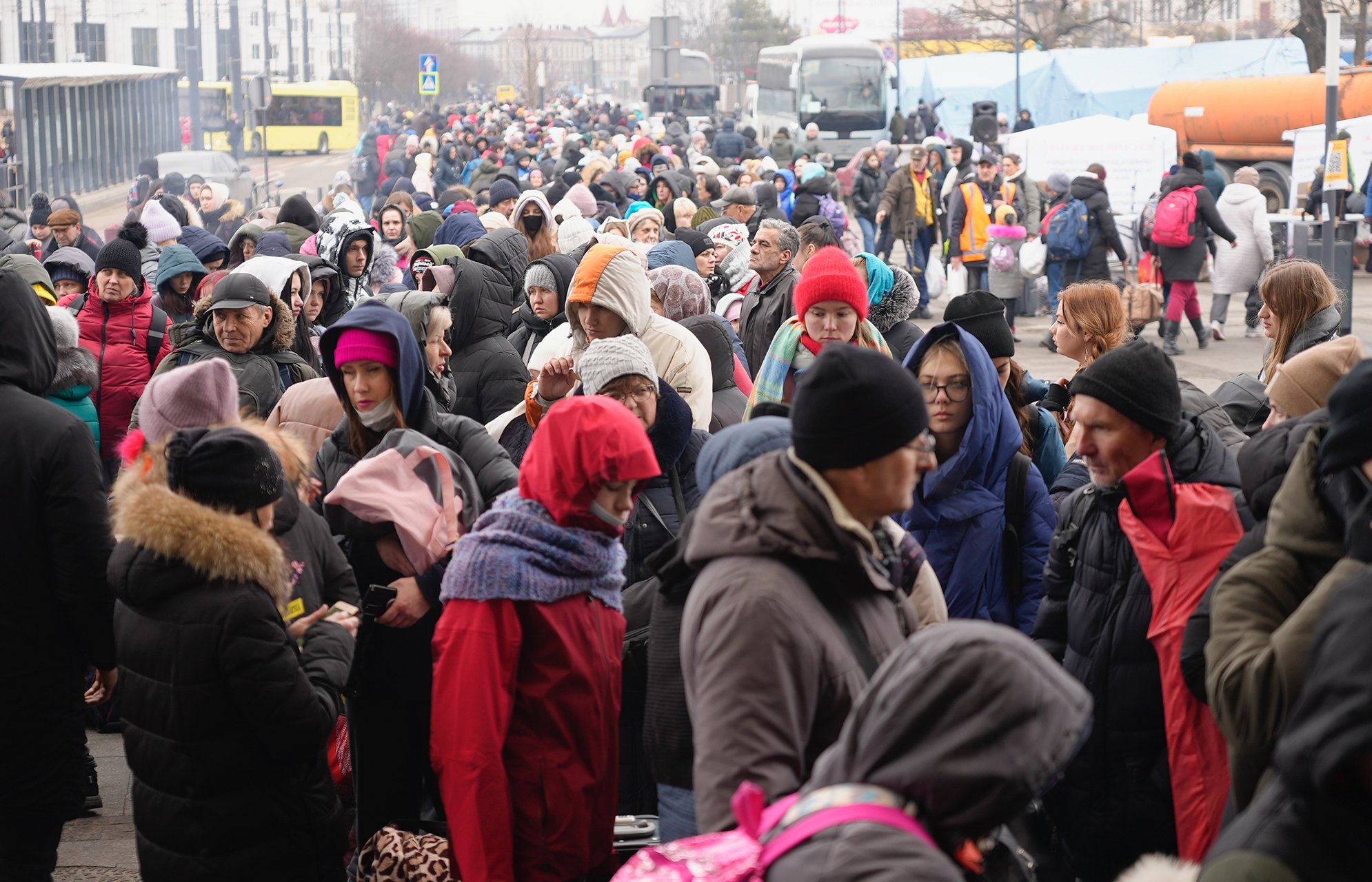 For the moment, the family has been taken in by strangers, but Olena and her husband were worried about being able to earn a living now that they have been displaced, and they had no idea where they would go next. "I'm concerned that in future I won't be able to get food or have a place to live," Olena said. 
Local government officials in Lviv admitted they had not had a chance to look to the future and plan for a longer-term humanitarian response. "Everything is unpredictable," Andriy Moskalenko, the first deputy mayor, told The New Humanitarian. "Right now, we have like a 24/7 war, and so, of course, it's the main issue which we're today [talking about] in order to give [displaced people] a safe place at this moment because we don't know what will [happen] in our city." 
There is also a pervasive sense that Lviv's days as a safe haven may be numbered. Many think it's only a matter of time before the city becomes a target of Russian bombardment. Even though it's far from the current front lines, Russia bombed the airport in the nearby western city of Vinnytsia on 6 March. In Lviv, statues and buildings are being barricaded, sandbags line government buildings to protect them, and even locals are waiting in the cold for hours outside the train station, desperate to cross to Poland.
Meanwhile, local volunteers like Popovych say they will keep going until the government or the international community has a system in place to take over the humanitarian response. Popovych's biggest fear now is that people will forget about Ukraine – like they did eight years ago when the conflict began. 
"I hope the world doesn't get used to the war in Ukraine so people keep being shocked by what's happening," he said.  
Edited by Eric Reidy.