Kakuma refugee camp, home to more than 194,000 refugees and asylum seekers in Kenya's remote northwest, has so far been spared COVID-19 – but the crowded camp is preparing as best it can should an outbreak occur.
The refugees – mainly from South Sudan and Somalia – as well as the host population and aid workers have watched nervously as coronavirus spreads elsewhere in Kenya, with 208 confirmed cases so far and nine deaths.
Tesfay*, an Eritrean shopkeeper in the camp, admitted he was worried. "This is scaring everyone," he told The New Humanitarian. "People are trying to ensure they have something to eat in case everything stops."
Stocking up
Kakuma is at the end of a single highway that connects the camp to the rest of Kenya. In anticipation of supply interruptions as a result of a COVID lockdown, the World Food Programme is distributing May food rations in advance, to be collected along with April's. 
But for Burundian refugee community leader Aloice*, the rations are not enough. "What WFP gives us for two months actually lasts about two weeks," he told TNH. 
That is not an unusual complaint. According to WFP-supported research conducted by Oxford University, many refugees say the food assistance is insufficient, forcing them to take supplies on credit from local retailers.
Kakuma residents receive a portion of their food assistance as a cash transfer, which is now being supplemented by an additional $1 per person. Aloice acknowledged this as a small but welcome boost, but he wants all food assistance "converted entirely into cash transfers" – as is the case in Kalobeyei, an integrated settlement several kilometres from Kakuma, where refugees and the host population live together.
Cash-based transfers give the 40,000 refugees in Kalobeyei far greater flexibility. Distributed remotely, it's also a system better suited to the current coronavirus crisis. 
"We have to buy food before everything becomes scarce."
Cash is needed as people try to stock up. At the local branch of Equity Bank, refugees employed informally by NGOs as "incentive workers", queued up to withdraw their monthly earnings – often under conditions that make social distancing difficult.
"We have to buy food before everything becomes scarce," a South Sudanese refugee in the queue, who asked not to be named, told TNH.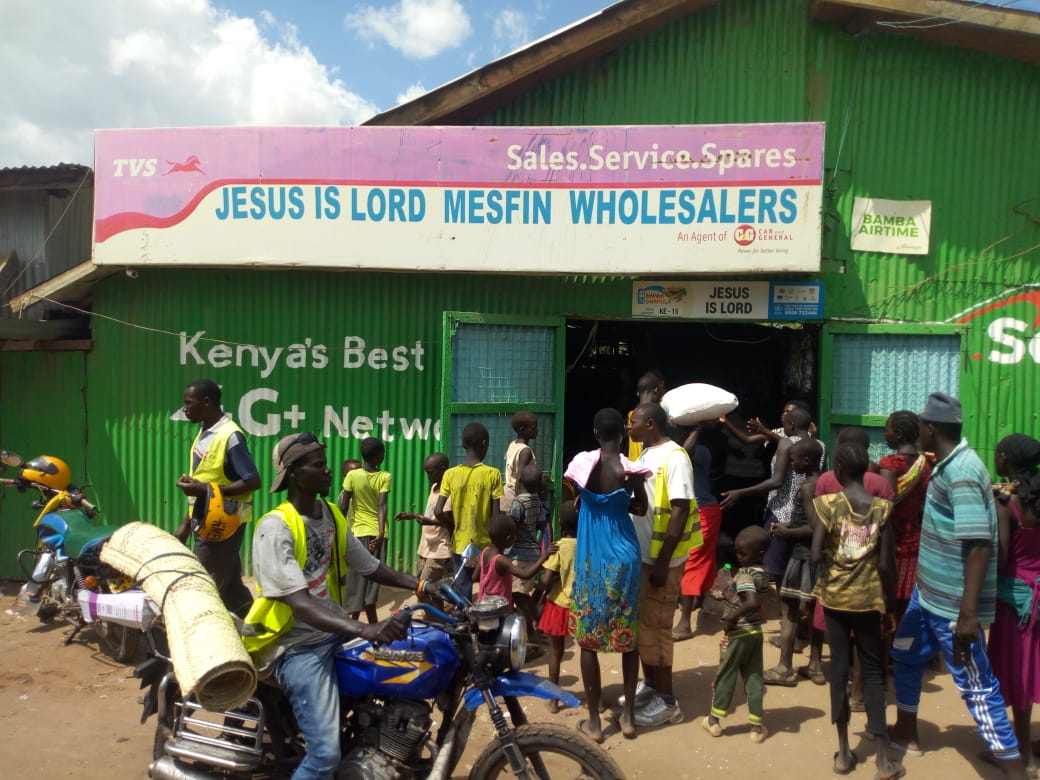 A looming threat
In some respects, life continues as usual in Kakuma. Shops remain open, and the afternoon streets are full of people. 
But come 7pm a blare of police sirens reminds residents of the nationwide curfew. Those who ignore the warning risk fines and imprisonment. Shopkeepers complain it is hurting business as their busiest times are normally in the evenings between 7pm and 9pm.
Since Kenya confirmed its first case of coronavirus on 12 March, infections have been limited to the capital, Nairobi, and three coastal counties. None have been reported in Turkana – the arid county bordering Uganda, South Sudan, and Ethiopia where Kakuma is located. 
The combination of crowded living conditions, under-resourced and understaffed medical facilities, and high levels of malnutrition put refugee camps at particular risk during a pandemic like COVID-19. Kenya is sheltering nearly 500,000 refugees.
Read more → First person: Returning to Dadaab
In response, the UN refugee agency, UNHCR, has set up a COVID-19 taskforce working in coordination with national and county governments, as well as NGOs.
"During the past three weeks, we've focused heavily on prevention," said Kahin Ismail, senior operations manager for UNHCR in Kakuma. 
"Schools are closed, information campaigns are underway, and we are focusing on our WASH [Water Sanitation and Hygiene] response and health preparedness."
Kakuma was only just emerging from a cholera outbreak when the new COVID-19 threat loomed – but that has given the camp a head start. 
"We now have a good system for community health outreach, and people are already paying attention to hygiene practices," said Ismail.
A cholera treatment centre has been refitted as an isolation area. There are two other isolation areas in the camp, another in the Kalobeyei settlement, and one at the Kakuma Mission Hospital to serve the host population in town. Additionally, seven schools have been identified as potential quarantine centres in case of an outbreak.
"The health system is very fragile. If there is an outbreak, the ability to respond is limited."
But there is still much cause for concern, said Ismail. Like the rest of Kenya, there is a shortage of personal protective equipment, oxygen, and other essentials needed to contain a COVID-19 outbreak.
"In the whole of Turkana County, there is no ICU [intensive care unit]," said Ismail. "The health system is very fragile. If there is an outbreak, the ability to respond is limited."
Prevention better than cure
The fight against misinformation has also been a challenge.
UNHCR disseminates information via SMS, radio, and WhatsApp. Messages are also delivered through a decentralised refugee leadership structure that is also supposed to field questions and concerns from residents in their area.
But the system is not perfect. Camp leaders work on a voluntary basis and lack the resources to reach everyone in their areas. Few are prepared to answer complicated medical questions or to verify the flood of inaccurate information circulating on social media. 
Sometimes leaders inadvertently contribute to the confusion.
On one Sunday last month, a zone leader addressed a large church gathering in the Hong Kong area of the camp. "God will protect us, and churches will continue to operate," he said. "I also advise all of you to avoid public gatherings." There was applause, but the contradiction was not lost on attendees.
Read more → Kenya's black market in 'refugee real estate'
Kenya's encampment policy confines most refugees to "designated areas" like Kakuma. Those wanting to travel elsewhere in Kenya must apply for movement passes from the Refugee Affairs Secretariat.
But since 8 April the Kenyan government has imposed a 21-day movement ban, sealing off Nairobi and three other counties – Kilifi, Kwale, and Mombasa.
Before the movement ban, strict measures were already in place in Kakuma. Anyone who had travelled to Nairobi had to undertake 14 days of self-isolation before they could re-enter the camp.
To protect refugees and one another, humanitarian workers are trying to reduce face-to-face contact. The number of staff in offices has been cut, and many are working from their rooms, relying on video conferencing for routine interactions.
While mitigating the risk of virus transmission, it is also reducing services to the camp. Field offices inside the camp stand empty and the provision of routine documentation, for example, is on hold.
School's out
Like the rest of Kenya, schools in Kakuma are closed. But the options for remote learning are limited. 
Many students do not possess computer tablets or access to electricity, and crowded homes with large households provide a poor study environment. While class lessons are being broadcast in some areas, many refugees in Kakuma do not possess FM radios.
Somali refugee Zakaria Mohamed is studying for his Bachelor's degree from Southern New Hampshire University, a US university with an online learning programme. With the classroom operated by Jesuit Worldwide Learning in the camp closed, he is continuing lessons from home. But Zakaria lives in a household of 15 people. 
"I am studying but there are so many interruptions," he told TNH. "I have a lot of responsibilities. With all the kids at home, [I have to make] informal lessons for them."
*They asked only for their first name to be used.
Additional reporting by Hibo Mohamed and Baluu Wol Makuach, journalists writing for the Kakuma News Reflector (KANERE), an independent refugee-run news source providing coverage of life in the camp.
cr-pa-hm-bwm/oa/ag
Subscribe to our coronavirus newsletter to stay up to date with our coverage.