At Mahmod Azizi's shop in Afghanistan's capital, a kilo of lemons now sells for 400 Afghani – more than $5. Low supplies fuelled by coronavirus fears, he said, have pushed him to double his prices. 
"They are a high source of vitamin C, so they are in high demand," the 50-year-old Kabul vendor explained. "Of course I don't want to increase prices, but what choice do I have? Everyone needs food, but there's less available in the market. Soon, only the wealthy people might be able to eat."
Border closures and export restrictions are squeezing supply lines and pushing food prices upward in Afghanistan, raising fears that millions already facing emergency levels of food insecurity will be even more at risk as the coronavirus spreads.
During the last two weeks of March, as COVID-19 cases increased in Afghanistan, the price of wheat flour also surged across the country – including a 20 percent rise in the northeast city of Faizabad.
The increases are caused in part by regional border restrictions as Afghanistan and its neighbours – particularly Pakistan to the south – try to contain a pandemic that has now infected more than 1.3 million people worldwide.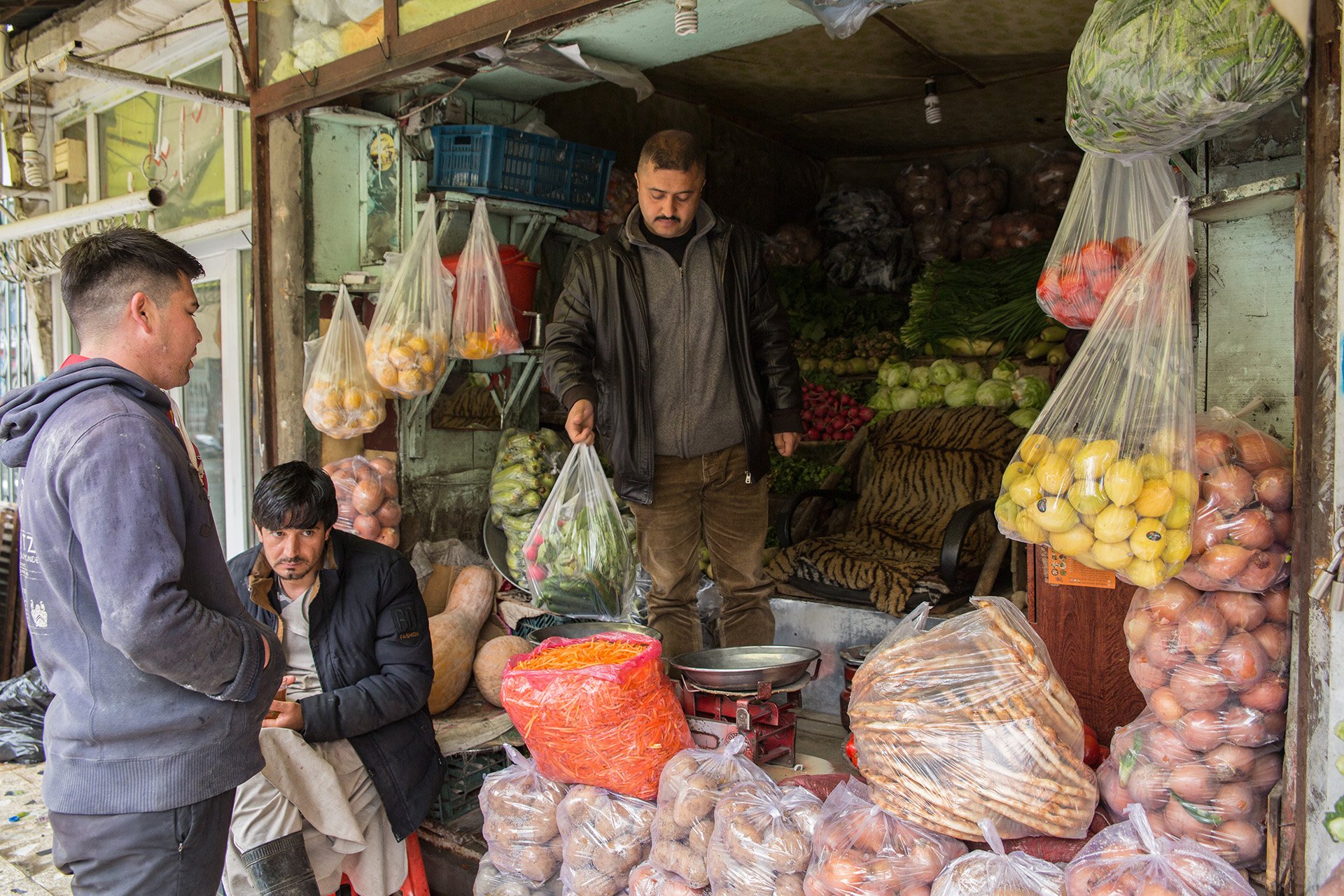 "We have good prospects for this year's harvest due to start in May," Rajendra Aryal, country representative with the UN's Food and Agriculture Organization (FAO), told The New Humanitarian. "But a protracted pandemic crisis could quickly put a strain on the food supply chain."
The situation mirrors broader worries about COVID-19's spillover effects on economies and food security around the world. But there's particular concern for countries already facing crises like Afghanistan, which has been at war for the past four decades.
More than half the population lives under the poverty line. Even before the coronavirus pandemic escalated in recent weeks, the UN projected 14 million people could be in crisis or face emergency levels of food insecurity through the Afghan winter until late March.
"Everyone needs food, but there's less available in the market. Soon, only the wealthy people might be able to eat."
So far, more than 420 people have tested positive for COVID-19 in Afghanistan and 11 have died. With limited testing available, however, actual numbers are likely higher.
Herat, a northwestern province that borders Iran and is the country's food production hub, has become Afghanistan's epicentre for the pandemic. Since the start of the year, more than 210,000 Afghans – many of them undocumented – have returned home from Iran, which is one of the countries hardest hit by the coronavirus, with more than 3,730 deaths and tens of thousands of confirmed cases. 
Interrupted supply chains and price hikes
Border crossings with Pakistan – one of the main export and import routes for aid supplies and food to Afghanistan – have been closed to most traffic since mid-March. There have been brief openings for commercial trucks carrying goods and humanitarian supplies. But at least 577 metric tons of food were stuck at one main crossing until at least 6 April, when Pakistan agreed to open its borders for four days, according to a UN situation report.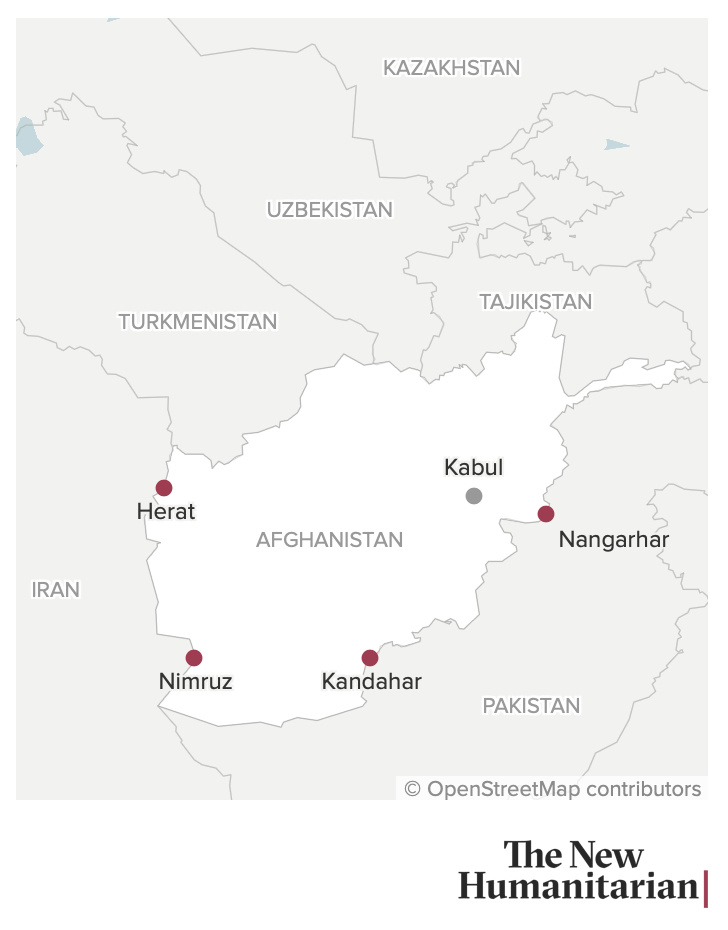 Farmers on both sides have been complaining, saying they were sitting on large stocks of fresh produce about to rot, according to the FAO.
UN officials fear that repeated border interruptions could continue to drive prices up on domestic goods across Afghanistan as well as affect the flow of humanitarian food aid, some of which is partially sourced in Pakistan.
"If this continues for a prolonged period, WFP expects serious impact on its international supply chain of vegetable oil, pulses, and specialised nutritious foods," said Parvathy Ramaswami, the World Food Programme's deputy country director. Ramaswami urged that borders stay open to allow for the transport of commercial and humanitarian food supplies.
The WFP is collecting price data from eight main city markets across Afghanistan. In the same late March period that WFP saw a rise in wheat flour prices, it also recorded a 15 percent increase in grain costs. Kazakhstan is Afghanistan's main provider of wheat flour and wheat grains, but because of the coronavirus, exports have been stopped until at least mid-April, the WFP said.
Across the eight major markets, the average price of cooking oil also increased last month by 9 percent, while the average price of rice and pulses rose between 2 percent and 4 percent.
"Although there hasn't been any change in labour wages or livestock prices so far, the increase in wheat prices means the purchasing power of casual labourers and pastoralists has deteriorated," the UN said in a report on 29 March.
Many Afghans work as daily labourers, and with cities like Herat and Kabul going into lockdown – and the possibility that other urban centres will follow – this means that many people will be forced to choose between staying home hungry or venturing outside to find work, risking infection.
"Price rises for consumer goods, as well as transportation costs, will have a disproportionate effect on the finances of impoverished households," the UN report said.
In the capital, Kabul, the government has tried to prevent price gouging, and mullahs have likewise called the practise "un-Islamic."
Hungry and displaced
Afghanistan's humanitarian community is setting up a coronavirus response, but Farshid Farzam, deputy head of programmes at the German aid agency, Welthungerhilfe, says that food insecurity among returnees and internally displaced people was already rampant before the pandemic.
"The coronavirus outbreak could mean hunger in Afghanistan," he said.
Over the last year, more than one million people were displaced by conflict and disasters, or returned from neighbouring countries after years away. Most depend on cash or food aid or for market prices to remain affordably low. At the same time, unhygienic and crowded living spaces increase the threat of the coronavirus spreading, aid groups warn.
"The coronavirus outbreak could mean hunger in Afghanistan."
"One of the humanitarian implications for IDPs, who already are a vulnerable group with limited coping mechanisms, will be that they are disproportionately affected by COVID-19," said Elias Hatimi, World Vision's Afghanistan communications manager, who works between Herat and neighbouring Badghis province.
"Food insecurity, malnourishment, and co-morbidity among IDPs has the potential to create a humanitarian crisis within a wider context, where first responders and humanitarian agencies are already stretched to capacity."
Most IDPs have limited food reserves and almost no savings, likely making humanitarian assistance even more necessary, Hatimi said.
Seeds or healthcare
For Afghanistan's farmers, hopes had been high for a good harvest this year. Heavy snow, followed by rain, replenished water reserves, filling the rivers and raising hopes that food shortages from the previous season's drought could be curbed.
As Said Mohammed, a 56-year-old wheat farmer from Nimruz, a southwestern province bordering Iran, told TNH in January: "We had a bad year with many losses and our family was forced to scale back. We ate less, even took up casual labour".
"Inshallah, it will be better this year."
But now the pandemic means that even if there is a good harvest, farmers could still be left in need if they get sick – forcing some to choose between healthcare and seeds.
"This would mean spending money on treatment and medical supplies right when the next planting season is knocking on the door," said the FAO's Aryal.
sg/pd/il/js
Subscribe to our coronavirus newsletter to stay up to date with our coverage.