Hunger and desperation are driving thousands of people out of a remote rebel-controlled camp near Syria's border with Jordan, but the fate of those who have left – and what will become of those who remain behind – remains unclear.
Between 7,000 and 8,000 people have left Rukban in the past month, according to the Syrian Arab Red Crescent. Residents of the camp – which had a population of around 40,000 before the recent departures – have been trapped in a desert no man's land since 2015, unable to enter Jordan but unwilling to return to their homes in parts of Syria controlled by President Bashar al-Assad's government.
Living conditions in Rukban, already harsh, have reportedly become even more intolerable in recent weeks as Syrian government forces have tightened a blockade on the area and black market food supplies have dried up. Even before this change, UN reports in February described people as living in "desperate" conditions and a "catastrophic" health situation.
Russia, a close ally of the al-Assad government, has been promising camp residents a safe exit to Syrian government-controlled territory for the past few months, as well as waging an increasingly public campaign to close the camp in meetings with Rukban community leaders, Jordanian officials, and the UN.
An initial trickle of departures has sped up in the last 10 days, according to an internal draft UN report seen by The New Humanitarian. Some 1,900 people left on 24 April alone.
Those who exit the camp must undergo security screening by Syrian government forces, a process about which activists have raised concerns; A UN spokesperson said departures from Rukban should be "voluntary, safe, and well-informed". The UN report says that people who left had sent back "relatively positive news" about the process.
As for those left behind, with aid deliveries few and far between, the spokesperson said "the UN remains concerned for an estimated 36,000 people still in Rukban".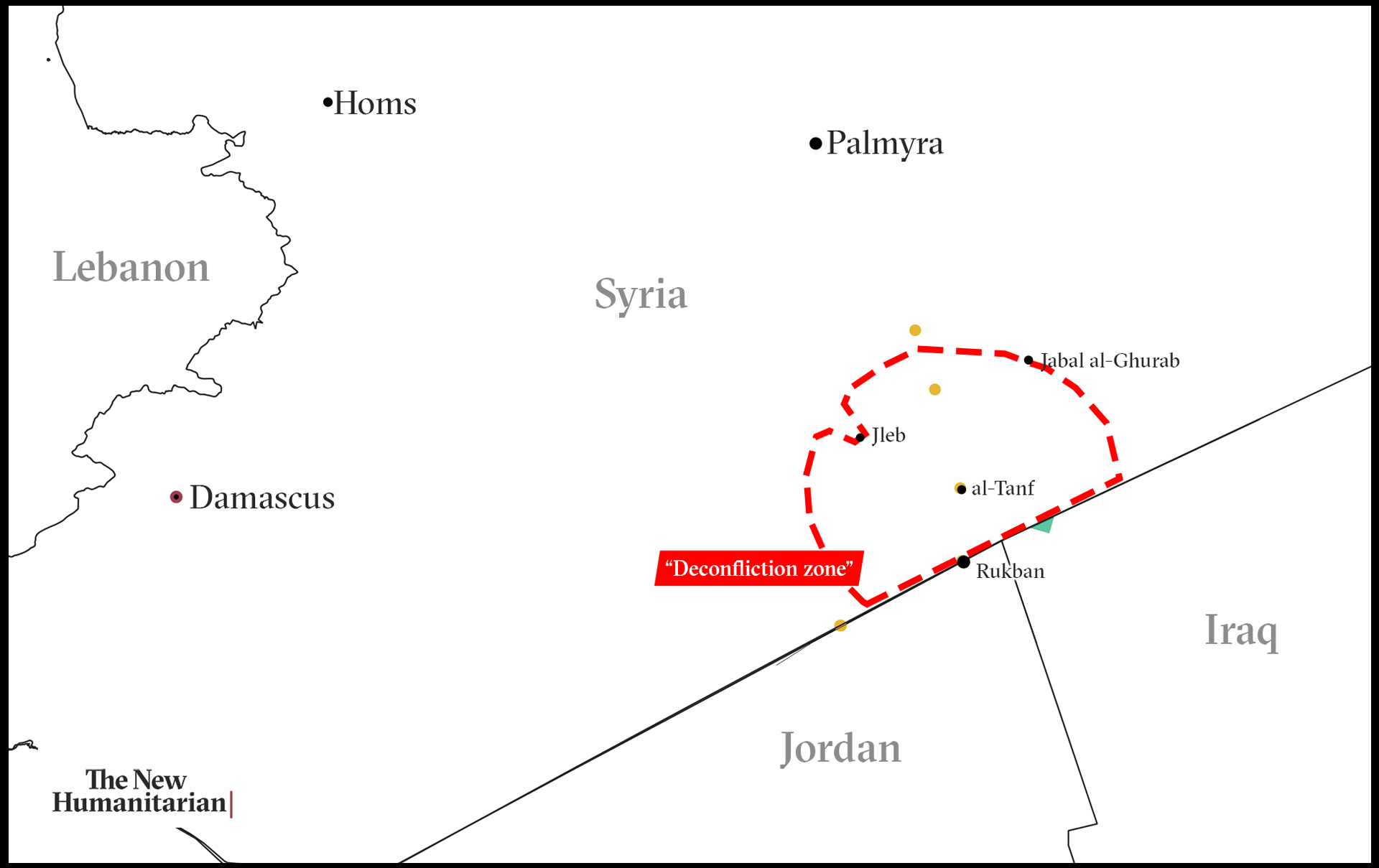 Leaving Rukban
Those leaving must pay for their own transportation to carry them and their possessions – in some cases including livestock, household goods, tents, and mattresses – about 50 kilometres from the rebel-held border encampment to the boundaries of Syrian government-held territory.
From there, they are bussed to government-run transit centres to undergo security screening, which the Syrian state news agency SANA says involves a process "to reorganise their identification and documents". The UN report says the security screening is mandatory and takes two or three days.
The report says UN agencies were able to visit five transit centres in Homs city on 24 April with the Syrian Arab Red Crescent. Conditions are described as "satisfactory", although toilet and shower facilities are deemed inadequate. It adds that there is an urgent need for medication, and that new arrivals are completely dependent on food aid as they have little money and no access to shops or markets until they leave.
It is not clear if there are other centres the UN has not been granted access to.
The UN report says security officers control the entrance to the sites: "Movement outside the shelters is allowed only after registration and delivery of assistance and granting of security approval." According to the Russian Ministry of Defence, Russian forces are manning checkpoints at the crossing points back to Syrian territory.
The Syrian Arab Red Crescent says it is registering arrivals and issuing them with paperwork and supplies, including food. For many who have lost official documents, a coupon issued by the SARC on discharge from the centres serves as an interim form of ID, as well as an entitlement to register with the local Red Crescent branch in their final destination.
During a visit to one of the Homs centres on Monday, SARC Secretary-General Khaled Erksoussi said that only a few hundred people remain in the transit sites, which are a mix of schools and other public buildings. "The only people staying [in the centres] are people without places to house them," he said.
The rest, the UN report says, are reported to have moved on towards their final destinations in government-held Syrian towns and villages, mainly in the eastern part of the Homs governorate.
About 70 percent of Rukban camp residents are originally from Homs city and the wider Homs province, including the city of Palmyra. The UN document says there have been reports that the Homs town of Hisyah has tried to limit the number of arrivals from Rukban, while Palmyra is making preparations to receive more.
Security screening and transit
Despite the Syrian Arab Red Crescent's assertion that only a few hundred people are in the government centres, activists say men leaving Rukban have been separated from their families and detained – an allegation that could not be independently verified.
Russia and Syria have long argued that Rukban is a safe haven for "terrorists" that have seized previous aid deliveries. Social media and humanitarian reports also mention armed men – members of either rebel groups or criminal gangs – in Rukban, but their affiliations can not be confirmed.
A senior humanitarian official familiar with the camp, who requested anonymity to preserve key working relationships, cited one estimate that around 1,000 armed fighters, plus their families, make up part of the population at Rukban.
Those men of eligible age who leave and clear the screening may face compulsory military service in the Syrian army. Hussein Makhlouf, Syria's minister of local administration, has said conscription will be delayed for a six-month grace period.
A February survey by aid groups of around 2,700 families at Rukban found that 95 percent of the residents wanted to leave, but 100 percent were concerned about their safety and security and how they would be treated when they left. Concerns included lost papers and the possibility of military conscription.
The 36,000 who remain
Political figures in the Rukban community have made statements discouraging the exodus, but the prospects for the estimated 36,000 people still at Rukban do not look good.
Jordan largely sealed that segment of its border with Syria after a suicide bomber attacked one of its army outposts there in 2016, and, aside from water, the camp has received no significant supplies from the Jordanian side for more than a year. Urgent medical cases can be treated at a UN-backed clinic at the border line, which is run from Jordan, but only a small number of cases are allowed by Jordan to go to hospitals for further treatment.
After heavy lobbying, the UN and the Red Crescent were permitted by the al-Assad government to deliver two large convoys of aid in November and February. Permission for a third convoy has been denied.
Children at Rukban have missed years of schooling and early marriage as young as 13 has become common. Aid workers have said abuses in the lawless camp include sexual assault and extortion.
The closure of Rukban has wider strategic significance, as it lies in a 55 kilometre-wide section of southern Syria controlled by US forces and affiliated Syrian armed opposition groups.
In a statement on 30 April, Russia said the United States was using Rukban as a "human shield" for "further illegal occupation". The statement claimed the actions of Syria and Russia were "to save the residents of the camp", but the process was "extremely slow". The US-led coalition fighting so-called Islamic State in Syria and Iraq did not respond to a request for comment.
Some see Rukban as simply another siege in a war marked by sieges and starvation. The strategy of the Syrian authorities is to "bring those people to their knees" then "open the valve" so Syria and its Russian allies can portray their role in departures as "saving the day", the humanitarian official said. "They will never ever think about raising their heads and rebelling against the regime again."
(TOP PHOTO: An aid distribution point inside Rukban on 7 February, 2019.)
bp/as/ag