Since last month's failed attempt to force foreign aid into Venezuela resulted in the closing of the border, aid workers in Colombia say conditions have deteriorated for Venezuelans – both those fleeing and those staying behind in frontier towns now largely cut off from assistance.
"The political crisis has made the humanitarian crisis worse," said Juan Carlos Rodriguez, a Catholic priest who heads a local NGO called CONSORC that provides support to a growing number of vulnerable Venezuelans in the Colombian border town of Cúcuta.
Some 3.4 million Venezuelans have fled the country's economic collapse since 2015, many of them across the two bridges that connect the Venezuelan city of San Antonio del Táchira with Cúcuta.
Colombian Red Cross workers stationed at the Simón Bolívar bridge were overwhelmed when IRIN visited. There were hundreds of Venezuelans waiting for basic medicine and examinations. A Venezuelan with heavily bandaged feet was being rolled on a stretcher to a nearby ambulance.
Read more: Why Venezuelan migrants need to be regarded as refugees
Last month, Juan Guaidó, the head of the National Assembly who has been recognised as interim Venezuelan president by more than 50 countries around the world, invited in humanitarian assistance from the United States and elsewhere. But President Nicolás Maduro cast aside outside offers, framing them as a prelude to a foreign invasion.
The showdown came to a head on 23 February. Although two pickup trucks of aid, amid deadly skirmishes, did pierce the Brazilian border, the blockade held firm. And while some security personnel did defect, they didn't revolt en masse and bring down the Maduro regime.
Having returned to Caracas from Cúcuta, Guaidó now finds himself accused of sabotaging the national power grid, which went down for much of the past week, depriving Venezuelans of electricity, pumped water, and, in many places, means of communication.
"What is really a social problem – a problem of hunger, of sickness and of medical emergency – is being adversely affected by political jockeying," said Rodriguez, who noted an increase in the numbers of Venezuelans crossing into Cúcuta despite the closed border.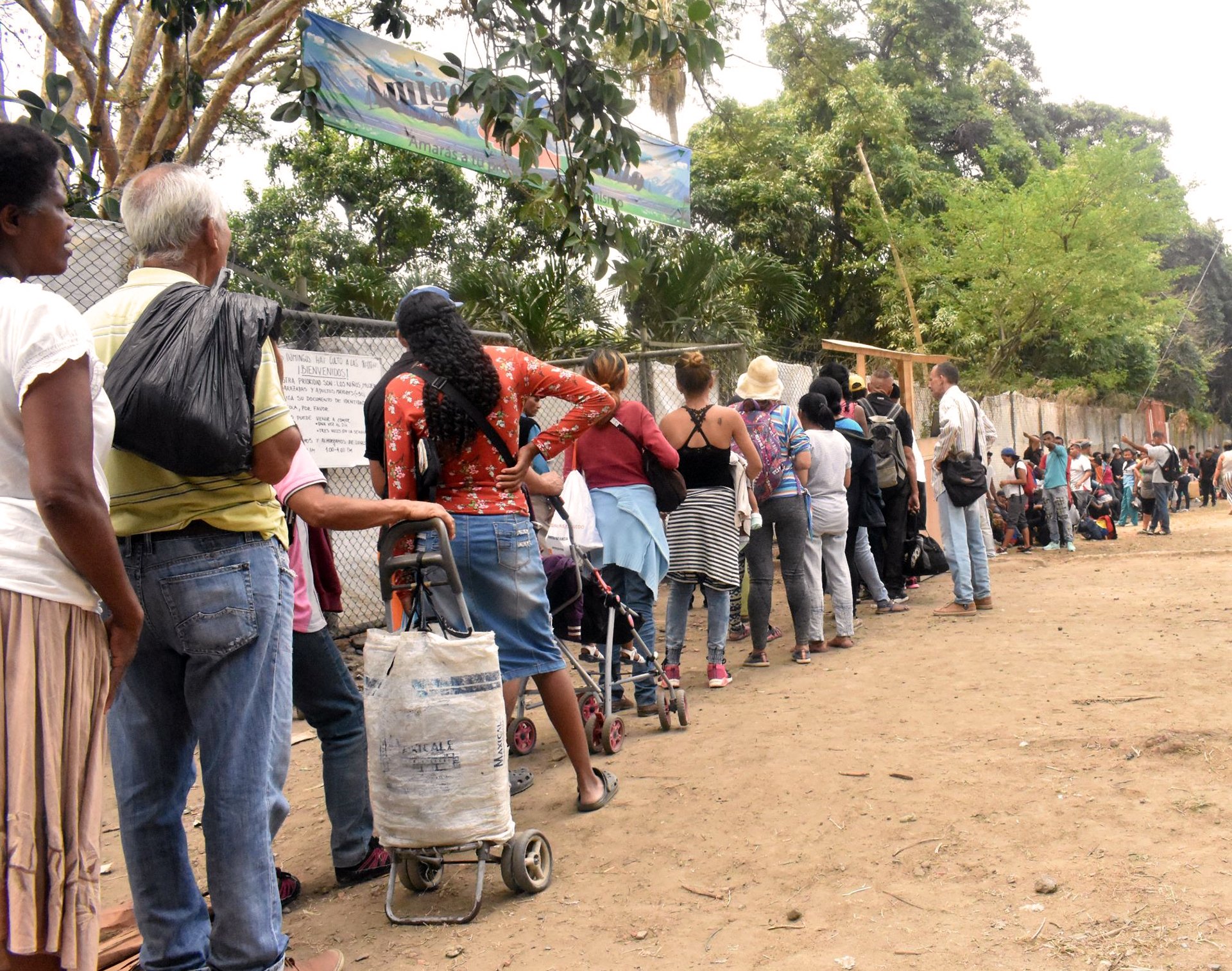 The trochas
Colombian immigration officials estimated before the border closure that 35,000 Venezuelans crossed the Simón Bolívar and Francisco de Paula Santander bridges into Cúcuta daily for work, trade, school, or medical care, with the majority returning home before nightfall.
With the border closed – apart from limited openings on certain days for school or medical care for some children with documentation – Venezuelans have increasingly been flocking to more dangerous routes: the network of clandestine trails called trochas that weave their way between Cúcuta and its sister Venezuelan cities of San Antonio and Ureña.
In the region around Cúcuta, the trochas are controlled primarily by three groups: paramilitary forces loyal to Maduro called the colectivos; Colombian ELN guerrillas; and the Bacrin narcotrafficking group, which uses them to smuggle cocaine through Venezuela.
The trochas are also a major smuggling corridor for other goods. Gasoline is transported from Venezuela – where it is effectively free – to be sold in Colombia, while food and basic hygiene items go the other way for large profits. The gangs who control the trochas charge 2,000 pesos (about 65 cents) to cross, with higher fees for those transporting goods.
The trochas are usually safe for migrants, but there have been some reports of violence as well as instances of criminals preying upon the particularly vulnerable. The number of Venezuelans crossing has become impossible to monitor.
'We can no longer enter'
Over the years, this informal cross-border trade has left many Venezuelans in San Antonio and Ureña economically dependent on Cúcuta.
Aid workers in Colombia fear a humanitarian crisis is brewing across the border as residents of the Venezuelan cities now find themselves unable to cross, or unwilling to pay armed criminals to do so.
"We can no longer enter," said Red Cross doctor Gabriel Antonio Casadiego. "We used to provide basic medical attention to those right across the border, but now it is closed to everyone."
Among the hundreds of Venezuelans seeking help on the Simón Bolívar bridge was Jesus Herrera, who said he made only 18,000 pesos ($6 USD) a month across the border.
"I came for my daughter. She was having really bad stomach pains," he said. "There is nothing in Venezuela. At this moment, in San Antonio, we don't even have power."
Herrera said the gang who control the trochas had let them pass for free, but he was worried as no one could help his daughter on the Venezuelan side and they would have to return in a few days for another examination.
The doctor, Casadiego, recalled how helpless he felt as a trauma specialist during the riots on 23 February. "All I could think about the whole day was that I could have been of help there," he said. "They don't even have basic medical supplies; but we couldn't enter."  
Although he has been unable to assess the situation first hand, Casadiego said the types of patients he saw in Cúcuta left him in no doubt that the situation across the border was already disastrous.
"We see malnutrition, chronic conditions that have long gone untreated, infections from a lack of antibiotics, dengue fever, and we see the aftermath of wounds from horrible work conditions and violence that were sometimes never treated properly," he said. "They have no medical system."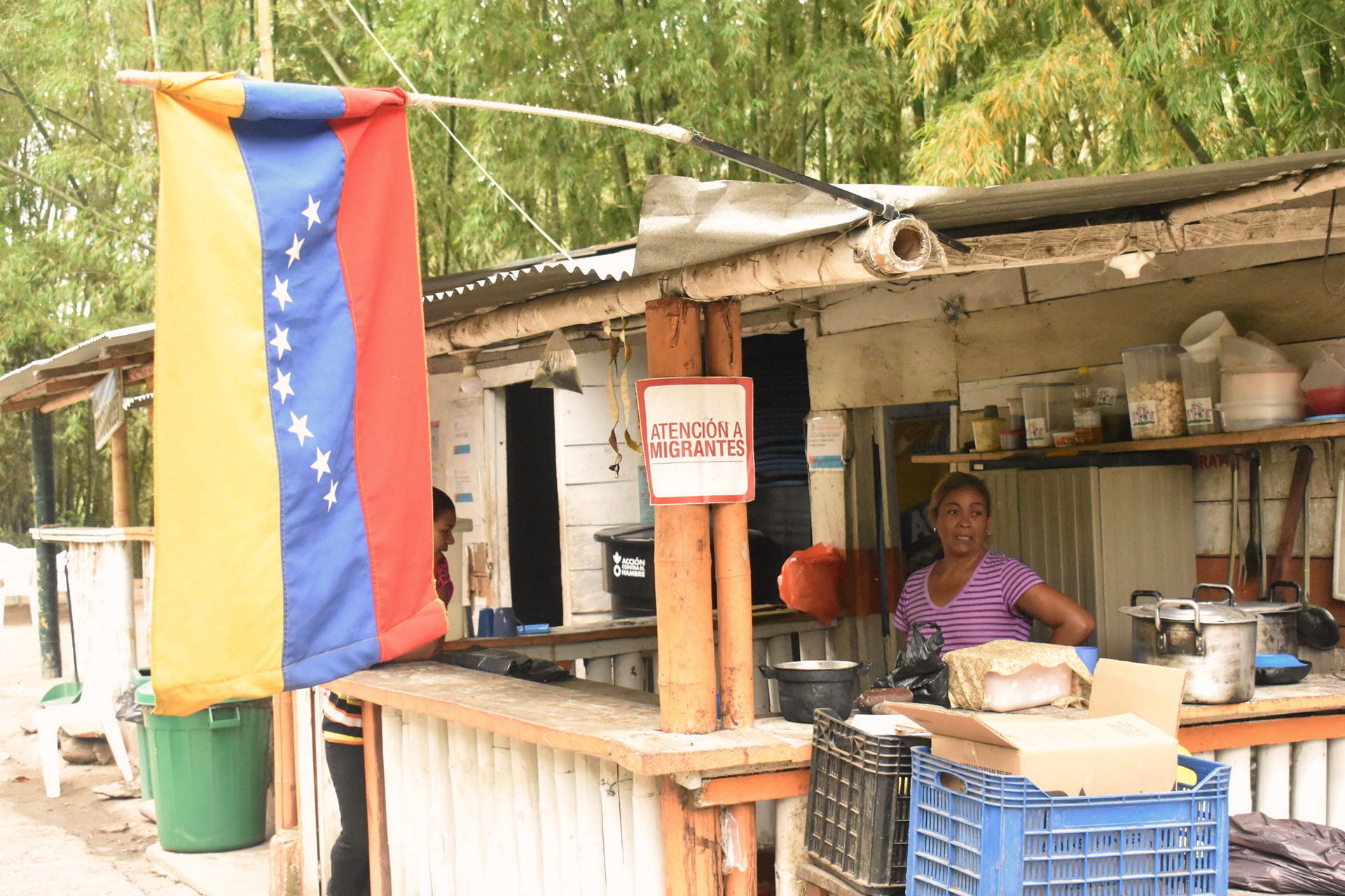 Worsening situation
Just outside Cúcuta, Alma Maria Fernandez runs a shelter called Fund AR that provides food and lodging along the main route for migrants travelling on foot to the Colombian capital, Bogotá.  
She said the days following the attempt to push humanitarian aid into Venezuela were particularly difficult. She estimates that 1,000 people a day passed by this small shelter, when before the number was a few hundred. "We completely ran out of food, of space. All we could offer to those passing was water."
Read more: Colombia's border schools strained by new arrivals
As the political situation in Venezuela has become more and more tense, those fleeing have become increasingly fearful that Maduro loyalists are infiltrating groups of migrants, according to Rodriguez, the priest from CONSORC.
"Many of the Venezuelans want to hide their identities," he said. "Part of our job is trying to ensure that they have the proper documents to apply for the right to work, to enrol their children in schools and receive medical treatment. But some of them are now afraid to even tell us their real names."
A paramedic who has worked 10 years for the Red Cross in the region but didn't want to give his name as he couldn't speak for the organisation referred to the aid showdown between Guaidó and Maduro as a "circus" and said it had made their jobs more difficult.
"I will say this," he added. "Right now there's no power in the hospitals in [the major Venezuelan city of] San Cristóbal. It is certain that people are dying. And I can't help them. Maybe before we could have at least communicated with them and provided transportation from the border to the hospitals here. But now we can do nothing. And that kills me."
(TOP PHOTO: A young Venezuelan family travelling on foot on the 10-day journey from the Colombia-Venezuela border to Bogotá. CREDIT: Joshua Collins/IRIN)
jc/ag